These Indian fusion dessert recipes combine the rich, aromatic flavors of India with the sweet and indulgent creations of the Western dessert world. Indian fusion desserts are all about breaking the boundaries of traditional taste, infusing fun and creativity into each delectable bite.
These dishes blend the vibrant spices, tropical fruits, and aromatic herbs of India with the comforting, familiar allure of Western-style desserts. From chai-spiced cupcakes to gulab jamun cheesecakes and cardamom-infused chocolate truffles, Indian fusion desserts are a true celebration of cultural diversity in the world of sweets.
Join us as we explore the fascinating, mouthwatering world of Indian fusion desserts, where tradition meets innovation, and flavors dance in harmony to create a unique and unforgettable culinary experience.
Gulab Jamun Cheesecake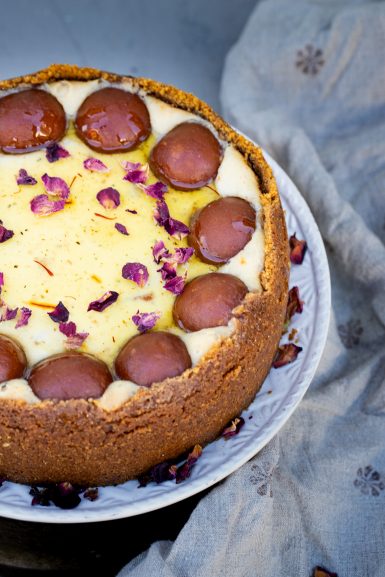 This Gulab Jamun cheesecake is an eggless cheesecake made with cardamom, rose syrup, and saffron, the flavors of Gulab Jamun.
View recipe for Gulab Jamun Cheesecake
Ginger Chai Spice Cookies
Ginger Chai Spice Cookies are delicious baked treats that combine the warmth of chai spices like cinnamon, cardamom, cloves, and black pepper with the zesty flavor of ginger.
These cookies feature a delightful blend of sweet and spicy flavors. Often enjoyed during the fall and winter seasons, these cookies are perfect for pairing with tea or coffee, offering a cozy and comforting experience to anyone who loves the aromatic spices of chai and the kick of ginger.
Ginger Chai Spice Cookies recipe
Mango Cookies
Combining the goodness of three types of mango – dried, freeze-dried, and mango pulp – these cookies offer a rich and varied mango experience. The addition of cardamom spice enhances the overall aroma and taste, adding a warm, citrusy note that complements the sweetness of the mango. Together, these elements create a heavenly treat, perfect for mango enthusiasts and anyone looking to indulge in a Indian-flavored delight.
Upside-Down Puff Pastry with Mango
Upside-down puff pastries are a viral phenomenon. This version uses ricotta cheese and mango for a rich and creamy dessert with the unmatched flavor and sweetness of baked mango.
Upside-Down Puff Pastry recipe
Peach and Curry Leaf Cobbler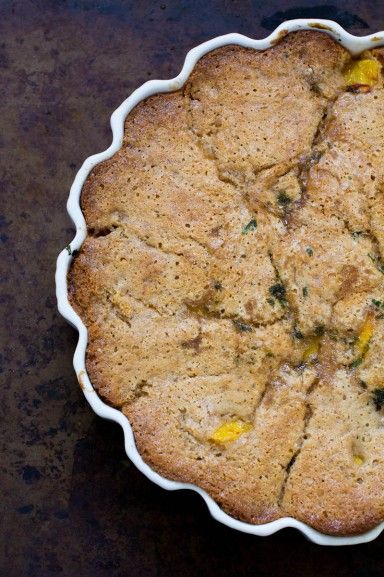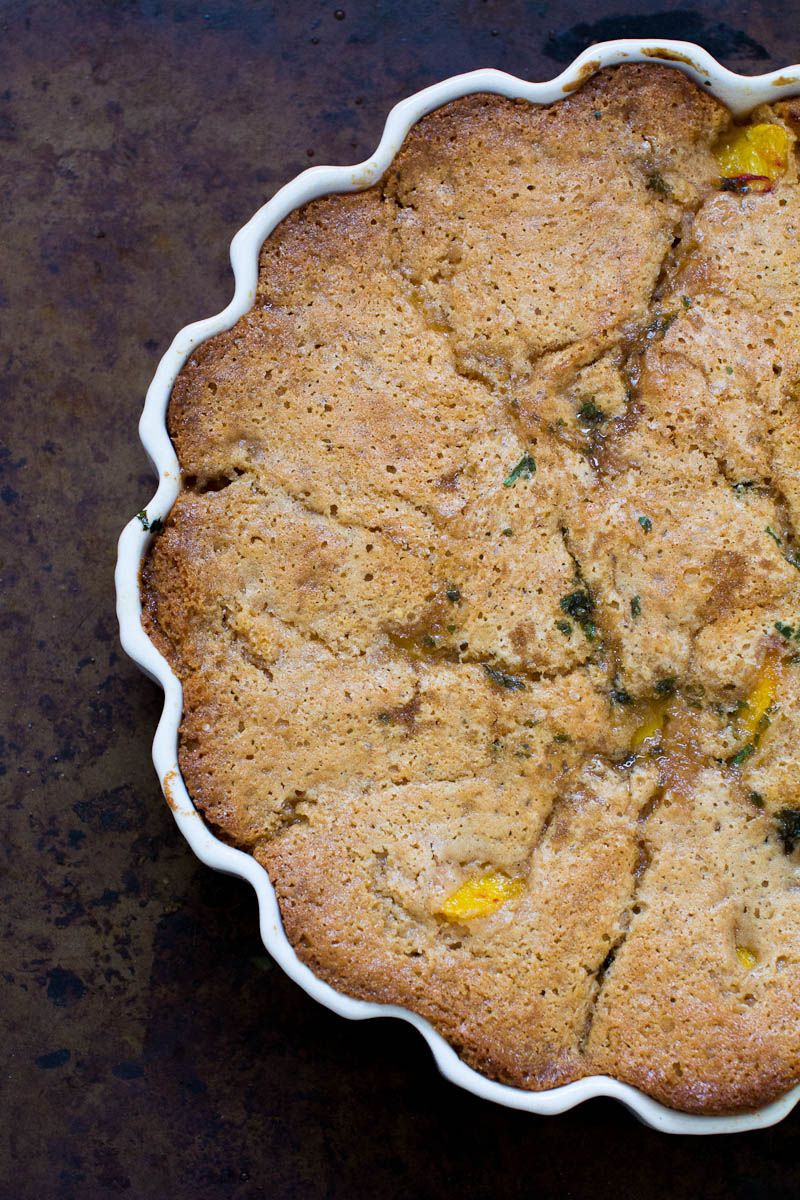 This dish combines the sweetness of ripe peaches with the aromatic and citrusy flavor of curry leaves. The peaches are cooked down into a luscious filling, enhanced by the subtle bitterness and complexity of curry leaves. This dessert offers a delightful contrast of flavors, making it a surprising and delicious choice for those looking to explore new and inventive flavor combinations.
Peach and Curry Leaf Cobbler recipe
Pomegranate Milkshake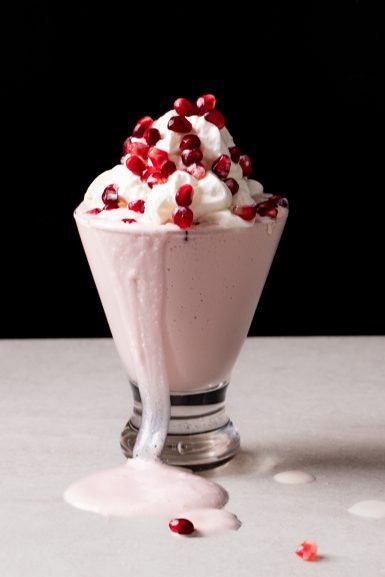 A simple, two-ingredient milkshake made with pomegranate arils and vanilla ice cream. It is so tangy, sweet, and delicious.

Gulab Jamun Cake
Gulab Jamun Cake is a soft and moist cake infused with the flavors of gulab jamun: cardamom, rose water, and saffron. The cake is soaked in a fragrant sugar syrup, mimicking the syrupy texture of traditional gulab jamun. This is the perfect cake for celebrations, combining the beloved taste of gulab jamun with the indulgence of a cake.

Rhubarb Jalebi in Cardamom Syrup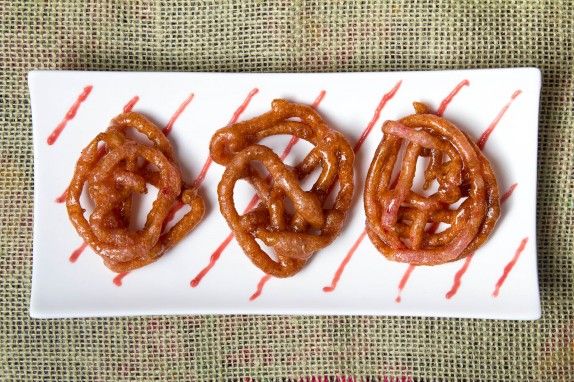 This is an exceptional take on the traditional jalebi. Soaked in a rhubarb-cardamom syrup they are tart and sweet and so delicious!
Rhubarb Jalebi in Cardamom Syrup recipe
Citrus and Curry Leaf Shortbread Cookies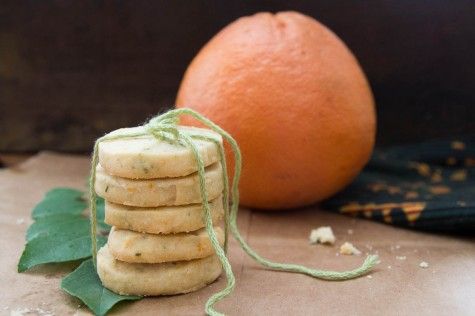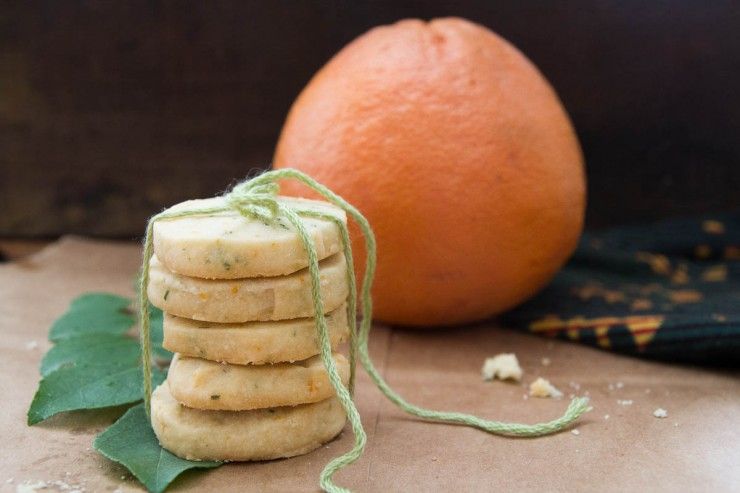 These Citrus and Curry Leaf shortbread cookies offer a unique and flavorful twist on traditional shortbread cookies. Infused with the bright zest of citrus fruits and the aromatic essence of curry leaves, these cookies offer a delightful blend of sweet, tangy, and savory flavors.
The citrus adds a refreshing note, while the curry leaves provide a subtle, earthy aroma. These cookies provide a delicious and exotic experience, combining the familiar buttery shortbread texture with the distinctive tastes of citrus and curry leaves, making them a perfect treat for those seeking a creative and distinctive cookie flavor.
Citrus and Curry Leaf Shortbread Cookie recipe
Paan Shots
Rich, cream, and loaded with the intense flavors of paan. These paan shots are a great after-dinner treat to surprise your guests with. The colorful fennel-candy sprinkles create a delightful presentation.
Saffron Cupcakes with Red Wine Caramel Sauce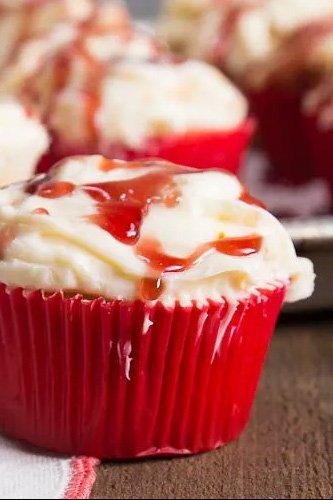 I love serving these saffron cupcakes to add an Indian twist to any kind of December holiday party. They are always a smash hit!
Saffron Cupcakes with Red Wine Caramel Sauce recipe
Fennel Pollen Pots de Creme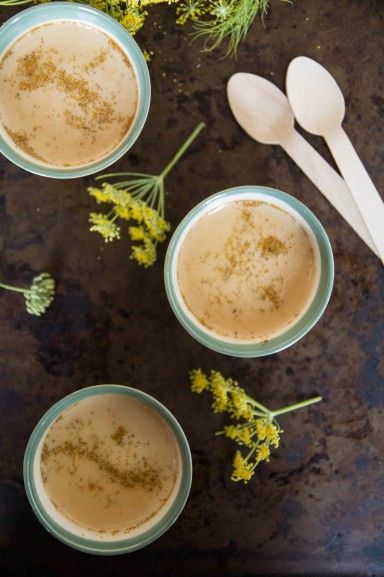 Fennel pots de crème is a creamy dessert made by infusing fennel seeds into a custard mixture, creating a delicate balance of sweetness and subtle licorice flavor. The use of aromatic fennel seeds, a common spice in Indian cuisine, add a hint of exotic warmth and complexity to the classic French dessert.
Fennel Pollen Pots de Creme recipe
Chili Caramel Popcorn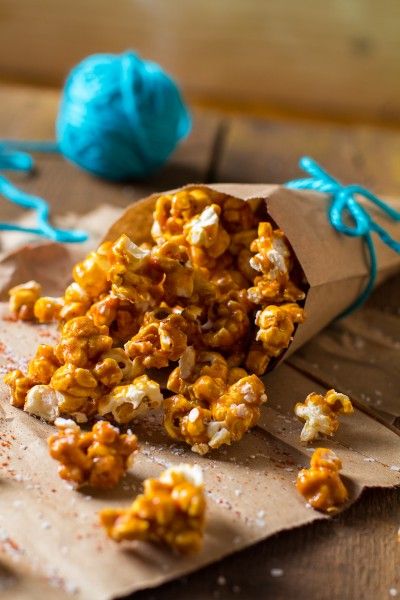 The combination of hot and sweet, mixed with the natural crunch of popcorn, makes this popcorn a satisfying weekend indulgence.

Ginger Cupcakes with Chai Cream Filling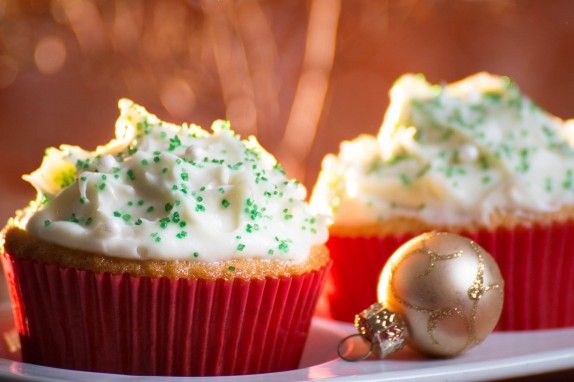 Another one of my favorite Indian-inspired Christmas treats. December is a season of baking, and these just scream holidays!
Ginger Cupcakes with Chai Cream Filling recipe
Mango Swirl Ice Cream
This is a no-churn ice cream recipe featuring my favorite fruit, mango! It uses condensed milk and whipping cream to create a rich base and the classic mango ras (pulp) to give it that extra flavor of mango.
Chocolate Cardamom Shortbread Cookies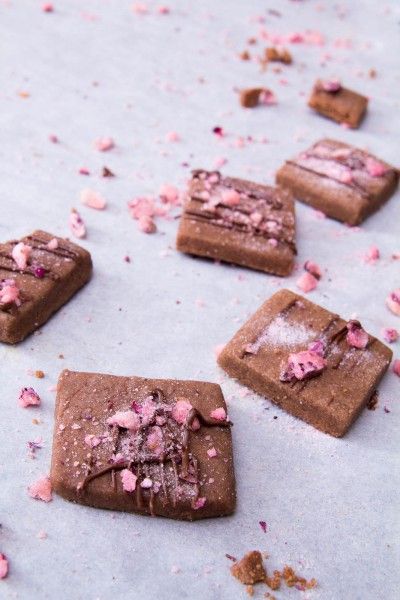 The recipe involves creating homemade candied rose petals by coating dried rose buds in egg white and sugar, which are then used as toppings for Chocolate Cardamom Shortbread Cookies, inspired by a unique Cardamom-Rose truffle, resulting in a flavorful and aromatic dessert combination.
Chocolate Cardamom Shortbread Cookies recipe
Rose Mini Cakes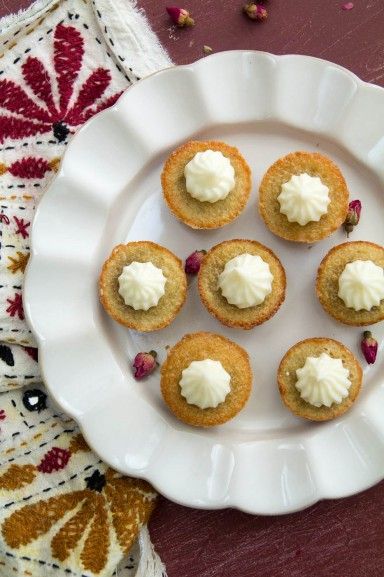 The rose mini cakes are small, individual-sized desserts featuring a delicate and aromatic rose flavor. These gluten-free cakes are moist and fragrant miniature cakes topped with decorative icing and candied rose petals for an elegant presentation.
Indian Spiced Baked Mini Apples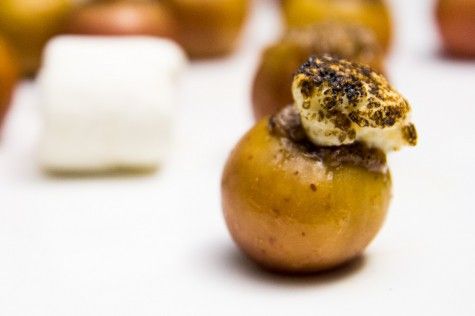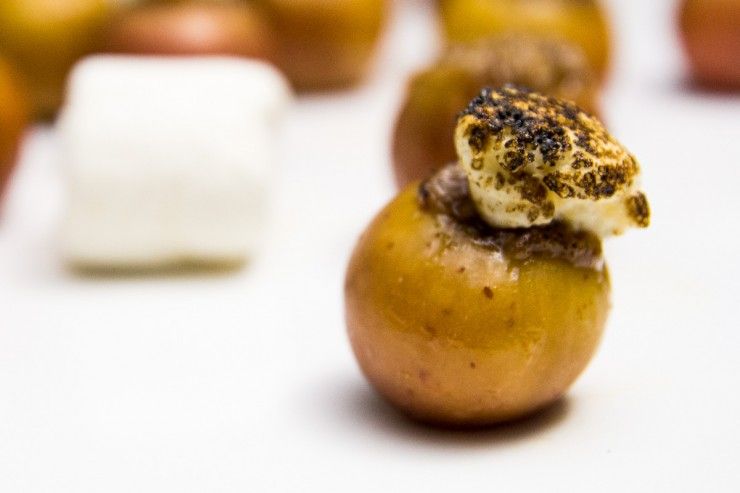 These mini-apples are inspired by ghooghra, which are Indian hand-pies. Instead of stuffing a pastry shell, I stuff the apples. The result is a tasty, single bite Indian-spiced snack, enhanced by the sweet and tart mini-apples.
Indian Spiced Baked Mini Apples recipe
Chai Spiced Pumpkin Bundt Cake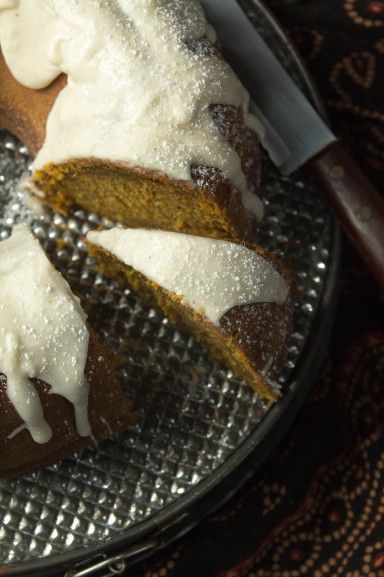 The chai-spiced pumpkin bundt cake is a flavorful dessert combining the warmth of chai spices with the richness of pumpkin. Made in a bundt cake pan, this dessert features a moist and tender crumb, infused with aromatic chai spices, creating a delightful autumn-inspired treat.
Chai Spiced Pumpkin Bundt Cake recipe

Cardamom Tea Shortbread
Cardamom tea shortbread is a type of buttery, crumbly shortbread cookie infused with the warm and aromatic flavor of cardamom. The cookies are made with flour, butter, sugar, and ground cardamom, resulting in a delicate and flavorful treat perfect for pairing with chai or coffee.
Cardamom Tea Shortbread recipe
Pistachio and Saffron Tuiles
Tuiles are thin, crispy cookies that originated in France. The dough is spread thinly and baked until golden brown, creating delicate, curved, or lace-like shapes. This version is made with saffron and and pistachio.
Pistachio and Saffron Tuiles recipe
Chai Spiced Sticky Buns
My twist on the classic cinnamon roll uses a chai-spice mixture to create these lovely, sweet chai-spiced buns.
Chai Spiced Sticky Buns recipe
Mango Chili Sorbet
This recipe combines frozen mangoes, yogurt and chili powder for a quick 5-minute dessert.