So many different Indian foods are made with lentils. From kichidi (simple rice and lentils) to soups, flat breads and even some Maggie noodles (think Ramen noodles) are made from lentils. Beans and lentils are a primary source of protein for many vegetarians, and India is full of vegetarians.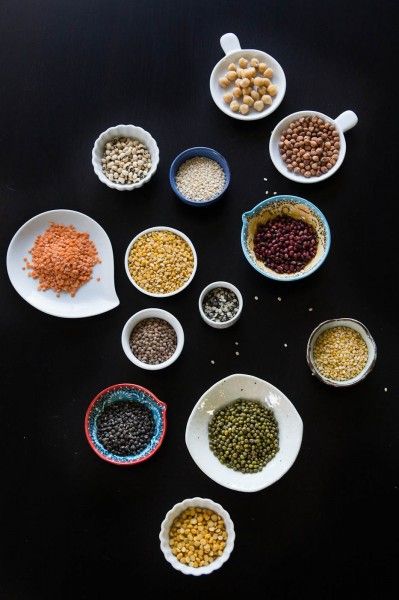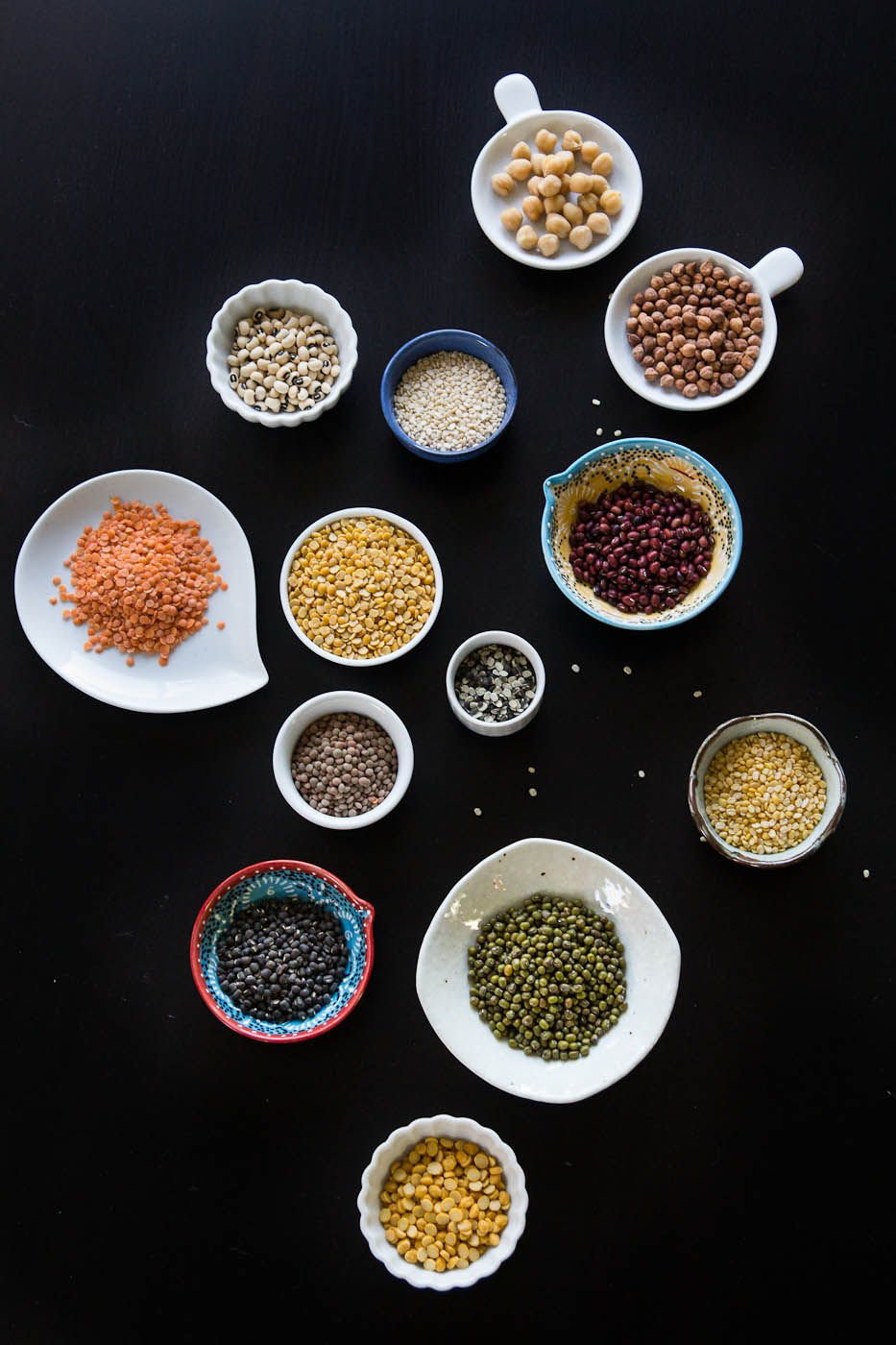 When I was a kid, my mom used to try to get me to eat mung dal (soup) by calling it "French soup" and trying to convince me I would like it because I liked Western food. As an adult, lentils are more of a comfort food for me and I even like mung dal now.
What is Dal?
I know there is a lot of confusion on the difference between lentils, beans and dals. So let me try to clear some of it up.
Lentils are legumes shaped like a lens (wide in the middle and narrowed at the ends). In Indian food, "Dal" means lentil, but it also refers to a whole category of dishes made with dal.
Beans on the other hand are larger. Mung beans are not lentils and used to belong to the species that we commonly call bean but have been reclassified and so are no longer technically beans. It's confusing!
The better word for all these little gems is pulse. A pulse is a dry legume that grows in a pod of one to 12 seeds. It includes beans, lentils, peas and other little seeds I commonly (but incorrectly) refer to as lentils or beans.
Indian pulses are usually available in three types: the whole pulse, the split pulse with the skins on, and the split pulse with the skins removed.
Dal is often translated as "lentils" but actually refers to a split version of a number of lentils, peas, chickpeas (chana), kidney beans and so on. If a pulse is split into half, it is a dal. For example, split mung beans are mung dal.
A stew or soup made with any kind of pulses, whole or split, is known as dal. If the whole pulse is cooked into a dry curry or stir fried simply with spices but not much liquid, it's called kathor in Gujarati. Just remember, wet is dal, dry is kathor.

Pulses are used to make a wide variety of food in Indian cuisine. Desserts are commonly made with pulses. Pulses are often ground into flour, such as besan (garbanzo bean flour).
This flour is used to make a huge variety of foods such as vegetable pakora, khandvi, kadhi, sev, puda and so much more (the list of things you can cook with garbanzo bean flour is literally endless!). Pulses are also soaked and then ground into a paste (often with soaked rice) to make dishes like handvo, dosa and idlee.
Adding pulses to your diet is a great way to eat healthier. They are so full of protein, fiber, iron and so many other nutrients.
Here are some of the most commonly eaten dals, lentils and pulses in India (India is a huge country with a large variation in diet from place to place. This list is specific to what is most commonly eaten in Gujarati cuisine but also translates to many other parts of India). And if you are interested in adding more lentils to your diet, here is a great list of common non-Indian lentils by Oh My Veggies. Check it out!
Mung Beans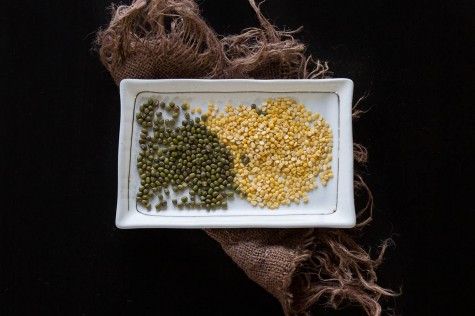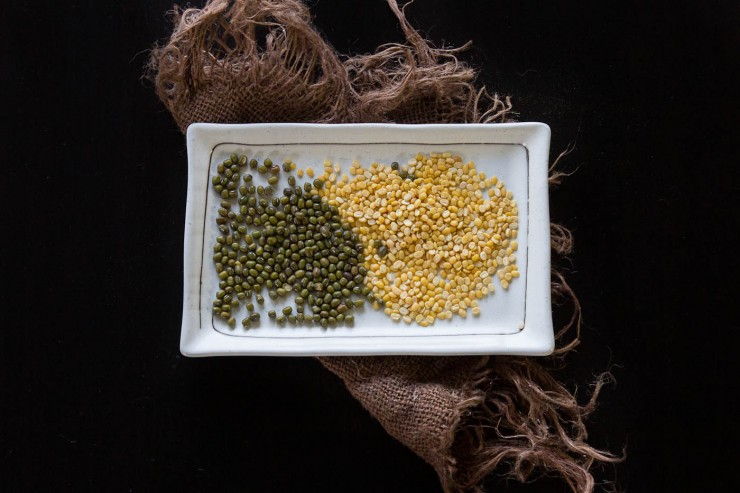 Mung beans (also known as green gram, Hindi: moong, Gujarati: mug), are little green seeds that are yellow inside. They have been eaten by Indians for thousands of years. Mung beans are used for both sweet and savory dishes in Indian cooking.
They are eaten whole, sprouted, split with the skins on and split with the skins removed. In fact, mung dal (split with the skins removed) is one of the most commonly used lentils in my kitchen.
Mung beans with their skins on have a flavor reminiscent of green leafy vegetables but the mung dal with the skins removed has a mild sweet flavor and is often used for desserts as well as making kichidi and mung dal.
Urad Dal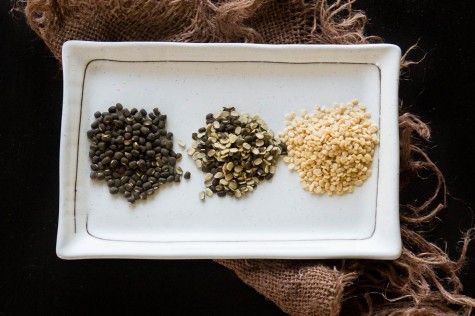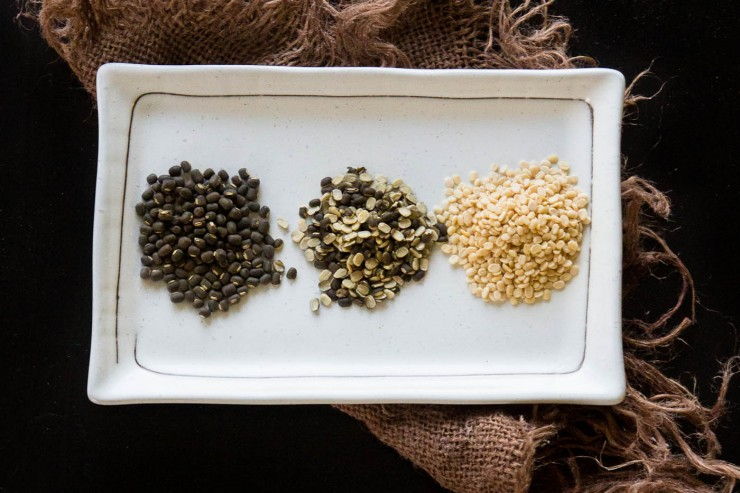 Urad (also known as black gram, black lentil, Hindi: urad, Gujarati: adad), is a little black seed with a white interior. It is very similar to a mung bean in size and shape but tastes entirely different. It has also been eaten in India for thousands of years and is highly prized. Urad has an earthy flavor and an unusual mucousy texture (it's a good thing!) when it's cooked. The popular, and amazing, dal makhani is made with urad. Papad (or poppadums) are usually made with urad dal as well.
Garbanzo Beans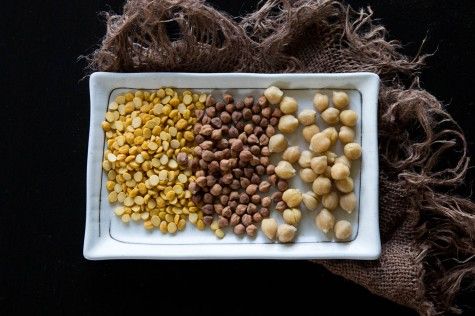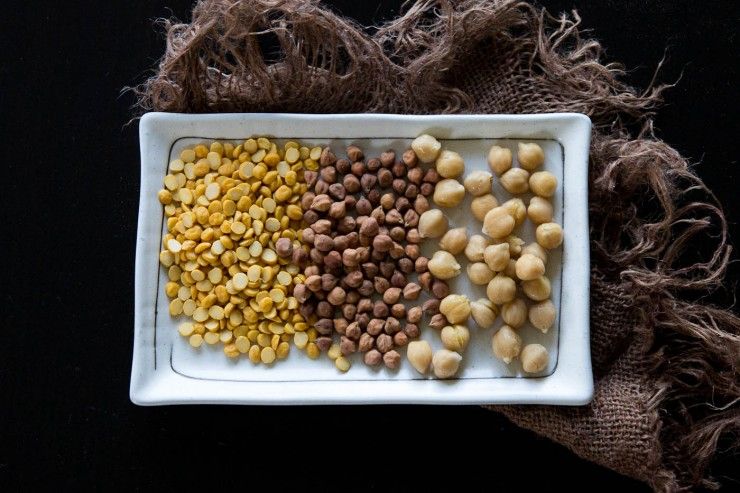 Garbanzo Beans (also known as chickpea, Bengal gram, Hindi: channa, Gujarati: channa). Garbanzo beans are found in two forms, the smaller dark skinned beans known as desi channa and the larger white skinned beans known as Kabuli channa. Garbanzo beans are commonly eaten in India in as whole beans, as split lentils and a multitude of dishes are also made with garbanzo bean flour (known as besan). Channa Masala is the most popular dish made with Kabuli channa.
Channa are slightly nutty in taste. The brown ones are earthier in flavor and tend have a drier texture.
Masoor Dal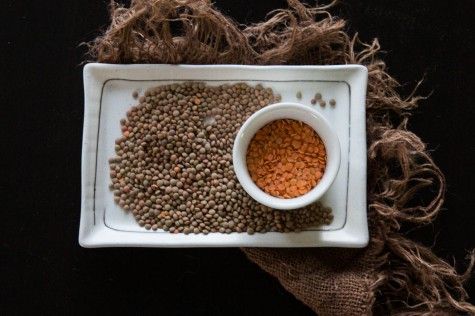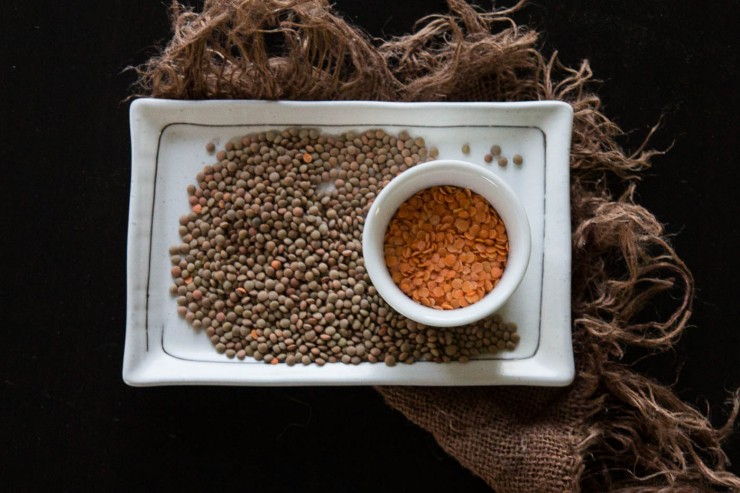 Masoor (also known as red lentil, Hindi: masoor, Gujarati: masoor) is a brown skinned lentil that is orange on the inside. Masoor dal has a pleasant earthy flavor and is very common in Northern India. It is commonly used to make dal, soups and stews.
Pigeon Pea (Toor Dal)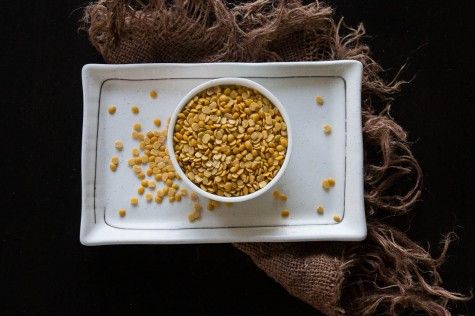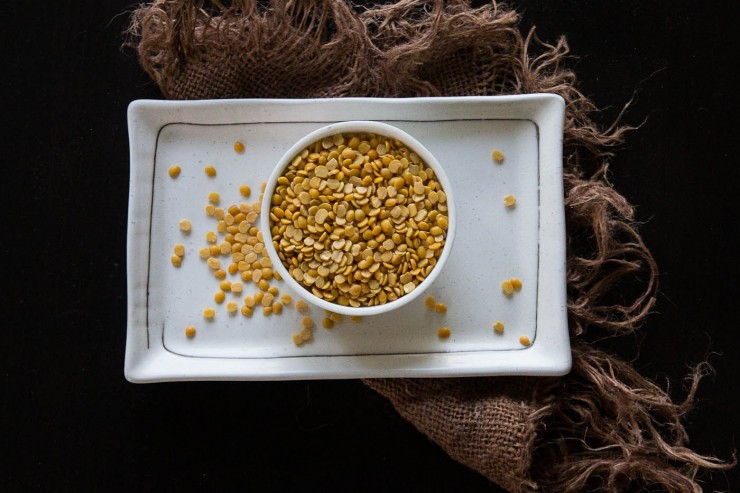 Pigeon Pea (also known as tropical green pea, Hindi: toor, Gujarati: tuver), is a beige lentil with a yellow interior. This is the most important pulse in a Gujarati household. The fresh peas are highly prized and used for curries and stuffing in spicy handpies. They have a delicious nutty flavor that is very distinctive. The dried and split peas are a staple in everyday cooking as well. The famous "Gujarati Dal" is made with this pea where the balance between spicy, sweet and sour is most important.
Black-Eyed Peas and Azuki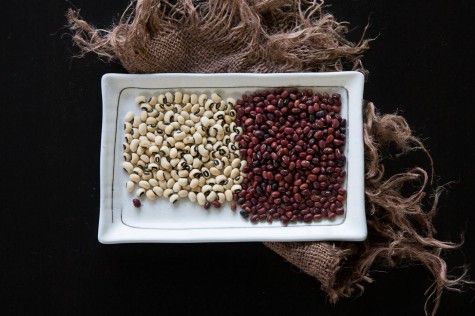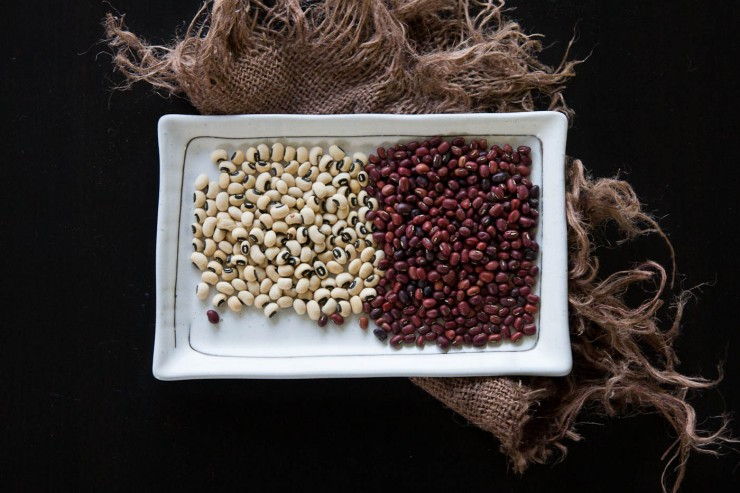 Black-eyed pea (also known as cow pea, Hindi: lobia, Gujarati: chora). Black-eyed peas have a distinctive flavor and are an all around pulse in Indian cuisine. They're used to make curries, dals, papads and fritters.
Azuki bean (also known as red cow pea, Hindi: chori, Gujarati: lal chora). Azuki beans have a sweet nutty flavor and are another all around pulse. They are used very much like black-eyed peas.
Other
Pea (Hindi: matar, Gujarati: vatana). Although split peas are uncommon in Indian cuisine, whole dried peas have a mild earthy flavor and a hearty mouth feel and texture. They are used for one the most beloved street food stews called ragda.
Kidney Bean (Hindi: rajma, Gujarati: rajma). Kidney beans have a strong earthy flavor and nice silky texture. They are made into a delicious curry simply called rajma. It is delicious eaten with rice. It is important to note that kidney beans can be toxic if not cooked properly. They must be pre-soaked and boiled for at least 30 minutes to ensure they are safe for eating. Do not cook them in the slow cooker because that multiplies their toxicity.
| Bean | Stove Top Cook Time | Pressure Cooker or Instant Pot Time | Pressure Cooker Whistles | Slow Cooker Time | Soak Time |
| --- | --- | --- | --- | --- | --- |
| Mung, whole | 65 minutes | 9 minutes | 5 | low: 5 hours | 4 hours (optional) |
| Mung, split with skin | 20 minutes | 7 minutes | 3 | low: 4 hours | 30 minutes (optional) |
| Mung, split | 20 minutes | 7 minutes | 3 | low: 4 hours | 30 minutes (optional) |
| Urad, whole | 65 minutes | 11 minutes | 6 | low: 6 hours | 4 hours (optional) |
| Urad, split with skin | 30 minutes | 8 minutes | 4 | low: 4 hours | 30 minutes (optional) |
| Urad, split | 30 minutes | 8 minutes | 4 | low: 4 hours | 30 minutes (optional) |
| Garbanzo, brown | 80 minutes | 20 minutes | 8 | low: 8 hours | 8 hours to overnight |
| Garbanzo, white | 80 minutes | 20 minutes | 8 | low: 8 hours | 8 hours to overnight |
| Garbanzo, split (channa dal) | 80 minutes | 15 minutes | 7 | low: 7 hours | optional |
| Masoor, whole | 45 minutes | 8 minutes | 5 | low: 7 hours | optional |
| Pigeon Pea, whole | 80 minutes | 18 minutes | 8 | low: 8 hours | 8 hours to overnight |
| Pigeon Pea, split (tuver dal) | 35 minutes | 8 minutes | 5 | low: 5 hours | 30 minutes (optional) |
| Black-eyed Pea, whole | 65 minutes | 18 minutes | 6 | low: 7 hours | optional |
| Black-eyed Pea, split | 35 minutes | 9 minutes | 4 | low: 4 hours | optional |
| Adzuki, whole | 65 minutes | 17 minutes | 6 | low: 7 hours | optional |
| Pea, whole | 65 minutes | 16 minutes | 6 | low: 7 hours | 8 hours to overnight |
| Kidney Beans, whole | Boil for 30 minutes then simmer for 30 to 60 more minutes. | 14 minutes | 6 | Toxic. Do not cook in slow cooker. | 8 hours to overnight |
Cooking Notes:
Before you cook the pulses, sift through them to take out any pebbles or debris. Then rinse them a few times.
Pulses taste best when they are cooked slowly. When cooking pulses on the stove top, bring to a boil and lower heat to medium low and let simmer. Start counting the cooking time once the pot has come to a boil and not before. In the case of kidney beans, boil for 30 minutes before lowering heat to simmer.
If your pulses are old, they can take double the time to cook. If they haven't softened in the time indicated, don't worry. Just cook until soft. Make sure to add more water as needed.
When cooking pulses, hold off adding salt or acids (such as lemon or vinegar) until the end, or the they will not soften.
Water: If you are cooking on the stovetop or slow cooker, use about 3 to 4 times the water. In the instant pot or pressure cooker, two times the water will do. Always keep an eye on the stove and add more water if it starts to look dry.
Indian pressure cookers are a little different from the ones available in the West. They usually release steam regularly in what is referred to as "whistles." These whistles are counted to determine cook time. They are not always accurate and can vary from cooker to cooker. So use these whistle counts as a guide and figure out what works best for your cooker.
Soaking: In the cases where soaking is optional, if you soak the pulses, it will reduce the cooking time. The cooking time I've mentioned is for unsoaked pulses where soaking is optional and for soaked pulses where soaking is recommended prior to cooking.
Slow cookers can be a great, convenient way to prepare pulses, just throw everything in in the morning and when you get home from work your food is ready. But some beans, e.g. kidney beans, are toxic until they are boiled (for at least 30 minutes), and slow cookers can actually make them more toxic. If you want to use the slow cooker on these beans, boil them for 30 minutes before adding them to the mixture, or use canned beans which are already boiled.