Khandvi are a traditional Gujarati snack, or "farsan," that are made with besan flour (garbanzo bean flour) and seasoned with sesame seeds, mustard seeds, chilies, and coconut. They are bite sized and easy to pick up with your fingers and pop into your mouth making them a great party appetizer. And best of all, they are both gluten free and vegan!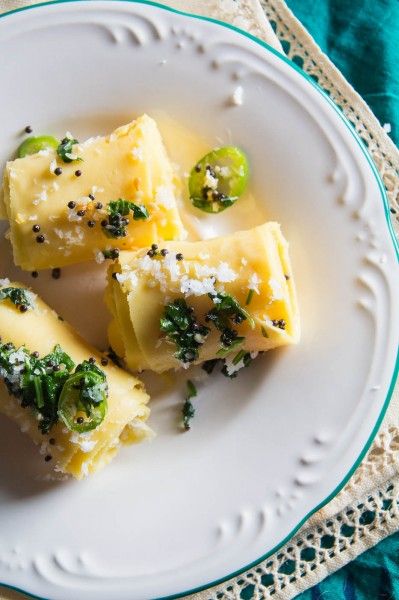 I fell in love with khandvi making when I was about six years old. I used to love helping my mom make these spicy garbanzo bean flour rolls. My mom would make large batches and I would help her spread out the dough into thin sheets all over the counters and tabletops.
Then we'd roll the thin sheets of dough into delicious little scrolls and smother them in spices. It was messy and so much fun!
Khandvi is an example of farsan, which are savory Indian snacks. Farsan are commonplace at get-togethers, like parties and weddings, or any time guests come over. They are often served with chai, other farsan, or mithai (sweets).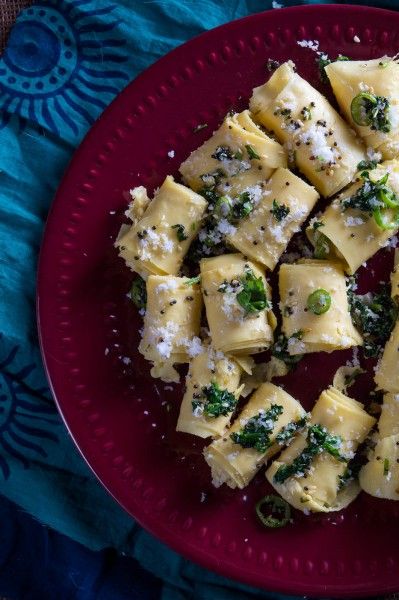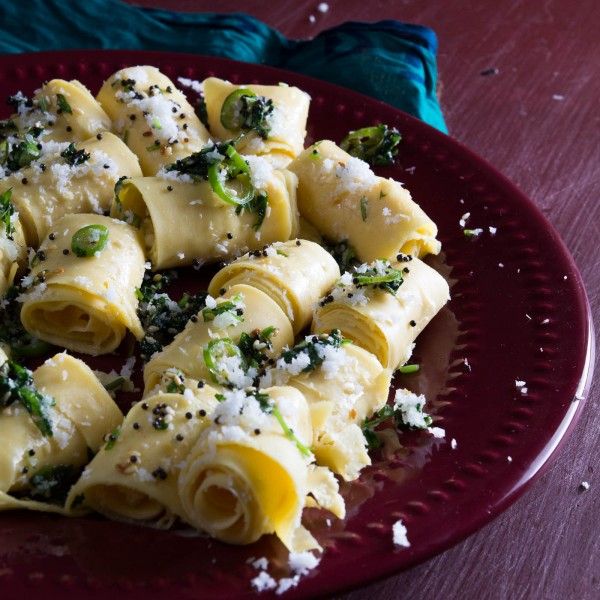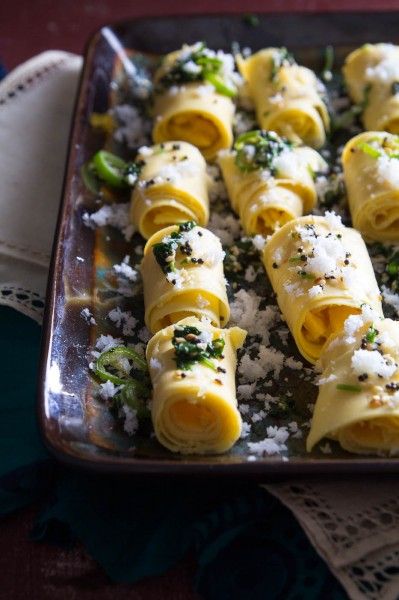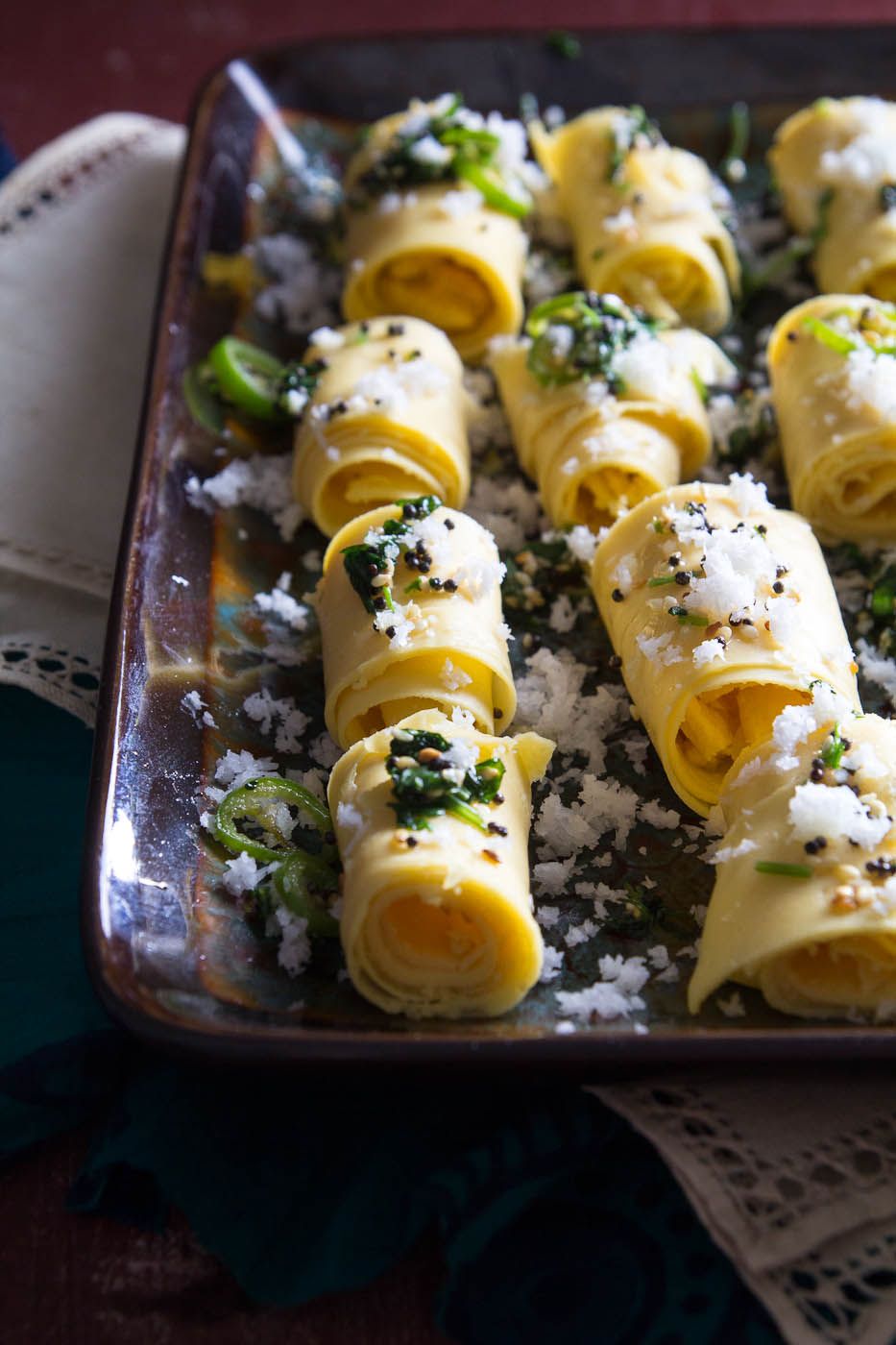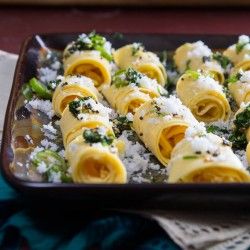 Khandvi (Spicy Garbanzo Bean Flour Rolls)
Spicy garbanzo bean flour rolls, a Gujarati farsan snack
Ingredients
1

cup

besan

chickpea flour/ garbanzo bean flour/ gram flour

½

green chili

thinly sliced

1

handful of cilantro

chopped

1

tsp

black mustard seed

1

tsp

sesame seed

1

tbsp

lemon juice

½

tsp

salt

1 ½

tbsp

+ 2 tsp vegetable oil

1

tbsp

dried coconut
Instructions
In a small bowl, mix the dried coconut with 1 tablespoon of water and set aside. In a medium bowl, mix the besan, salt, and lemon juice with 1 1/2 cup of water. Stir and break up the lumps until you have a smooth batter.

Add 1 tsp of oil to a 12-inch non-stick skillet (or any non-stick pot will work). Turn on the heat to medium and add the batter to the cold pan. Turn the heat to high and let the batter cook. Add 1 tsp of oil after 5 minutes of cooking. Keep stirring continuously otherwise the batter will stick and burn. Cook until the batter thickens to the consistency of spackle.

Test the doneness of the batter by spreading a little onto the counter or the back of a cookie sheet. If the batter lifts from the surface and is easy to roll up, it's done. If not, keep cooking a little while longer. Don't forget to keep stirring the whole time. The cooking process should take about 10 minutes.

As soon as the batter is done, work quickly to spoon out the batter onto a flat surface (backs of cookie sheets, a clean counter, or table tops all work well). Using a spatula, spread out the batter into thin sheets. The thinner the layers, the better the khandvi. So try to get the layers as thin as possible. Again, work quickly because the batter will cool and become hard to spread.

Once the batter is spread out, cut into rows about 1 to 2 inches wide. Using the tips of your fingers, roll the khandvi into rolls. Keep the rolls loose because loose rools taste better than tight rolls.

Once all the khandvi are rolled out, heat a small pan with 1 1/2 tbsp of oil. When the oil begins to shimmer, test the oil by tossing in a mustard seed. If it sizzles, the oil is ready. Toss in the rest of the mustard seeds. Let cook for a few seconds. Add the green chilies and sesame seeds. Cook a few more seconds. Add the cilantro and turn off the heat.

Pour the oil and spices over the khandvi. Sprinkle the soaked coconut over. Serve at room temperature.
Notes
Turmeric or chili powder are often added the the batter. Feel free to add them if you want.
Nutrition
Calories:
59
kcal
Carbohydrates:
6
g
Protein:
2
g
Fat:
3
g
Saturated Fat:
1
g
Polyunsaturated Fat:
1
g
Monounsaturated Fat:
1
g
Trans Fat:
0.01
g
Sodium:
110
mg
Potassium:
91
mg
Fiber:
1
g
Sugar:
1
g
Vitamin A:
4
IU
Vitamin C:
1
mg
Calcium:
7
mg
Iron:
1
mg
Is khandvi a healthy snack?
Khandvi is relatively healthy because it is made from besan, or chickpea flour. Chickpea flour is high in protein and contains no gluten. Khandvi is also not fried. A little oil is used when cooking the khandvi, and for the vaghaar (tadka) of spices that are tempered and poured over the top.
What do you serve khandvi with?
Since it is snack food, khandvi is often served with chai. It may also feature next to other farsan, like dhokla and handvo, and with mithai.
How do I make my khandvi smooth?
Make sure the consistency of the batter is smooth before you roll it out. It should not have any lumps in it. Make sure to test the batter against your surface before you roll it out. Keep cooking the batter until it rolls out.