Love Gulab Jamun but don't want to go through all of the trouble of rolling out the balls and deep-frying them? Gulab Jamun Cake is an Indian cake recipe that captures the flavor and texture of gulab jamun but is so much easier to make, and it's baked instead of deep-fried. Bring this cake to your next Diwali celebration and no one will miss the gulab jamun.
Put simply, this recipe combines 2 of my favorite things, Gulab Jamun and cake. What I wanted for this was a cake that would capture the taste and texture of gulab jamun without having to fry them. I must have thought about this recipe for years before I finally put it together.
You can find other versions of this on other websites and there is no consensus about what a Gulab Jamun Cake should be.
If you love Gulab Jamun and are looking for something new to bake, you may also be interested in this Gulab Jamun Cheesecake recipe.
Try these other Indian cake recipes.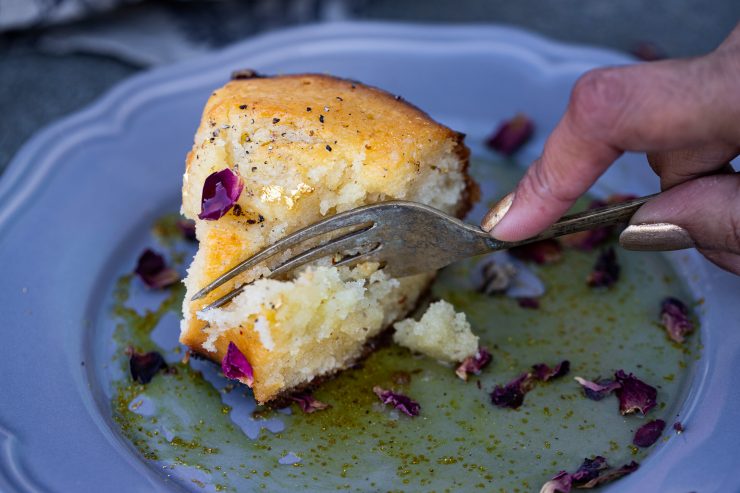 Using a Ricotta Cake Base
Getting the flavors right was easy, but it took some trial and error to get the right texture and absorption of the syrup. The first version I came up with was based on Tres Leches cake. This made sense to me because Tres Leches cake is soaked in milky syrup.
As much as I adore Tres Leches cake, the texture that came out of it wasn't what I was looking for. Tres Leches uses a sponge cake base that was too light and airy for gulab jamun.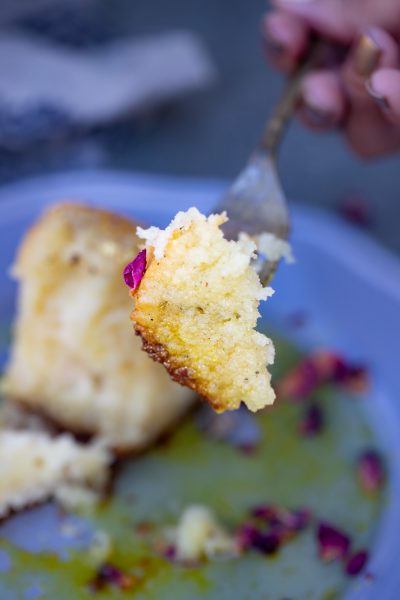 Instead I went with a ricotta cake. Ricotta makes sense because traditional gulab jamun has mawa in it. Mawa is an Indian ingredient made from reducing milk. Everytime I've had ricotta cake I've immediately thought of mawa cake, which is something I grew up eating in India.
When a recipe calls for mawa, I often use ricotta because it achieves the flavor and texture without having to do all of the work of reducing milk. In this cake it helps get the right density and milky flavor.
I also tried ricotta cake with some milk powder expecting it would give the right milkiness. I found the milk powder made the texture too gluey and did nothing for the milkiness, so I leave that out.
Gulab Jamun Bundt Cake
This Gulab Jamun cake is excellent as a bundt cake if you have a bundt pan.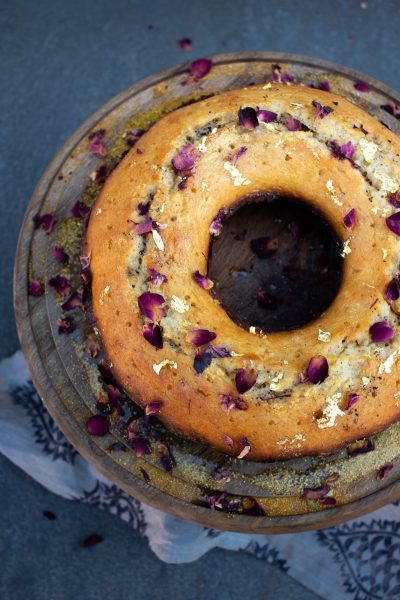 The unique shape of a bundt pan helps cook cake evenly all the way through, which makes bundt cakes very reliable. And when it comes to Gulab Jamun bundt cake, the extra crust of a bundt cake helps give it that toasty flavor of gulab jamun.
If using a bundt pan, there is no changes needed to the recipe, other than to reduce the bake time. Bake for 45 minutes instead of 60-65.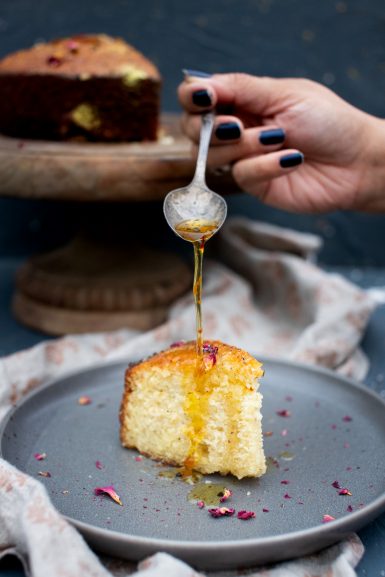 Decorating Gulab Jamun Cake
Some people frost their gulab jamun cakes. I prefer to keep the flavors true to gulab jamun. To decorate my cake as I have in these photos, I use edible gold-leaf and a sprinkling of rose petals.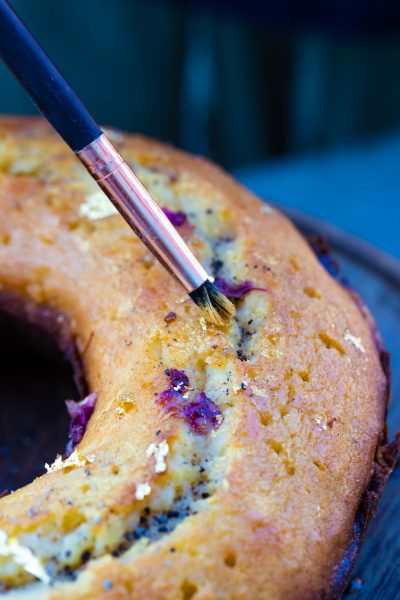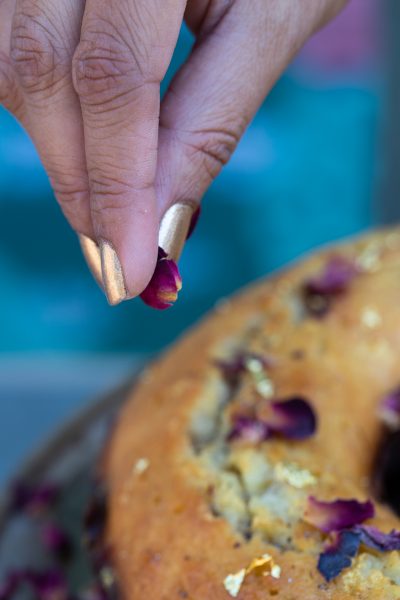 Tips
The one thing that you do want to make sure your do is beat your egg and sugar well enough that it will ensure you get the right rise with enough air. I tried it once before where I didn't beat it enough and it didn't rise as much
I prefer to leave out the milk powder. It took away from the lightness of the crump. Preferred to stick to ricotta.
Add the syrup when it is hot for best absorption. The syrup does have a tendency to clump to the side because the cake rises in the middle. For even incorporation, add a little at a time. I don't mind if my syrup just goes to the end because I also serve it with a side of syrup.
For the ricotta, there was a noticeable difference between the ricotta I get from Trader Joe's versus from the supermarket. The supermarket version was much thicker and I preferred the texture of the cake with that one although either would work.
The Recipe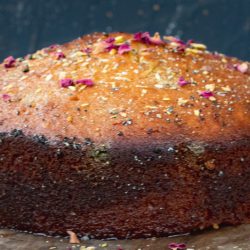 Gulab Jamun Cake with Ricotta Cheese
A cake that has the flavors and texture of gulab jamun without deep frying
Ingredients
4

small eggs

or 3 large eggs

1

cup

sugar

1

cup

ricotta cheese

½

cup

ghee or butter

1

tsp

rose water or vanilla

1 ½

cup

all purpose flour

½

tsp

baking powder

¼

tsp

salt

½

tsp

cardamom

Pinch

saffron
Syrup
1.5

cup

water

1.5

cup

sugar

½

tsp

cardamom

Saffron

Rose petals (fresh or dried)

optional
Instructions
Beat eggs and sugar for 2-3 minutes until pale and fluffy

Whisk in the ricotta cheese. Beat for 1 minute.

Add the ghee and rose water. Whisk and add vanilla.

Add flour, baking powder, salt, cardamom, saffron. Fold in with spatula.

Pour into 7" removable bottom, 8" springform pan, or bundt cake pan.

Bake at 375°F for 60-65 minutes, or 45 minutes for a bundt cake.
For the Syrup
Add water, sugar, cardamom, saffron and roses to a pot. Heat to a simmer, then remove from heat.
Assembly
Poke the cake all over with a toothpick. They should be about 1/4" of an inch apart and go to the bottom of the cake.

Pour half of the hot syrup onto the cooled cake. Let sit for 5 minutes. Pour the remaining syrup.
Nutrition
Calories:
276
kcal
Carbohydrates:
46
g
Protein:
4
g
Fat:
9
g
Saturated Fat:
5
g
Polyunsaturated Fat:
1
g
Monounsaturated Fat:
3
g
Trans Fat:
0.01
g
Cholesterol:
74
mg
Sodium:
76
mg
Potassium:
72
mg
Fiber:
0.5
g
Sugar:
34
g
Vitamin A:
81
IU
Vitamin C:
0.1
mg
Calcium:
31
mg
Iron:
1
mg
Storing Gulab Jamun Cake
Refrigerating
Ricotta cake should be kept in the refrigerator if it going to be kept for more than a few hours. Since it contains ricotta, it could potentially spoil at room temperature.
Freezing for Long-Term Storage
Gulab Jamun cake freezes well. It is best to freeze this cake if you want to store it because freezing helps retain the moisture in the cake, whereas refrigerating can cause it to dry out after a few days.
It's best to freeze the cake before you add the syrup. That way you don't have to worry that the sugar in the syrup might crystallize.
Bake and cool the cake. Once it has reached room temperature all the way through, wrap it in parchment paper, then aluminum foil to ensure it is tightly sealed.
To store it for more than a week, I would recommend double wrapping it to protect against any kind of freezer burns or absorbing any other flavors or smells that might come from the freezer.
To thaw the cake, leave it at room temperature for at least 4 hours. Then poke holes and pour hot syrup over the cake.
Recipe Step-by-Step