October is the best month of the year! It's is a month full of celebrations for me and my family. My birthday is in less than two weeks. My grandma, late grandpa, aunt, and uncle also have October birthdays. And to top if off, my parent's wedding anniversary comes later in the month.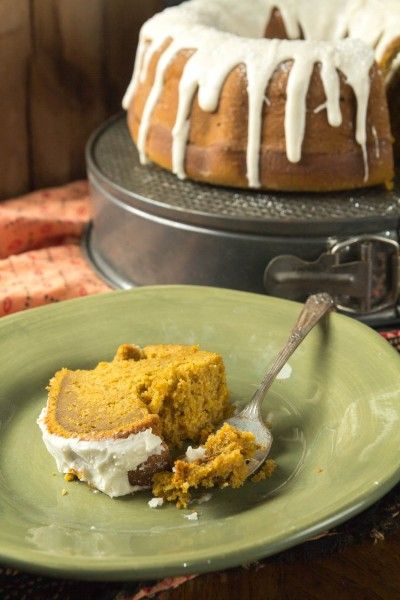 My favorite Indian festival, Navratri, starts on Saturday. I get to dance every night for 9 days. This year, Navratri started early for me because a local non-profit held an early dance night last weekend at Balboa Park. My mom, brother, and his girlfriend came out to go dancing with us along with some friends.
We had a great time dancing under the stars. The actual Navratri festival starts tomorrow – I can't wait! I already have all my outfits pulled out and planned. I am listening to garba music on YouTube as I type right now. I'm not going to lie, there is a little chair dancing involved. Don't judge!
Then there is Halloween – which is about two of my favorite things, dressing up and eating tons of candy. October is also when I can start dressing for fall. I get to pull out my boots and light sweaters and start layering my clothes again.
But most of all, my favorite thing about October is the food. I can start to use my oven again and roast vegetables. There is nothing better than tossing some chopped parsnips and sweet potatoes with spices in the oven. Or roasted cauliflower, one of my all time favorite foods. And of course all things pumpkin.
Since pumpkin spices are so similar to chai spices, I thought I would experiment with them and try chai masala with pumpkin to make a cake. The warm flavors of a chai masala complement pumpkin so well. It's perfect for fall.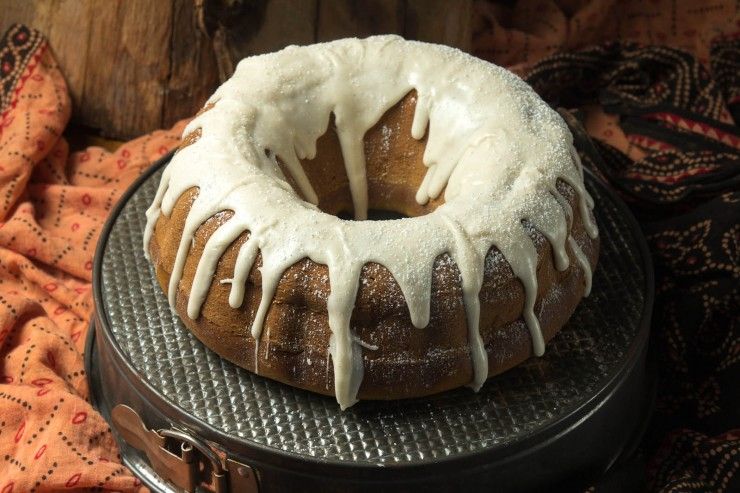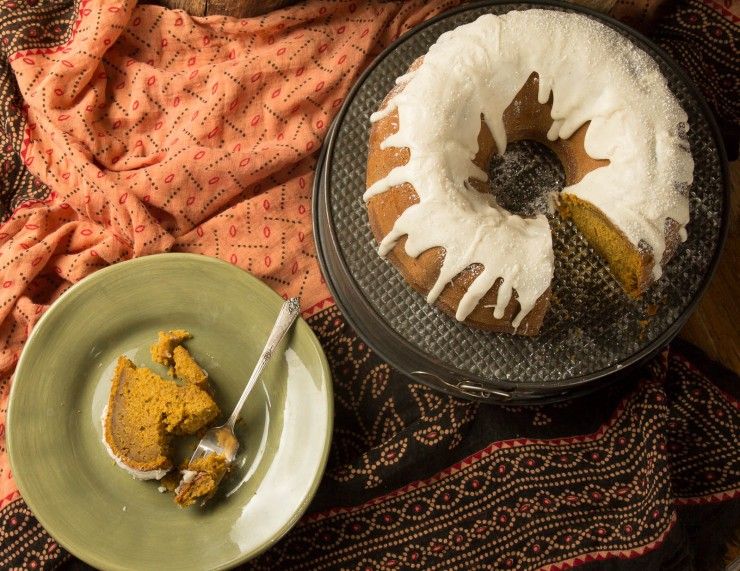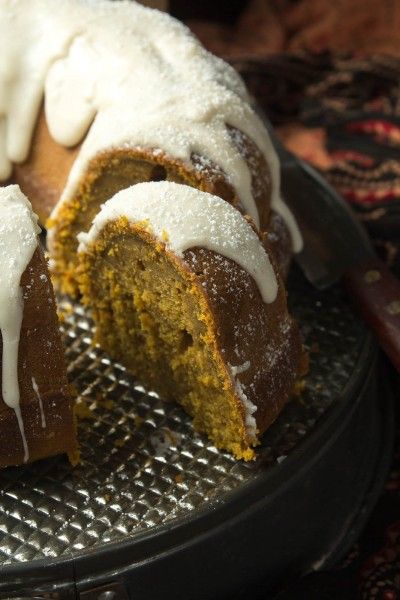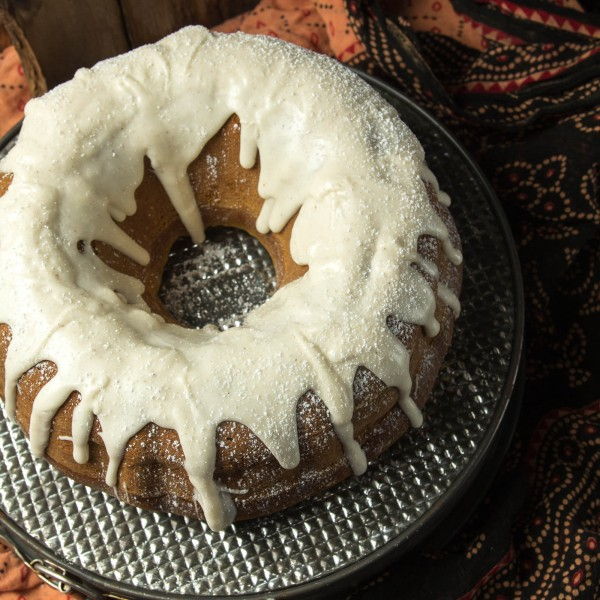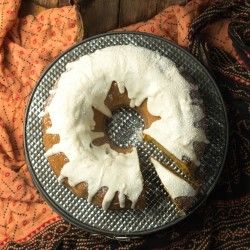 Chai Spiced Pumpkin Bundt Cake
A delicious bundt cake with pumpkin and India chai masala spices
Ingredients
For the Bundt Cake
¾

cup

butter

softened, plus a little extra for greasing the bundt pan (1 1/2 sticks)

2 ¾

cups

all-purpose flour plus a little extra for dusting the bundt pan

about 2 tbsp

2

tsp

baking powder

1

tsp

baking soda

1

tbsp

chai masala

1

tsp

ground cardamom seeds

1

tsp

ground cinnamon

½

tsp

ground ginger

½

tsp

freshly grated nutmeg

½

tsp

salt

1 15

oz

can solid packed pumpkin

¾

cup

milk

1

tsp

vanilla

¾

cups

granulated sugar

½

cup

brown sugar

3

large eggs
For the Glaze
2

tbsp

cream cheese

2

tbsp

milk

1

tbsp

rum

optional, use an extra tbsp of milk if you don't use the rum

¼

tsp

chai masala

¼

tsp

vanilla

1 ½

cups

powdered sugar
Instructions
Making the Bundt Cake
Preheat oven to 350 degrees Fahrenheit. Grease a 10 inch nonstick bundt pan really well with the extra butter. Make sure to cover all the little grooves. Then dust with flour. I do this by tossing 2 tbsp of flour to the bottom of the pan and then rotating the pan and shaking it about so that the flour sticks to the butter. Rotate until the whole pan is covered in a thin layer of flour, adding extra flour if needed. Then turn the pan over into a trash can or sink so that the extra flour falls out.

In a medium bowl, whisk the 2 3/4 cups of flour, baking soda, baking powder, spices and salt. Set aside.

In a separate medium bowl, whisk together the pumpkin, milk and vanilla.

In a large bowl, with an electric beater or stand mixer on medium high speed, beat together the butter and granulated sugar until the mixture turns pale and fluffy. About 3 to 5 minutes.

Add the brown sugar and beat to mix well. Then add the eggs one at a time beating to mix well between each egg.

Add a third of the flour and beat on low speed. Then add half of the pumpkin mixture and beat. Add another third of the flour, then the second half of the pumpkin and finally the last of the flour. Make sure to beat to mix well between each addition.

Pour the batter into the greased and floured bundt pan. Smooth out the top with a spatula.

Bake for 45 to 50 minutes. Test the doneness of the cake by inserting a wooden toothpick into the center of the cake. It's done if the toothpick comes out clean.

Cool cake in the bundt pan on a rack for 15 minutes. Then invert onto a cooling rack. Cool for at least 30 more minutes until cool to the touch before adding the glaze.
Making the Glaze
Heat the cream cheese and milk in the microwave for about 40 seconds and beat together until smooth.

Add the rum, chai masala, and vanilla. Mix well.

Add the powdered sugar a little at a time. Whisking or beating with an electric beater so that if forms a smooth mixture.

Adjust the thickness of the glaze by adding a little extra sugar or milk.

Drizzle the icing onto the cooled cake.
Nutrition
Calories:
401
kcal
Carbohydrates:
63
g
Protein:
6
g
Fat:
14
g
Saturated Fat:
9
g
Polyunsaturated Fat:
1
g
Monounsaturated Fat:
4
g
Trans Fat:
1
g
Cholesterol:
77
mg
Sodium:
327
mg
Potassium:
241
mg
Fiber:
2
g
Sugar:
38
g
Vitamin A:
6358
IU
Vitamin C:
2
mg
Calcium:
85
mg
Iron:
2
mg