Only one morning out of the entire year, Steve makes sticky buns for breakfast. It's our Christmas tradition. I love waking up to the smell of cinnamon in the air. I absolutely love them and often wonder why that is the only day of the year that we make them at home. Oh yeah! It's because of the ridiculous amounts of butter and sugar that are involved.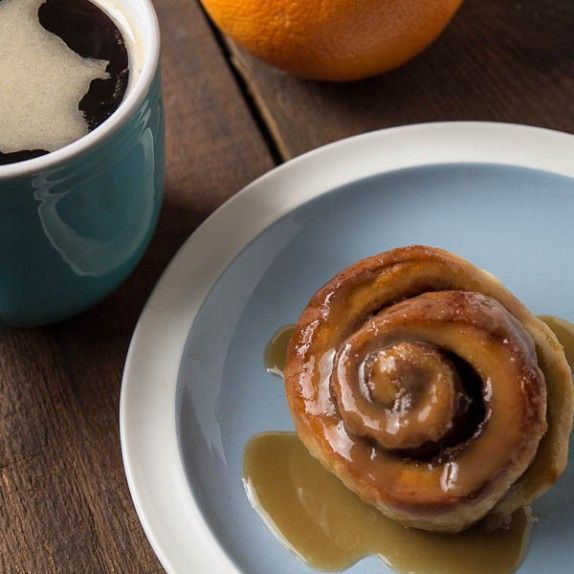 I made these Chai Masala Sticky buns for the San Diego Food Bloggers Bake Sale. I had this idea that chai masala would be a great flavor for sticky buns and thought I'd experiment with them for the bake sale last weekend.
I tried one batch with the yeast I had a home. The flavor came out great but the sticky buns were rather dense. Steve immediately realized that our yeast was too old. He went out and bought me a new package of yeast and I tried again.
This time, the sticky buns puffed up really well and were light, moist and delicious. Success! Now I just had to make 3 more batches. Sigh!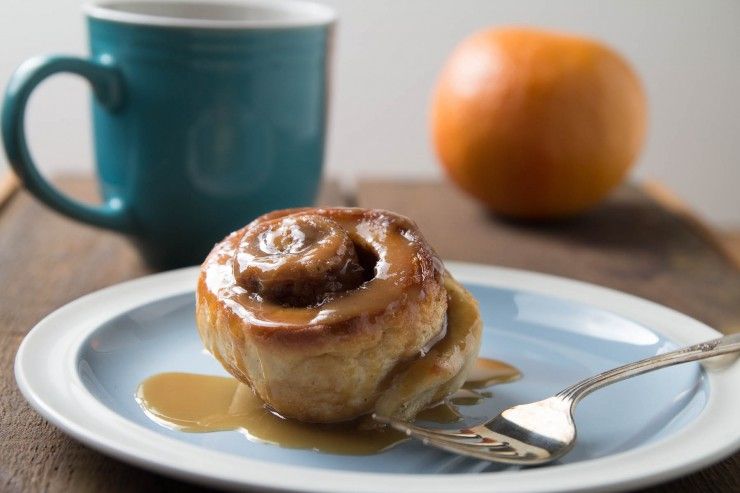 Had I realized how long each batch would take to make, I would have saved the chai-spiced sticky bun for another occasion. Especially because last week was so crazy busy between all the baking, my tv appearance, and prepping for Steve's birthday party.
But once I had made a batch, I wanted to perfect it and then my mind was made up to take the sticky buns to the bake sale.
They take a long time to make because they need so much rising time. But they are totally worth it!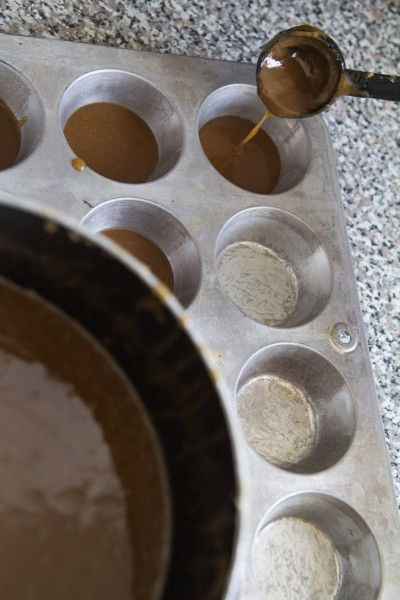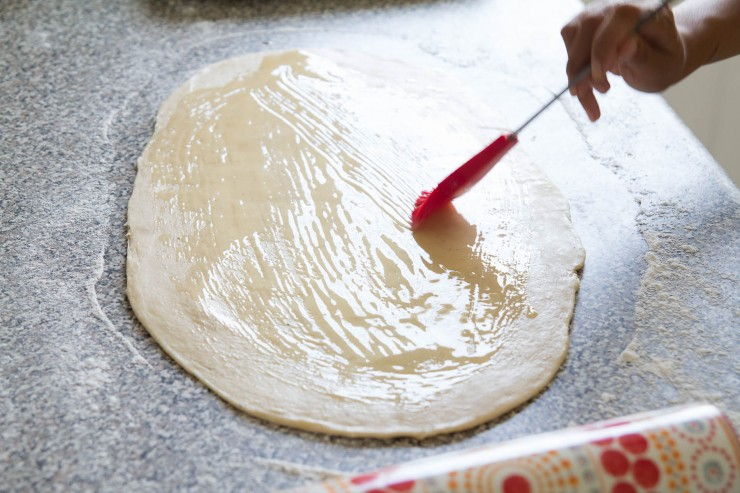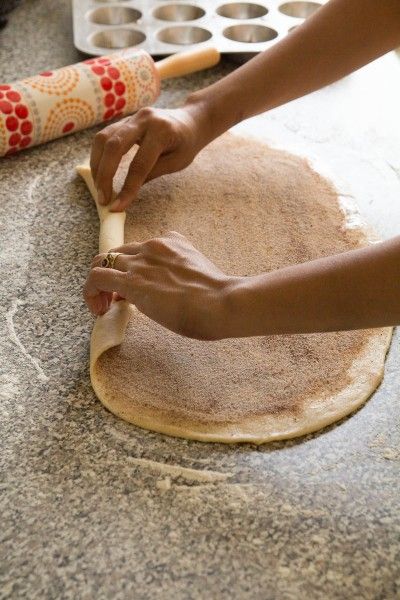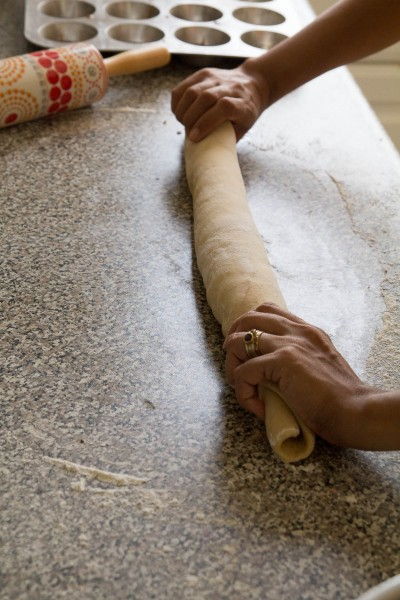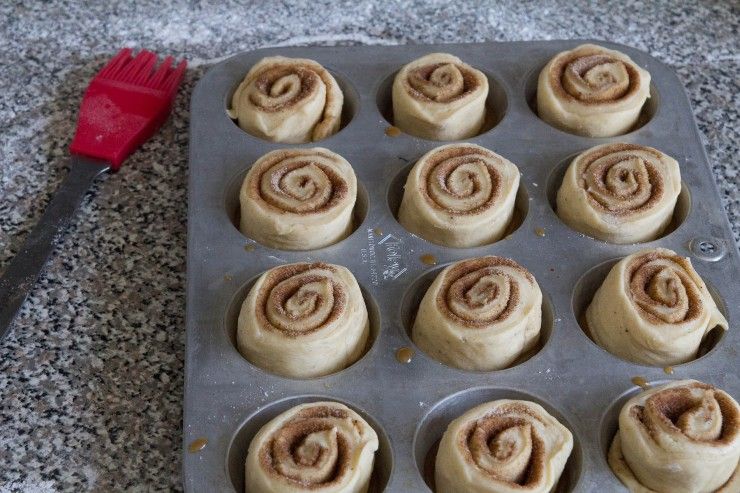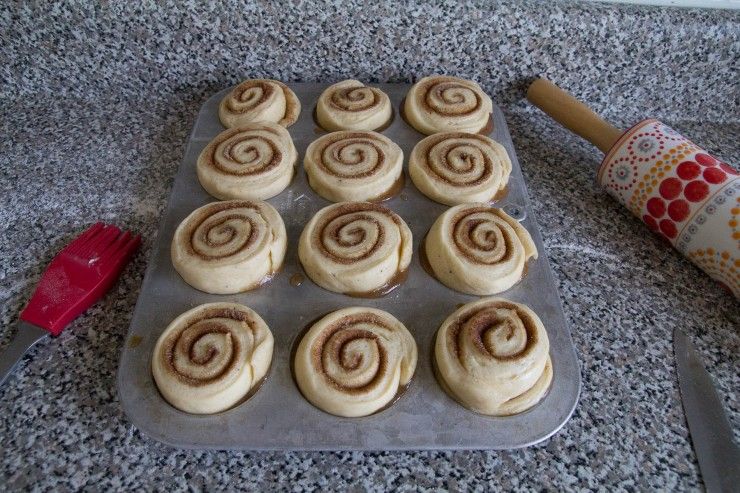 The bake sale was a lot of fun! I got a lot of good feedback on the sticky buns and chili-caramel popcorn, although I think the popcorn was more popular – it sold out fast. I got to meet a bunch of great San Diego bloggers and taste their yummy creations. The only bad part of the bake sale was that I couldn't bring home a little of everyone's baked goods. My hips really don't need that!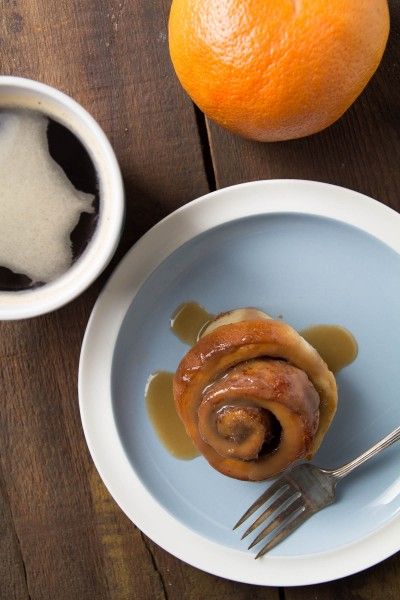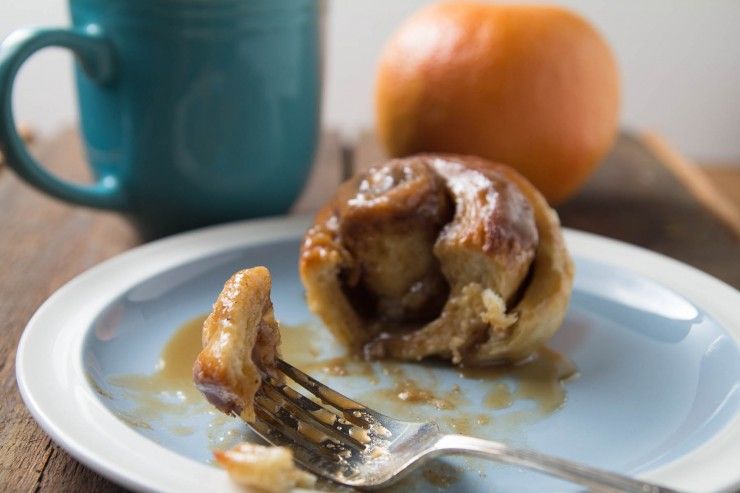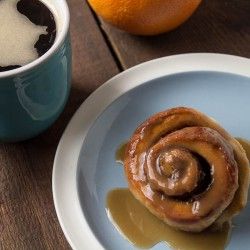 Chai-Spiced Sticky Buns
Cinnamon sticky buns made with the addition of chai spices
Ingredients
For the Chai-Spiced Sugar
¼

cup

sugar

1

tsp

chai masala

1

tsp

cinnamon

½

tsp

ground cardamom seeds
For the Brown Sugar Rum Syrup
½

cup

brown sugar

¼

cup

butter

¼

cup

condensed milk

2

tbsp

rum

whiskey or brandy will do too!
For the Sticky Buns
2 ¼

tsp

active dry yeast

1 package

2 ¾

cup

AP flour

separated. You'll need 1/2 cup first and then the rest.

⅓

cup

sugar

¼

cup

milk

2

eggs

1

tsp

vanilla extract

1

tsp

salt

½

tsp

ground cardamom seeds

1

stick butter

separated. You'll need 6 tbsp for dough and 2 tbsp to spread onto dough the once it's rolled out.
Instructions
Chai-Spiced Sugar
Mix together in a small bowl and set aside.
For the Brown Sugar Rum Syrup
In a medium saucepan, combine all ingredients and heat

Bring to a simmer. Stir occasionally to ensure all the ingredients are well blended. Set aside.
For the Sticky Buns
In a large bowl, combine 1/4 cup warm water and yeast.

Let stand 5 minutes until yeast dissolves.

Add in 1/2 cup AP flour, sugar, milk, eggs, vanilla extract, salt, and cardamom.

Beat together with a whisk or in an electric mixer until well mixed.

Then slowly beat in 2 1/4 cups of AP flour. This works either in an electric mixer or by hand.

Knead until it forms a dough. About 10 minutes by hand or 5 to 7 minutes in a mixer on low.

Once the dough has formed, add in 6 tbsp very soft butter.

Knead well until butter is incorporated into dough and the dough no longer sticks to the bowl.

Cover bowl with plastic wrap and let rise for about 1 1/2 hours until doubled.

Punch down the dough. Knead for a minute. Cover and put in the fridge for 4 to 12 hours until doubled again.

Once the dough has risen, fill each section of a muffin pan with 1 tbsp of brown sugar rum sauce.

Roll out the dough till it's about 18 inches wide and evenly long. A rough rectangle is what we're looking for.

Spread 2 tbsp butter onto rolled out dough.

Sprinkle chai spice mixture evenly over the butter.

Roll the dough into a log.

Cut into 1 1/2 inch slices.

Place each slice into a muffin section with sugar sauce.

Cover with plastic wrap or tea towel and let rise for 45 to 60 minutes.

Preheat oven to 350 degrees

Bake sticky buns for about 19 to 23 minutes until puffed up and golden brown.

Remove from the muffin pan with tongs.

Pour and additional 1 tbsp of brown sugar run sauce over each sticky bun. Let cool.
Nutrition
Serving:
1
g
Calories:
317
kcal
Carbohydrates:
51
g
Protein:
7
g
Fat:
9
g
Saturated Fat:
4
g
Polyunsaturated Fat:
1
g
Monounsaturated Fat:
4
g
Trans Fat:
1
g
Cholesterol:
42
mg
Sodium:
626
mg
Potassium:
168
mg
Fiber:
2
g
Sugar:
25
g
Vitamin A:
184
IU
Vitamin C:
1
mg
Calcium:
97
mg
Iron:
2
mg