Moong dal (also known as mung dhal or mag ni dal) is the mung bean split into half. It is a staple across the Indian subcontinent and other parts of Asia. In fact there is evidence of the lentil being widely cultivated in India over 3,000 years ago. Now, that's one ancient bean!
Today, moong dal is typically available in two forms, dehulled, with the skin off or with the skin on. You can learn all about the various types of Indian dals, lentils and pulses here and you can also start sprouting your own whole mung beans.

Moong dal is very versatile as it is mild in flavor and has a soft texture. By comparison, chana dal tends to be dry and crumbly. Due to it's versatility, moong dal is used for making dals like this one or a number of other items such as kichdi, puran poli, and vada (fritters).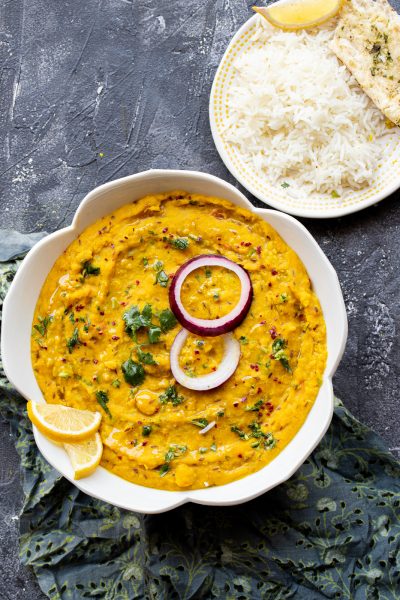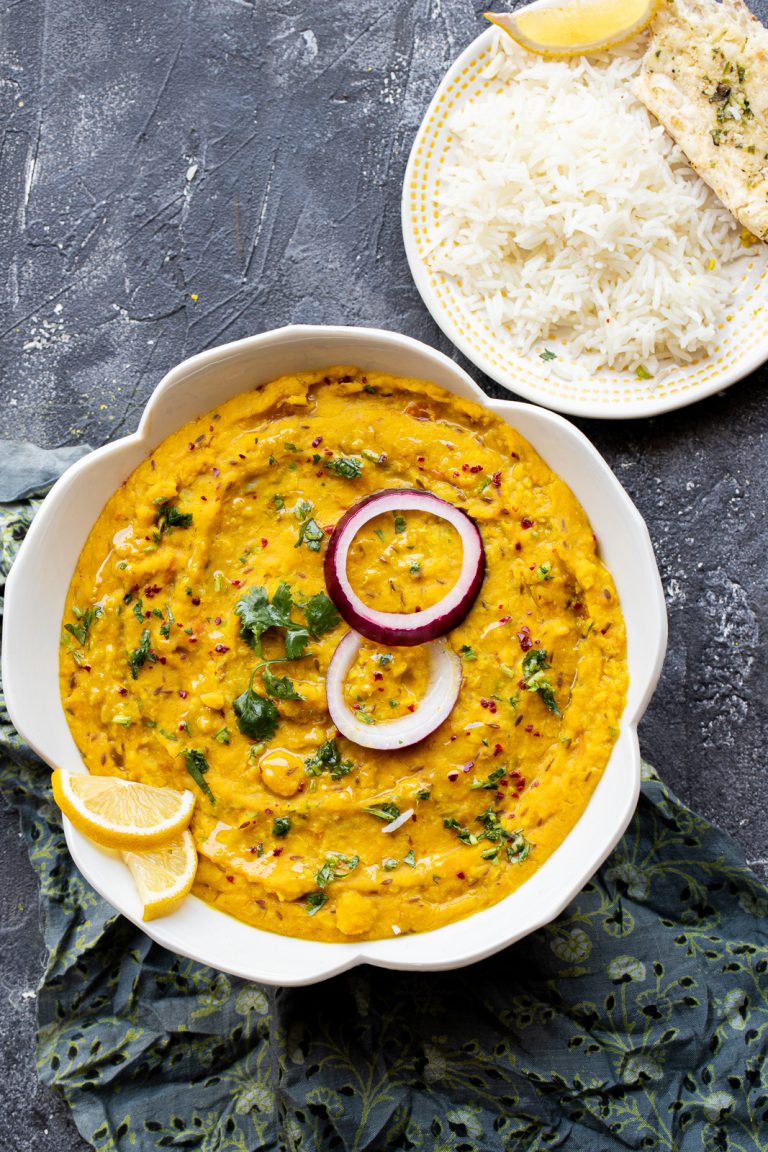 I usually make rice and dal for lunch when my refrigerator is running low on fresh ingredients. Because this dal can be made with basic pantry ingredients, it is a staple on the days when I don't have time to make a grocery run.
When I need to put together a nutritious lunch in a short time, less than thirty minutes, all I need are some dry lentils, some spices from my masala dabba, oil, some ginger or garlic (frozen ginger and granulated garlic are great substitutes in a pinch), some water and a pressure cooker or instant pot.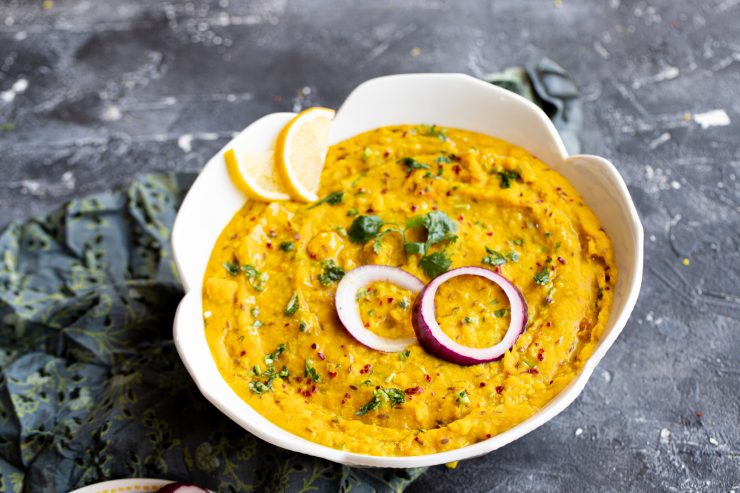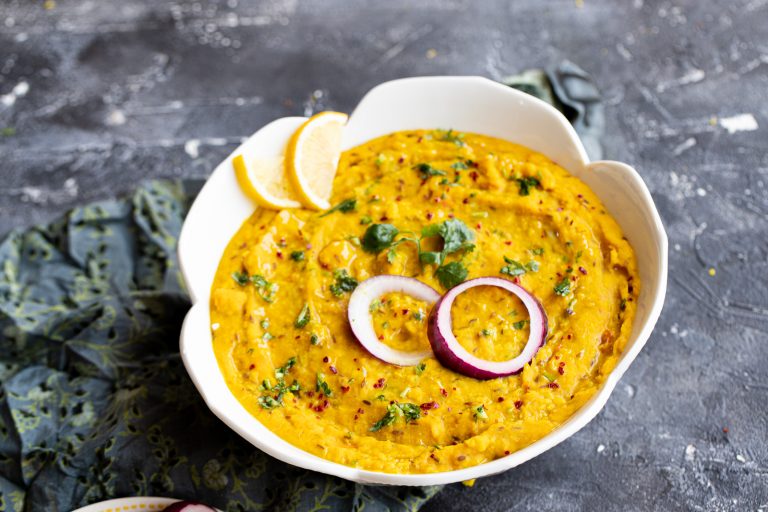 Flavoring your moong dal
This dal is made in the "dal fry" style. With a dal fry, the first step is always to do the "tadka" (vaghaar in Gujarati or tempering in English), then you fry the dal in your spiced oil mixture. I prefer this method because it is easy and only requires one pot – no need to dirty an additional pan for the tadka (vaghaar).
This is something my mom and many other home cooks whip up with a moment's notice, flavoring it based on the moment – adding different ingredients and vegetables to suit the season or the occasion. Just simple, comforting, nutritious fare.
In this recipe, I've kept the flavors very traditional with simple spices, garlic, ginger and my favorite tadka ingredient – cumin seeds. I've used tomatoes as the sour ingredient here and serve with a squeeze of lemon but tamarind, kokum, amchoor (dried mango powder) or lemon juice are all great substitutes.
You can also change up the ingredients to add onions or shallots (check out my moong dal recipe with shallots) or add other vegetables like spinach, carrots or even zucchini. Also feel free to experiment with herbs. Adding curry leaves or kasoori methi (dried fenugreek leaves) in the tadka/vaghaar adds a delicious savory note – you can also add kasoori methi to the end. I love adding thyme to my dal when I'm feeling adventurous.
Serving suggestions and dal consistency
Moong dal served with basmati rice makes a simple yet delicious lunch. Add cucumber raita, some raw red onions sprinkled with lemon and fried green chilies, and make it perfect!

This dal also makes a delicious side dish and helps fill out a traditional Indian menu. Be it for a family dinner or a party, this dal works. Serve it with a vegetable dish (I love this okra) and jeera rice or paratha (both if you've got time) for a weeknight meal.

The thickness of your dal should depend entirely on how you plan to serve it. If you are planning to serve it with rice, which is my personal preference for moong dal, serve it at a thinner consistency. If planning to serve with naan or other flatbreads, don't add as much water to make it scoopable.

Moong Dal Nutrition
It makes perfect sense that the mung bean has been a part of Indian cuisine for thousands of years. In a vegetarian culture, lentils are a key source of protein and other nutrients. The moong dal holds its own when it comes to health benefits and nutrition content. In addition to being high in protein, as are all lentils, beans and pulses, the moong dal is high in fiber, magnesium, iron and B vitamins, particularly folate.

There is also a long list of health benefits. Mung beans have been shown to protect the liver, lower cholesterol, prevent chronic diseases through their antioxidant properties, and so much more.

Stove Top Cooking Process (no pressure)
Moong dal is one of the quicker cooking dals on the stovetop and it does not require pre-soaking.
Rinse the dal
On medium-high heat, do the tadka with ghee/oil, spices of choice and aromatics of choice
Add dal and water
Boil until cooked
Garnish and serve
Instant Pot or Pressure Cooker Cooking Process
Rinse the dal
On saute mode (or medium high heat) do the tadka with ghee/oil, spices of choice and aromatics of choice
Add the dal and water
Switch to pressure mode and cook
Allow the natural pressure release for at least 10 minutes
Garnish and serve
Buying Moong Dal
There can be confusion because Indian lentils can be sold under a variety of different names, here's a basic guide in a few languages to help. Moong dal is easily available online and at Indian stores.

Split and dehulled moong dal:
Color: yellow throughout
Names in English: Split mung, petite yellow lentils, yellow mung dal, split yellow mung beans, and moong dal are many variations for the same. These are all – split and hulled moong beans.

Name in Hindi: moong dal
Name in Gujarati: mag ni dal

Split moong dal with skin on:
Color: Green and yellow
Names in English: green moong dal, split mung bean with skin, split moong bean, or split green gram.
Name in Hindi: chilke wali moong dal
Name in Gujarati: Choda wali mag ni dal
I tend to buy organic, dehulled, split mung beans as I find these more versatile and I like the flavor better.

Moong Dal (Mung Dal)
An easy, traditional dal made from split mung beans
Ingredients
1

Tbsp

ghee

or oil with high smoke point like canola, grapeseed, peanut

1

tsp

cumin seeds

1

green chili

cut into half (take out the seeds and veins if you don't want the heat)

⅛

tsp

asafoetida

4

garlic cloves, chopped

1

tsp

turmeric

½

tsp

Kashmiri chili powder

or paprika

1

sp

ginger

grated

1

tsp

salt

or to taste

1

medium

tomato

chopped (or 1/2 cup canned, diced tomato)

1

cup

moong dal

2

cups

water

lemon and cilantro for garnish
Instructions
Rinse the moong dal three to five times until the water runs clear.

Set the Instant Pot on saute and add the ghee or oil. Once the ghee is hot, add the cumin seeds, green chili, asafoetida, garlic, turmeric, chili powder, and ginger. Stir and let cook for about one minute. Be sure to stir constantly or else the ginger will stick.

Add the tomatoes and salt. Let cook for 5 minutes until the tomatoes look a bit jammy (no need cook tomatoes if you're canned)

Add the moong dal and then the water. Close the Instant Pot lid and turn off sauté mode. Cook on high pressure for 8 minutes. Allow for natural pressure release for 10 minutes before opening the Instant Pot.

Now, using a spoon, mash the cooked dal against the edges for the pot about 15 to 20 times. The moong dal should be well cooked and mash easily.

Now add water to reach the consistency you like. I usually add about ½ to 1 cup of water. Stir. Garnish with cilantro and lemon juice. Serve warm with lemon slices.
Notes
If you don't have a fresh tomato, substitute: 1 Tbsp of tomato paste, half cup of canned tomato sauce or 1/2 cup canned whole/diced tomato. Note that canned diced tomatoes don't break down as well as fresh so you will have a bit more texture. 
Feel free to add another tadka/vaghaar/tempering at the end as a garnish to make it look pretty. If doing so try it with 1 tbsp ghee, 1 dry red chili and 1/2 tsp of cumin seeds
Nutrition
Serving:
1
cup
Calories:
152
kcal
Carbohydrates:
24
g
Protein:
8
g
Fat:
2
g
Saturated Fat:
1
g
Cholesterol:
5
mg
Sodium:
403
mg