Puja taught me how to cook basmati rice many years ago but I was never completely happy with it because whenever we would go out to a restaurant the rice seemed so much better to me. It was a problem that lingered with me for years until I finally decided to sit down and figure out how to cook basmati perfectly, no matter how many batches I would have to go through to get it right.
First off, I had to figure out what makes restaurant rice different than my usual home cooked stuff. In contrast to east asian rices, Basmati rice is a low-starch rice. It should not be sticky or gooey at all. Each grain should be well-defined, long and have bite.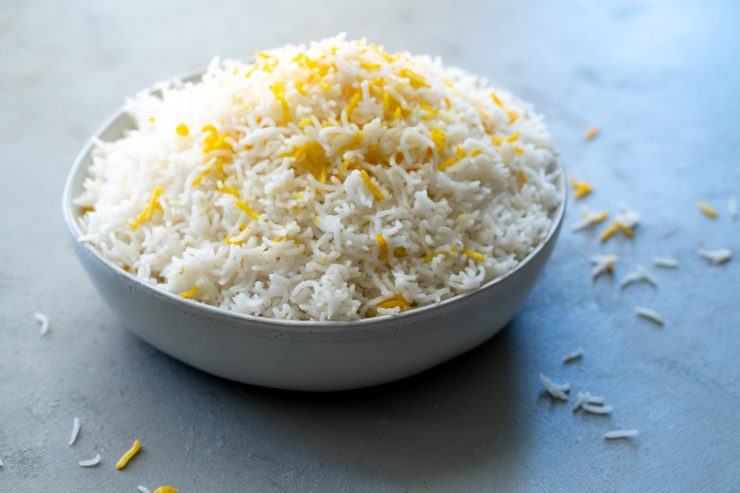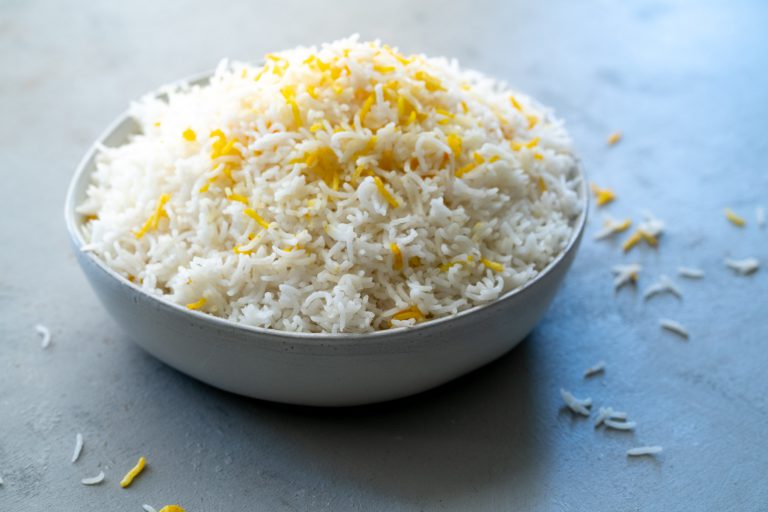 With that in mind, I read over dozens of recipes online. And I learned the one thing I had been doing wrong for so long, and it turned out to be so simple.
Whenever I cook, I have to remind myself to be patient. So often the trick to cooking something right as opposed to just throwing something together has to do with slowing down and accepting that this will take a little longer. And basmati rice is the perfect example. Because the secret to making that perfect pot of rice is so simple. You just have to presoak it for 30 minutes.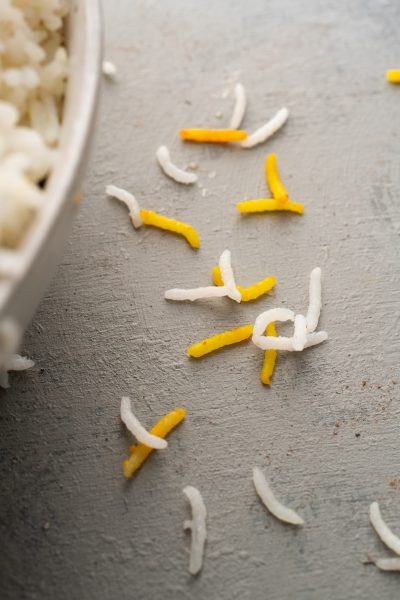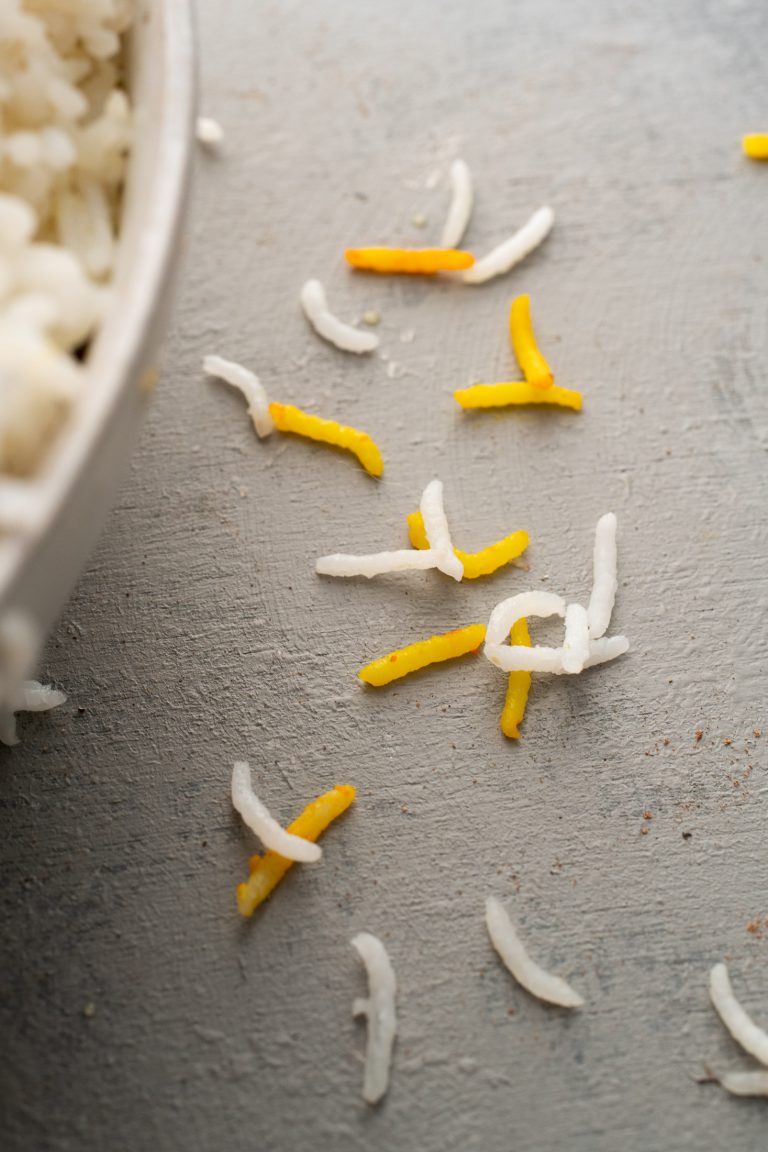 For years, I had been doing everything else right, but it was taking this one shortcut that made such a difference. When you let the rice soak the grains expand, blooming almost like a flower. The difference is all texture. And I'm not even sure I feel the difference in my mouth, but we eat first with our eyes. I also think when you prepare the rice correctly it will absorb gravy better, which is all important when you eat some of my favorite dishes, like butter chicken, or paneer makhani.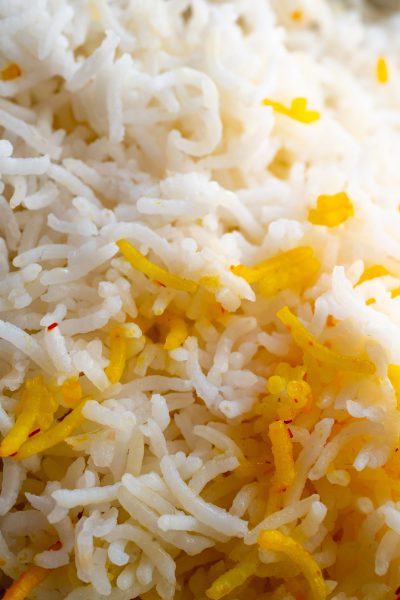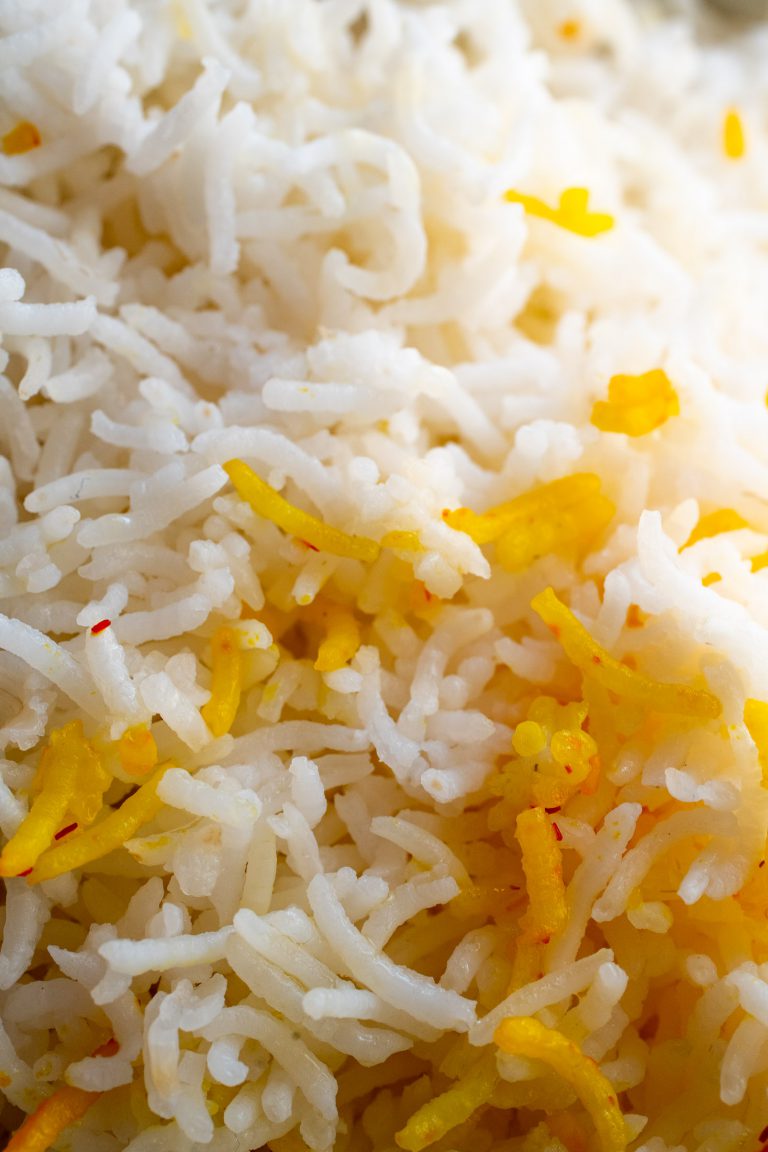 Mixing in Yellow Rice
In addition to cooking the rice just right, another thing you can do to make your rice seem like it came from a restaurant is add some color. Many places will mix in some yellow rice just to give it a finishing touch. This is easy to do. Mix a little turmeric or saffron in a bowl with some water or milk, then stir in a handful of cooked rice. Then add that rice back to your final dish of rice. Most people use saffron, which is so prized for its aroma. But I don't always want the strong aroma of saffron in my rice, so I often use turmeric which is much more subtle in flavor.
Truth be told, I don't always pre-soak my rice. I might skip it if I'm just making a quick bowl of rice for lunch or a hurried dinner. I know I'm sacrificing texture, which is why when I'm serving to guests or any kind of gathering where I want it to be right, that rice is going to soak.
Please trust me, take the full hour to prepare your rice instead of half, it's worth it!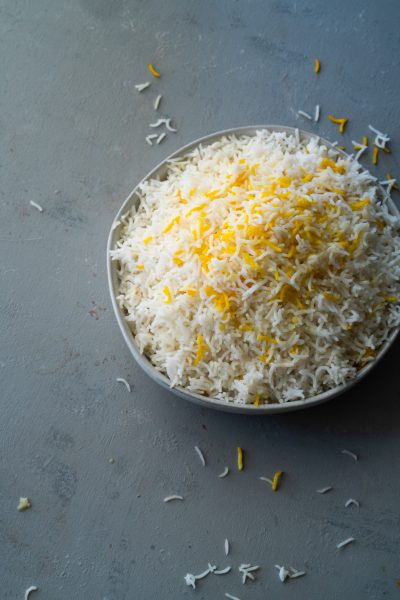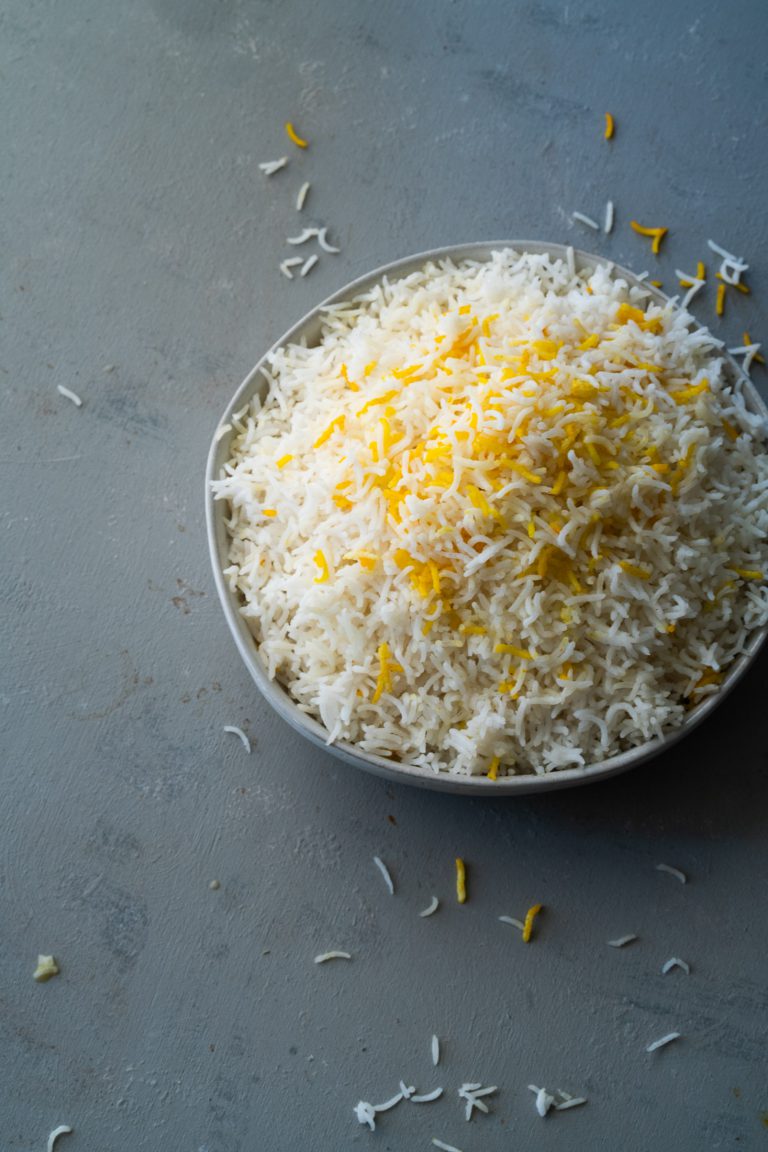 What dishes go best with Basmati Rice?
Basmati rice goes perfectly with dal. Try one of these: Grandma's Gujarati Dal or Moong Dal. To an Indian person, rice and dal are the classic paring. Kadhi is also a traditional pairing with rice.
This humble rice also goes with just about every Indian dish there is. I always have to have it with a rich saucy dish like Paneer Makhani. When I run out of naan I stir the sauce into the rice and gobble it down by the spoonful.
Making Different Quantities
I wouldn't recommend using this recipe for 20 cups or more. But for household quantities, just stick to the ratio of 2 parts water to one part rice and you should be set.
| Make | Dry Rice | Water |
| --- | --- | --- |
| 3 cups | 1 cup | 2 cups |
| 4.5 cups | 1.5 cups | 3 cups |
| 6 cups | 2 cups | 4 cups |
| 10 cups | 3.5 cups | 7 cups |
Serving Basmati Rice
Rice is served as the second course in Gujarati food. Rice is often served with a dollop of ghee on top. A simple comfort food is rice, ghee and salt.
A typical meal starts your meal with rotli and shaak. And follow with rice and dal. The rice is served with a dollop of ghee which makes it fragrant.
Frequently Asked Questions
This post has been around awhile and has been one of our most popular. Here are some of the questions that have come up over the years:
My rice came out mushy, what can I do to save it?
Let me start by saying it's probably not your fault and you can fix it. This recipe has worked perfectly for me for years and I've been pleased by the feedback from readers since it seems to be working as well for many of them too. But occasionally I hear from people who didn't get it to work. It turns out there are a lot of factors that you might have to adjust for.

First off, I would emphasize this recipe is strictly for basmati rice. Basmati rice is very different from East Asian varieties. It has much less starch. Starch is basically a sponge that absorbs water, so the rice is going to act very different when cooked in water.
It could be that your rice is very young. Quality basmati rice is aged for at least a year before it reaches the store. During that time, the very dry rice becomes even drier, and when cooked makes it firmer. But don't worry, we can fix this.

Another reason your rice may come out wet and mushy even following this recipe could just be from variations in your pan. Maybe yours is a better insulator than mine or you have a better seal with your lid so it held onto its water better. A little trial and error will help you find the exact ratio that works with you and your pan. Try reducing the cooking time to as little as 12 minutes or the total amount of water to 1.5 cups per cup of rice.

In either case, if you open the lid to your rice and it looks too wet you can still save it. Just take the lid off and let it continue to cook for a minute or two to boil off some of that excess water. If you are doing this and you notice a toasty smell coming from your rice get it off the burner right away, you've cooked off enough water and it is about to burn.

If there is way too much water you can also drain it by pouring it out over a strainer.
Does this work for brown basmati rice?
Not quite. Brown basmati rice still has the bran and germ layers around it. These end up protecting the grain from the water you are trying to cook it with. For this reason, brown basmati rice should be cooked for much longer, about 40 minutes.
How much water to rinse the rice with?
I would never measure for this step… 1 gallon? 2? Just run it under the tap, fill your pot, drain out the water and repeat at least 3 times until the dust on the rice doesn't cloud the water so much (no matter how much you do, this will cloud a little, but you should see a huge difference after just a couple of rinsings).
I want to make more rice than this recipe calls for. How much water and rice do I use?
I wouldn't recommend using this recipe for 20 cups or more. But for household quantities, just stick to the ratio of 2 parts water to one part rice and you should be set.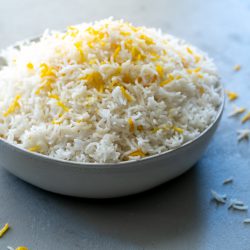 Basmati Rice
How to make basmati rice as good as the restaurants
Ingredients
1

cup

Basmati Rice

2

cups

water

½

tsp

salt

or to taste

1

tsp

ghee

butter or oil (vegetable or olive oil)

pinch

of saffron or 1/8 tsp turmeric

optional
Instructions
Rinse the rice thoroughly with water to remove any excess starch.

Soak the rice with plenty of water for 30 minutes. You can do this in a separate bowl or the pot you are going to cook the rice in.

Drain the water.

Add the soaked rice to the pot. Add 2 cups water, salt to taste and a splash of oil. The oil will help prevent the water from boiling over which is caused by the starch in the rice, and some people say it also adds flavor.

Bring to a boil under medium-high heat, uncovered.

When it starts boiling, cover and lower the heat to low. Cook for 15 minutes.

After fifteen minutes, take the lid off. If there is any excess water, allow it to boil off. Fluff with a fork, you are done.
(Optional) You can add a bit of color by using one of the two options below:
Saffron: Start this option before you start cooking the rice. Warm one tablespoons of milk or water (I usually use the microwave). Crush the saffron with your fingers and add to the warm liquid. Let sit for 15 to 20 minutes. When the rice is ready, mix with a handful (about a 1/4 cup) of cooked rice. Then mix this colored rice back into the white rice.

Turmeric: Mix about an eighth teaspoon of turmeric with a tablespoon of water, then adding a handful (about 1/4 cup) of some still hot rice to your mixture. Then mix this rice back into the white rice.
Video
Nutrition
Calories:
120
kcal
Carbohydrates:
25
g
Protein:
2
g
Fat:
1
g
Saturated Fat:
1
g
Polyunsaturated Fat:
0.1
g
Monounsaturated Fat:
0.3
g
Cholesterol:
2
mg
Sodium:
199
mg
Potassium:
35
mg
Fiber:
0.4
g
Sugar:
0.04
g
Calcium:
11
mg
Iron:
0.2
mg