Kichidi and chaas is my all-time favorite comfort food. My mom used to make kichidi for me whenever I felt a little under the weather. The combination of steaming hot rice and lentils with a cold glass of chaas always made me feel better.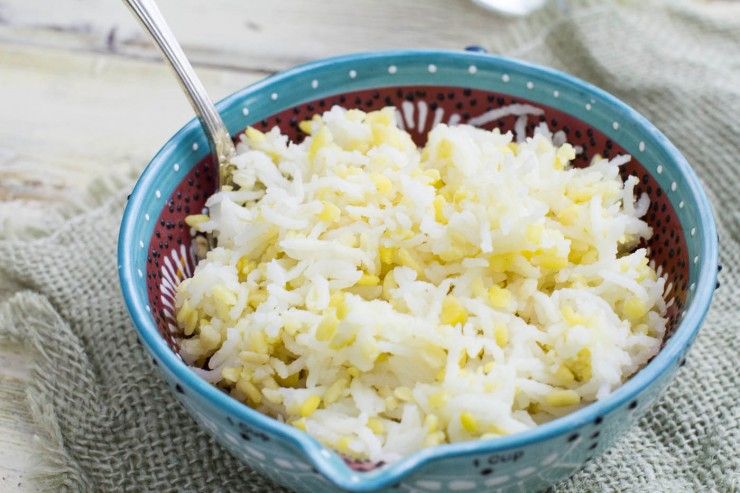 Chaas is a simple combination of yogurt, salt, water and cumin. It's sort of the Gujarati version of salty lassi and holds a special place in my heart. It pairs perfectly with kichidi, another staple in a Gujarati household.
Kichidi sort of reminds me a little of risotto. The lentils give it a super creamy texture that is both delicious and comforting. If you prefer to have kichidi with something warm, instead of with a cold glass of chaas, serve it with kadhi. Kichidi kadhi is another classic combination loved by Gujaratis.
This week, Steve was making me kichidi for lunch because I was too tired to cook for myself. I just sat on the couch as he was cooking but as soon as he pulled out the yogurt, I was compelled to go into the kitchen and make my own chaas. I am sort of the chaas perfectionist. I like it a certain way and I'm willing to put in the effort to get it right.
Even when I was a kid, I made the chaas for our family. It was actually a fun activity because we used an old fashioned hand cranked beater to beat the yogurt so as to ensure a smooth, lumpless, consistency. Once the yogurt was perfectly smooth, I'd add just the right amount of water, salt and cumin. Then I'd beat the mixture for a little longer to create a little froth on top. There you have it, perfect chaas.
Good chaas is very subjective. I've had it a lot at other people's homes but have rarely liked it anywhere else. Sometimes it's too sour, or too watery, often not salty enough, sometimes too salty… a lot of things can affect the delicate balance of flavors. So feel free to play around with the proportions and make it your own.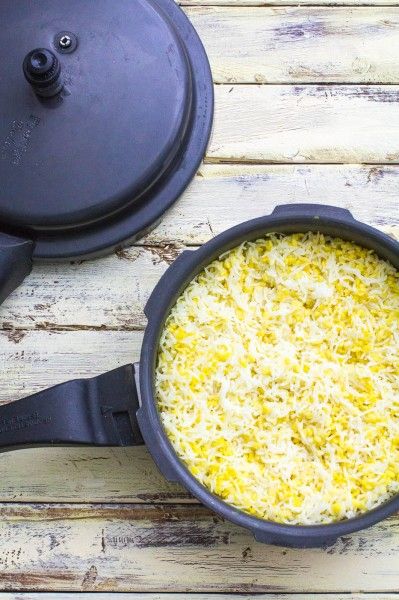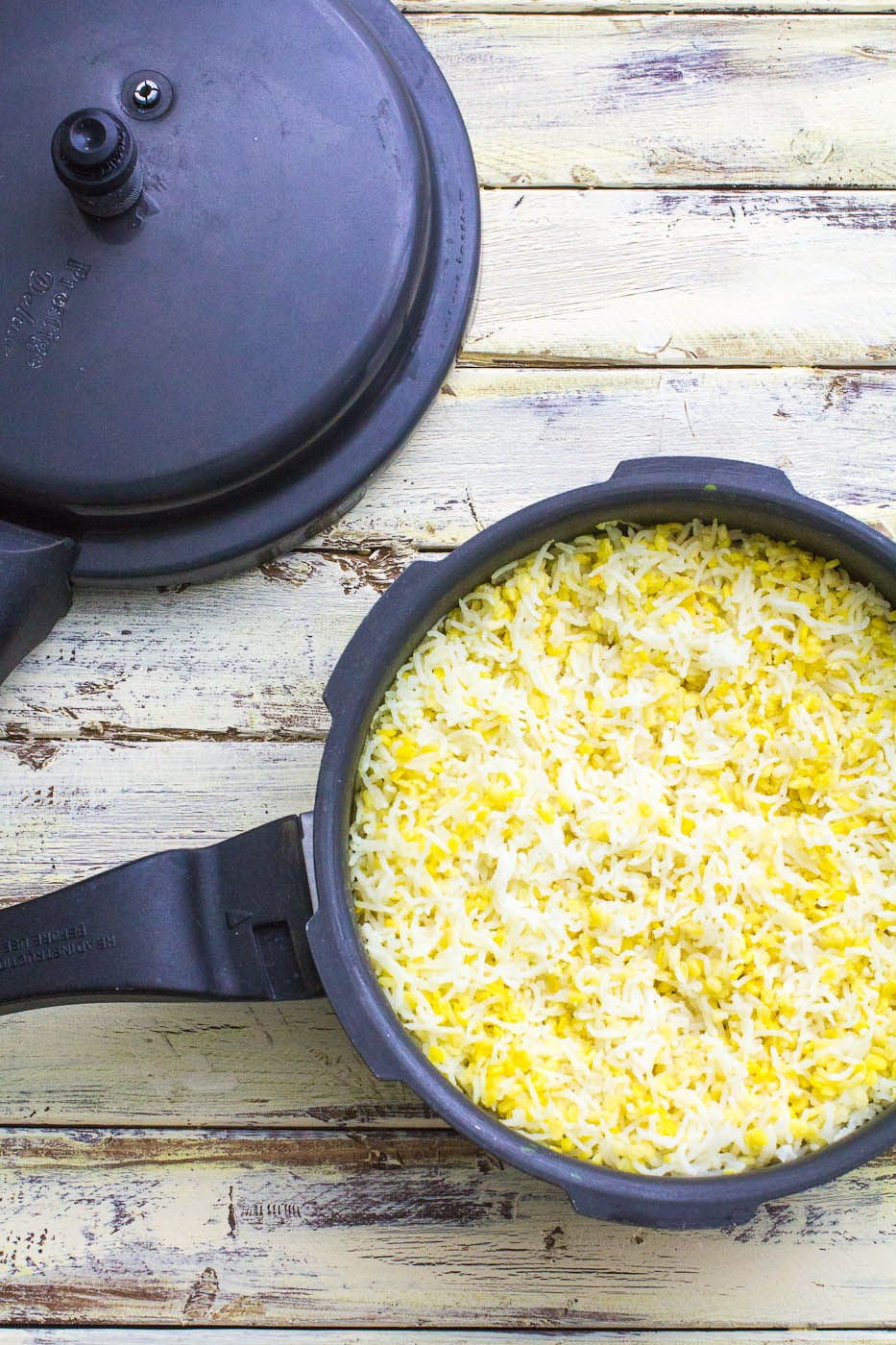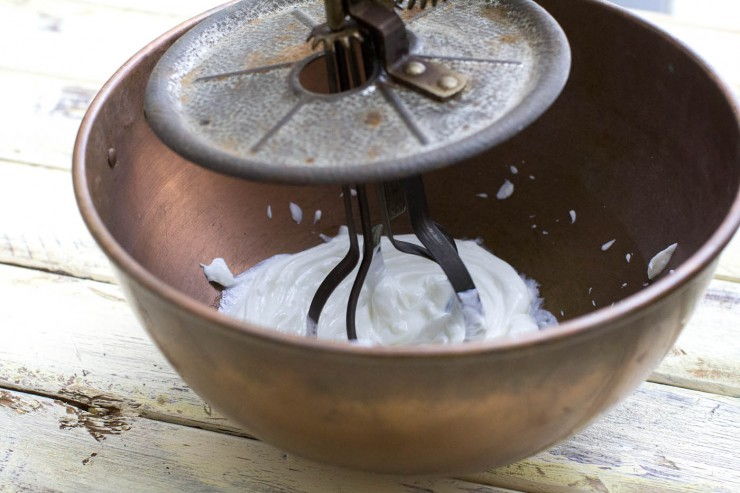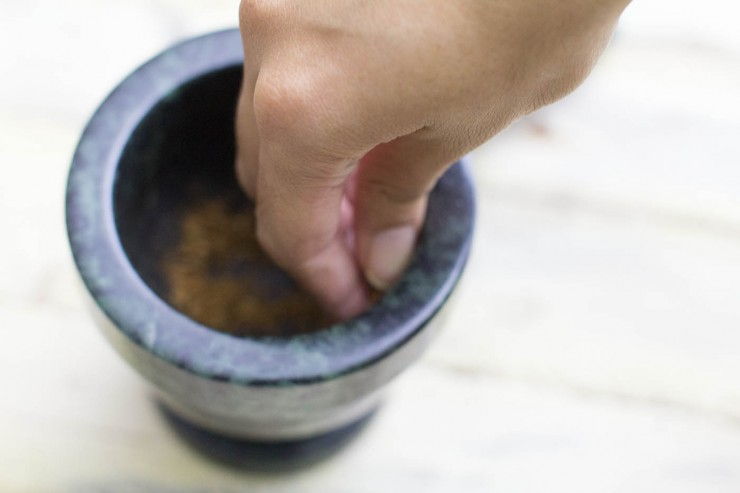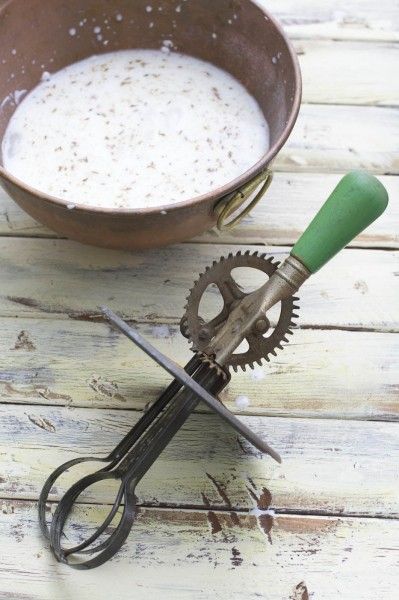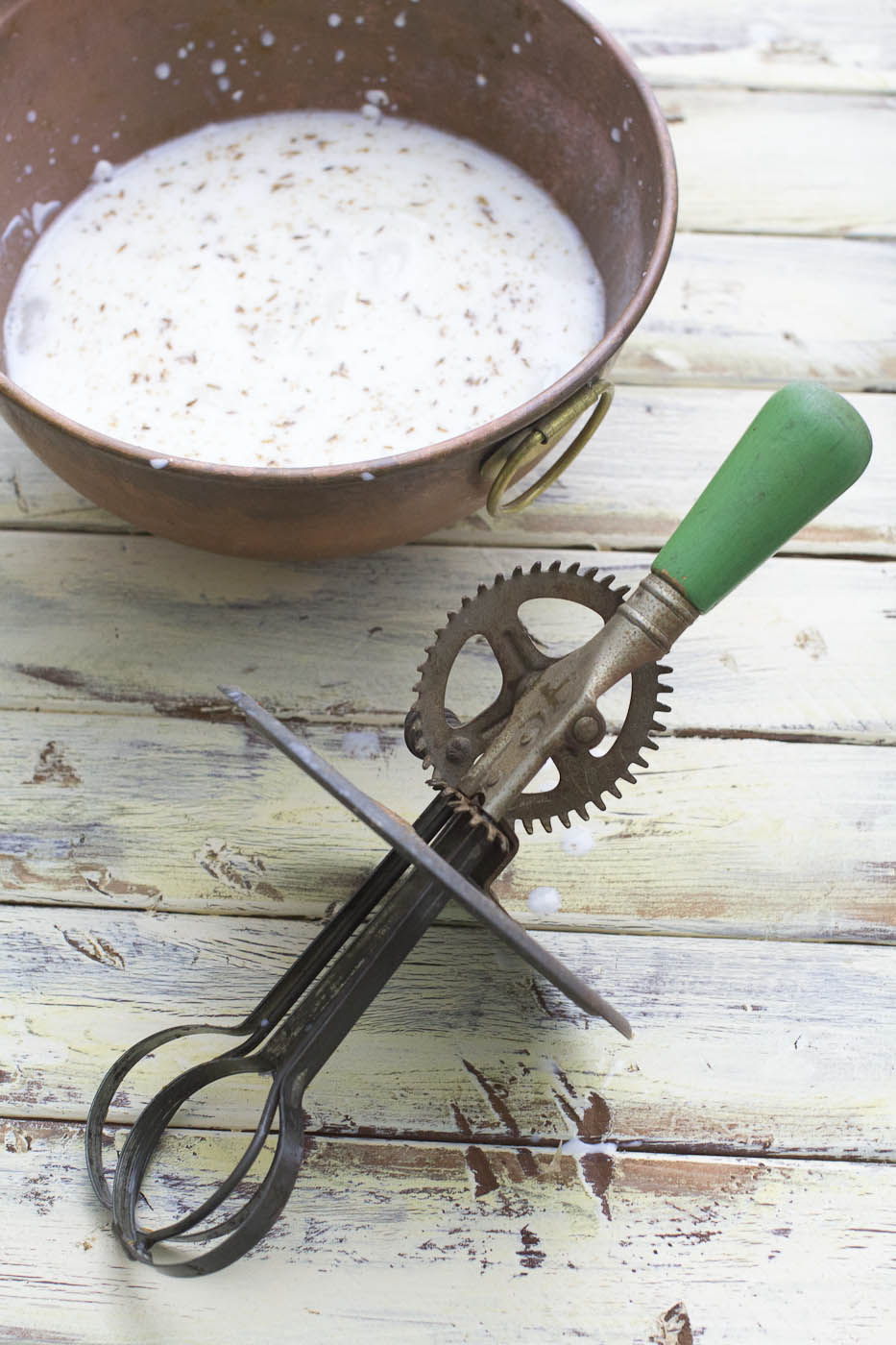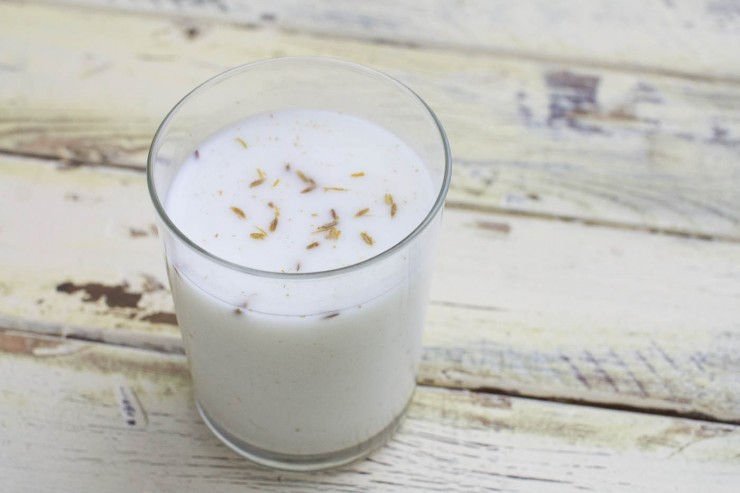 Now that I'm thinking about this, I realize that Steve has often said that he doesn't like chaas. Maybe it's just my way of making it that he doesn't like? I'll have to ask him to experiment with the proportions. Maybe, just maybe, if it were made slightly differently, he'd like it.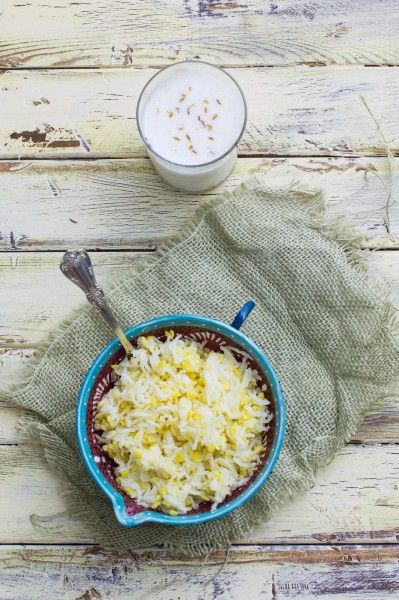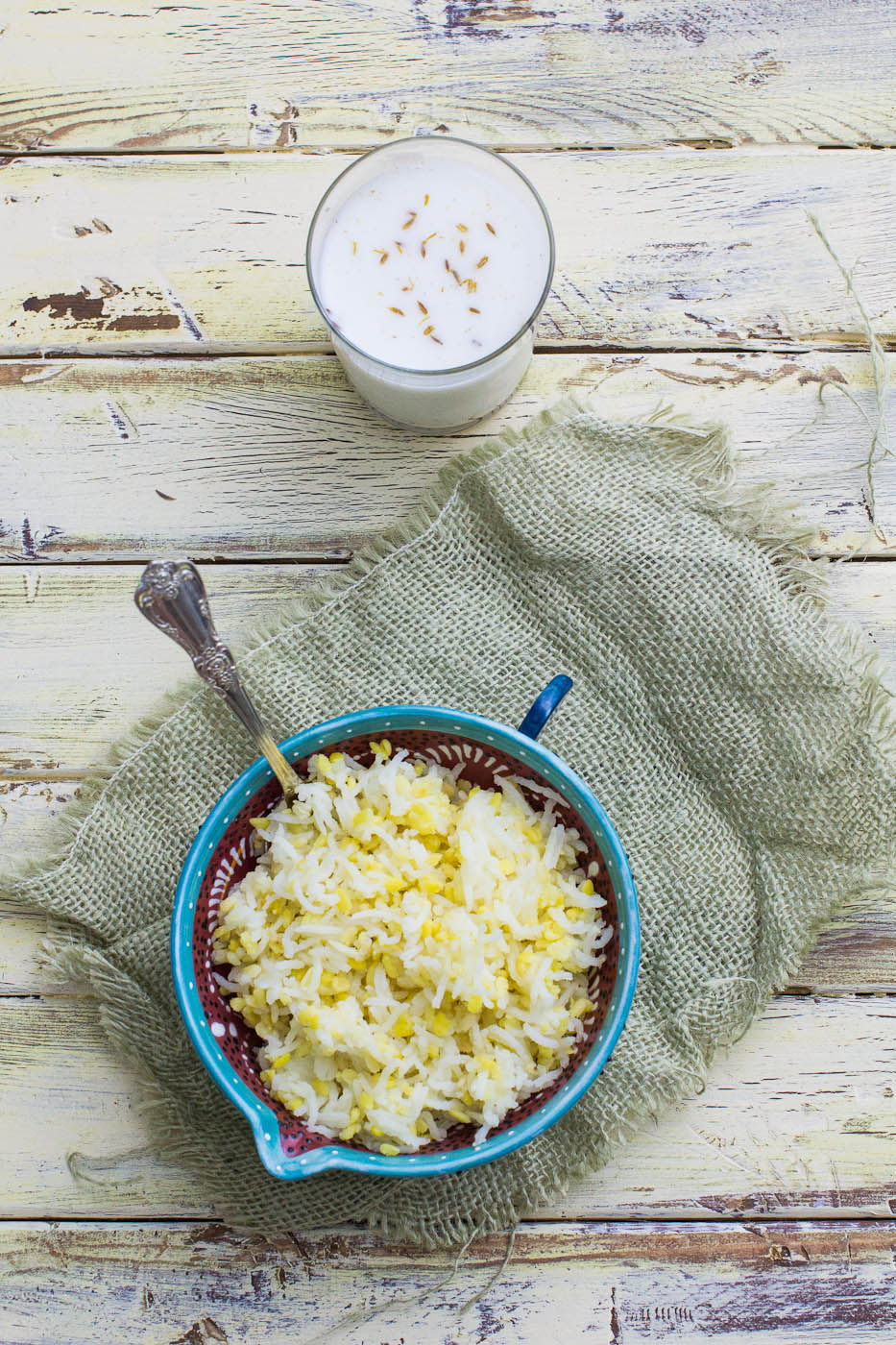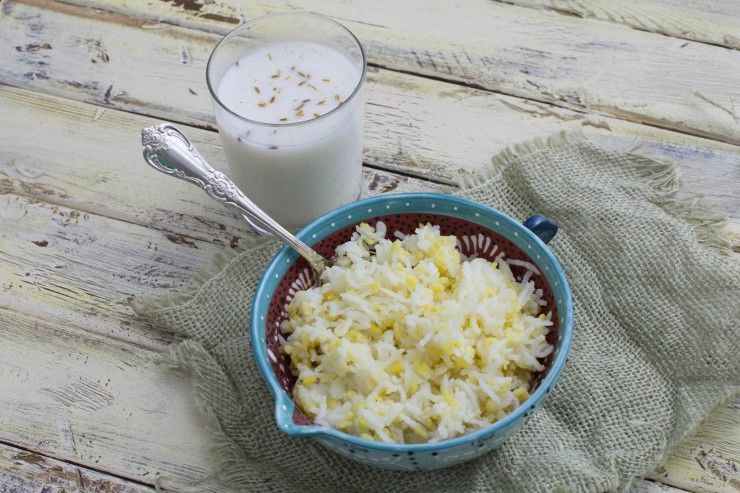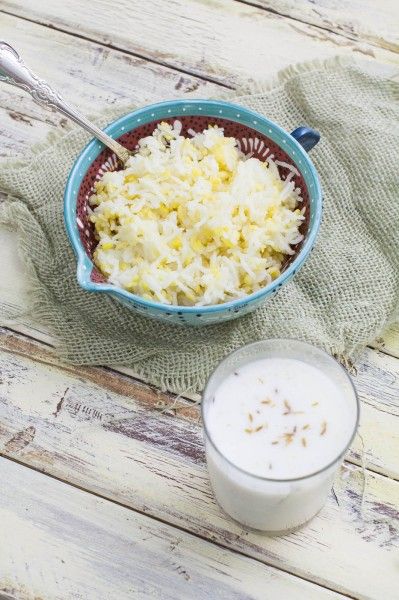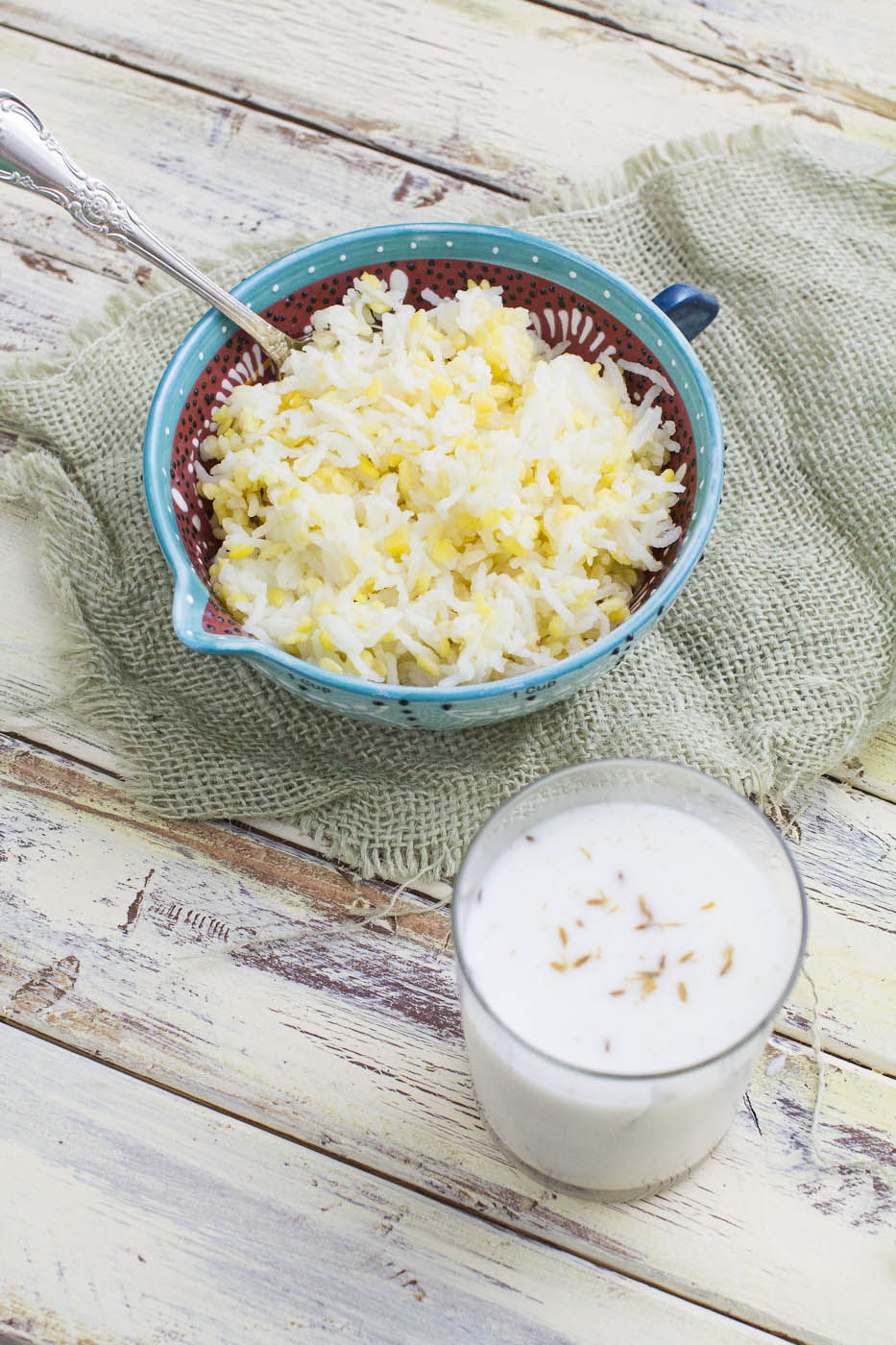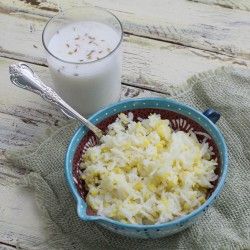 Khichdi and Chaas
A combination of warm lentils and rice with a cold, salty yogurt drink
Ingredients
For the Khichdi
1

cup

basmati rice

½

cup

mung dal

2

tsp

ghee

A pinch of salt

2 ½

cups

water
For the Chaas
½

cup

thick plain yogurt

such as Greek yogurt

2

cups

water

1

tsp

cumin toasted

coarsely ground

½

tsp

salt
Instructions
For the Khichdi
Rinse the rice until the water is no longer cloudy. Drain.

Add all of the ingredients to a pressure cooker: rice, dal, ghee, salt and water.

Bring to pressure under medium-high heat. Reduce heat to low. Boil under pressure for 12 minutes. (If using whistle counting method, about 6 whistles).
For the Chaas
Whisk the yogurt to remove any lumps that are in the yogurt. Add a little bit of water and salt, whisk again. Add the rest of the water, whisk some more. Top with cumin and serve.
Notes
Chaas should have the consistency of whole milk. If you use a thinner yogurt, just reduce the amount of water you use to prevent it from becoming too watery. I toast my cumin seeds in a small pan without any oil, then I crush them in a mortar and pestle but not too much.
Nutrition
Calories:
296
kcal
Carbohydrates:
53
g
Protein:
12
g
Fat:
3
g
Saturated Fat:
2
g
Polyunsaturated Fat:
0.2
g
Monounsaturated Fat:
1
g
Trans Fat:
0.003
g
Cholesterol:
8
mg
Sodium:
323
mg
Potassium:
88
mg
Fiber:
3
g
Sugar:
1
g
Vitamin A:
51
IU
Calcium:
59
mg
Iron:
1
mg