A few days ago I was talking to my mom and she mentioned that the past few days had felt like living in India. She is totally right, it's rained so much that it almost felt like the monsoons. Non-stop all-day long rain is so very rare in Southern California. I love the rain though.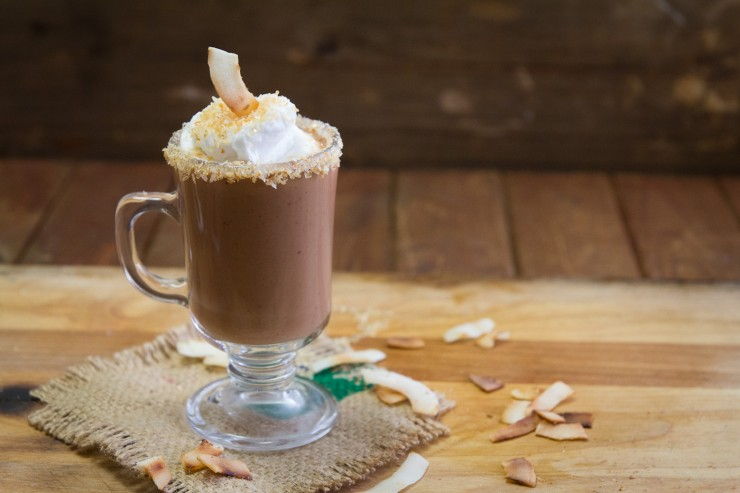 While it was raining, I sat out on our balcony all morning with the babies (the dog and cat who spend more time on the balcony than either Steve or I) and watched the rain pour down. I was nostalgic.
I remembered the warm monsoon rain and going for walks at my boarding school in rain so heavy that we couldn't see more than 5 feet in front of us.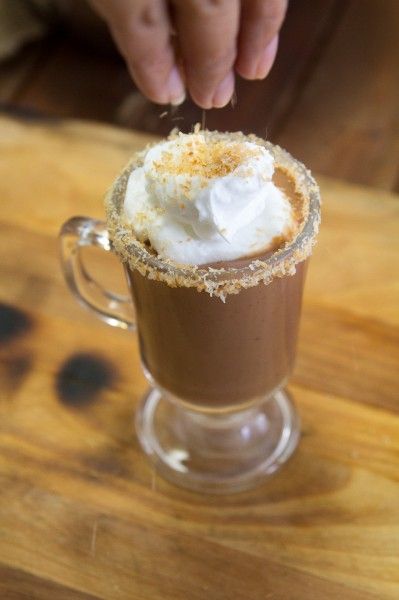 All that rain meant that it was colder in San Diego than it has been for a while. The dog spent the weekend curled up into a ball, napping on the couch. On Sunday, I went to Trader Joe's to shop for groceries and while I was there, I had the idea to make coconut hot chocolate. I bought coconut cream and chocolate and made this hot chocolate as soon as I got home.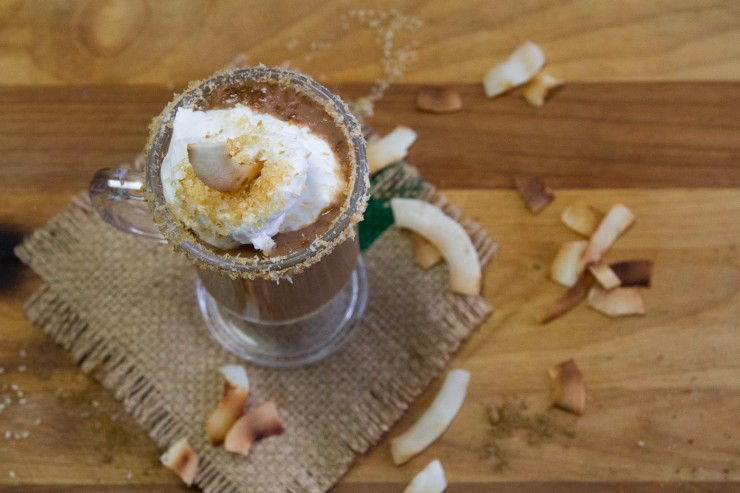 It's so rich and delicious. And perfect in the cold rainy weather. I love the little kick that the chai masala adds to the rich creamy drink. It's literally liquid happiness.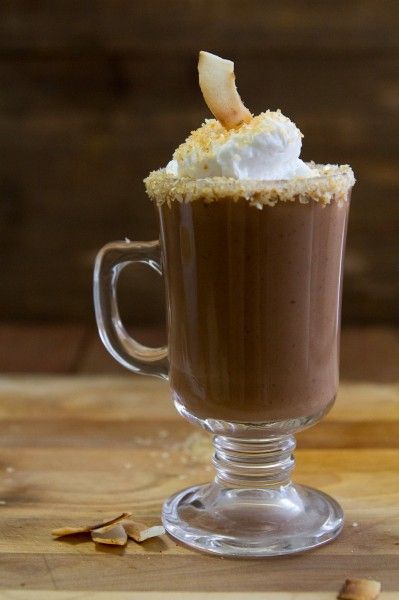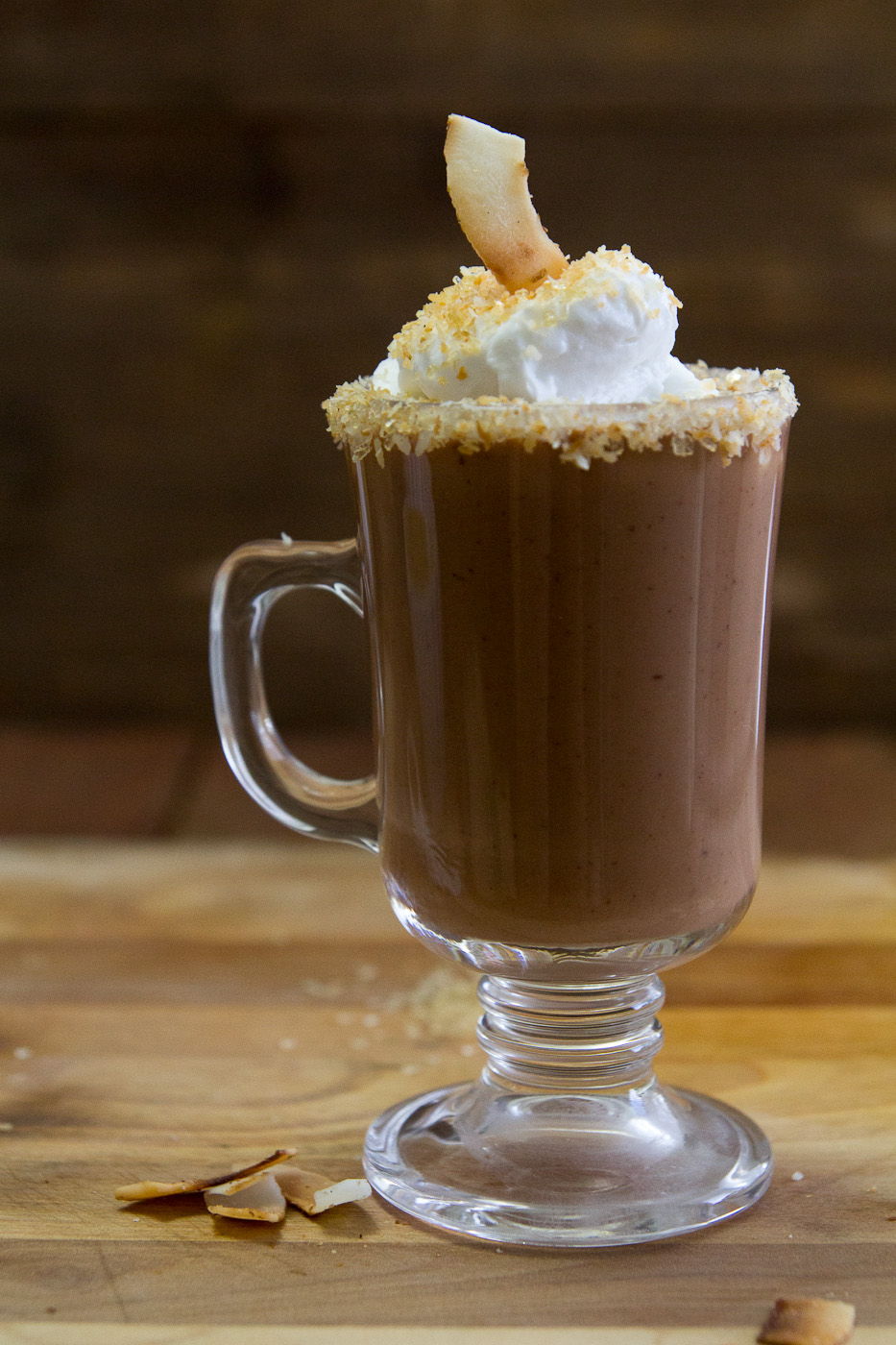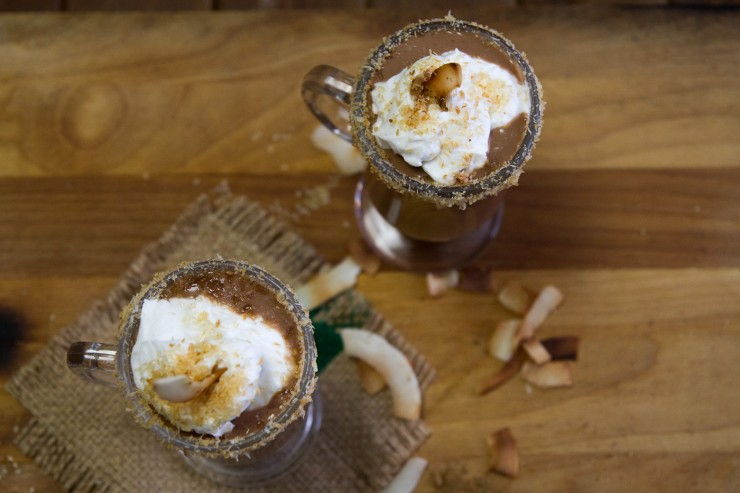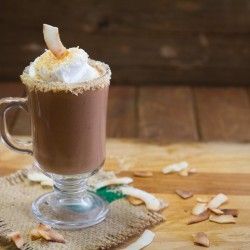 Coconut Chai Hot Chocolate
A warm drink made with coconut, chocolate, and chai masala. It's spicy, rich and just the right drink for a rainy day.
Ingredients
4

oz

can coconut cream

refrigerate for 5 hours

1

bag black tea

½

tsp

chai masala

2

tbsp

demerara sugar or brown sugar

separated

2

tbsp

powdered sugar

2

oz

chocolate

cut into small pieces (I used a combination of milk and semi-sweet chocolate. Use vegan chocolate to keep it vegan )

2

tbsp

coconut powder or grated coconut

¼

cup

water

or milk of your choice

pinch

of salt
Instructions
Take off 1/3 cup of coconut cream from the top of the chilled can. Mix in 2 tbsp of powdered sugar and whisk (or use an electric beater) until the texture resembles a thick whipped cream

Heat 1/4 cup water or milk until just under boiling and steep the tea bag for about 6 minutes. Remove tea bad and set aside.

In a medium saucepan, heat the coconut milk over medium heat until it starts to simmer. Turn down heat to low and whisk in chocolate, chai masala, 1 tbsp demerara (or brown sugar), salt and the tea. Make sure to whisk continuously until the chocolate is completely melted. This will ensure a silky smooth texture.

On a dry pan, toast the coconut flakes or powder until golden (this step is optional).

Mix the toasted coconut with 1 tbsp demerara sugar. Spread this mixture out on a plate.

To serve dip a small (about 6 oz) mug into the whipped coconut cream just enough that the rim is coated in a thin layer of coconut cream. Then dip the mug into the coconut and sugar mixture to create a coconut rim.

Pour the warm hot chocolate into the mug. Top with a dollop of coconut whipped cream and sprinkle some coconut sugar on top.

Serve warm.
Notes
I buy my coconut cream at Trader Joe's. Other coconut creams may have a significantly higher calorie count.
Feel free to use coconut milk instead. Just steep the tea in coconut milk once it comes to a simmer.
Nutrition
Calories:
391
kcal
Carbohydrates:
31
g
Protein:
5
g
Fat:
30
g
Saturated Fat:
26
g
Polyunsaturated Fat:
0.3
g
Monounsaturated Fat:
1
g
Cholesterol:
3
mg
Sodium:
54
mg
Potassium:
248
mg
Fiber:
2
g
Sugar:
24
g
Vitamin A:
28
IU
Vitamin C:
2
mg
Calcium:
49
mg
Iron:
1
mg