The hot toddy is believed to have gotten it's name from the Indian tadi. It is said that the British added spices to liquor to recreate the flavors of the tadi. What's a tadi you ask? Tadi is a fermented drink made out of the sap of a toddy palm (I think it can also be made from regular coconut trees).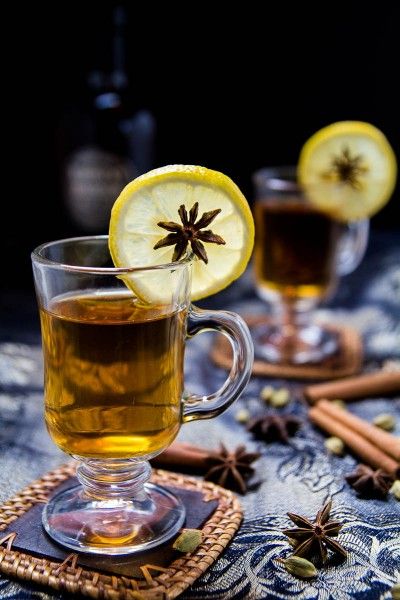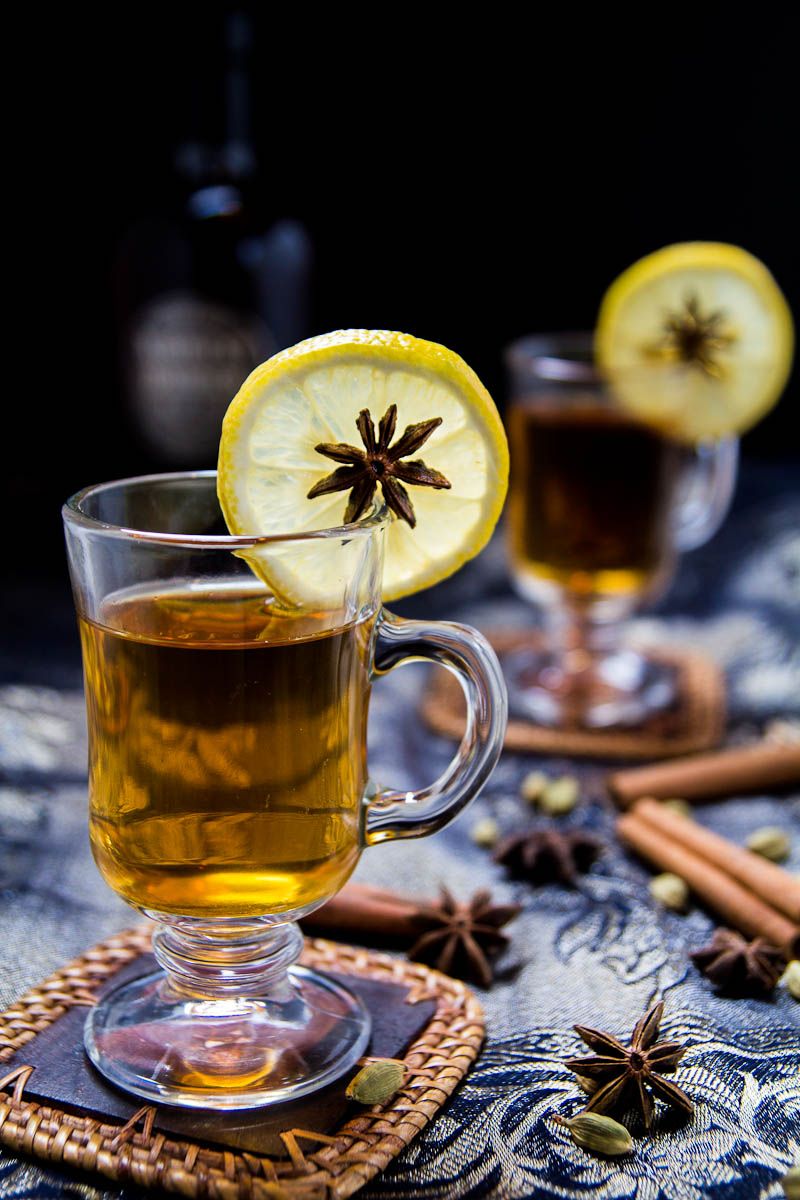 A gash is made on the tender shoots near the top of a toddy palm, a clay pot is placed over the gash to collect the sap. This sap is allowed to ferment to make an intoxicating alcoholic beverage known as tadi. Tadi tapping requires a lot of skill because it must be harvested by hand. That means that someone has to physically climb up the super tall palm tree to both place and retrieve the clay pots.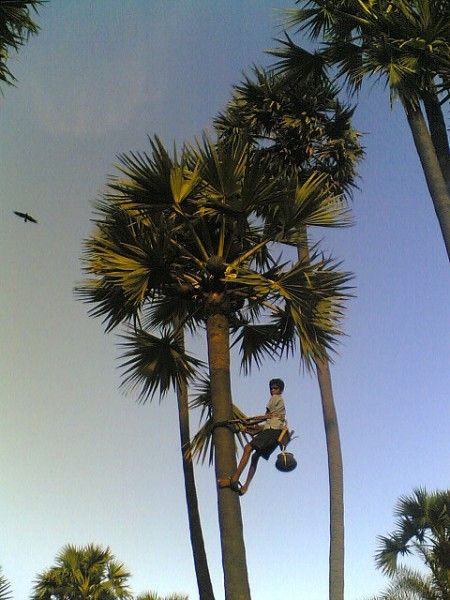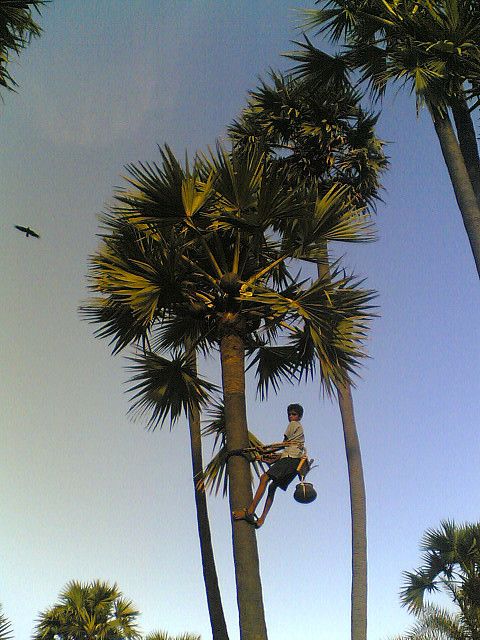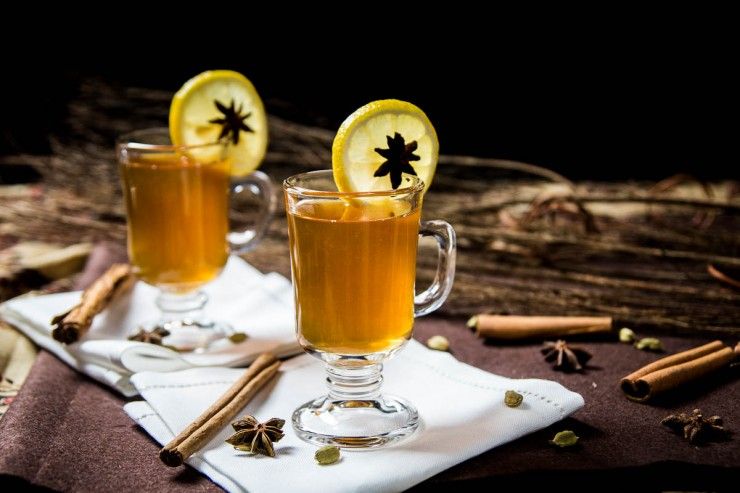 My family made frequent trips between our city home in Bombay and our farm home three hours away when we were kids. My brother and I would often play "spot the tadi" on the long drives to entertain ourselves.
Keeping our eyes peeled for the toddy palms with clay pots tied to them provided us with endless hours of entertainment. We especially loved it if we were lucky enough to see someone climbing the tree to retrieve the tadi.
Although I have never actually tasted tadi, I have had the delicious fruit of the toddy palm. Us Gujaratis call it tadgola. It looks like a miniature coconut, it even has a thin outer husk. Once the husk is removed, you get a translucent, juicy fruit that looks a lot like a lychee and tastes like a tender young coconut.
Try some of my other favorite bourbon drinks, like Chai Bourbon Fizz and Mississippi Delta Infusion.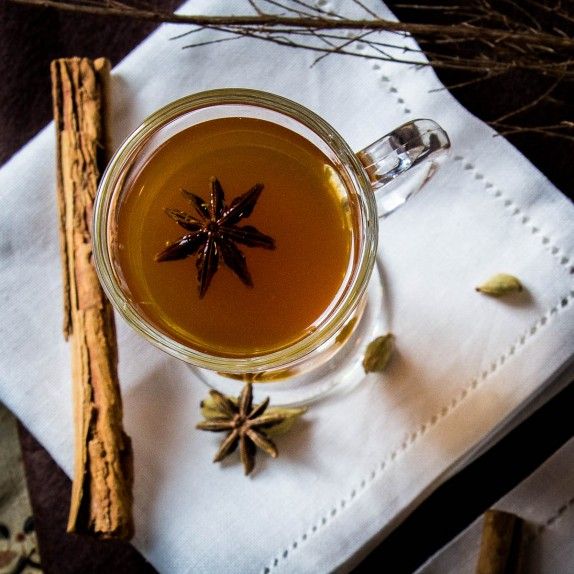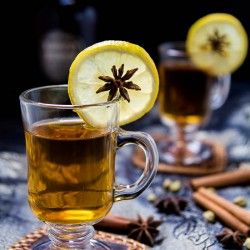 Hot Toddy
A hot toddy is a tea a classic tea and whiskey drink that got its name in India.
Ingredients
1

cup

water

double the water if you don't want it super strong

4

slices

of fresh ginger about 1/4 inch wide

4

oz

Bourbon

4

tbsp

brown sugar

4

tbsp

fresh lemon juice

use less if you don't like it too lemony

2

cinnamon sticks

each broken into two

4

star anise

8

cardamom pods

4

slices

of lemon

for garnish
Instructions
Boil the water with the fresh ginger added in.

Line up four serving mugs and fill each with 1 tbsp sugar, 1 tbsp lemon juice, 1/2 cinnamon stick, 1 star anise and 2 cardamom pods.

Pour 1/4 cup of boiling water into each mug.

Add 1 oz of Bourbon into each mug and stir (at this point, I usually take out all the spices except the star anise)

Serve hot garnished with a lemon slice.
Notes
Feel free to use either whiskey, gin or rum if you prefer and to switch out the spices to your tastes.
Nutrition
Serving:
3
oz
Calories:
135
kcal
Carbohydrates:
18
g
Protein:
1
g
Fat:
1
g
Saturated Fat:
1
g
Polyunsaturated Fat:
1
g
Monounsaturated Fat:
1
g
Sodium:
8
mg
Potassium:
100
mg
Fiber:
2
g
Sugar:
12
g
Vitamin A:
10
IU
Vitamin C:
8
mg
Calcium:
53
mg
Iron:
1
mg