Mini crimson golds are a great baking apple. I found these and decided to stuff them with some Indian spices and ground almonds. I guess with Diwali going on, I must have had ghoogras somewhere in the back of my mind.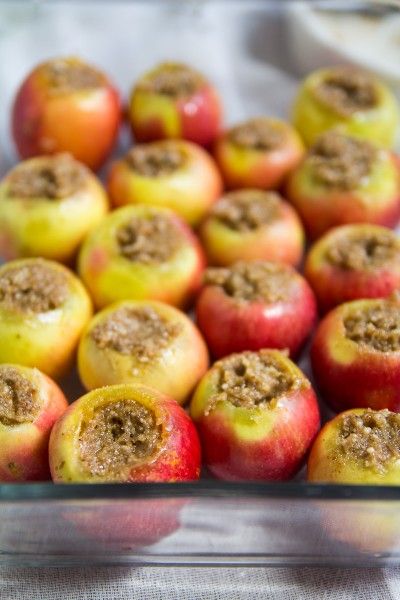 Ghoogras are hand pies that my family and many other Indian families often eat around Diwali time. Without trying the filling I created for these came out much like the filling in ghoogras. As a result the baked apples ended up tasting a lot like ghoogras, with the crunchiness of the apples replacing the crunchiness of the pastry.
A couple of weeks ago Steve and I went up to Los Angeles for a Halloween party my brother and his friends threw. While we were up there we visited Steve's grandfather in Pasadena. Down the street from him we noticed a garage sale going on.
As food bloggers, we're always on the lookout for props and often stop in on garage sales we happen by. We found a great little copper bowl, a few tart pans and the people having it were so nice, they threw in a couple of marble tiles for free.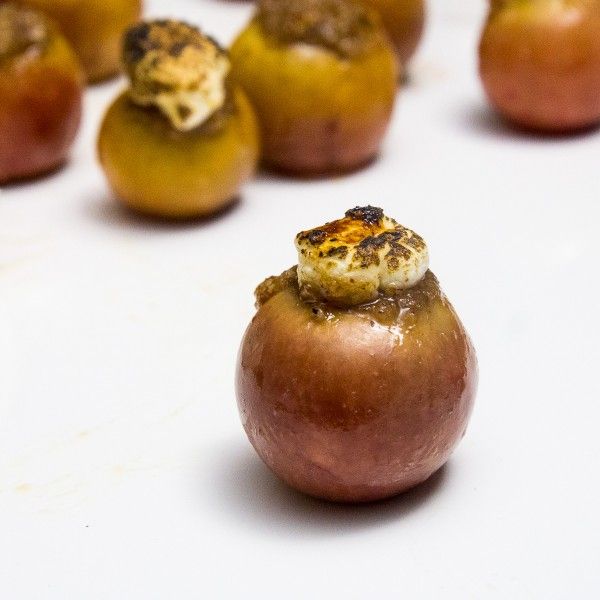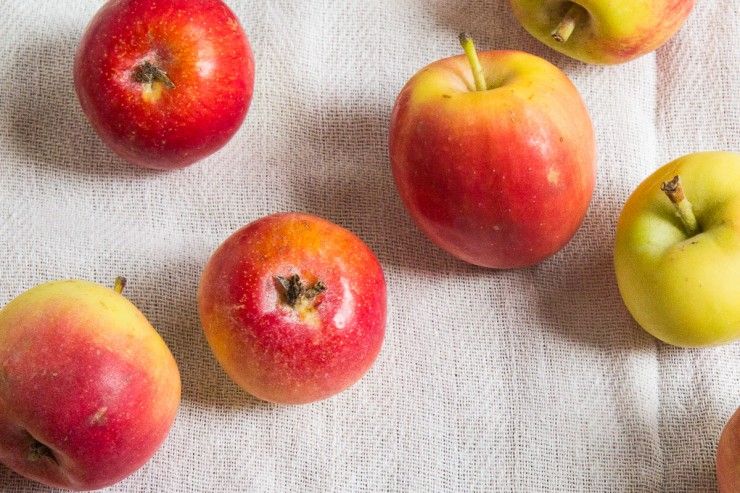 Speaking of free stuff, over the weekend I went to a meet up with some fellow San Diego food bloggers. It was a lot of fun with some really delicious food. I came home with a bag of mini crimson gold apples from Melissa's Produce.
They were so cute, I had to do something with them. The only problem is I don't like apples. The texture really bothers me. If there is an apple recipe I want to try, I usually substitute pears instead.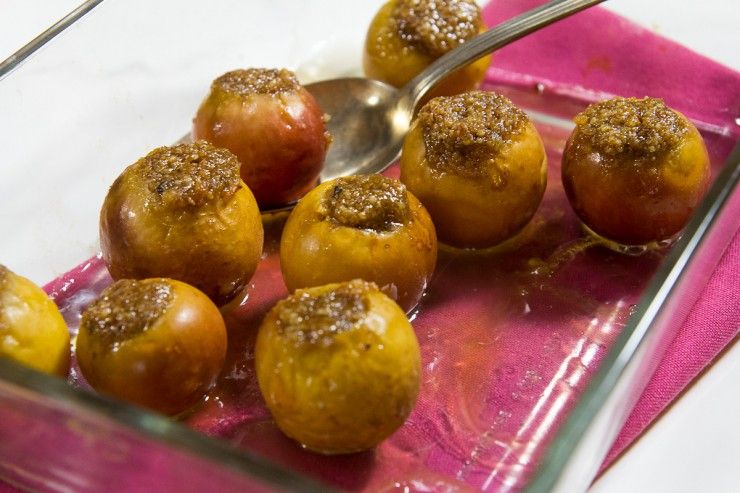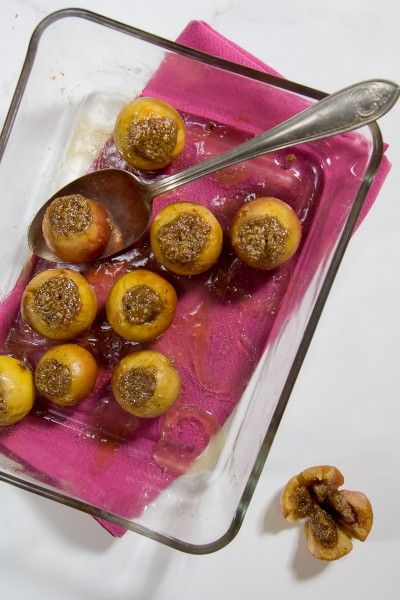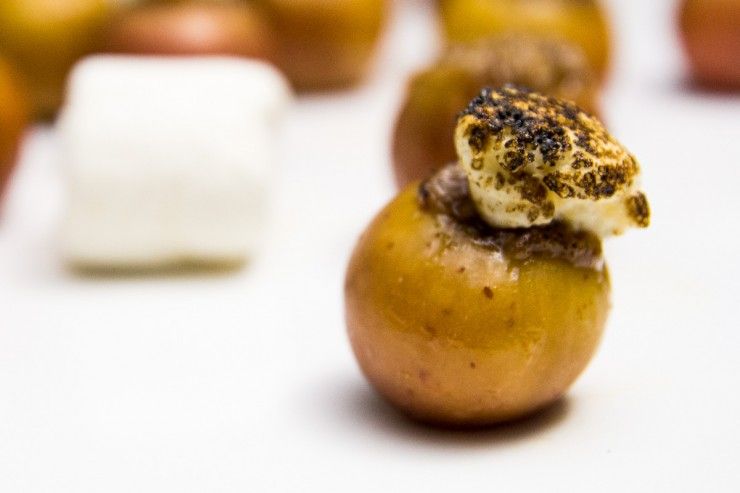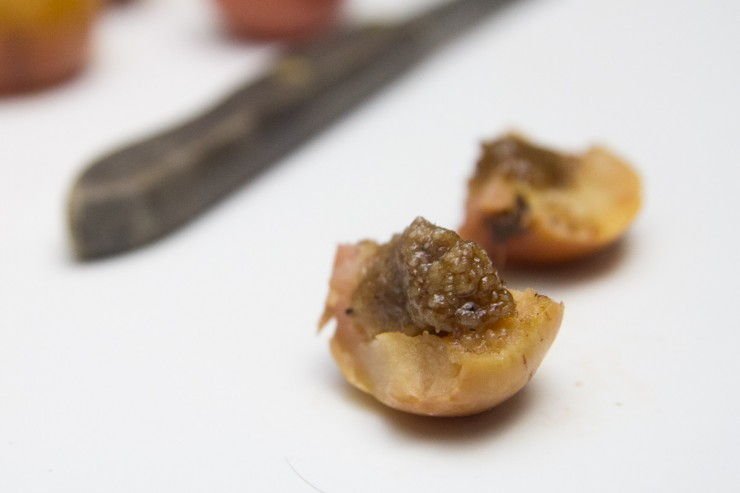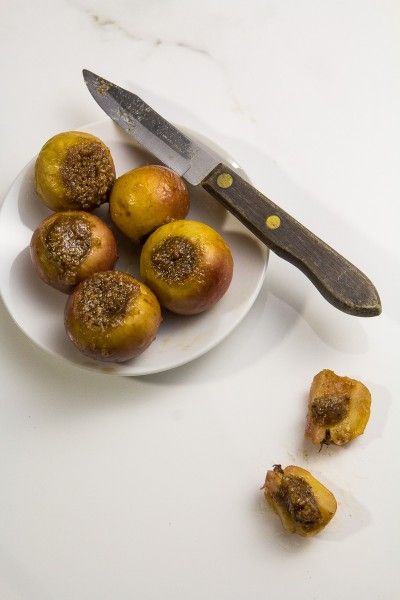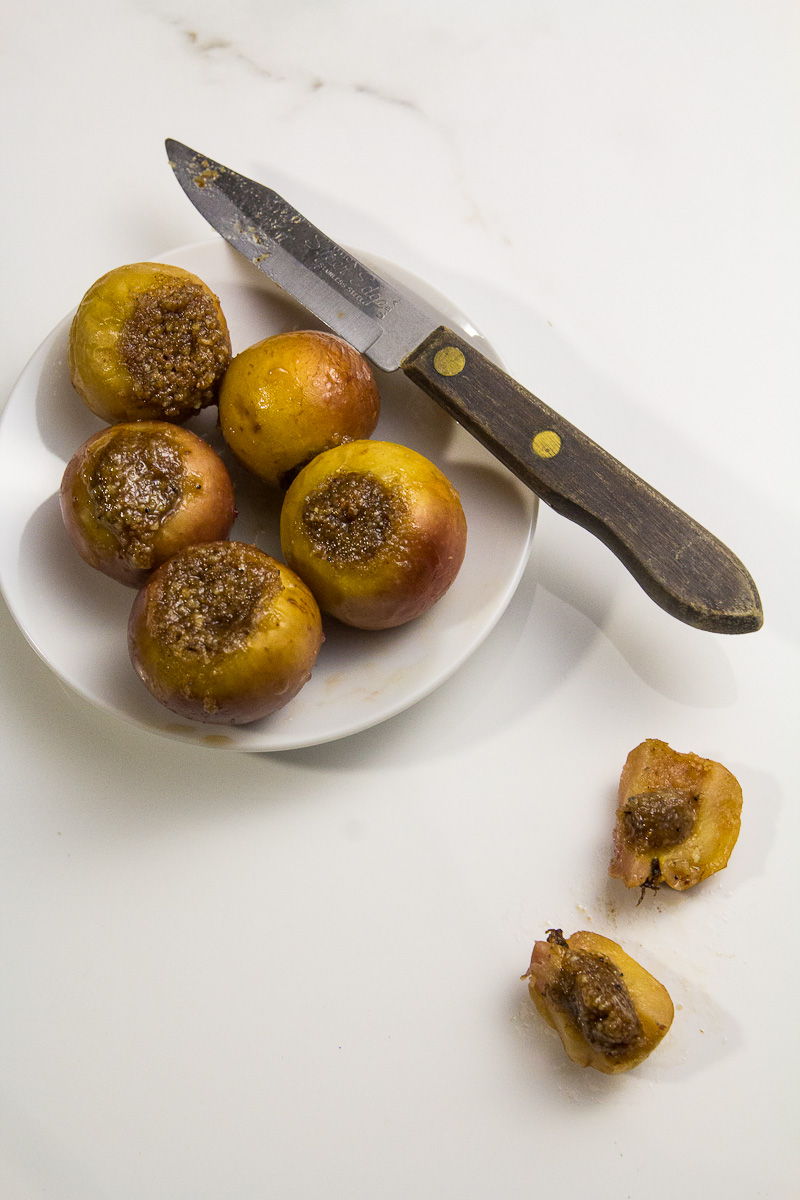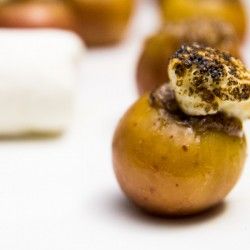 Indian Spiced Baked Mini Apples
Baked mini apples stuffed with almonds, cardamom and ginger
Ingredients
1

pound

mini crimson gold apples

about 18 apples

⅓

cup

whole almonds

2

tbsp

brown sugar

3

tbsp

cold butter

cut up into pieces (or substitute Earth Balance to keep it vegan)

½

tsp

ground cardamom

½

tsp

ground ginger

lime or lemon juice to prevent apples from browning
Instructions
Preheat oven to 375 degrees Fahrenheit.

Toss the almonds into a food processor and pulse until you have a coarse powder. Add the brown sugar and spices. Mix.

Add the butter and pulse until well mixed. Set the almond and butter mixture aside.

Rinse and dry the apples. Using an apple corer or a melon baller, scoop out the apple cores (I found that a metal 1/4 tsp measure worked really well for scooping out the core). Create a little well for the filling making sure to leave the bottoms of the apple intact. Sprinkle a couple drops of lemon or lime juice into the cored apples so that they don't brown while you finish coring the rest.

Stuff the apples with the almond and butter mixture. Arrange them into a baking dish with the tops facing up.

Bake for 30 to 40 minutes until the apples are pierced easily with a fork.
Notes
I topped some of the baked apples with marshmallows and used a little torch to roast them. It was a delicious addition!
Nutrition
Calories:
152
kcal
Carbohydrates:
16
g
Protein:
2
g
Fat:
10
g
Saturated Fat:
4
g
Polyunsaturated Fat:
1
g
Monounsaturated Fat:
4
g
Trans Fat:
0.2
g
Cholesterol:
15
mg
Sodium:
47
mg
Potassium:
150
mg
Fiber:
3
g
Sugar:
12
g
Vitamin A:
216
IU
Vitamin C:
4
mg
Calcium:
32
mg
Iron:
0.5
mg