Ghughra (Gujiya, in Hindi) is an essential Diwali treat for Gujaratis, and Holi treat across North India. To celebrate this festival, my mom always went all out. She made various snack foods at home and ordered others from specialty sweet and snack shops.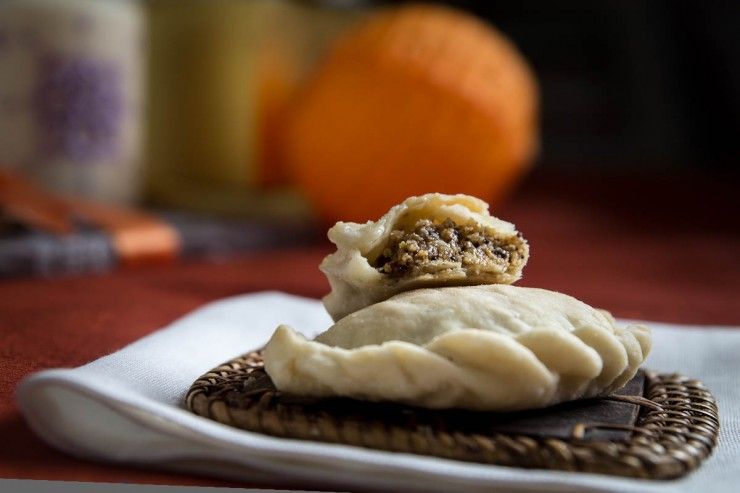 There were many different sweets and snacks, but Ghugras were the one treat she made every year. We started preparing days before and made everything in large quantities. There had to be enough to share with all of the friends and neighbors who stopped by to wish us well.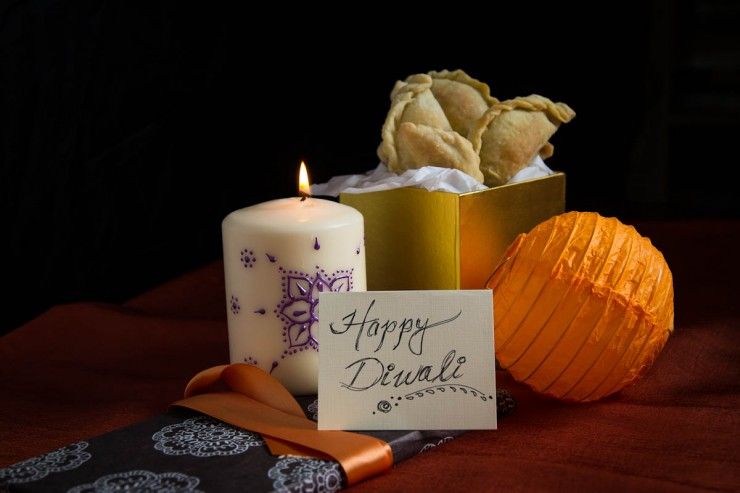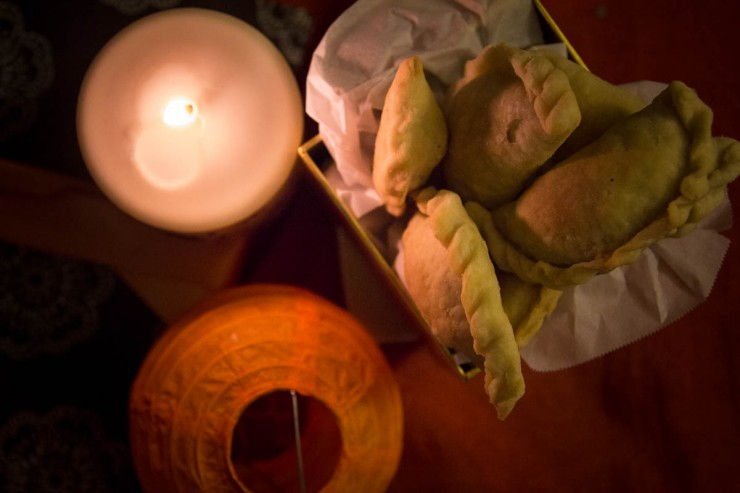 Making the Ghughra was a family affair. My mom made the filling, and then we'd sit down on the floor and create an assembly line with my mom, grandma, my brother, and me, while my dad was usually away at work.
We would watch a cricket match in the background and get to work. He'd never admit to it now, but my little brother was great at crimping the little pastries. Much better than me!
I have been making my own ghughra for a few years now.  I love them and I always love trying a new variation on them. This year, I decided to make an "everything but the kitchen sink" filling and bake instead of fry them.
They came out delicious. And so much easier than frying them one or two at a time!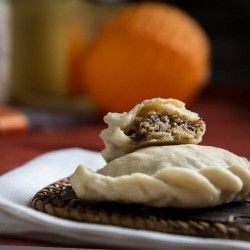 Baked Sweet Ghughra
Ghughra, or Gujiya, are an Indian sweet hand-pie always served at Diwali in my house
Ingredients
4

tbsp

butter or ghee

½

cup

semolina

¼

cup

milk powder

¼

cup

dessicated coconut

dry

¼

cup

almond flour

¼

cup

pistachio flour

½

cup

brown sugar

1

tsp

cardamom powder

½

tsp

nutmeg

¼

cup

golden raisins

chopped

1

tbsp

poppy seeds

½

cup

toffee bits

homemade (recipe below) or store bought

½

cup

milk

for sealing

2

tbsp

butter

melted (for brushing on to pastry)
Pastry:
2 ½

cups

all-purpose flour

2

tsp

sugar

1

tsp

salt

6

tbsp

cold butter

¼

cup

vegetable shortening

chilled

9

tbsp

ice water

3

tbsp

vodka
Toffee:
½

cup

butter

½

cup

sugar

½

tsp

salt
Instructions
Filling:
Heat the butter or ghee in a skillet on medium high heat.

Add in the Semolina and roast till it is fragrant and starts to brown. Stir often.

Add in the milk powder, nut flours and cook for about 3 minutes.

Add in the coconut and poppy seeds. Continue to cook for about 2 more minutes.

Turn off heat and stir in the cardamom and nutmeg.

Let cool.

Add in the chopped raisins and toffee bits when cooled.
Toffee
In a heavy bottomed skillet, toss together all the ingredients.

Stir on medium heat until the sugar and butter melt into an amber colored caramel and starts to smoke slightly.

Pour onto a silicone sheet and let cool.
Pastry:
In a medium bowl, whisk together the flour, sugar and salt.

Mix in half the butter and shortening into the flour until it looks like cornmeal.

Mix in the other half of the fat until there are pea sized granules.

Add in the water and vodka to form a dough. This dough needs to be a little wetter than traditional pastry dough as it needs to be rolled our very thin.

Cut the dough into four pieces, wrap in plastic wrap and refrigerate for at least 20 minutes.

Roll out the dough, one piece at a time, into a very thin sheet. Cut circles with a 3" diameter cookie cutter. Cover the circles with a damp paper towel until ready to use. Work quickly so that they don't dry out.
Assembly and Baking:
Position a rack on the top third of the oven. Preheat to 375 degrees.

Fill each circle with 1 tbsp of filling.

Wet the edges with either milk or water and press the two sides together to seal. Then either crimp the edge by using a press and twist motion or by pressing with a fork to ensure the seal is tight.

Brush the pastries with butter and bake, one batch at a time, for 18 to 20 minutes. Until just starting to turn golden.

Cool on a cooling rack.

These can also be deep fried in oil if you prefer.
Nutrition
Calories:
271
kcal
Carbohydrates:
28
g
Protein:
3
g
Fat:
16
g
Saturated Fat:
9
g
Polyunsaturated Fat:
1
g
Monounsaturated Fat:
4
g
Trans Fat:
1
g
Cholesterol:
34
mg
Sodium:
229
mg
Potassium:
76
mg
Fiber:
1
g
Sugar:
14
g
Vitamin A:
312
IU
Vitamin C:
1
mg
Calcium:
40
mg
Iron:
1
mg