A savory semolina crepe, better known as a "rava dosa" is one of my standard quick-fix meals. I experimented with this sweet rava dosa and it was fantastic. It's like the standard crepe but a little chewier but tastes great
Rava dosa are the instant version of the South Indian classic dosa.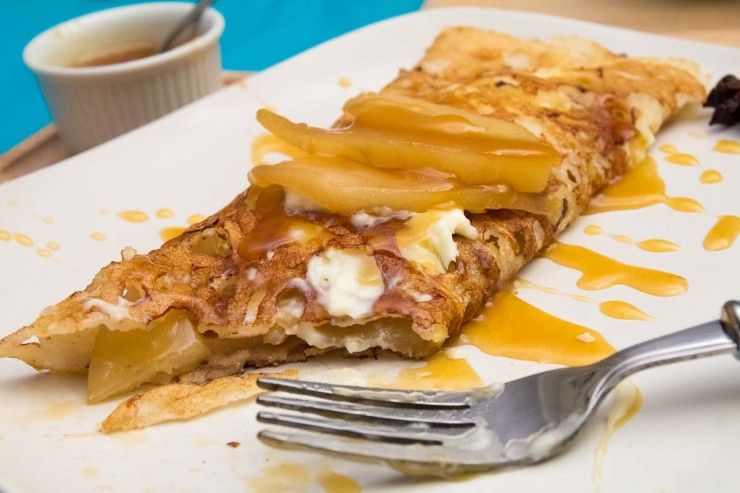 The classic dosa is a lot of work and not easy to do for people like me who do don't plan dinner 3 days in advance. It is made by soaking rice and lentils overnight, then grinding the mixture into a batter, and then letting the batter ferment overnight. Semolina (rava) makes instant dosa batter in under 10 minutes, and frankly tastes even better than the original.
I usually whip up a savory batter with semolina, salt and cumin seeds and eat the crepes plain with a cilantro chutney. Sometimes, if I feel like putting in a little more effort, I make a potato filling to go with it.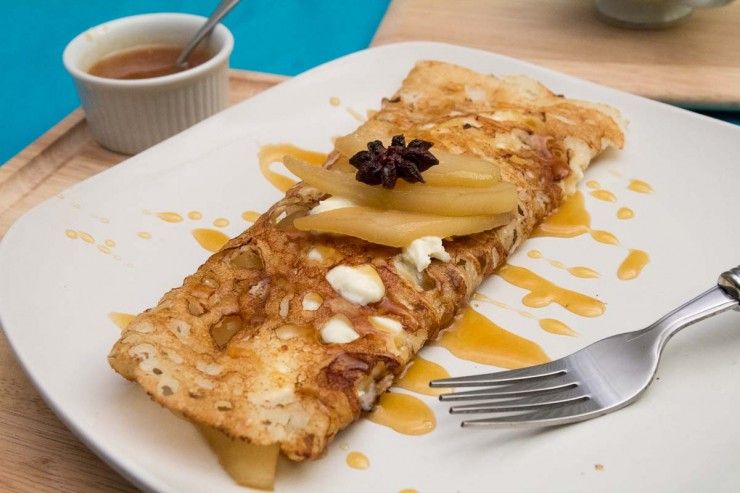 Last week, I was craving something sweet for dessert but didn't feel like turning on the oven to bake. San Diego's been getting some really hot weather lately. Inspiration struck while I was out walking the dog. I wondered if sweet rava dosas would taste good. They do!
The texture is different from the standard egg-based crepes. It's denser and a little chewier but tastes great.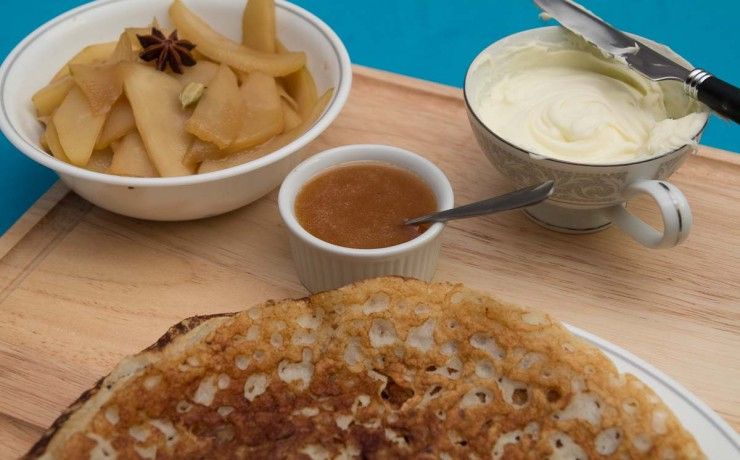 I initially planned to make a vegan dish (even used smart balance for the pears and coconut milk for the caramel) but ended up adding mascarpone without really thinking about it. Substitute vegan cream cheese or leave the cheese out entirely to make it vegan-friendly.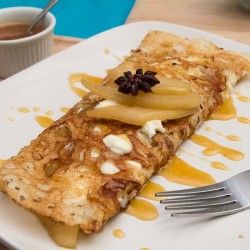 Sweet Rava Dosa with Pear Compote, Mascarpone, and Coconut Rum Caramel Sauce
Sweet rava dosa for a rich, sweet, decadent dessert
Ingredients
Pear Compote
½

tbsp

Butter or Smart Balance

vegan butter

2

tbsp

Brown Sugar

2

Ripe but firm Bartlett Pears

sliced

1

tbsp

Rum

1

Star Anise

3

Cardamom Pods
Sweet Rava Dosa
1

cup

semolina

1 ½

tbsp

sugar

pinch

of salt

2

cups

water
Coconut Rum Caramel Sauce
½

cup

sugar

1

tbsp

water

½

cup

coconut milk

1

tbsp

rum

⅛

tsp

salt

1

tbsp

butter or Smart Balance

to make if vegan
Cheese Spread
½

cup

Mascarpone or Vegan Cream Cheese

3

tbsp

powdered sugar
Instructions
Pear Compote
Toss all the ingredients into a saute pan and cook on medium heat for about 10-15 minutes. Stir occasionally. Set aside until the crepes are ready.
Sweet Rava Dosa
Mix all the ingredients in a medium bowl. Let sit for about 8 minutes.

Meanwhile, preheat a nonstick skillet (it works better than a saute pan making the crepe much easier to flip) with 1 tbsp of oil for about 7 minutes on medium heat. Crank up the heat to high for the last minute. (make sure the pan does not smoke).

Shake the pan a little to scatter the oil.

Stir the semolina batter really well. Scoop about 3/4 cup of the batter and pour onto the hot skillet. There is a trick to the batter, don't dump the entire amount onto one spot on the skillet. Quickly pour a little bit of batter in lots of different spots, connecting the different spots with new pours, so that you get a thin layer of batter that fills the entire bottom of the skillet. As the batter lands on the skillet, it will sizzle and create holes as the pancake forms. Fill in the large holes if tiny bits of batter. You will end up with a beautiful lacey pattern.

Let cook on high heat for about 3-4 minutes. You will know the crepes are ready to flip when the edges turn brown and lift up slightly. If the crepes are getting too brown, lower heat to medium high.
Coconut Rum Caramel Sauce
Mix sugar and water in a sauce pan and heat on medium heat. Stir a couple of times and then stop stirring. Let sugar cook undisturbed. When the sugar turns a deep golden brown (about 7-9 minutes), add coconut milk and stir. The sugar will clump up but that's not a problem.

** Keep an eye on the sugar it can go from brown to burned in no time! And watch out, it's hot!

Stir in the the rest of the ingredients. Stir until the sugar clumps dissolve back into the liquid and you have a nice sauce.
Cheese Spread
Stir together cheese and sugar.
Assembly
Spread 2 tbsp of cheese spread on the underside of each crepe and top with a quarter of the pear compote.

Fold the two sides of the crepe over the filling to create a roll. Turn the seam toward the bottom of the plate.

Drizzle with caramel sauce.
Nutrition
Calories:
398
kcal
Carbohydrates:
58
g
Protein:
7
g
Fat:
16
g
Saturated Fat:
11
g
Polyunsaturated Fat:
0.3
g
Monounsaturated Fat:
1
g
Trans Fat:
0.1
g
Cholesterol:
29
mg
Sodium:
93
mg
Potassium:
199
mg
Fiber:
3
g
Sugar:
33
g
Vitamin A:
365
IU
Vitamin C:
3
mg
Calcium:
52
mg
Iron:
2
mg