Savory Semolina Crepes with Potato Curry and Coconut Chutney
Traditional dosa are made with a rice and lentil batter that needs to first be soaked overnight, then ground into a batter and then fermented overnight. Rava dosa is simpler because it doesn't have to be fermented.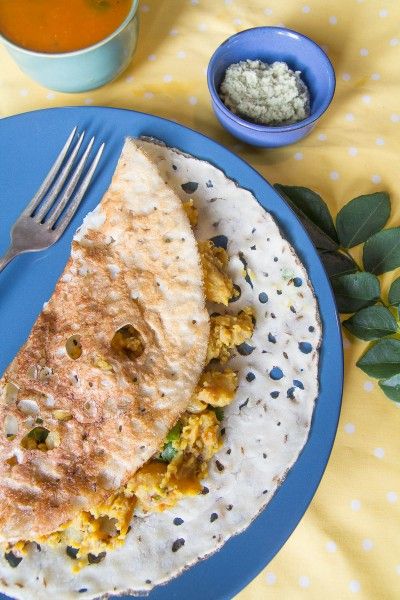 I love the flavor and how easy they are to make. Rava dosa are like a cross between a pancake, a quesadilla, and a sandwich wrap. The best part is, you can stuff them with anything you want. Here I am using one of the more classic fillings. You will find potato masala dosa in any dosa restaurant.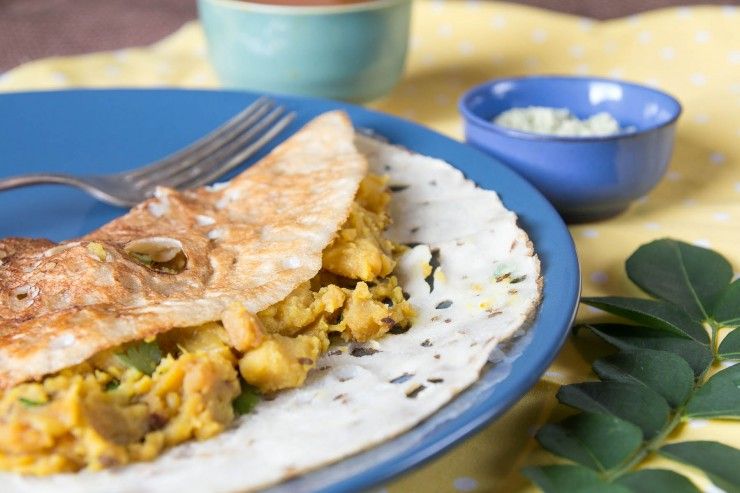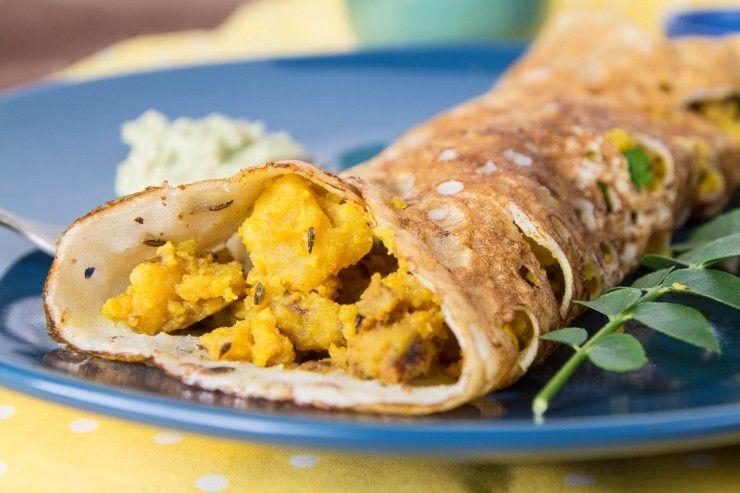 The trick to a great rava dosa is getting the batter consistency right (it's much thinner than pancake batter). If it's too thick, you'll end up with lumpy soggy dosa. But when you get the consistency just right, you get delicious dosa that are soft and tender with a delicious crispy edge.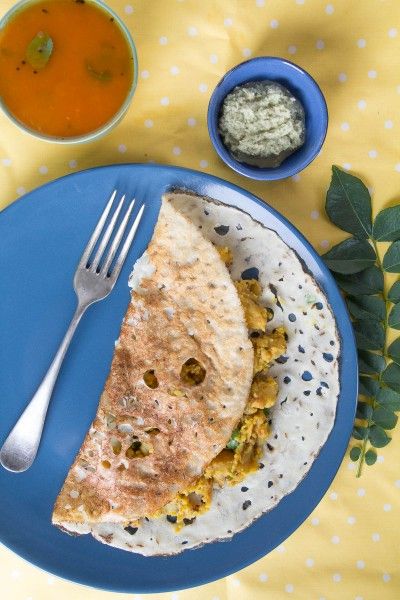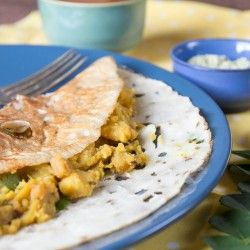 Rava Masala Dosa with Potato Curry and Coconut Chutney
Rava dosa don't need to ferment overnight, this potato curry is my favorite way to serve them
Ingredients
For the Rava Dosa
¾

cup

semolina

2

tbsp

rice flour

½

tsp

salt

or to taste

1 to 2

tsp

cumin seeds

a few thin slices of green chili

optional

1 ½

cups

water

may need to add a couple more tablespoons

1 to 2

tbsp

oil
For the Potato Curry
1

tbsp

oil

1

tsp

cumin seeds

2

medium potatoes

cut into 1/2 inch cubes (TIP: leave the cut potatoes in a bowl of cold water until they're ready for use. This will prevent them from turning brown)

1

large onion

cut into half pole to pole and cut into 1/4 inch thick slices

½

tsp

chopped green chili

1 ½

cups

water

½

tsp

red chili powder

1

tsp

turmeric

¼

tsp

salt

or to taste

handful of chopped cilantro leaves
For the Coconut Chutney
¾

cup

chopped fresh coconut

dried unsweetened coconut will work too if you don't have freshpuree

¼

cup

cilantro leaves

packed

1

tsp

salt

½

serrano chili

or to taste

1

garlic clove

chopped

1

stem curry leaves

about 10 leaves (optional)

¼

cup

water

you may need a little more
Instructions
For the Rava Dosa
Add 2 tsp of oil to a 12 inch non-stick skillet and heat on medium heat for about 5 to 7 minutes.

In a medium bowl, mix the semolina, rice flour, salt and cumin seeds.

Add in the green chili slices and water. Stir really well.

Check to make sure the pan is really hot. The oil should be shimmering.

Turn the heat to high. (Watch the video to see me pour the dosa!)

Stir the batter really well until it's well blended and pour the batter into the hot pan one ladle full at a time until there is a thin layer of batter covering the whole bottom of the skillet. (If the dosa does not get a lacy texture but looks more like a regular pancake, your batter is too thick. Add a little water.)

Drizzle a few drops of oil around the edge of the dosa.

Let cook for about 2 to 3 minutes. The edges should start to lift away from the pan.

Flip and cook for another 15 seconds or so. (there's a video for that too!)

Repeat. You don't need to add more than a few drops of oil to the pan between each dosa. And remember to stir the batter well each time you pour a dosa. It has a tendency to separate.

When ready to assemble, lay out a dosa on a plate the lighter side facing up. Add potato curry to the middle and roll. Serve with chutney.
For the Potato Curry
In a medium pot, heat the oil over medium heat.

When the oil begins to shimmer, add the cumin. It should sizzle when added. Quickly stir and add in the onion and green chili. Cook until the onion is transparent. Stir a few times so the onion does not burn.

Add in the potato, water, chili powder and turmeric and salt. Stir. Bring to a boil.

Cover and cook for about 15 minutes. Stir every 5 minutes or so. If the water level starts to look low, add a little more. You should end up with some potato mush along with some cubes but there should not be any extra liquid in the pot. If you end up with extra water, just lift he lid and cook for a few minutes until the liquid evaporates.
For the Coconut Chutney
Toss all the ingredients into a blender and puree. You may need to add a little more water to get the blender going. Add the least amount of water you need to get a nice puree.
Notes
A little cheddar or colby jack tastes great added to the dosa. Just sprinkle the cheese over the warm potato curry while assembling the dosa. This is Steve's favorite way to eat these!
I often make these quick rava dosa when there is nothing else to eat in the house. They are great even without the potato curry. I often eat them with just the coconut chutney.
I just halve the recipe for just myself and it literally takes 7 minutes to make myself lunch!
The potato curry and chutney can be made a couple of days in advance and kept in the fridge.
Nutrition
Calories:
273
kcal
Carbohydrates:
45
g
Protein:
7
g
Fat:
8
g
Saturated Fat:
1
g
Polyunsaturated Fat:
2
g
Monounsaturated Fat:
5
g
Trans Fat:
0.03
g
Sodium:
1044
mg
Potassium:
505
mg
Fiber:
4
g
Sugar:
2
g
Vitamin A:
164
IU
Vitamin C:
20
mg
Calcium:
42
mg
Iron:
3
mg
Flipping the Dosa: