These Masala Cheese Toast Sandwiches are a simple combination of boiled potato, cilantro chutney and cheese on bread. There is a delicate crunch to the bread, with a soft interior of savory potato, and just the right amount of gooey cheese. These masala sandwiches are served with sweet and tangy ketchup and a spicy cilantro chutney for a mouth-wateringly delicious taste of Mumbai street food.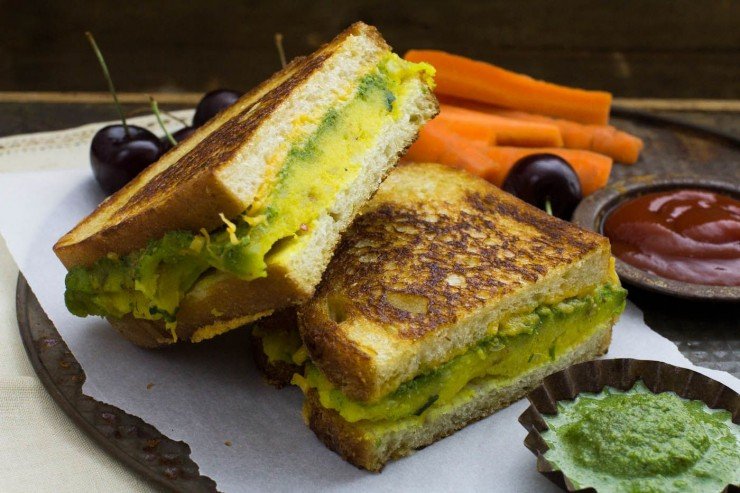 Masala cheese toast sandwiches are definitely one of my favorites, and they are amazingly simple to make at home! Really they are just a step up from grilled cheese sandwiches, but so full of flavor.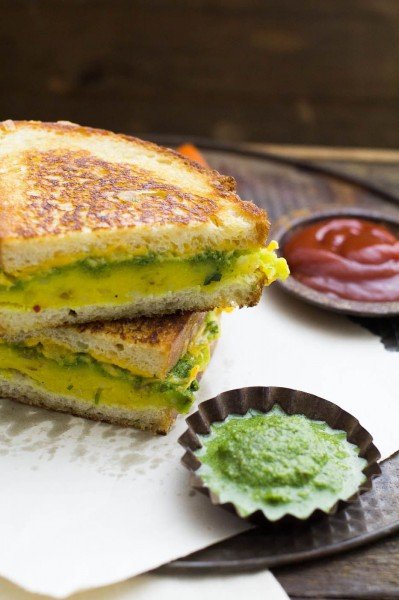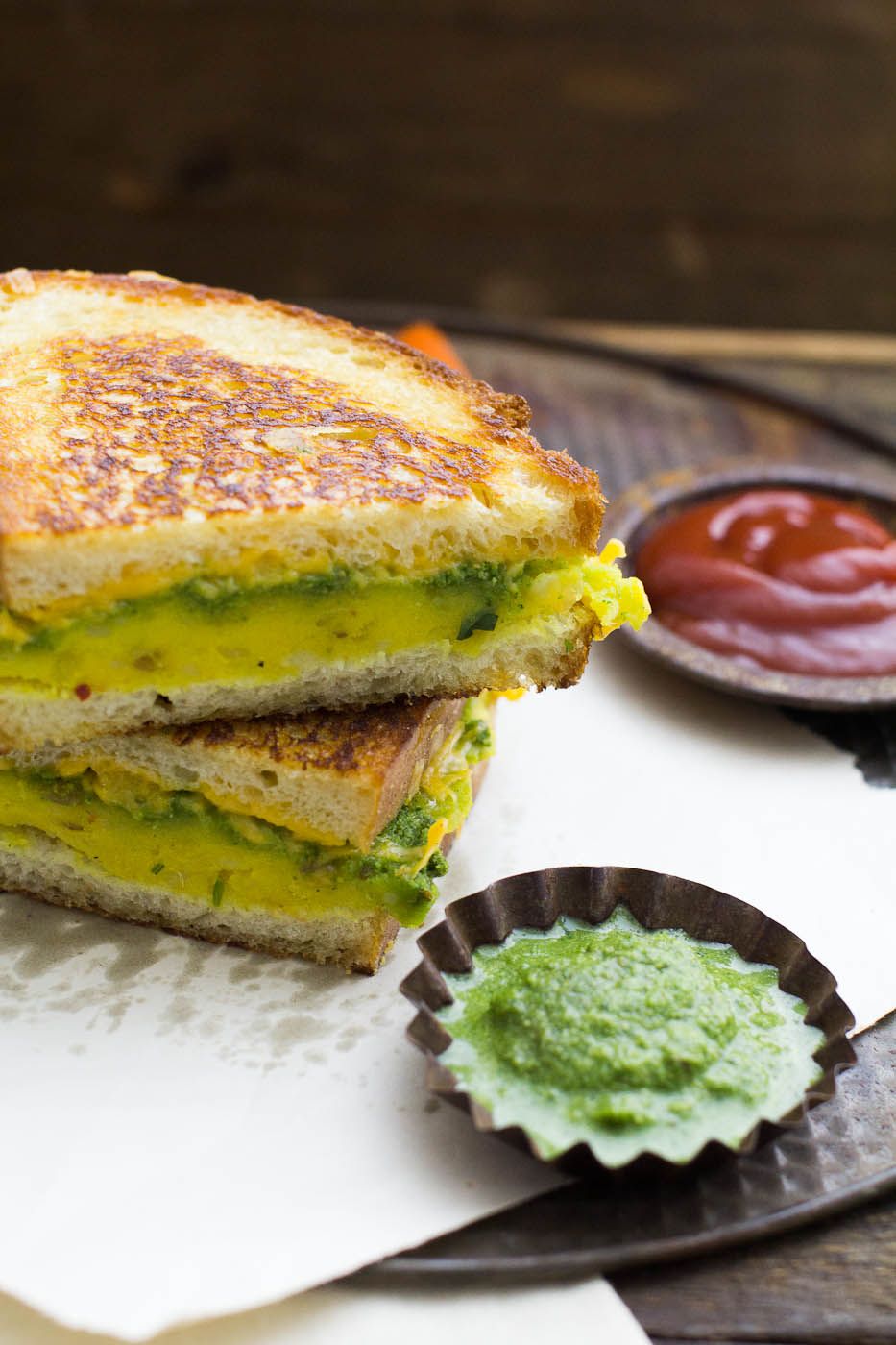 I can remember the street vendors making them with old fashioned sandwich irons. These are made up of two square cast iron plates forming a clamshell against each other. Long cast-iron handles are attached to the plates so the vendor can easily flip them and take them out of the fire.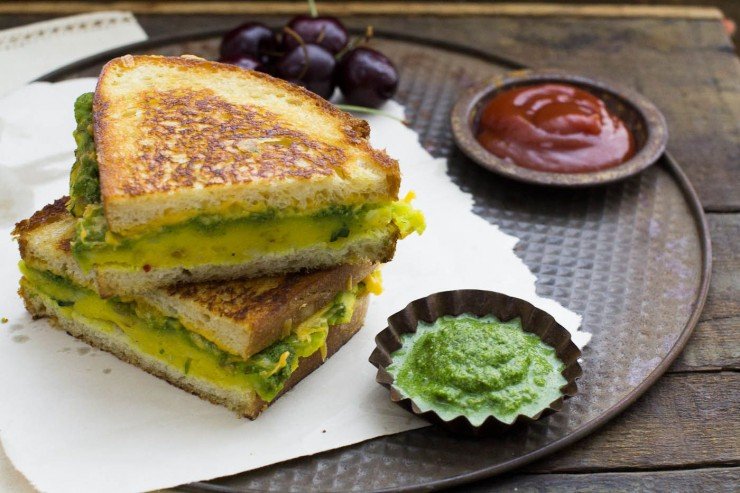 The vendor uses these contraptions so he can make many of them very quickly. At home can be nowhere near as complicated. If you know how to make a grilled cheese sandwich, you pretty much already know how to cook a potato sandwich.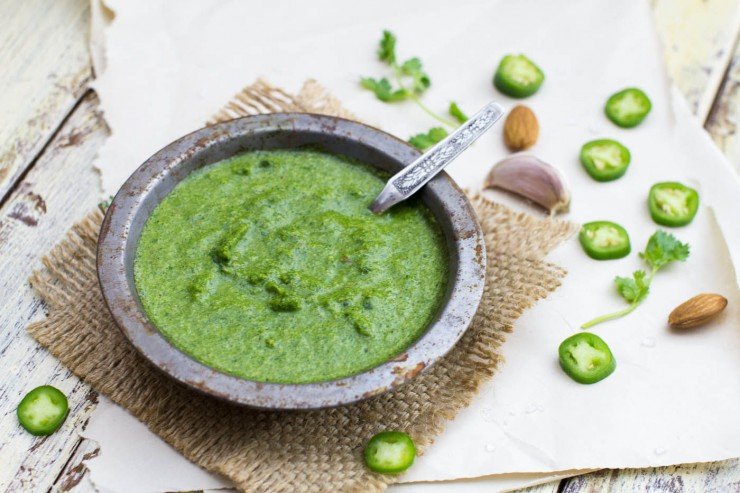 In my version, I add a layer of chutney right to the sandwich. Not only is it a beautiful presentation but it also makes it easier to eat as it requires less dipping.
Choosing the Right Bread for the Sandwich
If you are making masala cheese toast sandwiches at home outside India, you will find that store bought white bread doesn't quite hold up to the potato and chutney filling. That's because American sliced white bread tends to have a lot less structure than the white bread available in India. I prefer to buy a rustic white bread like Tuscan Pane from Trader Joe's or a sliced Italian loaf from the grocery store. It's not traditional but it works really well.
How to make a Masala Cheese Toast Sandwich
Boil the potatoes: start by boiling the potatoes in salted water.

Make the Chutney: as the potatoes are boiling, make the chutney. Simply toss cilantro, green chilies, garlic, salt and some nuts (almonds or peanuts are my go-tos) and blend and water. You can add mint leaves and chat masala if you like as well. The key here is to use the least amount of water possible to get a good grind on the chutney.

Prepare the vegetables: chop the onions and grate the ginger. You can also choose to slice the onion thinly and it as a layer to the sandwich.
Prepare the potato mash: peel and mash the potatoes add salt and onions.
Prepare the vaghaar/tadka/tempering: heat the oil, add the cumin seeds, turmeric and ginger and add the hot oil mixture to the potato mash.
Make the sandwich: butter the bread, cook the buttered side down and spread the potato mixture, a layer of cheese and a layer of chutney. Sprinkle some chat masala if you have it on hand. It will add to the authentic street food taste. Then cover with the second slice of bread (buttered side on the outside) and flip when the first side is golden brown. Press down on the sandwich as it cooks.
Cut and serve with more chutney and ketchup.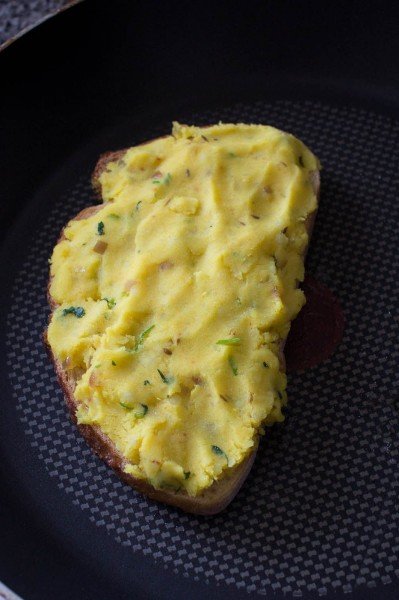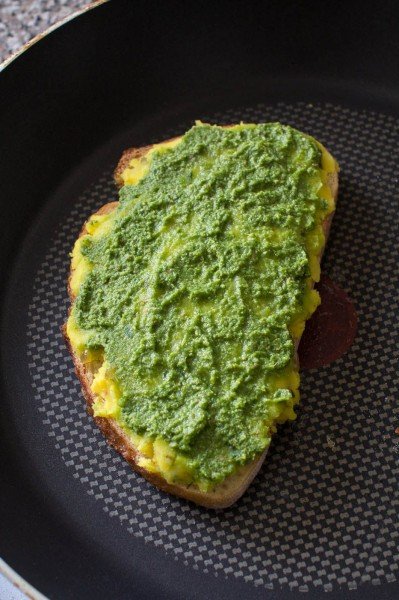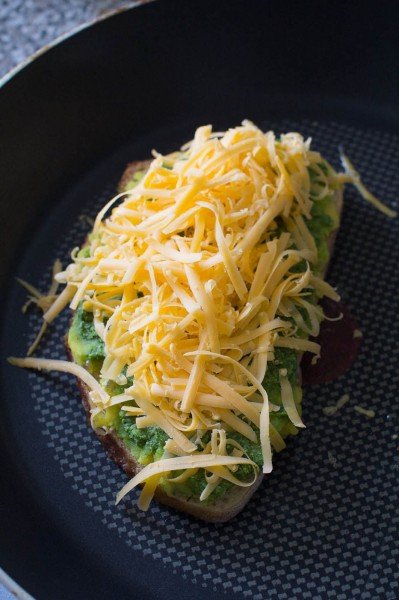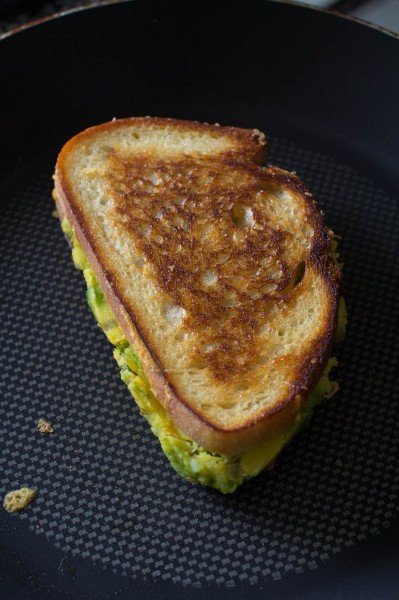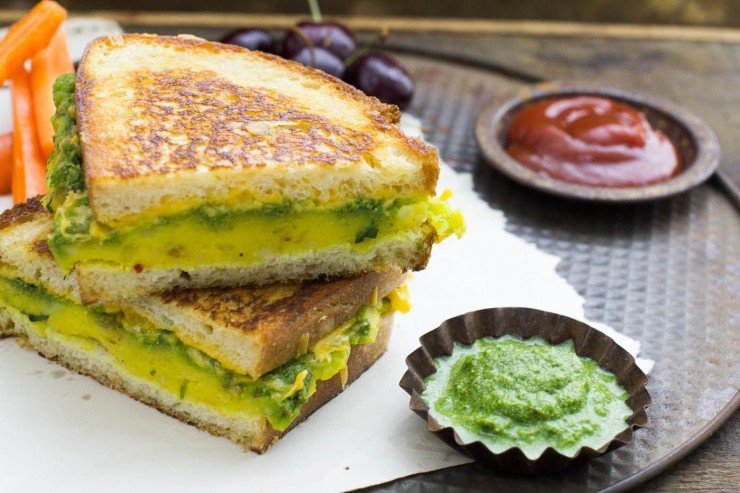 Masala Cheese Toast Sandwich
With a soft interior of savory potato, and just the right amount of gooey cheese, these masala sandwiches offer a taste of Mumbai street food
Ingredients
2

pounds

of potatoes

boiled and skinned (boil about 20-25 minutes in salted water)

1

green chili

½

tsp

ginger

½

tsp

turmeric

1

small red onion

chopped (about 1/4 cup)

1

tsp

cumin

2

tbsp

oil

green chutney

recipe below

1

oz

shredded cheddar cheese

2

slices

of bread

1

tbsp

butter

1

pinch

chat masala

optional
Instructions
Use a potato masher or fork to mash the potato pretty well, but it should have some lumps remaining for texture. Then add in the red onion and mix well.

Make a vaghaar/ tadka by heating two tablespoons of oil in a pan. Once the oil is shimmering, the cumin until fragrant. Then add the turmeric and ginger. Stir for 5 seconds and pour the hot oil mixture into the potato and onion mixture and mix well.

Spread the butter on one side of each slice of bread.

Spread the chutney on the unbuttered side of one slice of bread.

Add a layer of about 1/4 cup of potato mixture over the chutney and spread it evenly, then layer on the cheddar cheese. Put the other slice of bread over this, butter side out.

Place the sandwich on a warm pan over medium heat. Toast one side of the sandwich this way, then flip it to toast the other side. You may choose to press down on the sandwich as it cooks, or even to use a panini press.
Nutrition
Serving:
200
g
Calories:
604
kcal
Carbohydrates:
77
g
Protein:
18
g
Fat:
26
g
Saturated Fat:
8
g
Cholesterol:
30
mg
Sodium:
408
mg
Potassium:
2022
mg
Fiber:
14
g
Sugar:
4
g
Vitamin A:
320
IU
Vitamin C:
58.5
mg
Calcium:
299
mg
Iron:
16.8
mg