Do you want to ensure you'll have a happy and prosperous year? In Indian culture, we start off all auspicious occasions with something sweet. And, seriously, what's better than chocolate?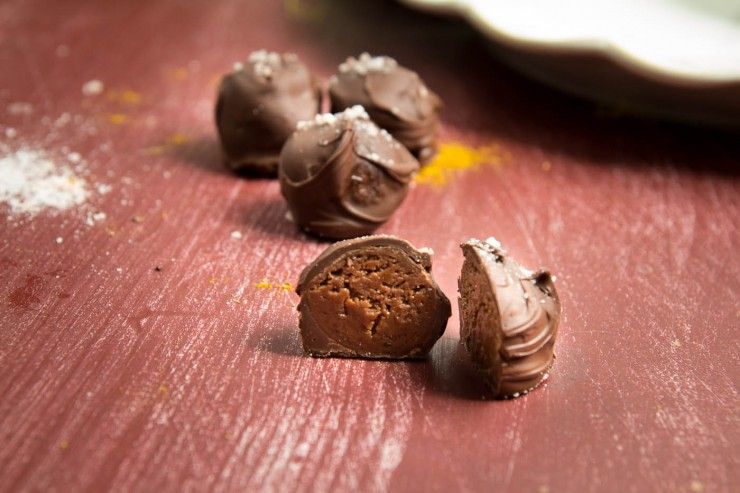 Homemade chocolate truffles are so easy. They are a little bite of rich deliciousness that both impresses everyone and makes them happy.
A few weeks ago, I was wandering around World Market looking for little goodies to give as gifts. I love that I can find delicious treats with a little ethnic flair there. I found these Indian Sweet Curry chocolate bars and bought one for a gift. I was about to check out and ran back to the aisle to get a second bar for myself.
I am so glad I did! I completely loved the slightly spicy and salty flavor. I was inspired by the chocolate bar to create my own truffles.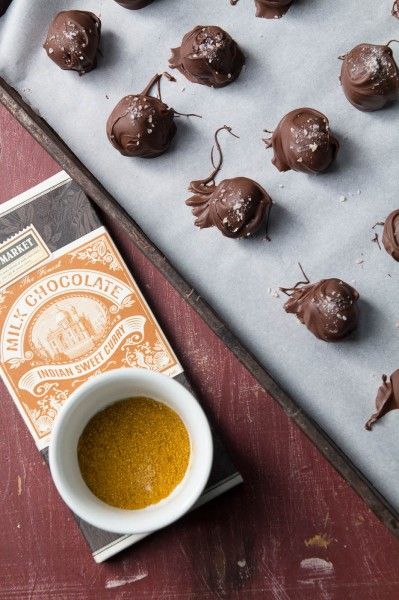 I used my standard garam masala and added in some sweeter spices but I'm sure any curry powder will work. I made this three times until I was completely happy with the proportions, texture and flavor. The first couple times I used a mix of milk and semisweet chocolate for the filling and used milk chocolate for the coating.
I preferred the flavor when I just used milk chocolate for the filling because it lets the caramel come through much better. The darker coating makes for a nice contrast.
When I used the milk chocolate coating, had some trouble with some lighter spots on the chocolate. I think the smaller salt crystals drew out the moisture causing the discoloration. The chocolate still tasted great. I didn't really have that problem with the semisweet chocolate coating because I tried to only sprinkle on larger salt crystals. On the ones that did end up with powdered salt, I saw the discoloration.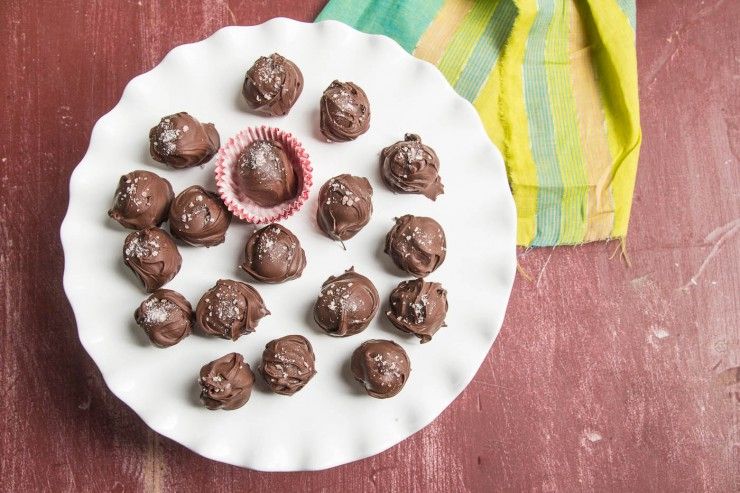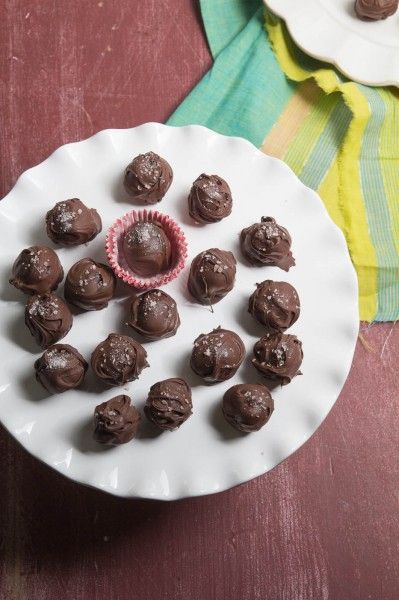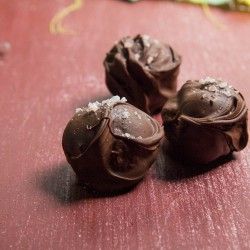 Curry Caramel Truffles with Himalayan Pink Salt
Decadent chocolate truffles with curry and pink salt
Ingredients
¼

cup

sugar

¼

cup

heavy cream

6

oz

milk chocolate

¼

tsp

garam masala or curry powder

¼

tsp

Himalayan pink salt plus more for sprinkling

8

oz

semi sweet chocolate
Instructions
Heat the milk chocolate in a double boiler until melted. Set aside.

In a small saucepan, combine the sugar with 1 tablespoon of water. Heat over medium heat until the sugar turns nut brown. Add the cream and stir until all the sugar crystals are melted and a smooth caramel is formed. Turn off the heat.

Pour the caramel into the melted milk chocolate, add the 1/4 tsp of garam masala and 1/4 tsp of Himalayan salt. Stir until well combined. Then cover and refrigerate at least two hours.

Scoop out heaping teaspoons of the chocolate caramel mixture and roll into balls between your palms. Refrigerate the balls for about 30 more minutes.

Melt 6 oz of the semi sweet chocolate in a double boiler. Remove melted chocolate from the heat and add in the remaining 2 oz of chocolate. Stir. The chocolate will melt from the residual heat in the already melted chocolate.

Dip the chocolate caramel balls in the melted semi sweet chocolate. Place the dipped chocolate truffles on a parchment lined baking sheet. Sprinkle with a little Himalayan pink salt.

Let the chocolate set for about two hours.
Notes
I created a spice blend by mixing 1 tsp of my garam masala with 1/4 tsp turmeric and 1/8 tsp each of cinnamon, fennel and cardamom. I then used only a 1/4 tsp of this blend in my recipe. Your store bought garam masala or curry powder will work just fine.
Nutrition
Calories:
214
kcal
Carbohydrates:
23
g
Protein:
2
g
Fat:
14
g
Saturated Fat:
8
g
Polyunsaturated Fat:
0.4
g
Monounsaturated Fat:
4
g
Trans Fat:
0.01
g
Cholesterol:
7
mg
Sodium:
54
mg
Potassium:
153
mg
Fiber:
2
g
Sugar:
19
g
Vitamin A:
82
IU
Vitamin C:
0.03
mg
Calcium:
18
mg
Iron:
2
mg