"Bombay Halwa" is a popular Indian sweet that also goes by the name "Karachi Halwa." It can also be called "Bombay Ice Halwa." Bombay Halwa is a type of Turkish delight found in India. It is made of starch, sugar, and some kind of flavor. My favorite flavor of Bombay Halwa is made with pistachios and cardamom.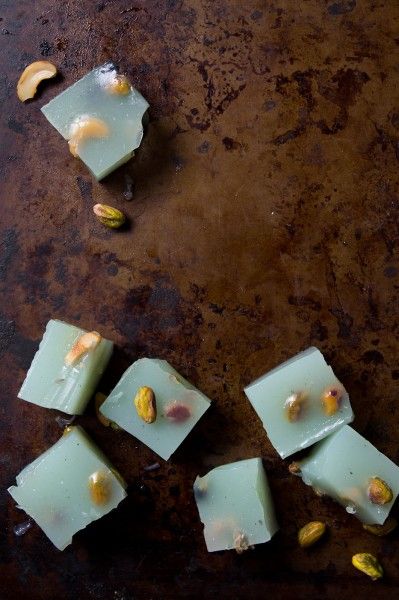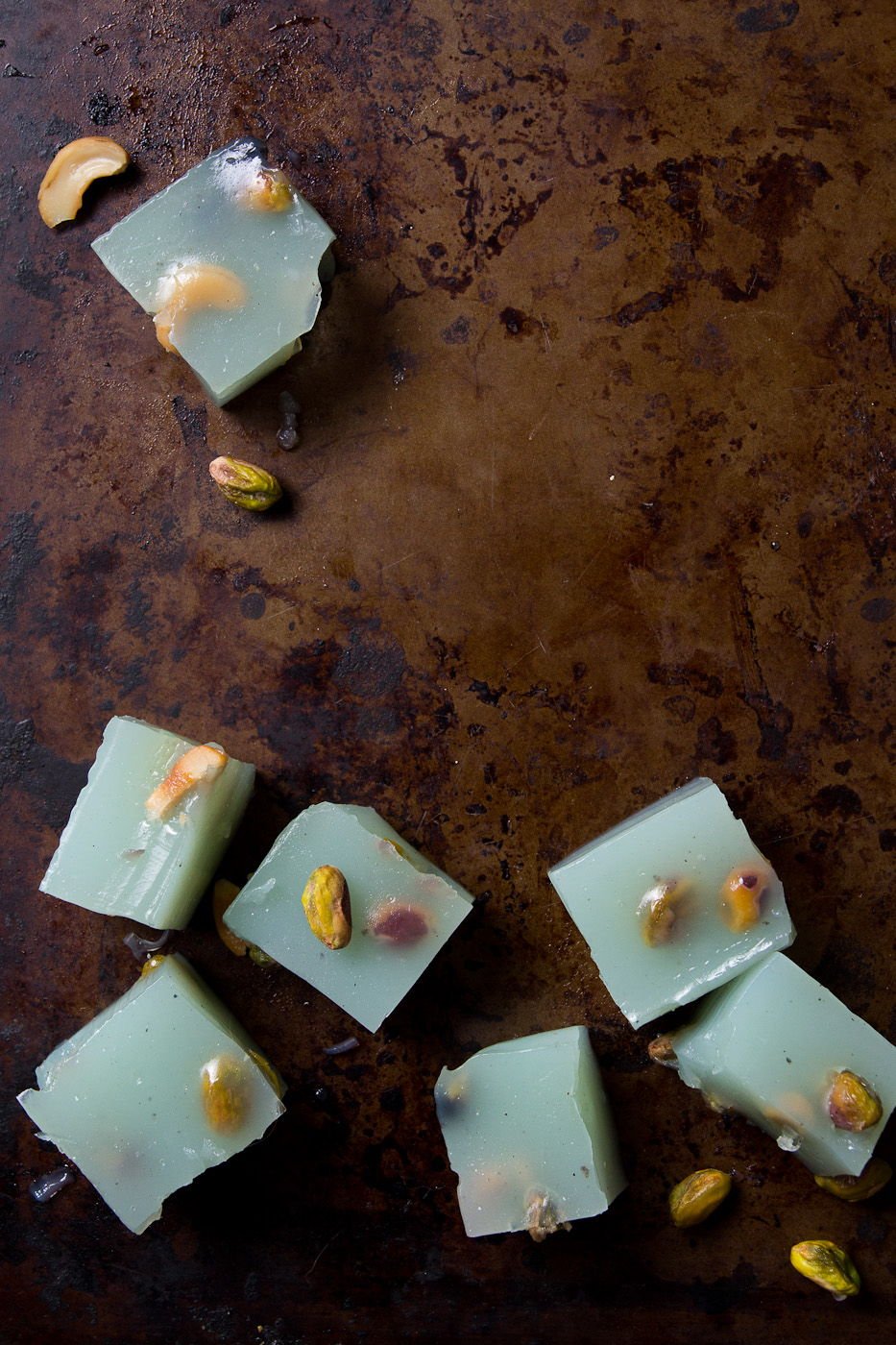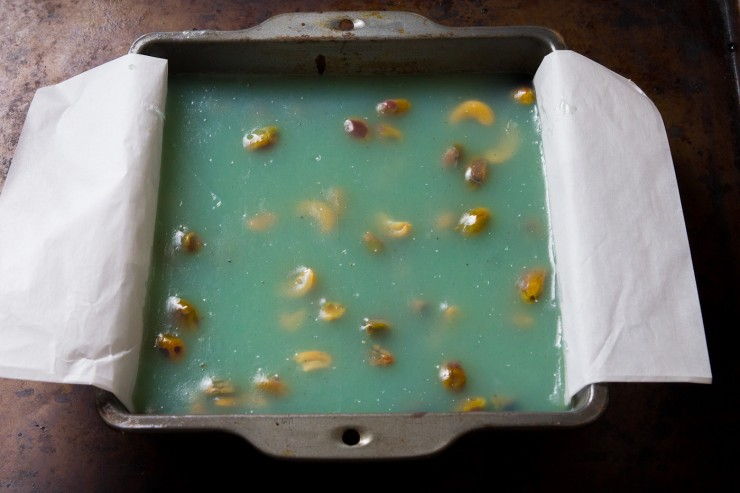 In honor of National Pistachio Day, I wanted to make something special. Pistachio is such a popular nut in India that there are countless recipes I could have made. But I thought back to my childhood, as I often do, and remembered how much fun it was to eat Bombay ice halwa.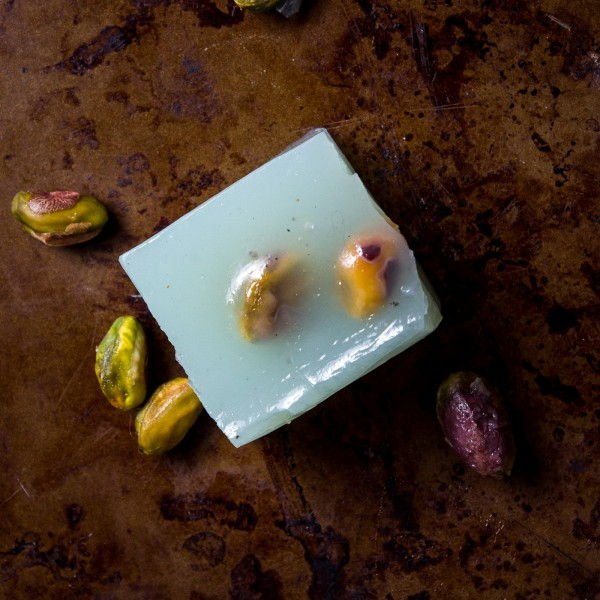 Bombay Halwa is made of squares with nuts suspended in the middle. It is super delicious, playful, and easy to make. It is 100% vegan (if you use vegetable oil instead of ghee or butter) and gluten-free!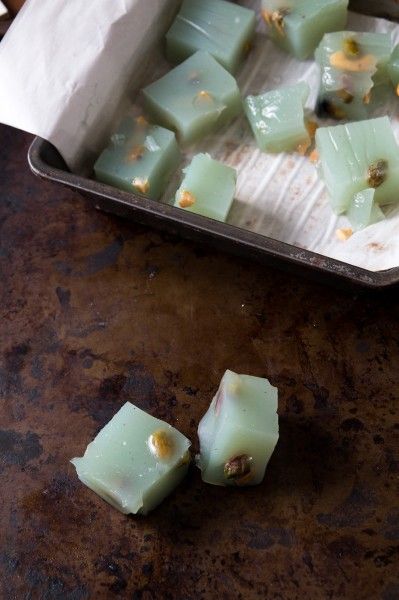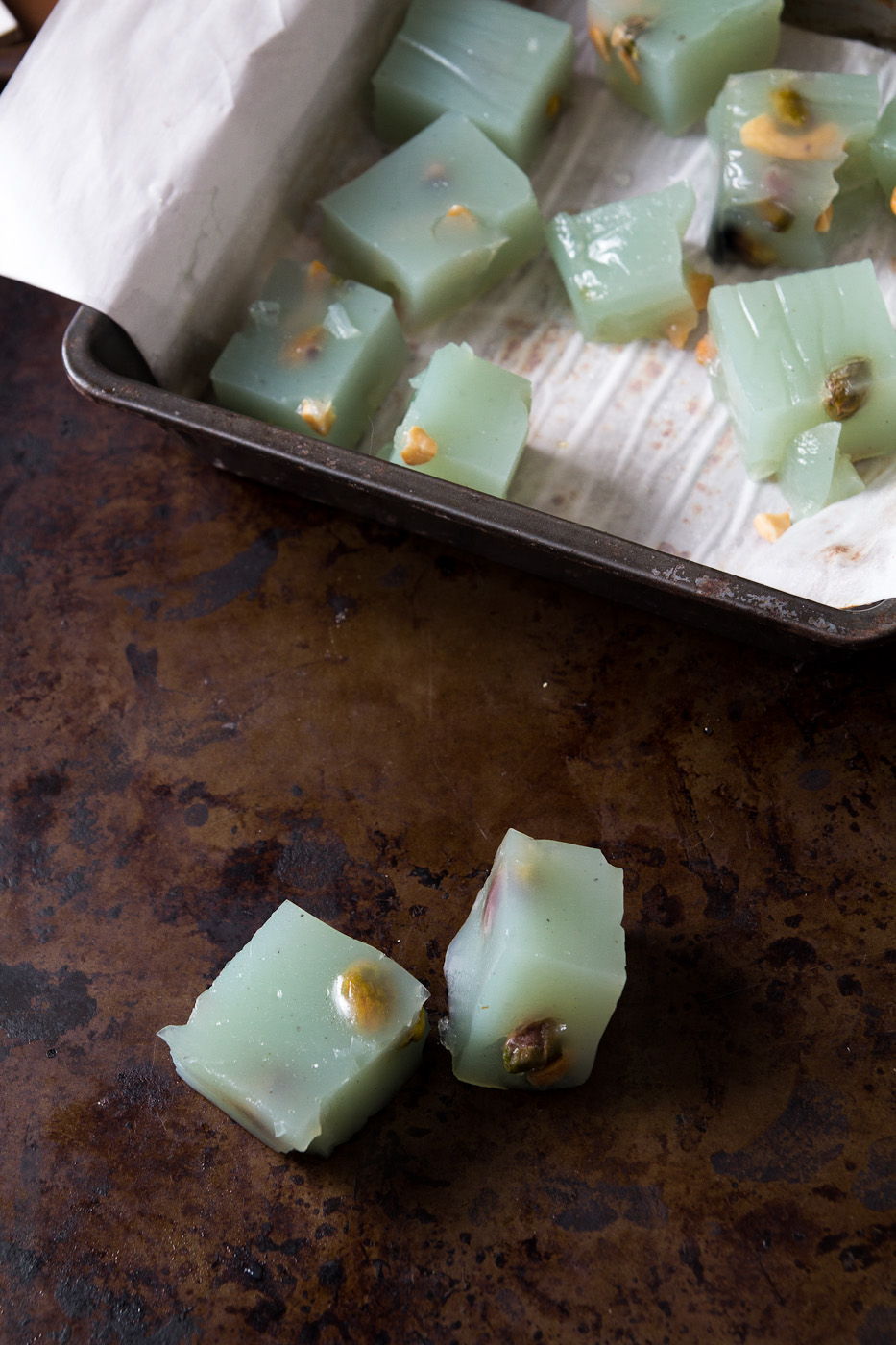 Some people use corn starch in this recipe, but arrowroot powder is more authentic and has a more pleasant texture. Arrowroot powder comes from a plant root, so it is vegan-friendly.
Arrowroot powder is more clear and does not impart any flavor, while corn starch has some corn flavor remaining. If you choose to substitute corn starch for the arrowroot, you should half the amount (or double the amount of everything else!)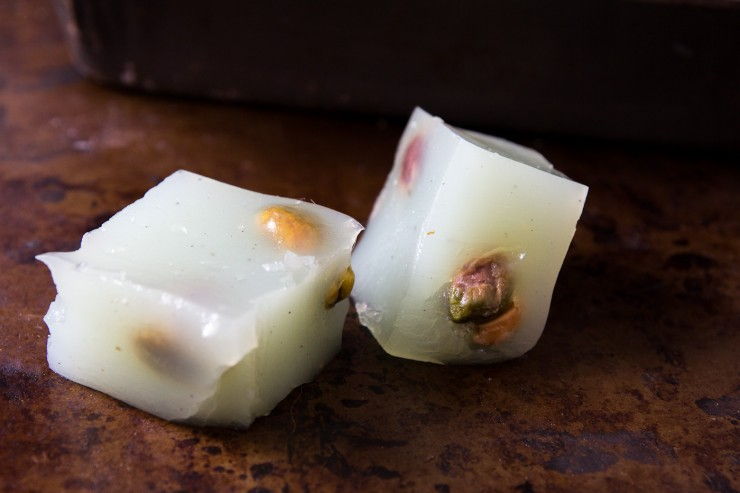 In this recipe, I use chlorophyll as a natural food dye and I love the creamy, green color I get as a result. You can easily leave it out or substitute whatever food dye and color you prefer.
Bombay Halwa is a great sweet to make for special occasions. It doesn't take a lot of work, or a lot of time, but what a creative idea if you are looking for a dessert to celebrate a holiday like Holi or Diwali!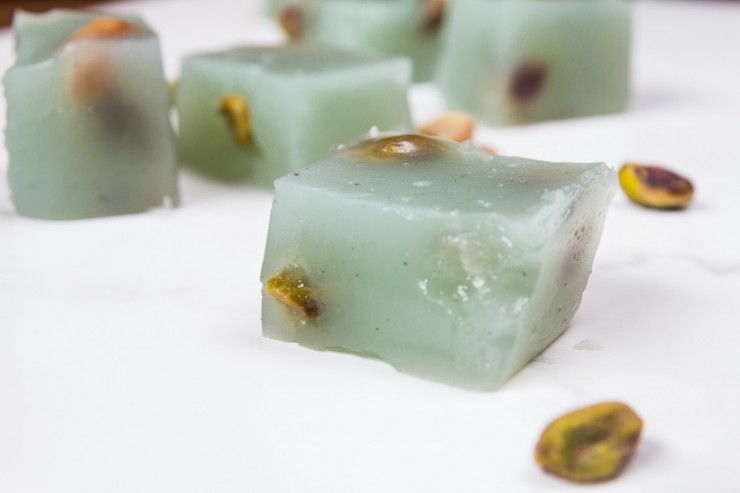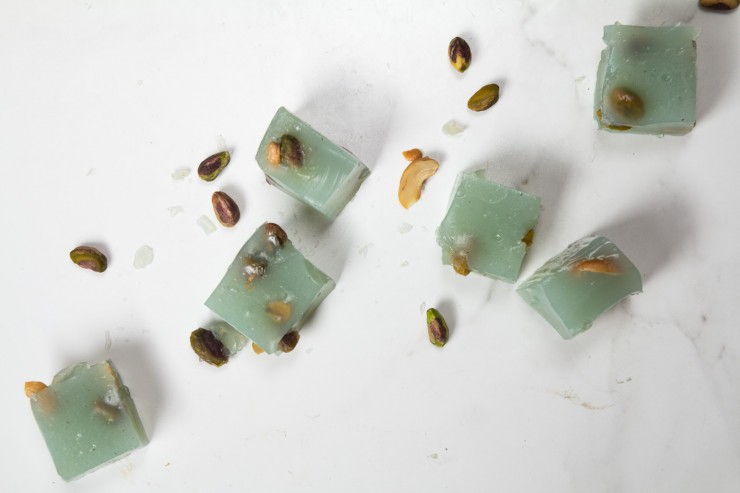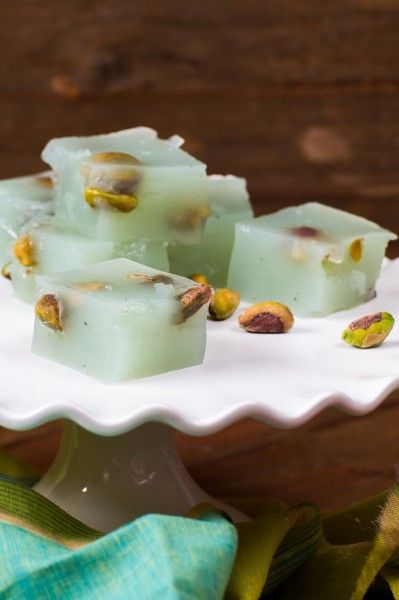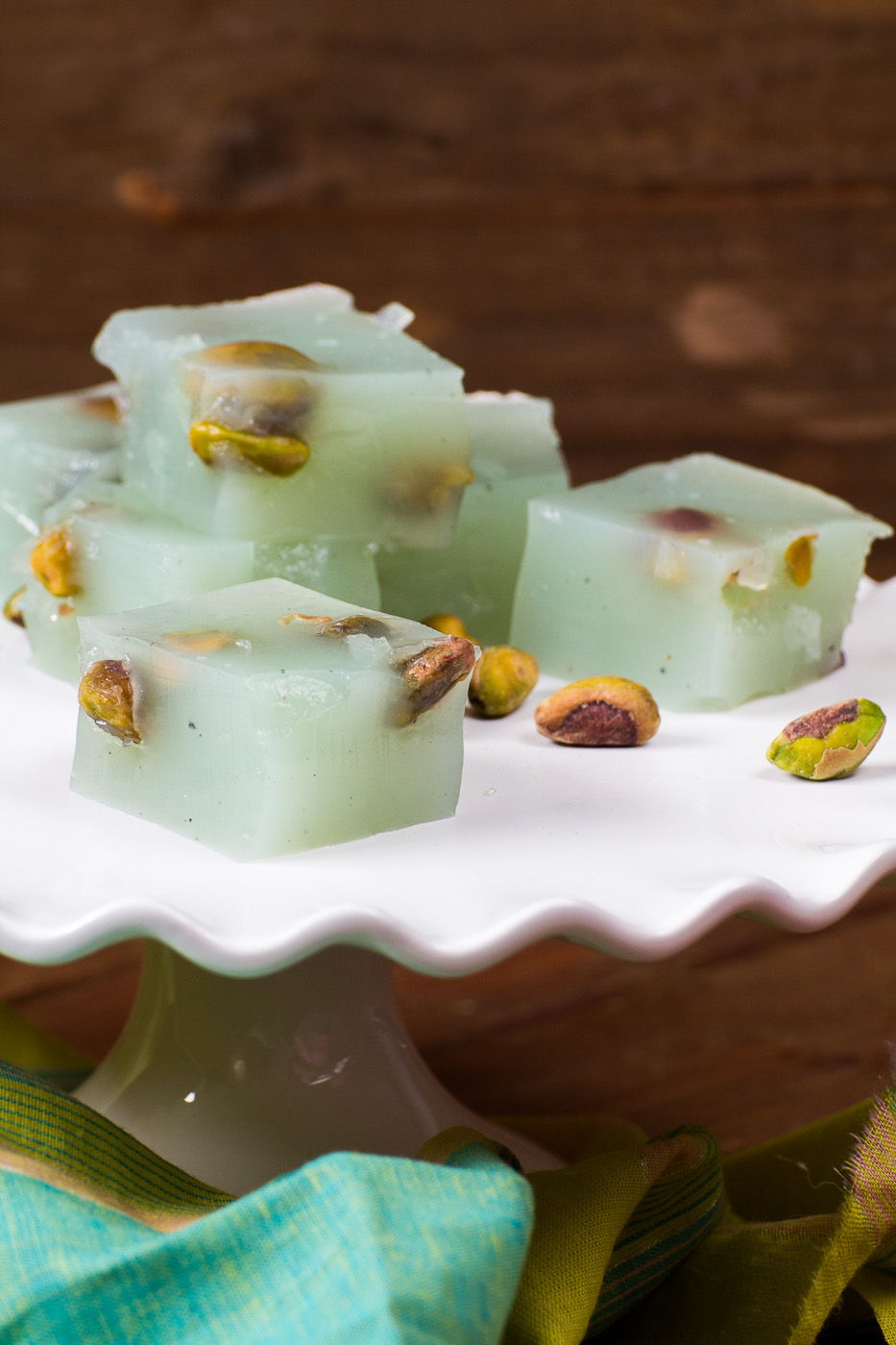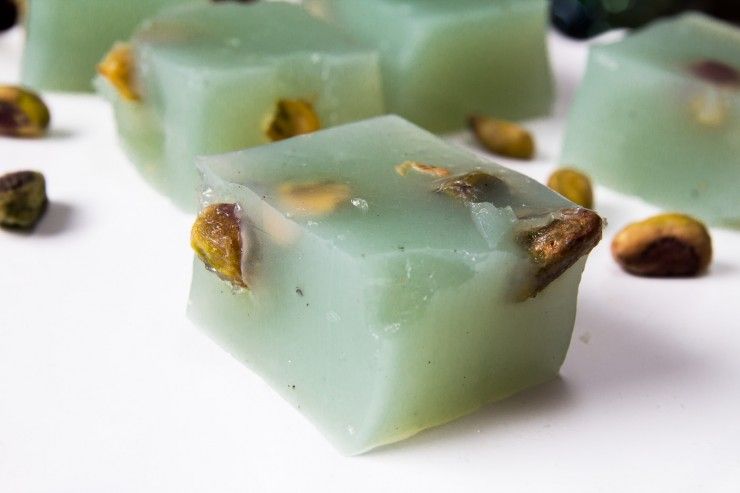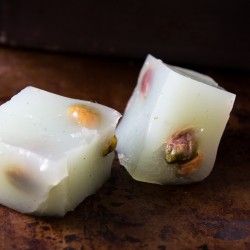 Bombay Halwa
Pistachio and cardamom flavored Bombay halwa. Bombay halwa is a type of Turkish delight found in India. It is made of starch, sugar, and some kind of flavor.
Ingredients
1 ¼

cups

sugar

½

cup

arrowroot starch

also known as arrowroot powder or arrowroot flour

1

tsp

lemon juice

1

tbsp

ghee plus a little extra for greasing the pan

butter or Earth Balance work too

⅛

tsp

ground cardamom

¼

cup

pistachios

10

cashews

cut into half lengthwise

10 to 12

drops liquid chlorophyll
Instructions
Smear a 8×8 inch square pan with ghee and set aside. (You can also make a parchment sling if you like but it's not necessary)

In a wide saucepan, combine the sugar with 1 1/2 cups of water. Bring to a boil and stir, making sure that the sugar is completely dissolved.

Turn off the heat. Sprinkle the arrowroot starch into the mixture, a little at a time, whisking as you go along to avoid lumps. Whisk until the arrowroot starch is well incorporated and lump free.

Add 2 cups of water (room temperature) and whisk well.

Turn the heat back on to medium. Let the mixture cook but make sure to stir continuously. (At this point I switch to a silicon spatula for the stirring because it find it easier than using a whisk.) Cook for about 10 minutes until the mixture thickens to the consistency of jelly.

Add the lemon juice and continue to stir. Let cook for another 5 minutes.

When the mixture starts to get stick to the sides of the pan, add the ghee. Cook for another 10 minutes until the ghee is well incorporated and the mixture has thickened further.

Add the ground cardamom (make sure to stir this in well because it tends to clump), pistachios, cashews and the chlorophyll.

Stir until everything is well combined. It will be the consistency of thick gel.

Transfer the gel to the greased pan. Let cool on a wire rack for at least 2 hours until set.

Then flip onto a cutting board and cut into 25 equal squares but cutting 5 rows lengthwise and 5 width-wise.

Store in the refrigerator for up to a week or a room temperature for 2 days.
Notes
Traditionally Bombay halwa is brightly colored. But I hate using food coloring if I can help it so I experimented with using chlorophyll. The final color turned out to be more grey than I wanted but I don't mind it.
Feel free to use food coloring instead if you prefer.
Nutrition
Calories:
63
kcal
Carbohydrates:
13
g
Protein:
1
g
Fat:
1
g
Saturated Fat:
1
g
Polyunsaturated Fat:
1
g
Monounsaturated Fat:
1
g
Cholesterol:
2
mg
Sodium:
1
mg
Potassium:
17
mg
Fiber:
1
g
Sugar:
10
g
Vitamin A:
5
IU
Vitamin C:
1
mg
Calcium:
3
mg
Iron:
1
mg