Masoor Musallam is a classic dish from Lucknow. Masoor dal are red lentils. "Musallam" means "whole," and these are whole, unhusked red lentils as opposed to split lentils.
Some other names for this dish are "Lucknow Style Masoor Dal" and "Awadhi Masoor Dal." It comes from the Nawabi, meaning it has its roots in cuisine of Moghul royals. Like most dal recipes, this one is quite healthy and is a great vegetarian source of protein. The yogurt in the dish adds even more protein.
I've started making Masoor Massalam in an Instant Pot, but it's also possible to make it in a pressure cooker, or by boiling in a pot without a pressure cooker. Masoor lentils are a softer lentil and it isn't difficult to get the right texture even without a pressure cooker.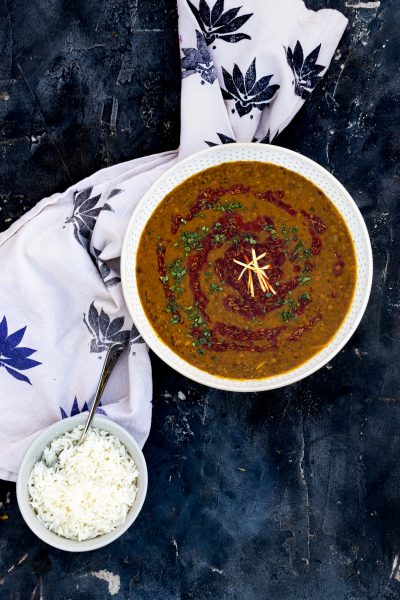 I would typically serve this with either a flatbread, like naan, or some kind of rice, like basmati rice or a rice dish like jeera fried rice. I love the way a good dal tastes when mixed with a spoonful of rice!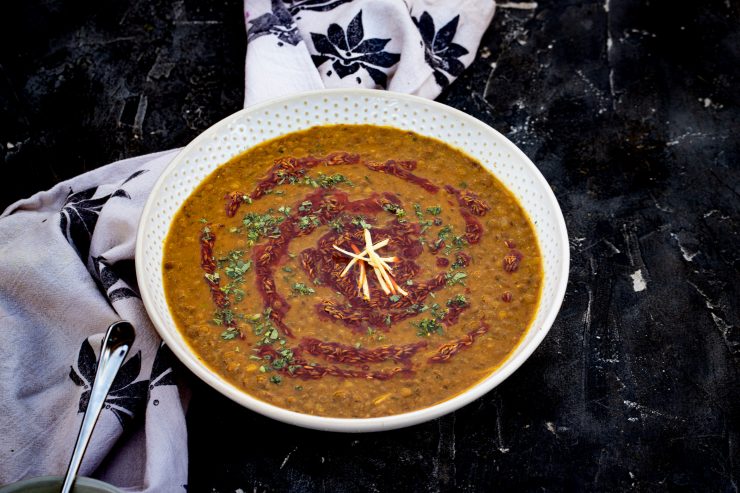 This is a simple dish to make, hardly more than blending some ingredients and boiling (or pressure cooking). One thing I would be careful about is making sure to cook the yogurt enough to avoid a raw yogurt taste. You really want to give the yogurt a chance to take on the flavor of the other ingredients before removing it from the heat.
It isn't difficult to turn this into a vegan dish, simply substitute cashew yogurt for yogurt and vegetable oil in place of ghee.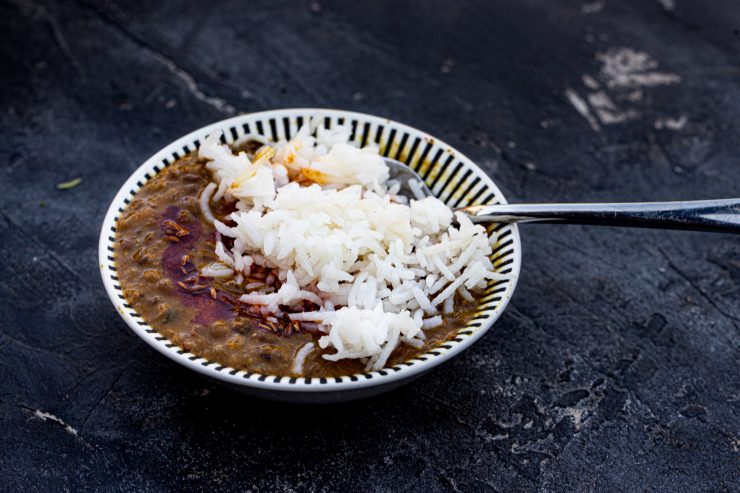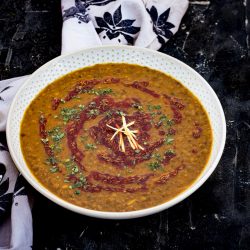 Masoor Musallam
Masoor Musallam is a classic red lentil dish from Lucknow
Ingredients
1

bunch

cilantro

3

cups

water

1

cup

masoor dal, whole

3

tbsp

ghee

or vegetable oil

1

large

onion

sliced pole to pole

2

inch

cinnamon stick

½

flower

mace

5

pods

green cardamom

1

tsp

paprika

or mild red chili powder

½

tsp

cayenne pepper

1

tbsp

garlic paste

1

tbsp

fresh ginger

cut into thin sticks

½

cup

greek yogurt, full fat

1

tsp

cumin seeds
Instructions
Inspect dal, remove any seeds, thoroughly wash until the water runs clear

In an Instant Pot or pressure cooker, heat 2 tbsp of ghee and add onions. Fry until they turn crisp and golden brown

Remove onions and set aside. Now add cinnamon, cardamom and cloves to the ghee and fry for 20-30 seconds.

Add cayenne, garlic, salt and water. Mix.

Add dal and onions. Cook for 8 minutes.

Mash dal a bit, not completely, it should have a mixture of textures.

Add yogurt and ginger sticks. Boil for 5 minutes.

Make a vaghaar of 1 tbsp ghee, cumin and paprika by heating the oil, then toasting the ingredients in the oil. Pour over the dal and serve.
Nutrition
Calories:
212
kcal
Carbohydrates:
25
g
Protein:
11
g
Fat:
8
g
Saturated Fat:
5
g
Polyunsaturated Fat:
0.5
g
Monounsaturated Fat:
2
g
Trans Fat:
0.002
g
Cholesterol:
20
mg
Sodium:
17
mg
Potassium:
419
mg
Fiber:
11
g
Sugar:
2
g
Vitamin A:
205
IU
Vitamin C:
6
mg
Calcium:
65
mg
Iron:
3
mg
FAQ
How many whistles too cook masoor dal in pressure cooker?
Masoor dal cooks nicely with 5 whistles.
How long to soak whole masoor dal?
It is not necessary to soak masoor dal, but if you choose to, 30 minutes should be sufficient.
How do you make masoor dal without a pressure cooker?
If you do not want to use an Instant Pot or pressure cooker, you can cook this in a pot on the stove. Simply increase the simmering time to 45 minutes.
Is toor dal the same as masoor dal?
Masoor dal is brown on the outside and red on the inside. A split masoor dal is bright orange, whereas toor dal is yellow. Toor is thicker, takes longer to cook. Masoor is one of the quickest cooking dals.
Can you sprout masoor dal?
You can sprout whole masoor, but not the split lentil (split lentils are damaged seeds).
What is whole masoor dal called in english?
Whole red lentil.