Dal Makhani is a buttery, luxuriously textured black legntil bean dish that is a very popular restaurant dish. Its creamy, buttery texture and deep black color differ from other dal recipes. The color comes from using the whole urad (black gram) bean.
Dal makhani is easy to make at home, especially with an Instant Pot or Pressure Cookier. It is a dish known for its richness, but when making it yourself, you can adjust to make it healthier and to your liking. It is naturally gluten-free and can be made vegan with several ingredient substitutions.
About Dal Makhani
In the 1940s, having already invented Butter Chicken, famous Indian chef Kundan Lal Gujral created Dal Makhani in New Delhi. He did it to bring the traditional Indian dal to world fame.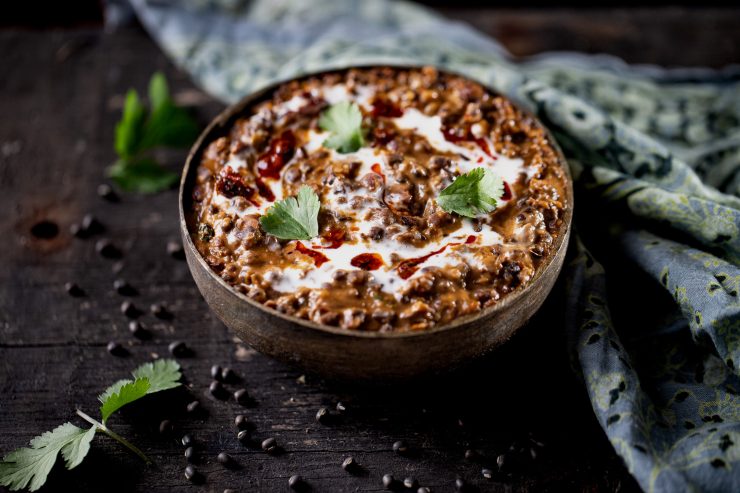 My earliest association with Dal Makhani is having it in fine restaurants in Bombay when I was a kid. The rich, creamy sauce screams luxury. Today, I love to eat dal makhani on a cold day when nothing is better than a rich, warm dish.
Ingredients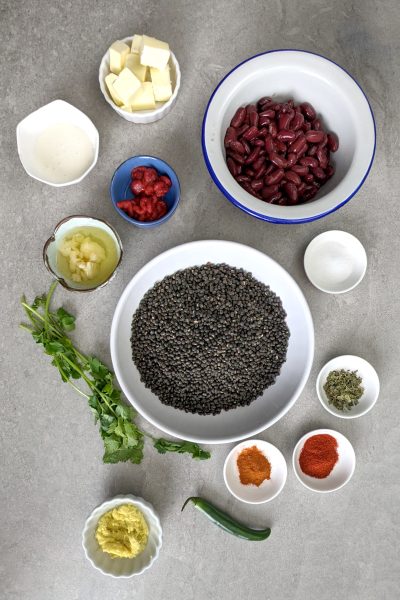 Whole Urad – black gram, black lentils. It's important to note that this recipe uses whole urad beans, which give it a black color. This also extends the cooking time. Urad is often called a lentil, and I will often call it "urad dal," even though it is not a true lentil and should not be confused with the true black lentil, which is smaller.
Tomato paste – for umami. You can use 2 medium sized fresh tomatoes, but you will have to cook them down with the ginger and garlic until they become jammy and reduced. Or you can use 4 tablespoons of canned tomato sauce and reduce to about half.
Ginger-Garlic Paste – a classic combination in North Indian cuisine.
Kashmiri chili powder and Cayenne – Kashmiri chili powder is used for its fruity chili flavor, while the cayenne adds heat. Reduce or leave out cayenne pepper if you are sensitive to heat. Kashmiri chili powder can be substituted with paprika if that is what you have.
Cream and Butter – This dish is known for its creamy richness. "Makhani" literally means "buttery." The milkfat is added as cream and butter for that luxurious texture. Cold butter is used to form an emulsion in the sauce.
Kidney Beans – traditionally added to dal makhani to provide a variation in texture. They can be skipped if you don't have them. This recipe uses a can because dry kidney beans will not cook correctly without soaking.
Kasoori methi – dry fenugreek leaves. Add a savory, slightly bitter note and a fenugreek aroma.
Cooking Tips
The biggest issue to look out for is cooking the lentils long enough. Be sure to test your dal when it comes out of the pressure cooker to ensure the bite is gone. Dal makhani needs to be creamy, and you don't want to lose that to undercooked lentils.
Stovetop Method
My recipe uses the Instant Pot since I find the Instant Pot a convenient substitute for the pressure cooker. You could also make it on the stove, but it will take longer to cook. It is essential to really soften the urad lentils, so they will have to be cooked for a long time.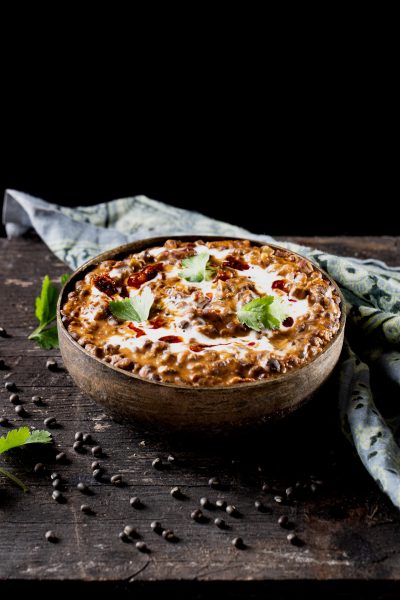 In our guide to lentils, we give a stovetop cook time of 65 minutes for whole urad lentils. That is a rule of thumb. It may take anywhere from 45 minutes to 2 hours, depending on the age of your lentils. It's important to test them by pressing them between your fingers and making sure they will easily mash. Make sure to cook them covered and add water if the water level drops too much, so your lentils do not burn.
Aside from the step of cooking the lentils, nothing changes in the recipe when you move from the Instant Pot or pressure cooker to the stove.
Serving Tips
Dal Makhani is a perfect pair with naan or kulcha and also goes well with simple basmati rice. If you can, instead of naan, try Romali roti. Romali roti is a large flatbread that is folded over on itself. It is a classic pairing with dal makhani and a favorite for many friends. Dal makhani also goes well with grilled chilis and pickled onions. 
As an accompaniment to dal makhani, try paneer tikka. The smokiness of the two dishes are a nice complement to each other.
Variations
Reducing Calories and Fat
Dal Makhani is a vegetarian dish made with whole urad lentils. Typically it is made with lots of butter, ghee, and cream. It is a fatty dish, but if you enjoy dal makhani and want to enjoy something a little healthier, it is easily modified by leaving out all or most of the cream and reducing the butter.
Dairy-Free and Vegan
Dal makhani has a lot of cream and butter, but it can be made vegan by substituting earth balance with ghee and using plant-based milk instead of cream. I would avoid coconut milk since the coconut flavor will alter the dish's flavor profile, but you may like the change.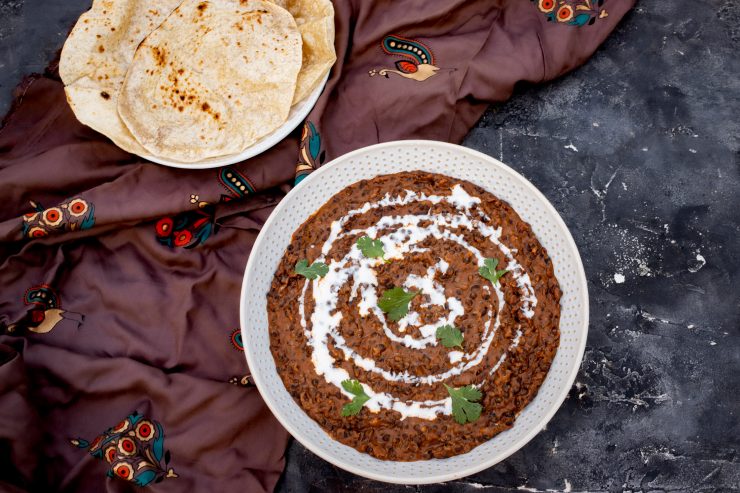 Freezing and Refrigerating
You can refrigerate dal makhani for up to 4 days. It reheats well in a microwave or on the stovetop. You may need to add some water or milk if it starts to dry out when reheating.
It also freezes well for up to 4 months. It can be reheated from frozen on the stovetop or microwave.
If you want something different to make with your dal makhani leftovers, try making dal makhani nachos.
Recipe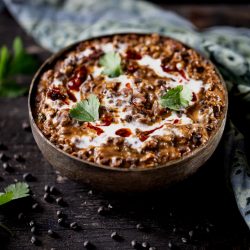 Dal Makhani (Buttery Black Lentils)
Dal Makhani is a vegetarian dish made with whole urad lentils. Typically it is made with lots of butter, ghee, and cream.
Ingredients
1 ½

cups

whole urad

black lentils

3

Tbsp

oil or ghee

separated

4

cups

water

2

Tbsp

tomato paste

1 ½

Tbsp

ginger-garlic paste

1

green chili

finely chopped (or to taste)

1

tsp

Kashmiri chili powder

¼

cup

heavy cream

5

Tbsp

cold butter

1 15

oz

can kidney beans

rinsed and drained

1

tsp

kasoori methi

¼

tsp

cayenne

or to taste

Chopped cilantro

for garnish

1

tsp

salt

or to taste
Instructions
Rinse dal thoroughly. Add to Instant Pot with 1/2 tablespoon of ghee (or oil) and 2 cups of water. Cook on high pressure for 25 minutes followed by quick release.

Remove dal and wipe the pot clean. Add 1 tablespoon of ghee (or oil), heat on saute mode.

When the oil is hot, add ginger, garlic and tomato paste. Stir and cook until the mixture is bubbly. Add a splash of water if it sticks and deglaze. Continue cooking until the mixture is bubbling.

Add cooked dal and kidney beans. Then add 3 tablespoons of butter, salt, cayenne pepper and green chili. Add up to 1/2 cup water if the dal too thick. Simmer for 20 minutes, every few minutes.
Vaghar
In a separate pan, heat 1 tablespoon of ghee.

Add 1 teaspoon kasoori methi and kashmiri chili powder. Immediately remove from heat.

Pour the mixture into the dal and mix.
Finishing
Stir 2 tablespoons of cold butter into the dal.

Garnish with cream and cilantro.
Notes
To make without a pressure cooker or Instant Pot, the only change is to the first step:
Wash the dal thoroughly, then, in a covered pot, boil 2 cups of water, with 1/2 tablespoon of ghee, and 1 1/2 cups urad dal, until the urad dal is soft. It should take about 65 minutes. 
Nutrition
Calories:
305
kcal
Carbohydrates:
29
g
Protein:
12
g
Fat:
16
g
Saturated Fat:
10
g
Polyunsaturated Fat:
1
g
Monounsaturated Fat:
4
g
Trans Fat:
0.3
g
Cholesterol:
42
mg
Sodium:
558
mg
Potassium:
203
mg
Fiber:
11
g
Sugar:
2
g
Vitamin A:
491
IU
Vitamin C:
4
mg
Calcium:
54
mg
Iron:
4
mg