Masoor Dal is a popular dal made with split red lentils. It is made from readily available ingredients. Split Masoor is available at most grocery stores labeled "red lentils." It is a quick-cooking dal that has a rich, luscious texture and makes for a flavorful dal.
About this Recipe
This is a homestyle dal, made simply, without a double-tadka. This is a recipe meant to be eaten as an everyday day with little fuss. It starts with a simple tadka and is made altogether in one pot. If you want to fancy things up, you can always add a finishing tadka, but it isn't necessary.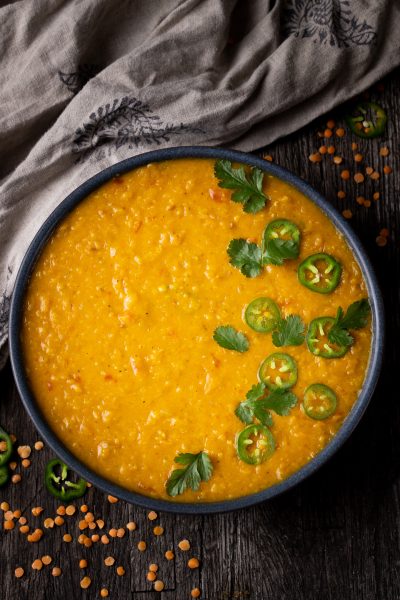 Why make this dish:
Quick, weeknight meal
Vegetarian friendly: can be made vegan by swapping ghee for coconut oil or neutral oil
A flavorful, comforting dal
You can make it easier in the Instant Pot or stovetop, whichever you prefer.
This is one of the go-to dals I have been making most of my life. I grew up making it in the pressure cooker, but there was a stretch of time when I didn't own a pressure cooker. This was one of the recipes that easily adapted to a simple stovetop dish since masoor is a quick-cooking dal.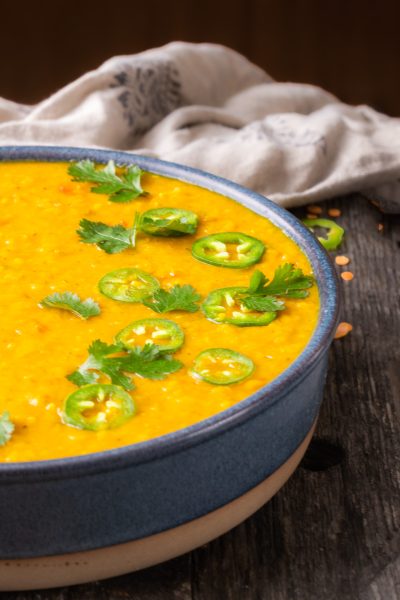 Ingredients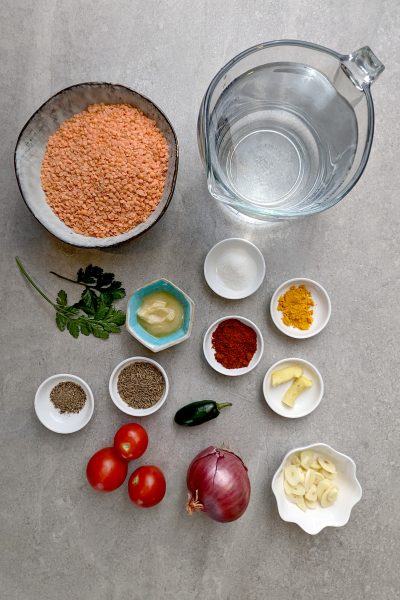 Masoor dal (red lentils) – masoor is an ancient lentil grown in India even longer than moong. "Red Lentils" found in a grocery store are, at the very least, interchangeable with split masoor and can be used in this recipe.
Onion
Garlic – sliced
Ginger – cut into two, so it can flavor the dal and be removed before eating.
Dal Masala – a common Gujarati spice mix specifically made for flavoring dal. You can purchase a packet on Amazon or from an Indian store. If you don't have it, use garam masala.
I recently tried this with ginger-garlic paste, which is convenient for most recipes when you find ginger and garlic together. It didn't work for this recipe, giving too sharp a result and spoiling the pleasant finish.
Cooking Tips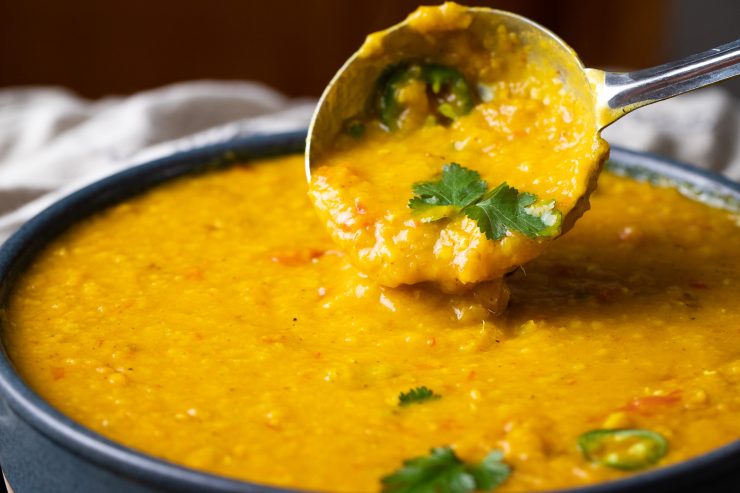 Don't burn your ginger. I recommend keeping it in large pieces that are removed before serving, but you can grate it in for more ginger flavor.
While cooking the dal, it is important to ensure enough liquid in the Instant Pot for the dal. I prefer 1:3 dal to water for a pressure cooker or Instant Pot. This creates a nice, thick consistency for dal. Some people like a watery dal and use a 1:4 ratio.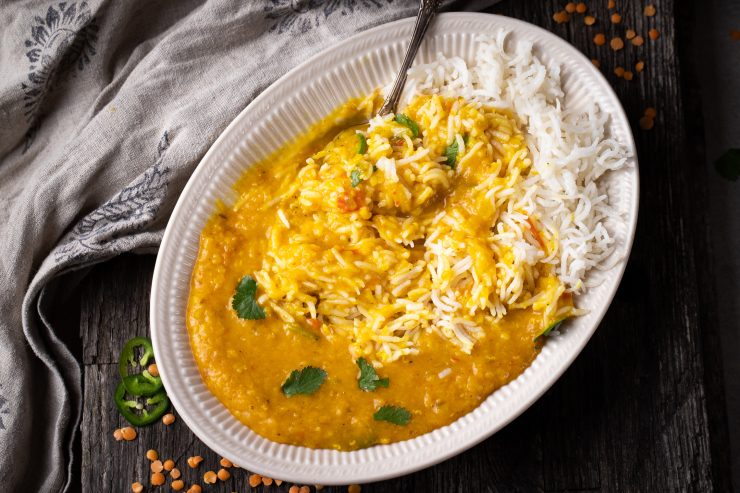 Variations
Adjust the vaghar to your liking:
Add hing and curry leaves
For a more South Indian flavor profile, swap the cumin for mustard seeds, add curry leaves for a more south Indian flavor profile. Add grated coconut or pieces of coconut. Add a bit of tamarind.
Replace a cup of water for coconut milk
Add vegetables: spinach, drumsticks, potato, eggplant
Make it more of a lentil soup by thinning it with more water or broth.
Add a second tadka to make it fancy. Heat some ghee or oil in a pan, add cumin seeds, add kashmiri chili powder, some kasoori methi, and pour the hot mixture over the dal.
Refrigerating
Masoor dal keeps for up to 4 days in the refrigerator. It will thicken as it sits. Heat it on the stovetop or microwave and add a bit of water to adjust consistency to your liking.
Dals like this also freeze very well. You can freeze them for up to 3 months in an airtight container. Simply reheat in the microwave or stovetop without defrosting, adding water as needed to get the desired consistency.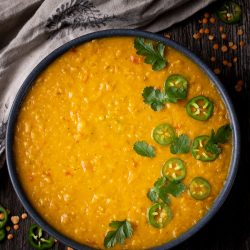 Masoor Dal | Instant Pot & Stovetop Red Lentils
A quick-cooking dal that has a rich, luscious texture and makes for a flavorful dal, made with masoor lentils.
Ingredients
2

Tbsp

oil or ghee

1 ½

cups

masoor dal

split red lentils, rinsed

4 ½

cups

water

1

medium onion

finely chopped

¾

cup

chopped fresh or canned tomatoes

4

cloves

garlic

sliced

1

" piece of ginger

cut into 2

1-2

green chillies

sliced

2

tsp

cumin seeds

½

tsp

turmeric powder

½

tsp

black pepper

1

tsp

garam masala or dal masala

1

tsp

salt

or to taste

Cilantro for garnish
Instructions
Set the Instant Pot to saute mode. Heat the oil or ghee.

Add cumin seeds. Let sizzle for a few seconds. Add onions and let cook until onions soften (about 2 minutes).

Add ginger and garlic. Cook for 3 minutes. Add turmeric, black pepper, and tomatoes.

Let tomatoes and green chilies cook until jammy, about 2 minutes.

Add the dal, water, and salt. Mix well.

Cook on High Pressure for 7 minutes, followed by a natural pressure release of at least 10 minutes.

Set the Instant Pot to saute mode. With the dal still in the Instant Pot, mash it with the back of a spoon about 15 times. Adjust consistency by adding water for a thinner, soupier dal. Add garam masala and simmer for 2 minutes.

Garnish with cilantro.
Notes
To cook on the stovetop in place of Instant Pot, add 1 cup of water. Instead of pressure cooking, boil covered for 20 minutes, stirring every 5 minutes. Add water if needed. In place of natural pressure release, add the garam masala, then allow it to sit covered for 10 minutes, allowing the flavors to come together.
Nutrition
Calories:
334
kcal
Carbohydrates:
47
g
Protein:
18
g
Fat:
9
g
Saturated Fat:
5
g
Polyunsaturated Fat:
1
g
Monounsaturated Fat:
2
g
Cholesterol:
19
mg
Sodium:
641
mg
Potassium:
798
mg
Fiber:
22
g
Sugar:
4
g
Vitamin A:
274
IU
Vitamin C:
11
mg
Calcium:
72
mg
Iron:
6
mg