Bajra halwa is a fantastic, gluten-free alternative to the traditional atta halwa. It has a great nutty caramel flavor and comes together in under 15 minutes. What a great dish to celebrate pearl millet.
About this Recipe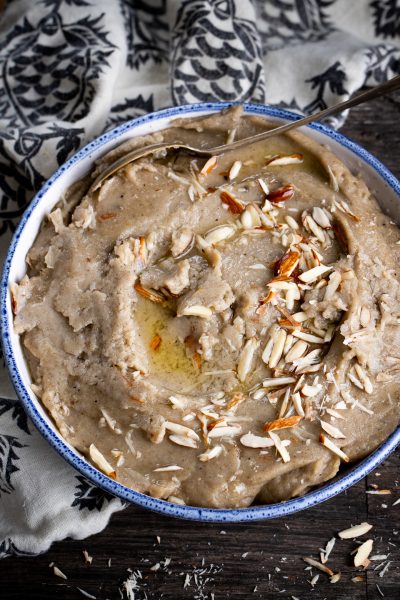 Bajra halwa is a traditional winter warming dish but can be eaten throughout the year. Bajri is known to be a "warm" grain; it is made like a traditional halwa, with lots of ghee, and by toasting the flour before adding any liquid.
In my family, for as long as I remember, my mom has always added almond flour to her halwa. This is not traditional, but it is something she always added to increase protein content (halwa is usually flour) and because it adds a great nutty flavor base. My mom was always modifying foods to make them more nutritious because she cooked for my diabetic grandfather a lot.
Bajri or pearl millet is an important part of Gujarati cuisine. There are many essential Gujarati dishes that feature pearl millet such as bajri na rotla and dhebra. Pearl millet is grown in North-Western India, where the temperatures are very hot and dry. Gujarat and Maharashtra are major producers of pearl millet. So it makes sense that the ingredient is so popular in the food culture.
Bajra halwa is also, more generally, a North-Indian dish as it is eaten across much of northern India. I have known many non-Gujarati, North Indian families who cook it frequently as well. 
Ingredients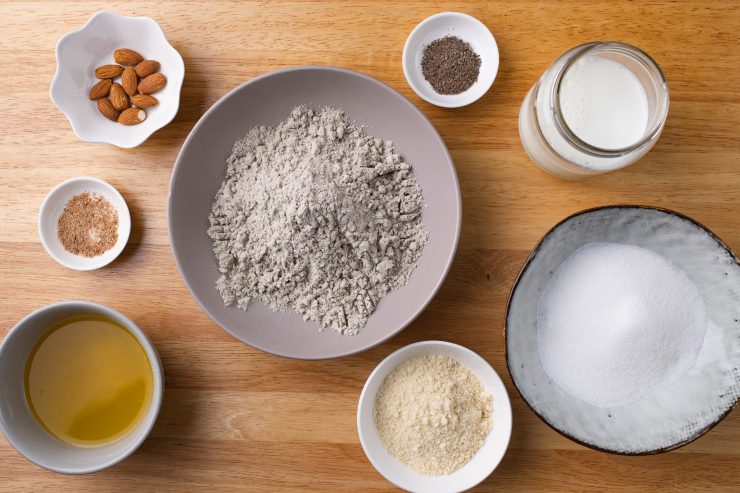 Bajra flour – pearl millet flour
Almond flour — optional. My mom has always added it to add nutrition. I like the flavor.
Ghee — this recipe uses a lot of ghee.
Nutmeg – optional. My mom always adds it to her sheero and it is a wonderful flavor enhancer.
Cardamom — Indian vanilla. It's used in almost any sweet.
Sugar – you can use gor (jaggery). My family makes it with sugar.
Variations
Sugar: this is a low-sugar version. You can use up to 1 full cup for more traditional sweetness.
Almond Flour: optional. You can swap it for a different nut or seed flour, such as pumpkin seed flour. Or replace the quantity with bajra flour.
Nutmeg is optional, and so is cardamom, but cardamom is traditional.
Bajra ni Raab
Bajra ni raab is a variation of bajra halwa that has a lot more liquid. This is a type of porridge my mom used to make for my grandma when she was very old, and chewing was difficult for her. Bajri is very nutritious, and it is something my grandma enjoyed. 
To make bajra ni raab, double the sugar (1 cup) and use three times the amount of milk (3 cups).
Cooking Tips
Make sure you toast your flour. Set a timer for 5 minutes under medium heat. Make sure the flour is bubbling in the ghee. Gives it a nutty flavor, otherwise, it will taste doughy and raw.
You may think you don't need as much liquid as the recipe calls for … just be patient. Stir, and it will get absorbed. (For a softer, runnier halwa, add a little more)
Serving
Bajra halwa is commonly served as a breakfast food, or it can also be served as part of a thali. It goes really well with a flatbread, especially puri, or masala puri.
Bajra Halwa | Bajri no Sheero
Bajra halwa is a gluten-free alternative to the traditional atta halwa, featuring bajri no lot (pearl millet flour).
Ingredients
1

cup

bajra flour

½

cup

ghee

½

cup

sugar

¼

cup

almond flour or ground almonds

optional

1

cup

milk

optional, use water if you prefer

1 ½

cups

water

¼

tsp

nutmeg

½

tsp

cardamom
Garnish
1

Tbsp

ghee

5

Almonds

slivered
Instructions
Heat ghee. Add bajra flour and almond flour. Toast under medium heat until fragrant, about 5 minutes.

Add water and milk. Stir until all of the liquid is absorbed.

Add sugar and allow it to melt. This will add some liquid. Stir until the sugar is absorbed.

Add nutmeg and cardamom. Stir to combine.

Transfer to a serving bowl. Make a well and pour ghee on top. Add almond slivers as garnish.
Notes
Almond flour is not a traditional ingredient, but one my mother has always added. I recommend adding it for flavor, but it can easily be omitted in place of 1/4 cup of additional bajra flour.
Many people make this with water in place of milk.
Nutrition
Calories:
261
kcal
Carbohydrates:
26
g
Protein:
4
g
Fat:
17
g
Saturated Fat:
9
g
Polyunsaturated Fat:
1
g
Monounsaturated Fat:
4
g
Cholesterol:
37
mg
Sodium:
15
mg
Potassium:
86
mg
Fiber:
1
g
Sugar:
14
g
Vitamin A:
49
IU
Vitamin C:
0.03
mg
Calcium:
51
mg
Iron:
1
mg