I remember the first time I tasted a rotlo. I was about 5. My family had just moved back to India and I was just getting used to life without breakfast cereals. One night my mom made these dense dark flat breads for the family. They looked different from the traditional wheat rotli I was used to eating. In fact, my mom assumed my brother and I wouldn't eat them and made something else for us.
I saw the enthusiam with which my dad and grandpa ate them though and was inspired to try them. I was given half a freshly baked rotlo, a dollop of ghee and some jaggery on a little plate. (Jaggery is dried sugar cane juice that still contains molasses). I broke off a little piece, dipped it in ghee and jaggery. I was slightly unsure about how this fat, dark bread would taste. But the second I tasted it I was in love.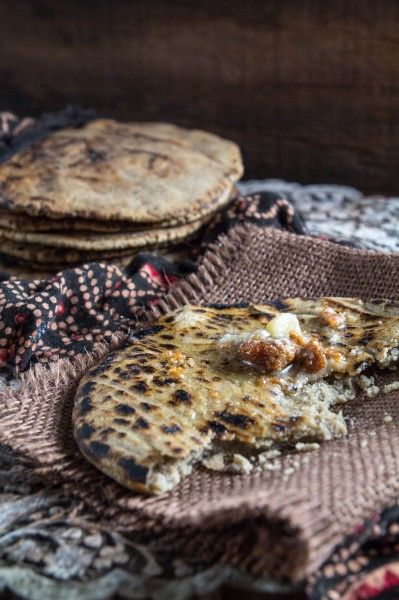 Rotlo, known as a bajra roti in Hindi, has an earthy flavor that is so delicious with the caramel flavors of jaggery. And adding ghee to anything never hurts!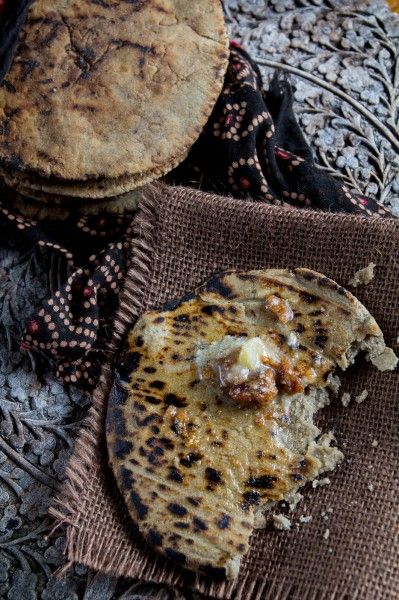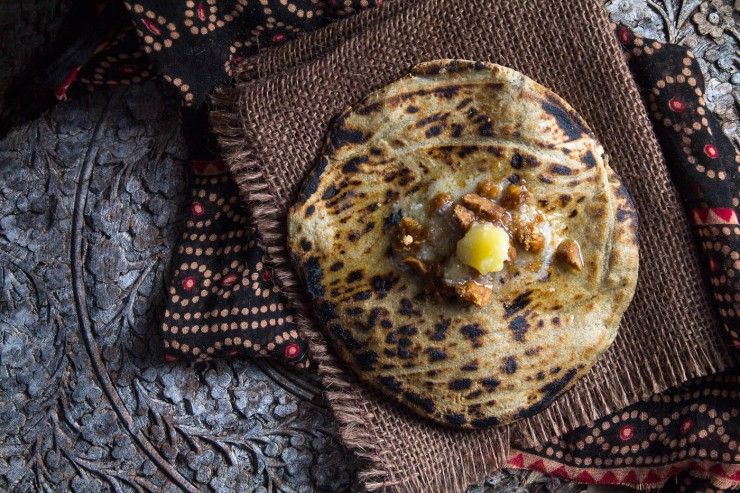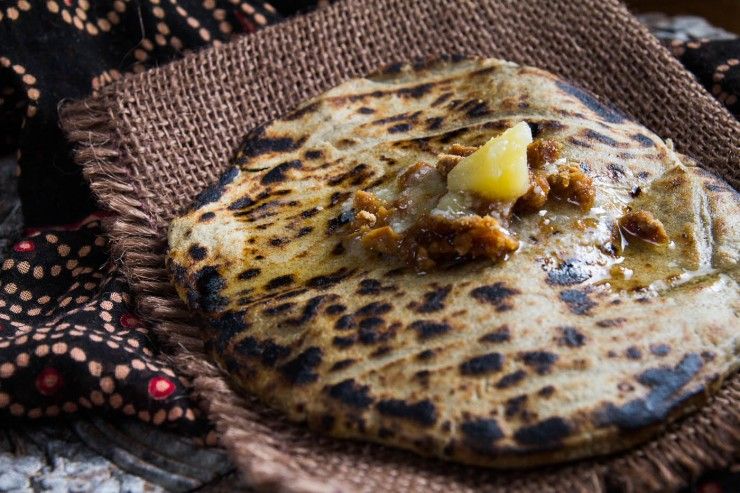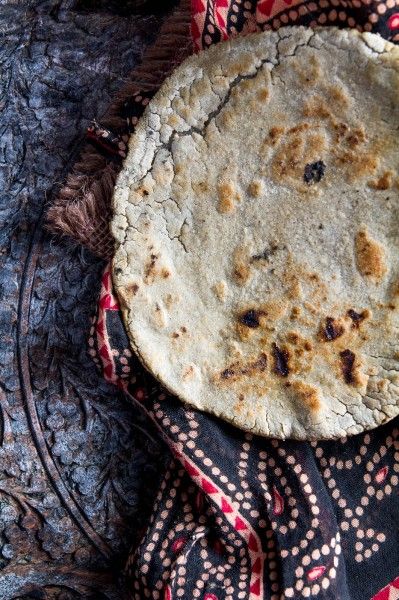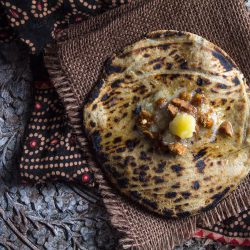 Millet Flat Bread (Bajri no Rotlo)
Rotlo, known as a bajra roti in Hindi, has an earthy flavor that is so delicious with the caramel flavors of jaggery.
Ingredients
2

cups

millet flour

bajri or bajra flour plus a little extra for dusting

½

tsp

salt

2

tbsp

ghee

use coconut oil to keep it vegan

⅔

cup

water
Instructions
In a medium bowl, mix together the bajri flour and salt.

Add the water and mix with your hands or a wooden spoon until it forms a smooth dough that looks a little like clay.

Divide the dough into six equal parts.

Roll each piece of dough between your palms forming a ball and then press the ball between your palms to flatten, creating a disc shape.

Line your rolling surface with a sheet of parchment or plastic. Skip this step if you are confident in your rolling abilities. Having the parchment helps to avoid sticking and makes it easy to transfer the rolled out flat bread to the pan.

Take one disc of dough, make sure to cover the rest so they don't dry out, and press both sides into the extra bajri flour.

Place the disc onto the parchment or plastic sheet. Sprinkle some more dry bajri flour on top of the disc and roll it out into about a 6 inch disc. Add more dry flour as needed.

Heat a 12 inch cast iron skillet or a non-stick skillet (if using non-stick, heat with a tablespoon of oil and wipe the oil away when ready to cook the flat bread) over a medium heat.

Put a single rotlo on the pan. Brush the top with some water.

After about two minutes, when the rotlo has a few bubbles and starts to brown underneath, flip the rotlo over.

When the rotlo is evenly cooked on both sides, remove it from the pan and toast it directly over the flame for about 20 to 30 seconds. Make sure to move the rotlo around to avoid burning.

Transfer to a platter and brush with 2 teaspoons of ghee or coconut oil.
Video
Notes
Along with jaggery, rotlo also goes great with eggplant. If you have a hard time finding jaggery, palm sugar or piloncillo make a great substitute.
Nutrition
Serving:
85
g
Calories:
193
kcal
Carbohydrates:
29
g
Protein:
4
g
Fat:
6
g
Saturated Fat:
3
g
Cholesterol:
12
mg
Sodium:
196
mg
Potassium:
89
mg
Fiber:
1
g
Calcium:
6
mg
Iron:
1.6
mg