Long before the gluten free diet became popular, and well before I had even heard of Celiac disease, my mom cut wheat out of her diet. She noticed that she felt better when she didn't eat wheat so for a while we ate a ton of rice dishes along with other lesser known grains like millet and sorghum.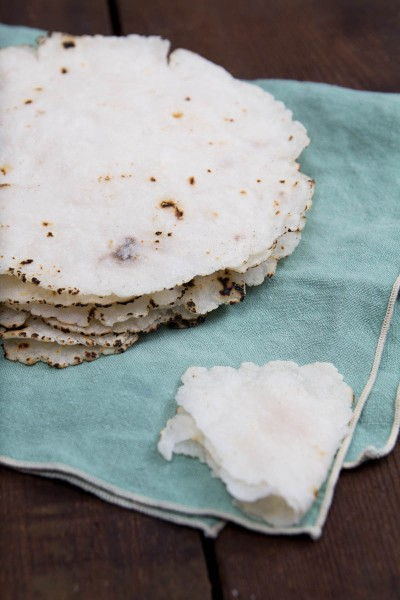 When she switched our diet, my mom started making rotli (flat breads) with rice flour. Although it is eaten in some parts of Gujarat and South India, it is not all that common. Rice rotli are softer than the regular whole wheat rotli we ate and much whiter. And they were delicious.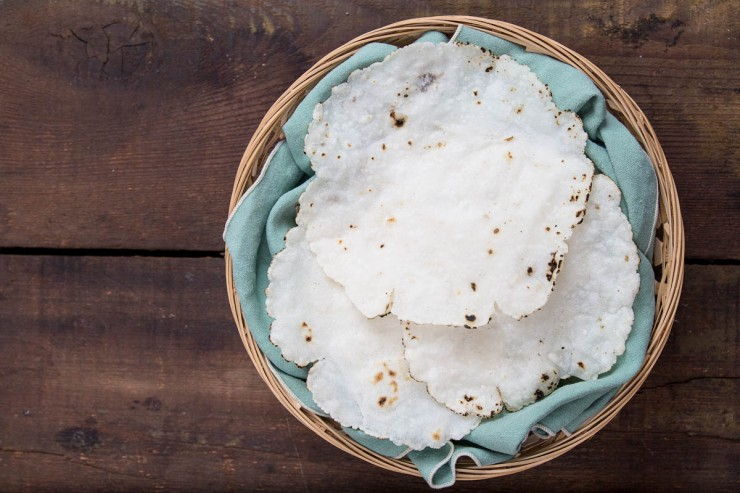 A blog reader recently asked about gluten-free flat bread recipes and I immediately thought of my mom's rice flour rotli. I had never made these before and didn't think there was much to it, so I made a dough with rice flour, oil, salt and water just like I do with wheat flour. My rotli came out so tough, I knew I had done something wrong.
So I called up my mom and asked her how to make the rice flour rotli. She told me the secret was to use boiling water and she shared her method with me. I decided I didn't want to bother with her technique and made my dough in the food processor with boiling water. Again, I got it wrong and ended up with super tough rotli.
Finally, I gave in and followed my mom's instructions exactly. And as much as I hate to admit it, it worked out! We ate soft and delicious rice rotli for lunch with a quick pea saute.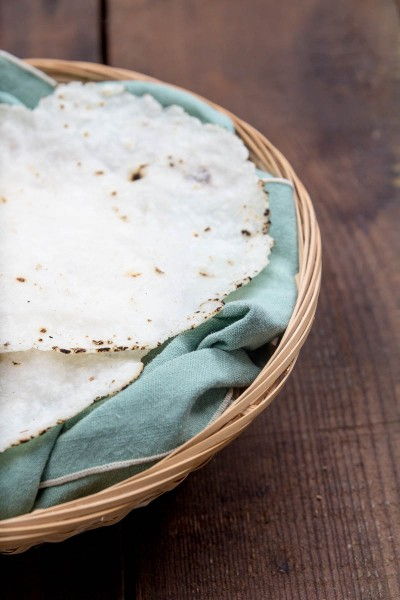 These rice flour rotli are a little tricky to make because the dough is super soft and not as forgiving as wheat dough. But with a little practice, I got the hang of it. I am sure you will too. Feel free to ask me any questions you may have about these.
My mom's experiment only lasted a few months because the rest of us got pretty tired of eating so many rice based foods. We all started eating wheat again for a while. But my mom is gluten-free again because has noticed gluten seems to inflame her arthritis. And this time, she's not switching back.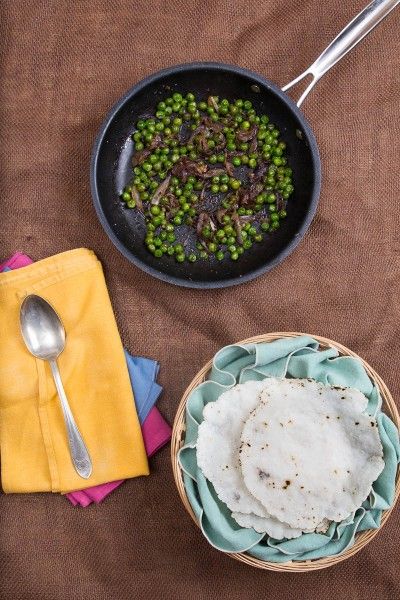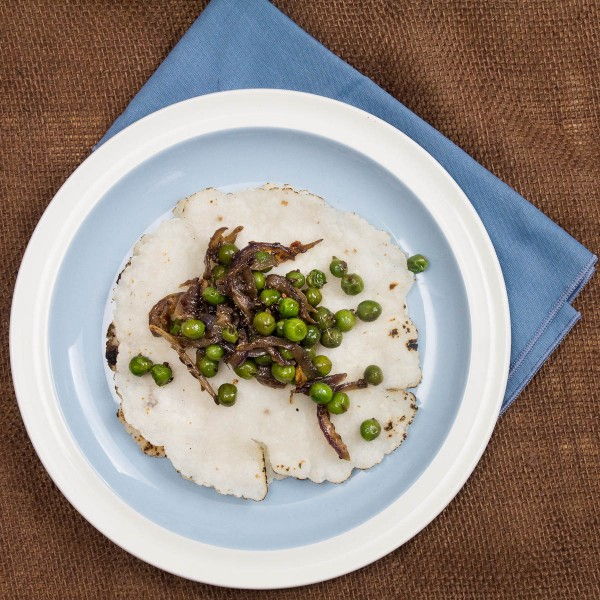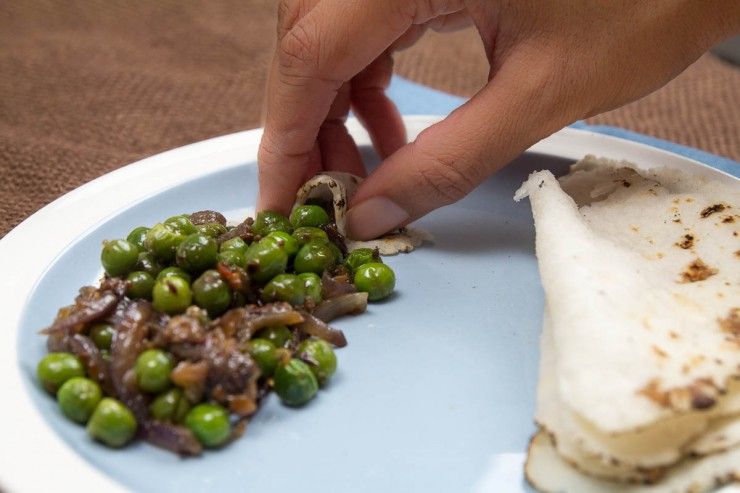 Here is a video that demonstrates how to roll out the rotlis and cook them. (Please excuse the messy counter).
http://youtu.be/qrnEzFdVJH0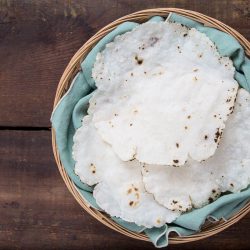 Gluten Free Rice Flour Flat Bread (Chokha ni Rotli)
Roti made with a less common, but still traditional ingredient, rice flour
Ingredients
1

cup

rice flour

2

tbsp

oil

½

tsp

salt

2

cups

water

½

cup

extra rice flour for rolling
Instructions
Bring the water, oil and salt to a boil in a medium saucepan.

When the water just begins to boil, add in the rice flour and stir with a wooden spoon.

Once the water and flour are well mixed, just let the dough hang out in the pot until it cools enough to handle with your hands.

Transfer the dough to a large bowl.

Knead with your hands for about a minute. The dough with start to get gummier and hold together better. Cover the bowl with a tea towel or plate so that it doesn't dry out.

Heat a tava or a cast iron pan (any kind of pan will work if you don't have a tava or a cast iron pan) over medium low heat. Let it heat while you roll out your first rotli.

Break off a golf ball sized piece of dough, knead it in your hands a few times and form a disk.

Roll the disk into the rice flour and roll out to about 1/32? thick.

Carefully transfer the rolled out rotli to the pan.

Let cook until you see bubbles start to form. About a minute or two. Then either using your fingers or a pair of flat tipped tongs flip the rotli.

Let cook on the second side until you see more bubbles form. Another minute or two.

Turn on a second gas burner on high and transfer the rotli directly to the flame. Let cook for about 15 seconds on each side. (You can also just turn up the flame on the existing burner, move the pan and transfer the rotli to the flame. Just don't forget to turn the heat back down to medium low!)

Repeat the process.
Video
Notes
Makes about a dozen 6 to 7 inch rotlis. When you are rolling out the rotli, use light pressure from the center out. If I had a tortilla press, I would definitely try to use it with this recipe. I think it would work great. Update 12/20/13: These rotli are served with this simple pea saute.
Nutrition
Serving:
75
g
Calories:
187
kcal
Carbohydrates:
32
g
Protein:
2
g
Fat:
5
g
Sodium:
197
mg
Potassium:
30
mg
Calcium:
5
mg
Iron:
0.1
mg