Tuvar ni kachori, or lilva kachori, is a much treasured Gujarati snack made from fresh tuvar, called toor in Hindi  or pigeon pea lentils in English. Tuvar is in season in winter in India, and I have fond memories of collecting tuvar, making these snacks and eating them with my family. It was always an event!
Tuvar is one of, if not the, most important lentil in Gujarat cuisine. It is the basis of some of my most favorite dals, my Grandma's Gujarati dal and lachko dal.
Tuvar lilva kachori is special because it uses the fresh tuvar lentil. In the video, I am using fresh tuvar that my parents grew in their backyard in California. They are able to harvest it throughout the year in California's climate, but in India, it was only available this way in winter.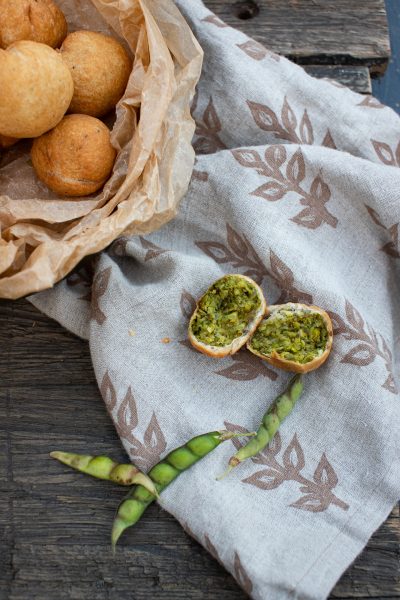 If you don't have access to fresh tuvar, you can find frozen tuvar at many Indian grocery stores that will work just as well.
Kachori are a type of fried Indian snack with many different variations found throughout India. Tuvar lilva kachori is very much a Gujarati version of this snack.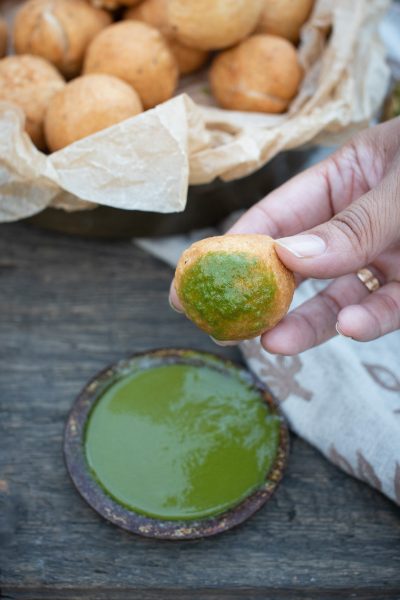 Tips for Making Tuvar Lilva Kachori
The crust is everything. You have to get the oil to just the right temperature so that it is ready when it starts to brown on the outside.
When you are closing off your wrap, make sure the meeting point is not too thick or it won't cook all the way
Make sure to roll the dough to the right thickness. If it is too thin it could fall apart in the oil, if it is too thick it won't cook through correctly.
Make sure to pinch the seal tight enough so it doesn't open up while frying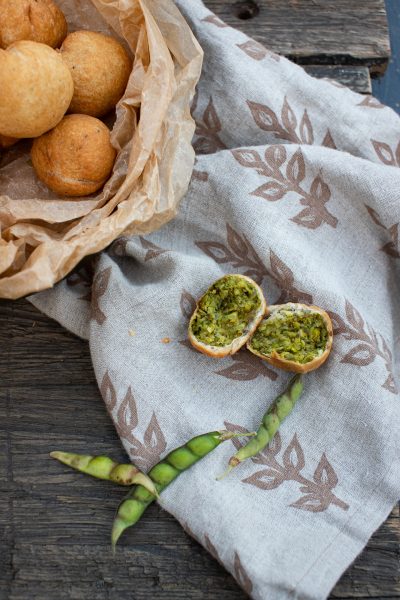 Alterations
Traditionally made with green garlic. I used regular garlic because green garlic is hard to find and I don't think it makes much difference in flavor.
Some people like adding baking soda to tuvar to maintain a super bright, green color; I dislike the baking soda flavor so I leave it out
My grandma would often add a mashed, boiled potato to the tuvar mix if she was short on tuvar. So if you are cooking for a crowd and want to extend your tuvar filling, adding a potato or two is a great option. Remember to adjust the spices accordingly.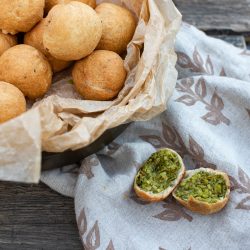 Tuvar Lilva Kachori
A traditional Gujarati fried snack made with fresh tuvar (toor dal)
Ingredients
For the Dough
1 ½

cups

all-purpose flour

½

tsp

ajmo

carom seeds

¼

tsp

black pepper

ground

½

tsp

salt

¼

cup

oil or ghee
For the Filling
1-2

green chilies

1

" piece of ginger

½

cup

cilantro

tightly packed

6

cloves

garlic

1

cup

lilva

fresh tuvar, pigeon peas

½

cup

onion

1

tsp

ajmo

carom seed

¼

tsp

hing

asafetida

2

tsp

sesame seeds

1

Tbsp

besan

chickpea flour

1

tsp

cumin powder

½

tsp

garam masala

1

Tbsp

lemon or lime juice

Salt

oil

for deep frying
Instructions
Make the dough. In a large bowl, mix flour, carom seeds, black pepper and salt.

Add oil or ghee to the flour. Use your fingers to incorporate the ghee into the flour, breaking up any large clumps of oil. You have enough oil and it is incorporated enough if when you grab a fistfull of the dough, it will hold its shape when you let go.

Knead the dough, adding water as needed, a couple of tablespoons at a time to form a soft, but not sticky dough. Stop kneading as soon as the dough is formed and shape into a log. Brush a tiny bit of ghee onto the dough.

Cover the dough with a bowl or damp towel and set aside for 30 minutes.

While the dough is resting, make the filling. In a food processor, add the chilies, ginger, and garlic. Pulse until they are chopped very finely (as finely as possible in your food processor without adding water). Then add the cilantro and pulse that into a fine chop as well. Add the green tuvar (pigeon peas) and pulse until you have a coarsely ground mixture.

Heat a non-stick pan with 2 tablespoons of oil. Add hing (asafetida), ajmo (carom seed), and onion. Cook until the onion is soft and translucent.

Add garam masala, sesame seeds, and besan (gram flour/chickpea flour). Cook for about 1 to 2 minutes until the besan gives off a toasted aroma.

Add green tuvar and salt, mix well. Cover and cook over medium heat for another 10 minutes, stirring a free times in between to ensure the mixture doesn't stick. Finish with lemon juice.

Scoop 2 tablespoons of the mixture into your hand. Squeeze and roll to form a firm ball. Set aside and repeat until you have gone through all of the mixture. You should have 16 balls.

Divide the dough into 16 equal pieces.

Form a pick out of each piece of dough by rolling into a ball and then flattening it between your palms. Roll the puck out into a four inch circle. One by one, lay the rolled piece of dough across your hand. Place a tuvar ball in the dough. Close it around the ball like a pouch. Twist to close, removing any excess dough. Be sure to pinch the seams closed securely ensuring that the seam is not too thick. If there is too much dough in the seam it may remain uncooked during the frying process.

Heat a vat of frying oil to about 325 degrees Fahrenheit. Add the balls, about 2 at a time. Stir the oil gently and continuously so they cook evenly on all sides. When they are golden brown, remove and place on a flat paper bag or paper towel.

Let them cool, serve with green chutney.
Nutrition
Serving:
1
kachori
Calories:
108
kcal
Carbohydrates:
13
g
Protein:
2
g
Fat:
5
g
Saturated Fat:
2
g
Polyunsaturated Fat:
0.2
g
Monounsaturated Fat:
1
g
Cholesterol:
7
mg
Sodium:
84
mg
Potassium:
77
mg
Fiber:
1
g
Sugar:
0.4
g
Vitamin A:
36
IU
Vitamin C:
1
mg
Calcium:
14
mg
Iron:
1
mg