Masala puri, or tikhi puri, are a traditional Indian balloon bread, a type of flatbread. Balloon breads are flatbreads that are fried and tend to balloon up in the fryer. Masala puri are a spicy flatbread (masala means spicy or spiced). To make regular puri, you would do everything the same but leave out the spices.
These are everyday flatbreads, which might seem unusual today when everyone has become conscious of consuming fried foods. The main advantage of puris over flatbread is that they are very easy to make in large quantities since it takes only a few seconds on each side to cook a puri.
Also, because of the oil, puris can then be stored without becoming stale. Oil is one of the oldest tricks to keep bread from becoming stale.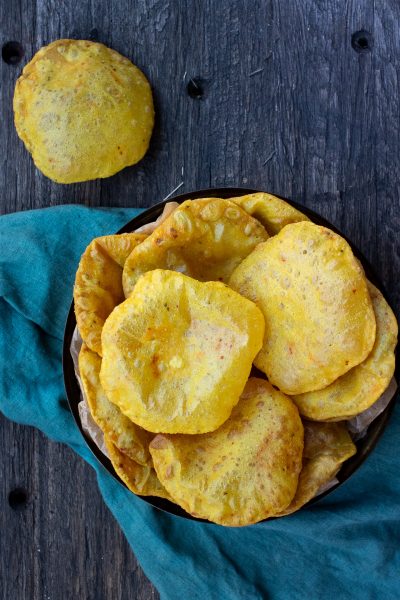 Where do they Eat Masala Puris?
While puris are eaten all over India, especially in the northern states, I have a tight association of masala puris with Gujarati food. To me, this is a very gujarati puri recipe.
Mom used to make these in large batches, and we would eat them for days.
The images I get in my head when I think of puris, are from memories of large family gatherings. On occasions, many women would gather to make puris.
They would set up two pots of frying oil to keep up with the rolling. Several others would roll out puris one after another. It was a fast, efficient, and skilled process.
There is a dish from Karnataka called "masala puri," but this is not a flatbread, but a type of chaat.
How to Eat Masala Puris
The nice thing about masala puris is since they are packed with spices, they can easily stand on their own. Many people like to eat masala puris with some sort of dipping accompaniment.
You can treat masala puris like roti and eat any kind of shaak with them. Or you can eat them with pickle or yogurt.
My favorite way to eat puris is by dipping them in sweetened condensed milk. It is such a delicious indulgence. A similar treat that isn't so rich, is to dip them in doodh pak.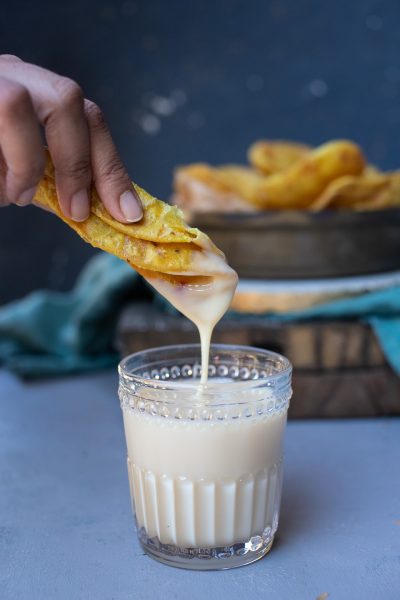 Tips for Ballooning Puris
The perfect puri will balloon up immediately when placed in the hot frying oil. If your puri doesn't balloon, it can still be good, but you should make adjustments. When your puris balloon, you know you are doing everything right.
There are several things that can prevent your puris from ballooning:
If the puri is not fluffing up right away in the hot oil, pressing down gently in the hot oil will help it along
Your oil is too cold. If your oil is too cold, it won't fluff up. You'll have a greasy puris that have soaked up too much oil.
Rolled out too thin. If you roll out your puris too thin, there won't be enough dough to fluff out.
Too much spice or seeds. Too many spices or seeds will create air vents in the dough and keep it from puffing up.
Other Tips
If your dough is too soft and is sticking, dip in a little oil before rolling out.
When you are rolling out the dough, if your dough is too soft and is sticking to your surface, dip in a little oil before rolling out.
Make larger puris to save time. Traditional puris are very small. My mom taught me to make them larger. Once when I was a kid, I asked my mom why everyone's puris are so much smaller than hers. She said, "I have a life, I'm not gonna sit here and make a bunch of tiny puris."
Variations on Masala Puris
Masala Puri (Tikhi Puri)
A traditional Gujarati balloon bread with masala
Ingredients
2

cups

rotli flour

atta

Salt to taste

½

tsp

red chili flakes

or powder

1

tsp

carom seeds

½

tsp

turmeric powder

⅛

tsp

hing

asafetida

1

cup

water

1

Tbsp

oil

oil for frying
Instructions
Take a large wide bowl. Add flour. Make a well in center. Add oil to well. Sprinkle the salt, hing, carom seeds, chili powder and turmeric.

Mix well to form the dough. Break up the oil granules until you get a sandy texture and all of the large granules are broken up.

Cover with a damp towel and let sit for 30 minutes.

Divide into 24 equal parts (or more if you would like smaller puris)

Roll out one at a time.

Fry in hot oil. It should be about 400 degrees.
Nutrition
Calories:
51
kcal
Carbohydrates:
9
g
Protein:
2
g
Fat:
1
g
Saturated Fat:
0.1
g
Polyunsaturated Fat:
0.4
g
Monounsaturated Fat:
1
g
Trans Fat:
0.003
g
Sodium:
2
mg
Potassium:
48
mg
Fiber:
1
g
Sugar:
0.1
g
Vitamin A:
17
IU
Vitamin C:
0.02
mg
Calcium:
5
mg
Iron:
0.5
mg
Kasoori methi (dried fenugreek leaves)
Plain puri – leave out all spices
Add besan to flour – makes them softer and alters the flavor. My family has always made them without the besan, and I prefer them this way.