Doodh pak is a simple and delicious Gujarati sweet, a type of rice pudding. Doodh pak is Gujarati for "Cooked Milk." It is sweetened with milk and has basmati rice and Indian dessert spices, cardamom, nutmeg, and saffron. It also has one unusual ingredient, charoli, an almond-like nut often used with Indian desserts.
If you don't have charoli, you can easily substitute almost any nut. Almond or pistachio would work exceptionally well. In the video, I use charoli and pistachio together.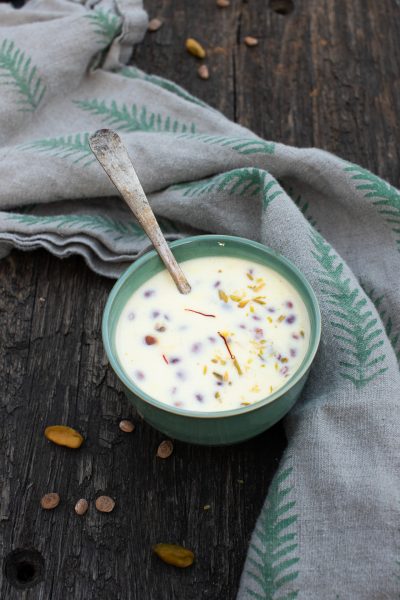 Doodh Pak vs. Kheer
Doodh Pak is a traditional Gujarati dessert, while kheer is a Hindi word to describe rice pudding, which is found throughout India. What makes Gujarati Doodh Pak different than kheer is the amount of rice.
Kheer usually uses much more rice which creates a thicker pudding. Good doodh pak is quite thin and drinkable.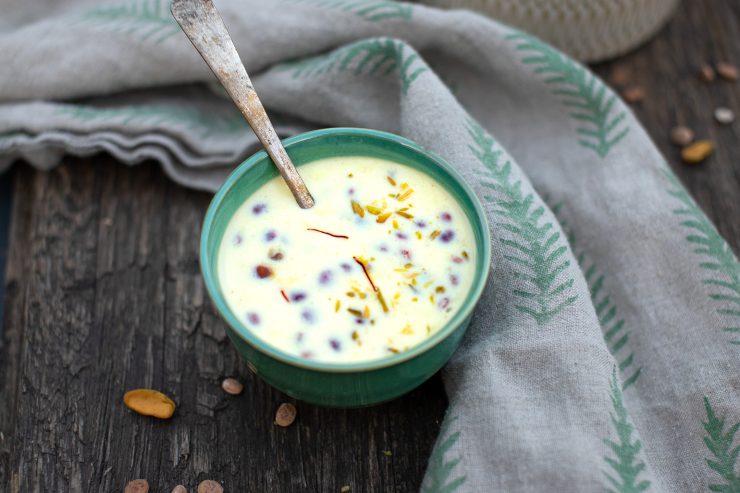 Serving Doodh Pak
Doodh Pak is a sweet typically served with a meal, not after. Many people like to eat it with masala puris, dipping their puris in the sweet milk. Some people like to eat it with bhajiyas (pakoras) as well.
Doodh Pak is often made for special occasions. It is frequently served as prasad during festivals.
In particular, doodh pak is used ceremonially as part of Kali Chaudas. Kali Chaudash takes place the night before Diwali. It is "Indian Halloween", when the spirits come out.
Duing Kali Chaudas, doodh pak and bhajri na dhebra are layed out in "char raste" – four streets – usually the middle of a major intersection. The purpose is to bait out the spirits and negative energy away from your home.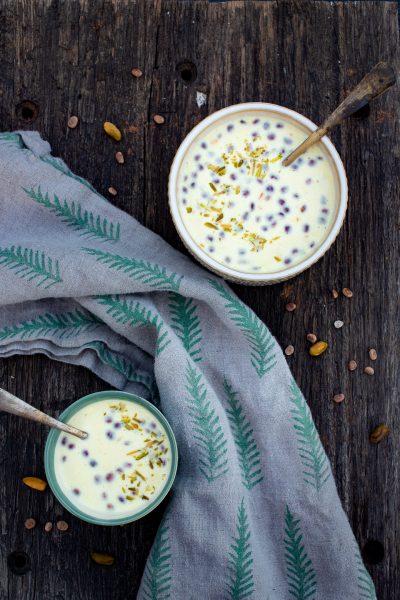 Tips for Making Doodh Pak
When making doodh pak, the rice can burn easily. Add ghee to the rice before adding the rice to the milk to ensure the rice does not stick to the pan.
Brush the pan with ghee before adding the milk (see video). Let it come to a boil without stirring. You only have to start stirring once the rice is added.
Make sure to stir continuously while the rice is boiling (about 20 minutes). Scrape the sides and scrape the bottom, I like to stir in a zigzag motion and scrape the sides each time.
Customizing for Your Tastes
If you don't have charoli, which can be hard to find, use almonds. Almonds will taste almost exactly the same. Pistachios are also a great addition. If you have a nut allergy, sunflower seeds are a good substitution. Make sure to use unsalted.
Saffron optional. Leave it out if you prefer. It gives it a yellow color and also has a distinctive saffron taste.
Doodh Pak
An Indian style rice pudding made with milk, rice, saffron and other spices, often served with puris
Ingredients
6

cups

milk

full fat milk is best

3

Tbsp

basmati rice

½

cup

sugar

½

tsp

cardamom

powder

¼

tsp

nutmeg

powder

one

pinch

saffron

optional

2

Tbsp

charoli

or substitute almonds or sunflower

2

tsp

ghee
Instructions
Rinse the rice at least 3 times and then soak in about 1 cup of water for 30 minutes. Then drain the water and mix in 1 tsp of ghee to coat the rice grains.

Brush a heavy-bottomed pan with 1 tsp of ghee. Then add in the milk and bring it to a boil. No need to stir the milk while it comes to a boil.

If you are using saffron, take about two tablespoons of hot milk and add to your saffron strands to soak. Set aside.

Once the milk has come to a boil, add the rice and ghee mixture. Set a timer for 15 minutes and let it continue to boil on medium heat, stirring continuously. I like to scrape the sides and then the bottom in a zig-zag motion. After 15 minutes, check to see if the rice is cooked by taking a rice grain and testing it. It should be easily broken or smashed when lightly pressed with a spoon.

Now add the cardamom, nutmeg, saffron, and sugar. Let cook and reduce for 5 more minutes, making sure to stir continuously.

Then add in the charoli or nuts of your choice. Serve warm or cold from the refrigerator.
Nutrition
Serving:
0.5
cup
Calories:
171
kcal
Carbohydrates:
21
g
Protein:
6
g
Fat:
8
g
Saturated Fat:
3
g
Polyunsaturated Fat:
0.2
g
Monounsaturated Fat:
1
g
Cholesterol:
20
mg
Sodium:
56
mg
Potassium:
226
mg
Fiber:
112
g
Sugar:
17
g
Vitamin A:
237
IU
Vitamin C:
0.2
mg
Calcium:
190
mg
Iron:
1
mg