Kheer is an Indian rice pudding made with basmati rice, cardamom, and saffron. Kheer is commonly served at special occasions like weddings, festivals, and family gatherings. This is an especially easy version, made in an Instant Pot with condensed milk which gives it richness and sweetness while saving you the tediousness of boiling down your milk.
Kheer is a sweet enjoyed throughout India. We Gujaratis have another version of rice pudding that is much milkier, called Dudh Pak, and features charoli.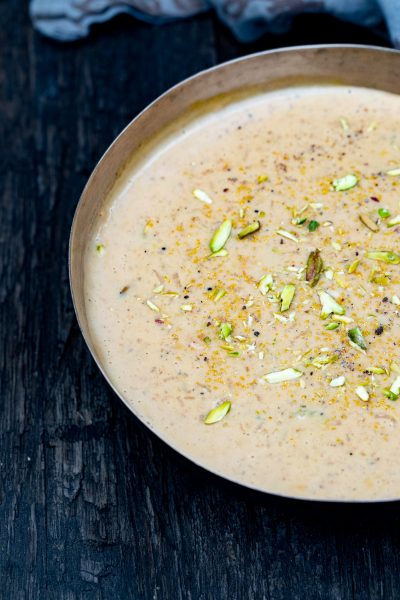 Why This Recipe
This recipe makes for a quick and foolproof kheer that has all of the delicious flavor and complexity of much more complicated recipes. For the most part you get to throw the ingredients into the Instant Pot and let it do it's thing. There is only about 5 minutes of active stirring when you reduce the milk and add the final ingredients.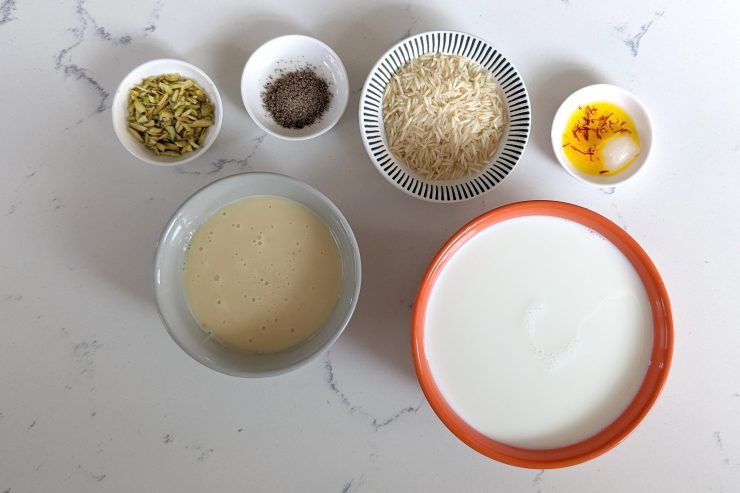 Milk vs Cream
I tested versions with cream and with milk. I found the cream version, while delicious, came out way too heavy. Condensed milk is a huge timesaver and adds a subtle caramel flavor. It does add a slight brown color to kheer.
The Cardamom
Cardamom is an essential ingredient in kheer. I was taught to use whole cardamom pods which people claimed gave it more flavor. I completely disagree with this and I only make it with cardamom powder. I find the aromas and flavor of cardamom comes across so much better when you use powder. Make sure to add it near the end.
Pistachios
It also uses saffron and pistachios, which are a classic combination for kheer. You can easily substitute in almonds, charoli, cashews or any other nut that you prefer.
Recipe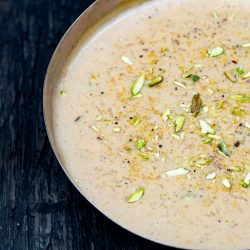 Instant Pot Kheer with Condensed Milk
Kheer is an Indian rice pudding made with basmati rice and saffron. This is an especially easy version, made in an Instant Pot with condensed milk which gives it a richness and sweetness while saving you the tediousness of boiled down your milk.
Ingredients
½

tsp

ghee

¼

cup

basmati rice

not rinsed

2 ½

cups

whole milk

½

cup

condensed milk

½

tsp

ground cardamom

2

Tbsp

slivered pistachios

or other nuts of your choice

1

pinch

saffron
Instructions
Brush the bottom and sides of your Instant Pot with ghee. This will prevent the rice from sticking and burning.

Add rice and milk to Instant Pot. Cook on porridge mode for 20 minutes followed by natural pressure release for 15 minutes.

While that is cooking, bloom the saffron by melting an ice cube over the top at room temperature. This should take about 30 minutes.

Mash the cooked rice with the back of a glass or potato masher.

Set the Instant Pot to saute mode and cook to reduce to desired texture, about 5 minutes. Stir frequently to prevent burning. When almost done, add cardamom, condensed milk and saffron. Stir to combine.

Transfer from Instant Pot to serving bowl. Garnish with nuts. Serve hot or cold.
Nutrition
Calories:
131
kcal
Carbohydrates:
19
g
Protein:
4
g
Fat:
4
g
Saturated Fat:
3
g
Polyunsaturated Fat:
0.2
g
Monounsaturated Fat:
1
g
Cholesterol:
16
mg
Sodium:
54
mg
Potassium:
193
mg
Fiber:
0.1
g
Sugar:
14
g
Vitamin A:
175
IU
Vitamin C:
1
mg
Calcium:
150
mg
Iron:
0.1
mg
Variations
You can swap the condensed milk for 1/2 cup milk and 1/2 cup sugar, which would be more traditional but you will have to saute it for longer. Because we are making it in the Instant Pot, the milk doesn't reduce as much as milk on a stove would, which is why we use condensed milk.
Swap the sugar for brown sugar or jaggery, which will give you a more caramelized, deeper flavor.
Nuts are optional, so is saffron. If you have a nut allergy, use pepitas (pumpkin seeds) in place of nuts.
You can use maple syrup in place of sugar if you don't like processed sugar; swap condensed milk for maple syrup.
If you like raisins, add them just before doing the pressure cook so they will plump. Golden raisins would be traditional and add a pleasant tart flavor.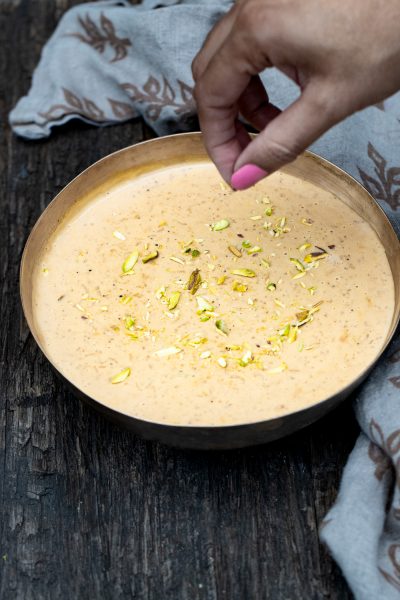 Tips
To avoid the dreaded "burn" error on the Instant Pot, make sure to coat the bottom and lower sides of the Instant Pot with ghee. I found 1/2 tsp of ghee was enough, but don't skimp. The rice is not rinsed because we want the natural starches to thicken the milk, but they increase the chances of burning.
Make sure to mash the rice enough to get the nice, creamy texture. I use the back of a glass to do the mashing. I prefer that over a potato masher. Mash for at least 30 seconds, a full minute is better.
Some people grind the rice beforehand, I skip that step because you still have to mash after you cook anyway.
Can you freeze kheer?
Freeze kheer for up to 3 months. Just put it in a container and put it in the freezer. You can put some freezer paper or plastic around it to prevent freezer burn. Rice and milk are both good at absorbing flavors. Defrost by putting in the microwave (kheer is good warm), or by setting the refrigerator overnight.