Diwali is just around the corner, and the first thing that comes to mind when I think of Diwali is always Ghughra. Ghughra are India's version of a sweet hand-pie. The version here is a very Gujarati version, made with a sweetened nut filling. Other names for ghughra are ghooghra, karanji (Maharashtrian), kajji kay alu (south Indian), gujiya (Hindi), sweet handpie or empanada.
Diwali is the Festival of Lights. It is the celebration of the victory of light over darkness. There a different stories for what this is about, depending on where you are in India. One explanation is it is the celebration of when Rama's army defeated the demon king, Ravana's army of evil. Another explanation is when Krishna killed the demon Narakasura, the evil king of Pragjyotishapura.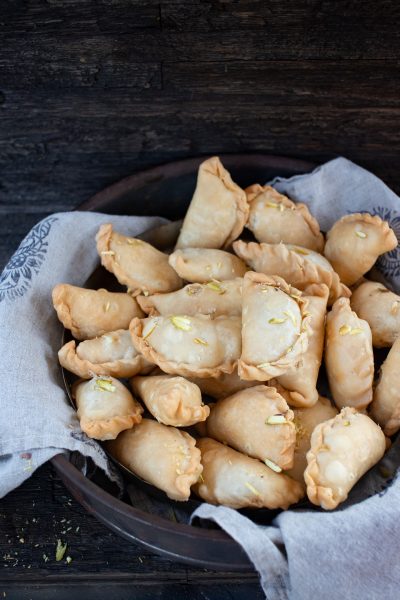 With these ghughra I use a traditional nut filling. You can use whatever nuts you like, I used cashews and almonds. For sweetness, golden raisins are a traditional choice. In India the golden raisins are smaller than I find here, so I've cut mine to a normal size.
Since these are handpies, you can play around with the filling all you like to come up with something you enjoy. These ghughra are fried the traditional way. In a previous post, I gave a recipe for baked ghughra that used a similar nut base but also included toffee.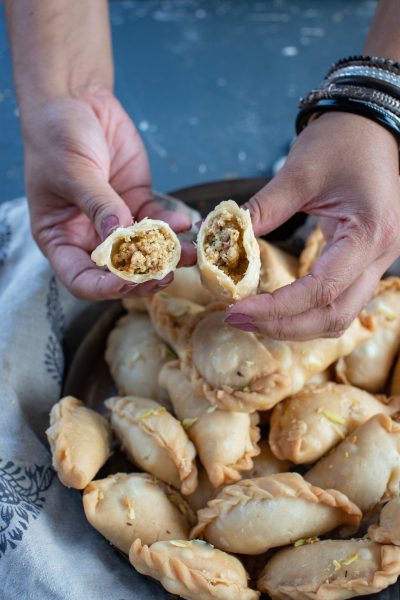 Tips for Making Ghughra
Ghughra are tricky because you have to make sure you cook them all the way through, pastry and filling
Traditionally they are fried. 325° F is ideal, but if you aren't measuring, use medium heat. It should take about 8-10 minutes for the ghughra to turn golden. Any faster and they probably aren't getting cooked all the way through.
Make sure you pinch them very tight. You can use a fork if you prefer. You have to make sure it doesn't open up or the filling will burn in the oil and ruin your frying oil
Make sure to brown the rava. This is very important for flavor, the rava should be golden before it is added to the rest of the filling
Traditionally, you should use ghee for your frying oil. That can be expensive and wasteful, so I usually use avocado oil which has a high smoke point, and add a couple of tablespoons of ghee for flavor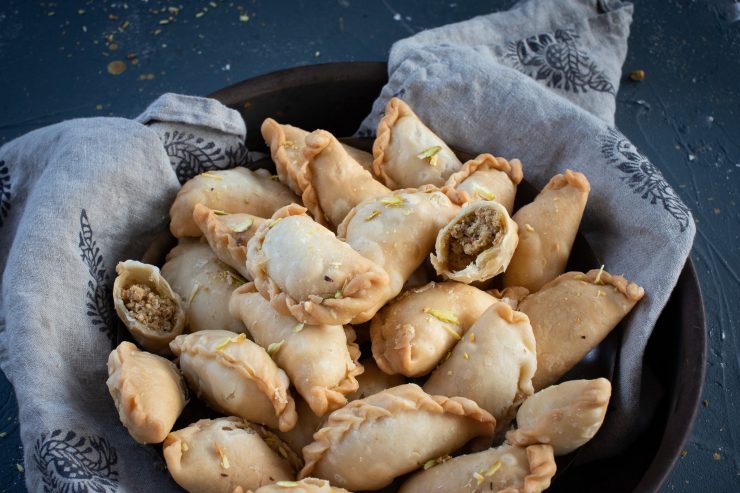 Variations on Ghughra
If you don't like raisins or nuts, leave out what you don't like
Experiment.Use whatever nuts you prefer.
I like to use dates instead of raisins. I just chop them up to raisin size or put them in the blender with the nuts. Reduce the sugar if you use dates because dates provide their own sugar
Experiment with western flavors like toffee, chocolate chips, or pumpkin pie filling.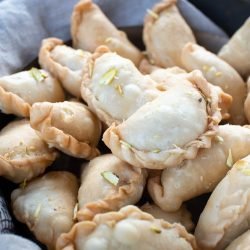 Ghughra
A traditional Indian sweet hand-pit stuffed with sweetened rava, nuts, and raisins, Gujarati style
Ingredients
For the Pastry Dough
2

cups

all-purpose flour

¼

cup

ghee

½

tsp

salt

½

cup

water

Add a little at a time. You may need a little more or a little less.
For the Filling
¼

cup

ghee

¾

cup

nuts

⅓

cup

shredded coconut

1

Tbsp

white poppy seeds

optional

⅓

cup

rava

semolina or cream of wheat

⅔

cup

powdered sugar

¾

tsp

cardamom powder

1

Tbsp

golden raisins

½

tsp

nutmeg
Instructions
For the Dough
In a large bowl, add flour, salt, and ghee. Incorporate the ghee into the dough until you have a sandy texture.

Mix in the water until you have a slightly sticky dough. Cover with a damp towel and let rest for 30 minutes.
For the Filling
Toast the nuts in 1 Tablespoon of ghee. Remove and chop finely.

Heat 2 tablespoons of ghee and add coconut and poppy seeds to toast. Remove.

Add 2 tablespoons ghee to the pan and the semolina (rava). Toast until golden brown.

In a medium sized bowl, combine all of the filling ingredients and stir until they are well combined. They should be able to keep their shape when formed into a ball and squeezed.
Final Steps
Roll out the dough. Form a tube of dough, then cut into 16 pieces. Form pucks with the 16 pieces by rolling them into balls and then slightly flattening them.

Make your pastry shells by oiling a surface with ghee. Lay a puck on the surface and roll out evenly.

Add a heaping tablespoon of filling to the pastry and close and seal the edge either with a fork or with your fingers. Make sure it is tight enough that it will not open up when placed in the frying oil.

Fry each ghughra at 325°F. You should be able to do 3-4 at a time. Stir the oil as they fry and careful turn the ghughra to make sure they cook evenly on all sides.
Nutrition
Calories:
201
kcal
Carbohydrates:
20
g
Protein:
4
g
Fat:
12
g
Saturated Fat:
6
g
Polyunsaturated Fat:
1
g
Monounsaturated Fat:
4
g
Cholesterol:
19
mg
Sodium:
113
mg
Potassium:
76
mg
Fiber:
1
g
Sugar:
6
g
Vitamin A:
1
IU
Vitamin C:
0.1
mg
Calcium:
9
mg
Iron:
1
mg