The smell of sweet coconut karanji takes me back to Bombay. This is the traditional Maharashtrian treat my neighbors would make on Diwali and Ganesh Chaturthi. I've adapted it to the air fryer, which produces a surprisingly authentic version and is so convenient, saving the step of dealing with a pot of frying oil. For many Indians, these hand pies, called "gujiya," are a special treat for Holi, rather than Diwali.
About the Recipe
This is a recipe that I've developed over time, with much trial and error. We call the Gujarati versions of this ghughra, and I have made them every year since I was a little kid. When I was very young, making them was a family affair. Every Diwali, my whole family gathered and formed an assembly line to make the dough, roll it out, form the pastry, stuff it, and fry it.
We made many ghughra similar to this, except with less coconut flavor. It's the coconut-forward flavor that makes this Maharashtrian in my mind.
Traditionally ghughras are deep-fried, but I often bake them in the oven for convenience. See this recipe for an oven-baked version of ghughra. 
Since ghughra are a deep-fried food that also bakes very well, it made sense to try it in the air fryer. The air fryer worked fabulously, creating a nice, crispy pastry. The air fryer does leave you with a drier product at the end than a deep-fried version. It's nice to brush a little ghee over them after frying.
Ingredients
All Purpose Flour – "maida" (Gujarati) – the flour used for the pastry. My mom likes to mix 1/2 all purpose and 1/2 rotli flour which is a fine whole wheat flour to make it a little healthier with whole grains. I prefer the taste and texture from all-purpose flour.
Salt – I add a small amount to the pastry dough. It's not traditional, but it helps with flavor.
Coconut
Almond flour – used in the filling to add a nutty flavor. You can use all coconut instead of almond flour if you'd like, but I like the balance of the almonds nd coconut for a better finish.
Jaggery (Gor) – Jaggery is the traditional sweetener, similar to pillancio, and provides a very mellow molasses flavor. Powdered sugar will work as well. Granulated or brown sugar can work, but I worry it wouldn't melt properly during baking and might add a grainy texture.
Ghee – used to toast the coconut and almond flour, also to put fat in that pastry. And I finished by brushing some ghee on top to help the pistachios adhere to the pastry
Pistachios – decorative. You can use any nut you like or leave it off
Silver foil – edible silver foil is a favorite decorative element for Indian sweets. I bought mine from Amazon.
Nutmeg
Cardamom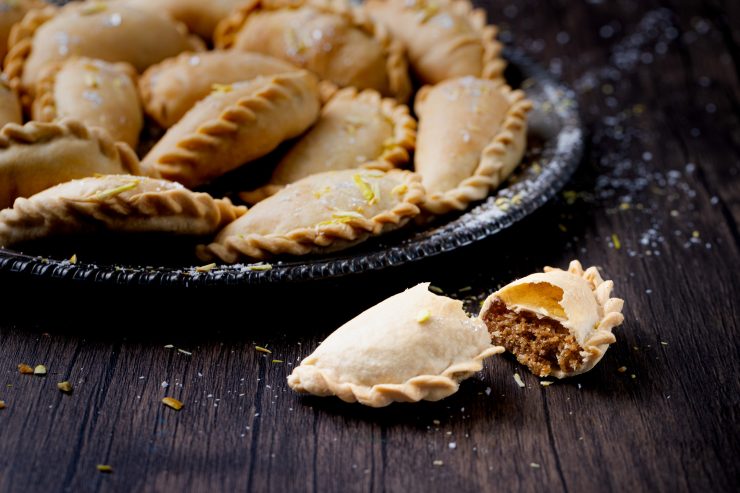 Cooking Tips
If you use too much water in the dough it would get big bubbled in the deep fryer. It might happen in the air fryer, but I haven't tested this.
If you need to add more liquid to bring the dough together – if your dough is too dry after you've added about a half cup of water – I recommend adding ghee instead of water. Another trick is to add vodka, which will evaporate away during baking, though some people might object to the addition of alcohol. The vodka allows you to add moisture that will hold the dough together but later burn off for a nice flaky, crispy pastry. 
It's important to fully seal the seams of the pastry before cooking. It's more forgiving with you bake or air fry, but you still don't want it to come apart during baking. Pinch firmly along the whole edge, use a fork to seal or pinch and fold as I demonstrate in the video. There are also empanada or ghughra molds available if you want the assistance.
It's important to roll out the dough very thinly to get the right ratio of filling to pastry. It should be about as thin as a penny, or slightly thinner.
Variations
Leave off the almond flour for nut-free. Add more coconut to make up for it.
Sub almond for ground or chopped cashews, actually almonds in place of flour, pepitas to be nut-free, rava (semolina),
Add poppy seeds
Golden raisins (1/4 cup)
Add a sugar glaze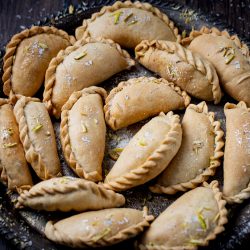 Air Fryer Gujiya | Coconut Karanji
Traditional Maharashtrian coconut karanji, adapted to the air fryer
Ingredients
Pastry
2

cups

AP flour

¼

cup

ghee

½

tsp

salt

½

cup

water
Filling
1 ½

cup

desiccated coconut

½

cup

almond flour

or crushed almond

1 ¼

cup

jaggery

gor / sugar

¾

tsp

cardamom powder

½

tsp

ground nutmeg

2

tbsp

coconut oil or ghee
Instructions
Make the Filling
Heat a pan with half of the ghee.

Toast the coconut until lightly golden. Transfer into a bowl to stop the toasting.

In the same pan, add the remaining ghee. Add almond flour and toast until fragrant.

Transfer toasted almond flour from the pan to the bowl with the coconut in it.

Add jaggery, cardamom powder, and ground nutmeg to the bowl. Mix well to combine.

Add ghee, mix to combine.
Make the Pastry
In a large bowl, add flour, salt, and ghee. Incorporate the ghee into the dough until you have a sandy texture.

Mix in the water until you have a slightly sticky dough. Cover with a damp towel and let rest for 30 minutes.
Make the Gujiya
Roll out the dough. Form a tube of dough, then cut into 16 pieces. Form pucks with the 16 pieces by rolling them into balls and then slightly flattening them.

Add a heaping tablespoon of filling to the pastry and close and seal the edge either with a fork or with your fingers. Make sure it is tight enough that it will not open up when cooked.

Brush ghee or spray cooking spray to coat the air fryer. Preheat to 325°F. Add gujiya to the air fryer in a single layer with some space between each one. Bake for 18 minutes, turning halfway.
Nutrition
Calories:
271
kcal
Carbohydrates:
33
g
Protein:
4
g
Fat:
14
g
Saturated Fat:
8
g
Polyunsaturated Fat:
1
g
Monounsaturated Fat:
2
g
Cholesterol:
12
mg
Sodium:
294
mg
Potassium:
82
mg
Fiber:
3
g
Sugar:
18
g
Vitamin A:
0.1
IU
Vitamin C:
0.1
mg
Calcium:
59
mg
Iron:
2
mg