These pakoras are made with spice-rubbed paneer dipped in a flavorful, crispy batter for a delicious afternoon snack. I'll show you how to make the simple kind and the stuffed, sandwich-style paneer pakora. Sandwich paneer pakoras are double-layered and stuffed with cilantro-mint chutney.
Why Make this Recipe
Pakoras, or bhajiya, are a bite-sized snack made with some kind of vegetable or protein and fried in a besan (chickpea) batter. In India, we like to eat pakora or bhajiya when it is raining, especially during the monsoons. My family always makes some on rainy days. They are the perfect warm and crispy bite while everything else around you is cold and soggy. Pakoras are a common street food that are also commonly cooked at home.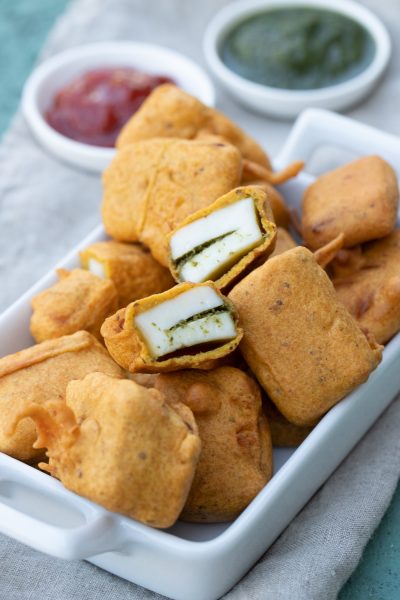 These paneer pakora are a great accompaniment for afternoon chai. My mom often made them for us for an afternoon snack as they are protein-filled, easy to make, and super tasty.
Paneer pakoras have a lovely contrast of textures with the soft and cheesy paneer and the crispy chickpea crust. This recipe comes together very quickly. It is a great appetizer you can make while your guests are milling about.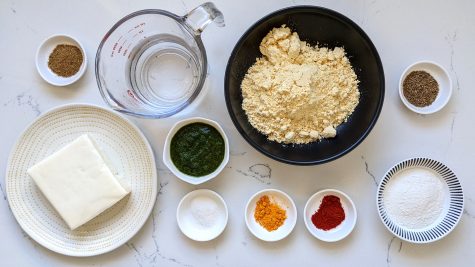 About the Recipe
This batter is my tried-and-trusted batter that I have been using my whole life for bhajiyas. The mixture of besan and rice flour gives you a really nice and crisp batter along with some softness for textural contrast.
The only difference between this batter and the batter I use for vegetable bhajiyas (pakora), is that I use less water for a thicker batter that holds to the paneer better. For this pakora, it is really important that you have a thick batter so that it sticks to the paneer and coats it entirely.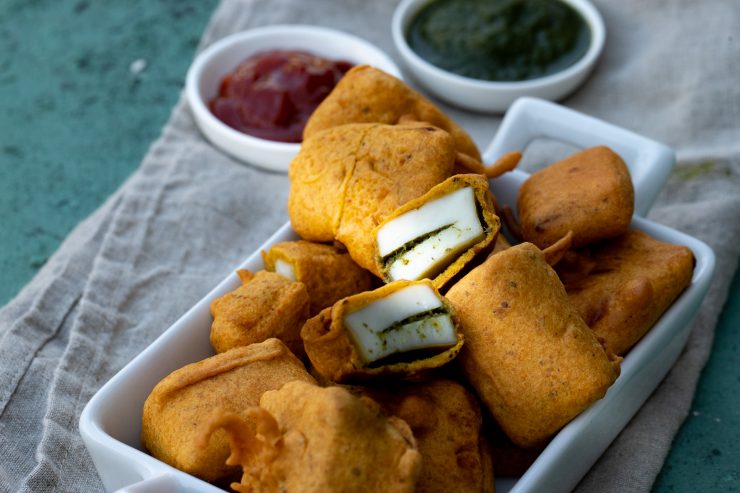 Another trick you will find in this recipe is that I season the paneer. Paneer can be very bland if not properly seasoned. I use salt and garam masala, other seasonings such as black pepper, chaat masala, or granulated garlic taste great, but I prefer garam masala for this.
I have experimented a lot with paneer pakoras. They are something I grew up eating often. In fact, my mom would make them differently depending on what she had on hand. In developing this recipe for the blog, I wanted to create a good, reliable recipe, so I tested all the different versions my mom has made and some more.
First of all, I wanted to test to see if a wet marinade for the paneer worked better than a dry rub. I tried mixing a few different spices and added lemon juice to see if that would penetrate the paneer better. Some variations I tried:
Wet marinade

Lemon juice + salt + garam masala
Granulated garlic + salt + lemon juice
Chili powder + salt + lemon juice

Dry-rub

Chaat masala
Garam masala + salt
granulated garlic + salt + garam masala
The dry rub was the hands-down favorite. It gave the paneer a really good flavor and didn't water down the batter.
The wet marinades watered down the batter too much. It wasn't a problem for the first few pakoras, but as I fried more, dipping cube ofter cube of paneer into the batter, the batter took on the liquid and became too wet. They also didn't hold onto the flavor as well.
As far as the dry rubs, I favored the garam masala and salt, but it wasn't an easy call. I'd recommend trying any of these versions.
How to Eat Paneer Pakoras
Like other pakora, paneer pakoras are best served with some kind of a dipping sauce. They go well with green cilantro or cilantro-mint chutney, with ketchup or with sweet and sour tamarind chutney.
Pakoras are a nice snack to serve when you have guests over. They are a great accompaniment to afternoon tea, and go well served alongside other snack foods like batata vada and sev puri.
Pakoras are also fantastic served alongside drinks such as chai or even cocktails. I love serving them with my chai bourbon fizz as it reminds me of the classic combo of chai and pakora that I grew up eating but with an adult beverage instead.
Making Ahead of Time
I don't recommend making these ahead of time, since they will lose their crunch if refrigerated or left to sit for too long. If you still want to, two things you can try:
If you are making them in advance, partial-fry them until they are just lightly golden and store in an air-tight container in the fridge for up to three days. Then do a quick fry until golden brown just before serving to crisp them up.
You can also fully fry them and store in the same manner then bake them in the oven at 350°F for about 5 minutes to warm up (or in a toaster oven), but they will not have the same texture.
Recipe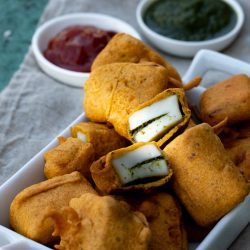 Masala Paneer Pakora
These are spice-rubbed paneer dipped in a flavorful, crispy batter for a delicious afternoon snack.
Ingredients
Batter
1

cup

besan

chickpea flour

3

Tbsp

rice flour

½

tsp

turmeric

½

tsp

red chili powder / flakes

1

tsp

carom seeds

½

tsp

garam masala

Salt

½

cup

water

8

oz

paneer
Chutney
½

cup

cilantro

1/2 bunch, roughly chopped

¼

cup

mint leaves

1

green chili

serrano

½

tsp

salt

½

tsp

granulated garlic

or 1 medium garlic clove

Water
Seasoning the Paneer
½

tsp

salt

½

tsp

garam masala
Instructions
In a medium bowl, combine dry ingredients for the batter: besan, rice flour, turmeric, chili powder, carom seeds, garam masala. Whisk or sift to remove all lumps.

Add water as needed to create a thick batter. The batter should drip off the whisk, but form thick lines when dripped over the batter in the bowl.

To make the chutney, combine all chutney ingredients in a blender. Add as little water as possible to blend and form a smooth paste. The chutney is stuffing for the sandwich pakora, but optional for masala pakora.

Cut the paneer into cubes, 1 inch thick for sandwich pakora, 1/2 inch thick for masala pakora. For sandwich pakora, slice each cube down the center, 3/4 of the way though, stuff with chutney.

Sprinkle the paneer with the garam masala and salt. Toss and rub to distribute the seasoning evenly.

Dip paneer into the batter, coating all sides. Deep fry in hot oil (375-385°F), until golden brown. Remove from oil to a paper towel or drying rack.

Serve with chutney or ketchup.
Nutrition
Calories:
158
kcal
Carbohydrates:
13
g
Protein:
8
g
Fat:
8
g
Saturated Fat:
4
g
Polyunsaturated Fat:
0.5
g
Monounsaturated Fat:
0.2
g
Cholesterol:
19
mg
Sodium:
328
mg
Potassium:
148
mg
Fiber:
2
g
Sugar:
2
g
Vitamin A:
133
IU
Vitamin C:
1
mg
Calcium:
148
mg
Iron:
1
mg
Tips
Season the paneer
Make sure the batter is thick – thicker than for other bhajiyas. Since paneer is wet and slippery, so a normal batter tends to fall off before frying.
Fry in pretty hot oil (375-400°F) (check recipe)
Variations
Garam masala offered the best flavor and was simplest to apply, one spice that packs a punch. But you can experiment as I did: lemon salt, garlic paste, chili powder. Wet marinade didn't absorb as well as dry.