This is the classic cilantro-mint chutney served with Bombay street food. With its spicy chilies and cooling cilantro, it is the perfect accompaniment to chaats, pakora, bhel, and even sandwiches. I keep my recipe simple, but I have one secret ingredient swap that makes this the must-do version of this everyday classic.
I make this dish whenever I need a dip for any kind of fried item, like pakoras, chaat (sev puri, samosa, etc), or sandwiches. It goes great with most street food items.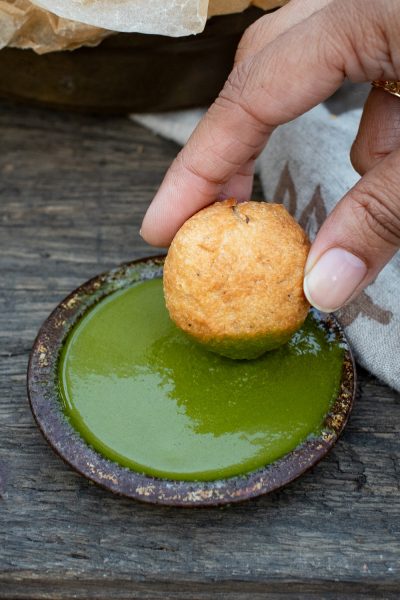 The Chutney-Makers Chutney
I've been the chutney maker in my family since I was probably 6 years old. My mom would make whatever she was making – dosa, sandwiches, bhujiyas, and it was my job to plug in the blender and figure out the chutney that went with it.
From a very young age, I could make the right chutney. For dosa: cilantro and coconut. For chaat: cilantro and mint. For pudla, cilantro mix or cilantro and yogurt. Whatever the item, my job was to make the chutney that went with it.
I've experimented a lot with this chutney over the years. I know many people have their own variations, adding toasted cumin, ginger, lemon juice, and chaat masala. I do those things sometimes, depending on what the chutney is for, but I find when it comes to chutney, it's usually better to keep it simple. Often the dish that you are making the chutney for already has these other flavors and spices in it, so there is no benefit to adding it to the chutney as well.
The Secret Ingredient
I grew up using raw garlic cloves in my chutneys, but now I use granulated garlic. Why granulated garlic? Not only is it simply more convenient, but as I've grown older, I've realized raw garlic can be really harsh on my system. It gives me heartburn and digestive problems.
If I substitute granulated garlic, there is no change in flavor but no stomach upset. I also prefer granulated garlic to garlic powder. Granulated garlic has a coarser grind, and that seems to make a difference in flavor, as well as how my stomach reacts to it.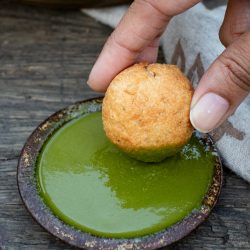 Simple Green Chutney for Chaat
This is the classic cilantro-mint chutney served with Bombay street food. With its spicy chilies and cooling cilantro, it is the perfect accompaniment to chaats, pakora, bhel, and even sandwiches.
Ingredients
½

cup

cilantro

¼

cup

mint leaves

1

green chili

such as serrano or jalapeno

½

tsp

salt

or to taste

½

tsp

granulated garlic

or 1 medium garlic clove

Water as needed
Instructions
Combine all ingredients in a blender.

Blend into a smooth paste using as little water as possible to get the blender working.
Nutrition
Calories:
5
kcal
Carbohydrates:
1
g
Protein:
0.2
g
Fat:
0.03
g
Saturated Fat:
0.01
g
Polyunsaturated Fat:
0.01
g
Monounsaturated Fat:
0.004
g
Sodium:
264
mg
Potassium:
25
mg
Fiber:
1
g
Sugar:
0.3
g
Vitamin A:
204
IU
Vitamin C:
2
mg
Calcium:
7
mg
Iron:
0.2
mg
Tips
Be careful not to add too much water. Use just enough to get it to blend. If you end up getting too much water, add a neutral-tasting nut or dal to thicken it up. I like almonds for this. Peanuts or toasted chana dal also work well but will add some of their own flavors. You can also simply add more cilantro or mint to balance out the water.
Know how spicy your chilies are before you use them. If they are too spicy for your preference, take the seeds and veins out before using them.
Variations
I prefer to use granulated garlic, but most people use a fresh garlic clove. One should do the trick.
You could also try roasting a fresh clove of garlic before using it to cook out the raw flavor
Add ginger, lemon juice, cumin seeds, chaat masala. I don't think they are needed for the main chutney because these other flavors are often part of the dish already, so I prefer to keep my chutney simple.
If you don't have enough cilantro or mint on hand, you can add avocado or peas. Avocados are also great to help thicken your chutney. Both peas and avocado give it a pleasant creaminess. Be careful with your peas though, they can be too sweet (especially in the US), so don't use too many.
Storing and Saving Chutney
This chutney can be served as soon as it is made or served cold. It refrigerates well and will last up to 5 days in the refrigerator. You can also freeze it for up to 5 months and defrost it when you are ready to serve it.