Mushrooms are an unusual ingredient in Indian cuisine. That is because most of the climate in India is arid and dry, while mushrooms need moisture to grow. Until recent times, the only mushrooms that were significant as food in India were a regional food of the Kashmiri foothills, where a type of morel mushroom grows.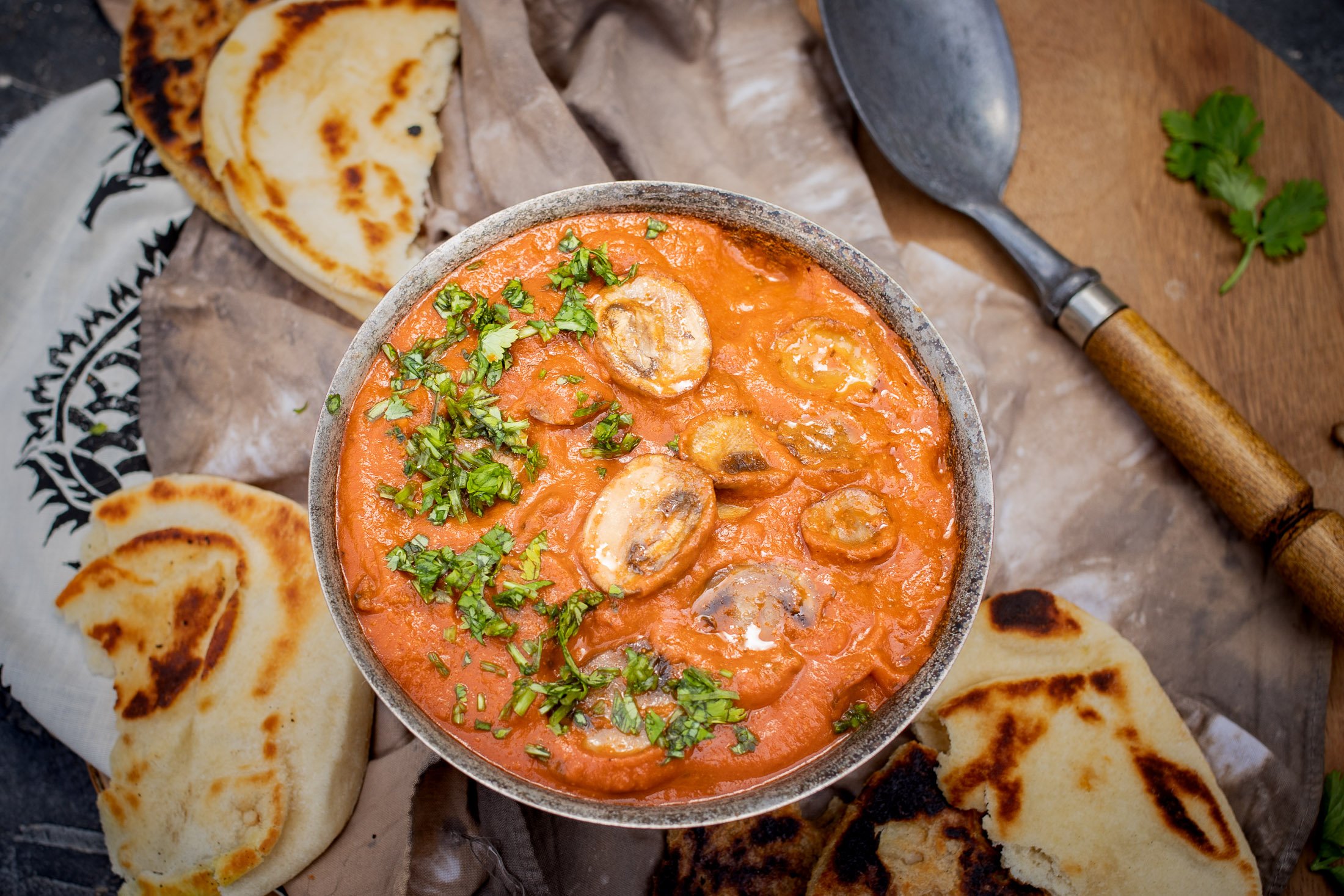 Mushrooms have started to catch on in India in recent years, as global cuisines have found their way into the country. Mushrooms are a natural fit for Indian food. Mushrooms are often used in place of meat because they provide an umami earthiness which is only found in a few sources aside from meat. A properly cooked mushroom is also like a sponge for flavor making them a great compliment for an Indian sauce.
Mushroom masala came from North-Western cooking, from Punjab and Pakistan, where Chicken tikka masala was invented. It uses essentially the same tomato-onion base, but mushrooms in place of the chicken. Today you can find Mushroom masala at many roadside stalls and restaurants in India, especially int he North-western regions.
Mushroom masala is best served with a flatbread, like naan or roti, or with rice, to soak up the rich gravy. I also like to serve it with a dry shaak accompaniment.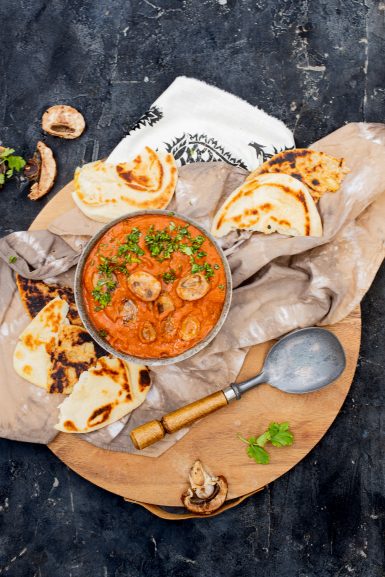 One thing I do with my recipe that many others wouldn't is I cook the mushrooms a little longer than would be typical. I dislike the texture of undercooked mushrooms. You might keep this in mind and shorten the cook time of your mushrooms if that is your preference.
Mushroom Masala
A vegetarian version of the popular chicken tikka masala, made with mushrooms in place of chicken
Ingredients
10

oz

mushrooms

1

onion

1

15 oz can of tomato puree

1

tbsp

almond flour

½

tsp

garam masala

1

tsp

Kahsmiri chili powder

or any chili powder you have

½

tsp

sugar

1

tsp

fenugreek leaves

3

tbsp

oil

divided

4

cloves of garlic

½

tbsp

ginger, grated

1

green chili

1

tbsp

lemon juice
Instructions
Heat oil. Add mushrooms to brown. Then remove them to a bowl or plate.

Heat 2 tbsp oil and add onions. Cook until brown.

Add green chilis, garlic and ginger. Cook to soften.

Add tomato puree. Cook until oil comes to the top. Add almond flour. Puree with an immersion blender or transfer to a blender.

Add water, sugar and salt to adjust consistency. Cook until oil rises to the top again.

Add the cooked mushrooms back into the pan. Simmer for 3-5 minutes to allow the flavors to develop.

Add lemon juice, chili powder, and fenugreek leaves. Garnish with cilantro and serve.
Nutrition
Calories:
143
kcal
Carbohydrates:
8
g
Protein:
3
g
Fat:
12
g
Saturated Fat:
1
g
Polyunsaturated Fat:
3
g
Monounsaturated Fat:
7
g
Trans Fat:
1
g
Sodium:
51
mg
Potassium:
296
mg
Fiber:
2
g
Sugar:
4
g
Vitamin A:
151
IU
Vitamin C:
7
mg
Calcium:
20
mg
Iron:
1
mg