Mushroom biryani is an easy, one-pot vegetarian meal, perfect for a weekday dinner. A well-made biryani is fragrant and spicy. The balance of flavors and various textures make for a satisfying meal. This version uses mushrooms to obtain the texture and umami balance of traditional biryani.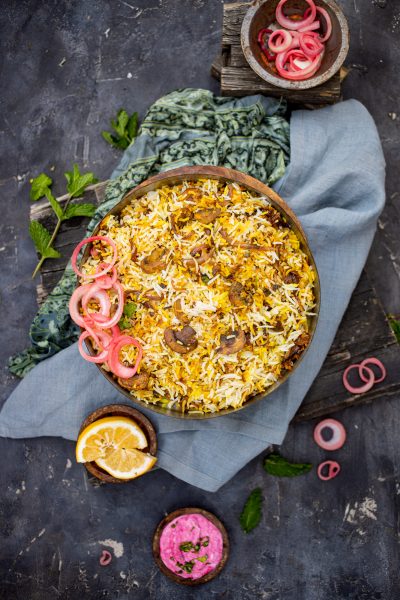 For the most part, mushroom have not historically been a part of Indian food. The one exception is morel mushrooms found in Kashmir. That started to change in the 1990s, when mushrooms started to appear in local markets. Mushrooms are a great addition to biryani since most biryanis are meat based, mutton or chicken. But so many Indians are vegetarian.
With its layered appearance, biryani is also a dish that has a very high presentation value. Most vegetable biryanis don't achieve this as well as meat versions, except mushrooms, which sub in quite well. Mushrooms also hit the umami taste buds, imparting an earthiness, which few ingredients aside from meat can do.
Biryani has a long history in India. It mostly likely came from the Moghuls, but some historians believe it may have preceded the Moghuls in India. If that is the case, they took it as their own cuisine after settling in India. Today, it is most commonly associated with South India, but is eaten all over the subcontinent, and similar dishes are found in other countries like Malaysia and Iraq.
It is hard to define the difference between pulao and biryani. The concept of biryani is to layer rice and meat and steam all the flavors together. Biryani tends to have more of a gravy than pulao, and is cooked longer so that the flavors steam together in a more integrated way.
The nice thing about this dish is that it is made in a single pot, and it doesn't require a lot of side dishes, although it is typically served with raita. Raita is there to provide cooling relief if you decide to create it with the full heat it is traditionally served with.
Mushroom Biryani
A vegetarian version of classic biryani
Ingredients
10

oz

mushrooms

in about 1/4 inch slices

1 ½

cups

Basmati Rice

rinsed at least 3 times

4

Tbsp

ghee

separated (or vegetable oil)

1

tsp

salt

separated

½

tsp

turmeric

separated

¾

cup

yogurt

3

tsp

garam masala

separated

1

tsp

chili powder

4

garlic cloves

minced or grated

½

Tbsp

ginger

grated

1

onion

sliced pole to pole

1 ½

Tbsp

mint

chopped

1 ½

Tbsp

cilantro

chopped
Instructions
Rice:
In a medium sized pot toss in the rinsed rice add 2 1/2 cups of water, 1/2 tsp of salt and 2 tsp of ghee.

Bring to a boil on high heat, cover and lower heat to lowest setting immediately. Cook for 8 minutes. The rice will be mostly cooked but not all the way.

Take out 1/2 cup of the par-cooked rice in a bowl. Add 1/4 tsp turmeric and 1 tbsp of water and mix. This will make the pretty yellow rice.

Fluff par cooked rice with a fork and turn out onto a plate.
Mushrooms:
While the rice is cooking, heat 1 tsp ghee in a saute pan and toss in the mushrooms. Add 1/4 tsp salt.

Turn the heat on high.

Cook the mushrooms, stirring a few times, until nice and golden brown. The mushrooms will shrink a lot.

Add 1/2 tsp garam masala cook for 1 minute and turn off heat.
Yogurt marinade:
In a small bowl, toss in the yogurt, 1 tbsp of water, 1 1/2 tsp of garam masala, 1/4 tsp turmeric, 1/2 tsp chili powder, 1/4 tsp salt, the garlic and the ginger. Mix.

**This not technically a marinade because I don't even leave the mushrooms in it for more than 15 minutes. But I add the mushrooms while they're still hot in hopes that they will absorb more flavor. It'll work either way.

Toss the hot mushrooms into the yogurt mixture.
Fried Onions:
In the same pan that the mushrooms were cooked, heat 1 tbsp of ghee.

Cook the onion slices on medium high heat until deeply browned.

Top the biryani with the fried onion slices and serve.
Assembly:
In the same pot that the rice was cooked, add 1 tbsp of water, 1 tbsp of ghee and 1 tbsp of yogurt. Whisk it together with a fork. This should coat most of the bottom layer of the pot. If it doesn't, add 1 more tbsp of water.

Now, layer a third of the par-cooked white rice on top of this water, ghee and yogurt later.

Layer half of the mushroom yogurt mixture on top of the rice layer. Spread it around.

Layer a second third of the rice on top, followed by another layer of mushrooms.

Then layer the last third of the white rice.

Top with the 1/2 cup of yellow rice.

Drizzle 2 tbsp of water and remaining ghee over the layers.

Cover and put the pot back on the stove over high heat for 30 seconds. Lower heat to the lowest setting and let cook for 15 minutes.
Nutrition
Calories:
304
kcal
Carbohydrates:
43
g
Protein:
6
g
Fat:
12
g
Saturated Fat:
7
g
Polyunsaturated Fat:
1
g
Monounsaturated Fat:
3
g
Cholesterol:
30
mg
Sodium:
413
mg
Potassium:
299
mg
Fiber:
2
g
Sugar:
3
g
Vitamin A:
130
IU
Vitamin C:
3
mg
Calcium:
61
mg
Iron:
1
mg