Chicken Tikka Biryani fuses two popular Indian dishes, chicken tikka, and biryani. I love the taste of tikka masala seeping into basmati rice. With this recipe, those flavors are combined into one beautiful dish, sure to impress your family and guests.
What is Chicken Tikka Biryani?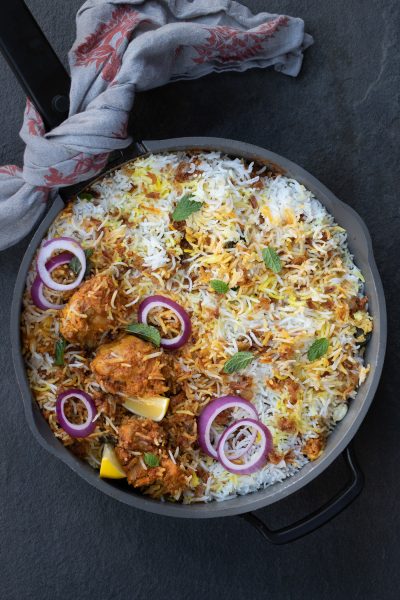 Chicken Tikka is a classic, moghul dish where chicken is marinated in a spicy yogurt sauce and cooked on skewers. When chicken tikka is added to a creamy tomato sauce it is called chicken tikka masala. Masala literally means "spice" in Hindi, but describing dish as a masala often refers to having a spiced gravy.
Chicken Tikka Masala is a more much more modern dish, possibly invented as recently as the 1960s by Bangladeshi immigrants in Great Britain.
Biryani is a much beloved dish of India. In a biryani, ingredients are cooked separately and then compiled into layers before being steamed together. The steaming helps meld the flavors and brings out the dish's fragrance. See my mushroom biryani for another example of this technique.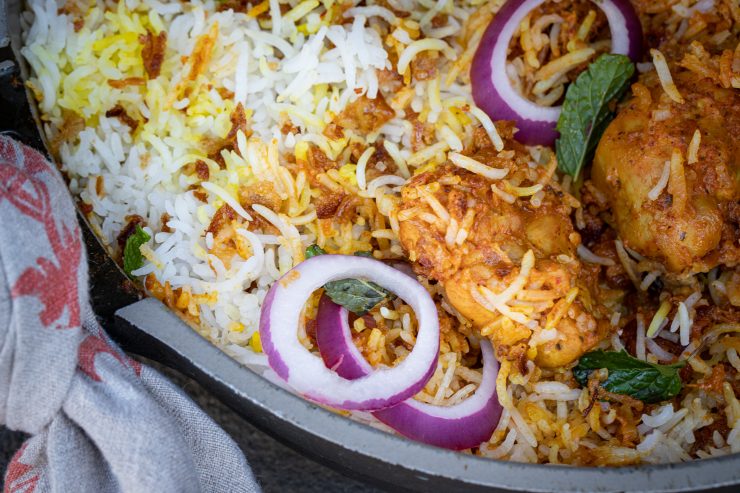 Chicken Tikka Biryani is a completely modern dish that brings together these classics for a dish that is exciting, warm, spicy, fragrant and just altogether delicious.
Traditional biryani gravy is also yogurt based, but the chicken is cooked in the gravy and then layered. With a chicken tikka masala it is grilled or broiled prior to being mixed into the tomato and yogurt gravy.
About This Recipe
I tested a lot of variations of this recipe, aiming for something that was as easy as possible without sacrificing flavor. Since ingredients are cooked separately, biryani can sometimes become overwhelming when you have to watch so many different pots.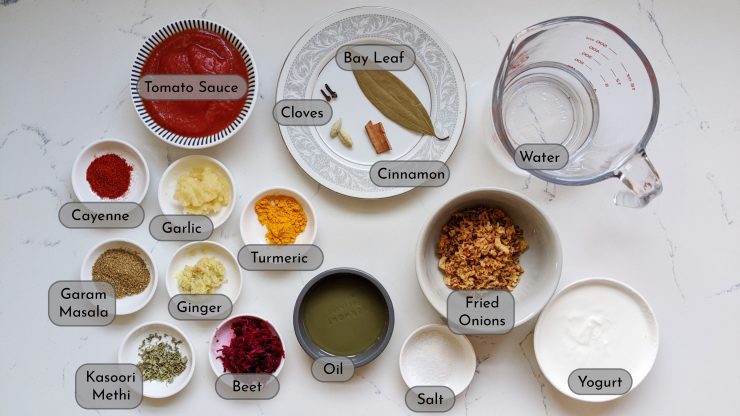 I tested it with chicken that I cooked in the broiler, and chicken that I cooked on the stove. I prefer the broiler because it gave it the right texture for grilled chicken. And it didn't require a lot of attention, making things much easier. Cooking it on the stovetop or baking it worked as well, if you prefer to do it that way your dish will not suffer for it.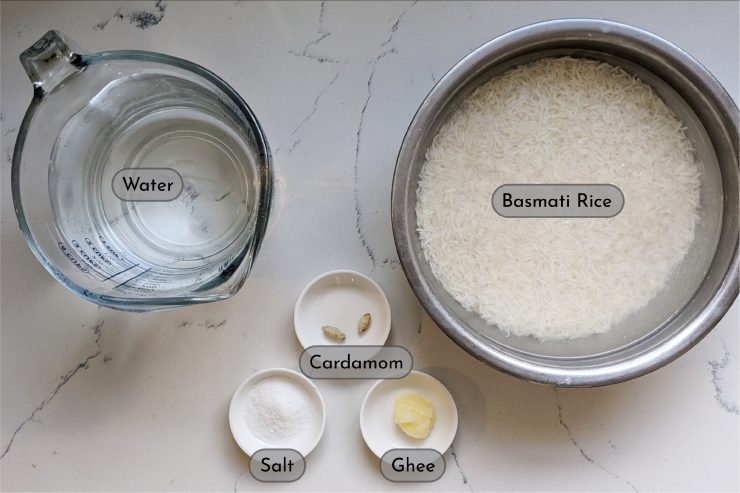 Getting the gravy right took a some trial and error. It is important for the gravy to be very thick so when it is added to the rice, the rice doesn't become too watery.
I'm also using one of my favorite tricks of store-bought fried onions. I tried it with both store-bought and onions I fried myself. There is a slight difference to the flavor, but I didn't have a flavor preference for either version. For that reason, the store-bought grilled onions are a fabulous time-saver.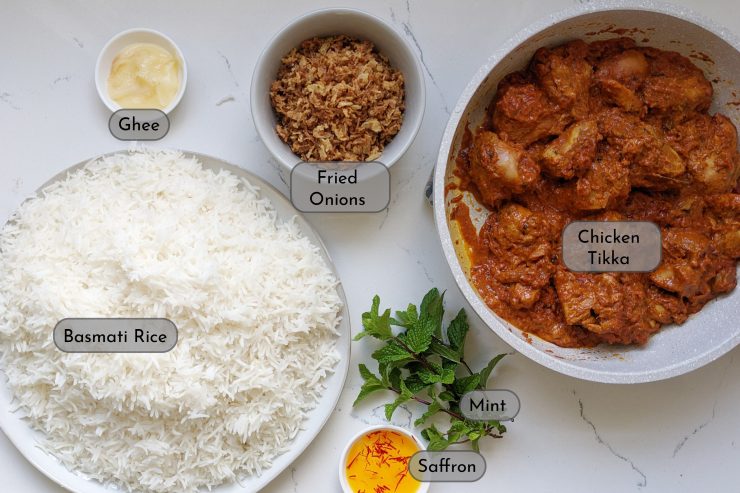 Variations
This recipe is relatively mild. For a spicier version, use more garam masala up to 1 tablespoon. And you can use a full teaspoon of cayenne pepper.
You can use chicken tikka masala spice mix in place of garam masala if you have it. Chicken tikka masala spice mix is commonly sold in a small box at Indian stores.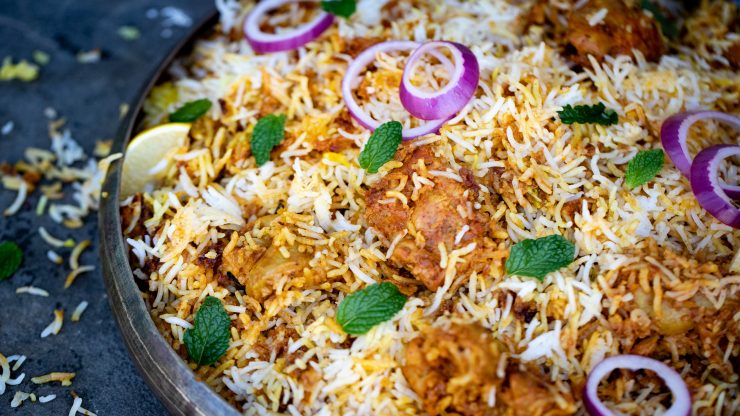 Video
Recipe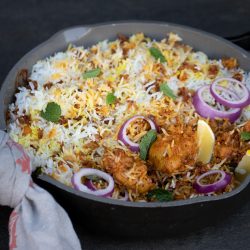 The Best Chicken Tikka Biryani
Chicken Tikka Biryani fuses two popular Indian dishes, chicken tikka, and biryani. The flavors of chicken tikka are combined with fragrant basmati rice, into one beautiful dish. Chicken Tikka Biryani is sure to impress your family and guests.
Ingredients
1

pound

chicken – cut into 2″ Chunks

⅛

tsp

saffron

optional

¼

cup

Mint leaves

2

Tbsp

ghee

separated

½

cup

fried onions

homemade or store bought
Marinade
¼

cup

Greek yogurt

½

tsp

cayenne pepper

½

tsp

kasoor methi

powdered or crushed with a mortar and pestle

1

tsp

garam masala

1

tsp

grated garlic / garlic paste

1

tsp

grated ginger / ginger paste

½

tsp

salt

1

Tbsp

lemon juice

2

Tbsp

grated beet or few drops of red food coloring

optional
Tikka Masala
2

Tbsp

Oil

1

Bay leaf

1

one inch piece of cinnamon

2

green cardamom pods

2

Cloves

1

Tbsp

garlic paste or grated garlic

1

tsp

ginger paste

or grated ginger

½

cup

tomato sauce

½

cup

yogurt

whisked well

1.5

tsp

garam masala

½

tsp

turmeric

½

tsp

red chili powder

1

Tbsp

grated beet or a few drops of red food coloring

optional

¼

cup

fried onion

½

cup

water

½

tsp

kasoori methi
Parcooked Rice
2

cups

aged long-grain basmati rice

½

tsp

salt

or to taste

1

tsp

ghee

2

green cardamom pods
Instructions
Marinade the Chicken
In a large bowl, mix all the marinate ingredients together.

Add the chicken pieces and ensure that each piece is well coated in the marinade.

Marinade the chicken in the refrigeration for at least 30 minutes and upto 12 hours. The longer you marinade, the better the flavor and texture.
Make the Tikka Masala
In a pan, heat oil on medium heat. When it shimmers, add the bay leaf, cloves, cardamon, and cinnamon. Then add the turmeric, ginger and garlic. Stir and let cook for about 20 to 30 seconds.

Add the tomato sauce and cook until the oil separates and rises to the top, about 5 minutes. You are looking for little puddles of oil floating on top of the tomato sauce.

Whisk the yogurt with a fork or a whisk and add it to the pan along with the red chili powder, grated beet (or food coloring), garam masala, and fried onions. Mix well. Cook for about 2 minutes.

Add 1/2 cup of water. Cook for about 5 more minutes until the oil rises to the top.

Add the broiled chicken to the masala and let cook for 5 more minutes.
Bloom the Saffron
Bloom saffron in a small bowl by adding 2 ice cubes to the saffron or add 2 Tbsp of hot milk.
Make the Rice
Rinse the rice until the water runs clear (at least three times) and soak in 4 cups of water for 20 to 30 minutes. Drain.

In a large saucepan, bring 4 cups of water to a boil. Add salt, cardamom pods, and ghee. Wait until the water is at a rolling boil before adding the rice. Add the soaked rice and immediately set a timer for 7 minutes. This will cook the rice to about 80% to 90% done. You can test this by taking a grain of rice and pressing down on it. The sides should mush but the center should break.

Immediately drain the rice using a colander or large strainer and gently transfer the rice to a plate or sheet pan. Spread it out as much as possible with a fork to prevent clumping and allow to cool.
Cook the Chicken
Set the oven to broil and preheat for 10 minutes.

Transfer the marinated chicken cubes to a baking tray. You can optionally use skewers.

Broil for 5 to 6 minutes until the chicken is cooked through
Assembly and Final Steaming
Assembly for the final steaming (dum)

In a heavy bottomed pot with a lid (I like to use my Dutch oven), add 1 tsp of ghee and 1 Tbsp of water. Mix and swirl that around with a spoon to ensure the mixture is evenly distributed around the buttom of the pan.

Layer the biryani. The number of layers are up to you. For this one, I started with half the rice, then layer all of the chicken tikka masala, about half the mint leaves, half the onions. Then add the remaining rice. Drizzle the bloomed saffron water (or milk) and the ghee. Add the remaining onions and mint leaves.

Cover the pot tightly with foil, then add the lid for a tight seal that will hold all the steam in.

For a gas stove, heat the pot on high for two minutes then lower the heat to medium-low for 15 minutes. On an electric stove, heat the pot for 20 minutes under medium heat.

Serve immediately.
Notes
Substitute paprika or Kashmiri chili powder for cayenne if you prefer a less spicy version.
Nutrition
Calories:
362
kcal
Carbohydrates:
43
g
Protein:
17
g
Fat:
13
g
Saturated Fat:
5
g
Polyunsaturated Fat:
2
g
Monounsaturated Fat:
4
g
Trans Fat:
0.02
g
Cholesterol:
50
mg
Sodium:
489
mg
Potassium:
374
mg
Fiber:
2
g
Sugar:
2
g
Vitamin A:
250
IU
Vitamin C:
3
mg
Calcium:
59
mg
Iron:
1
mg
How to Store and Reheat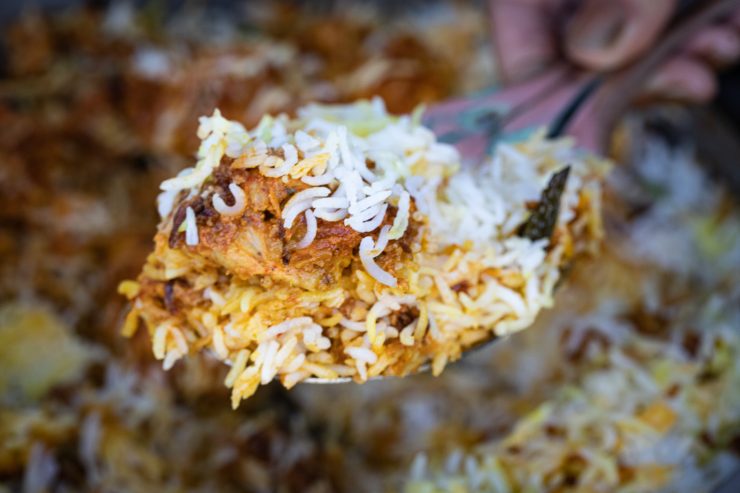 Whenever I make biryani, I intentionally make too much so I can eat it for lunch or dinner the next day. Leftovers store well in the fridge for 3-4 days. You can reheat it on the stovetop or microwave. You should sprinkle a little water on top to refluff the rice when reheating.
Cooking Tips:
You can prep the chicken the day before if you want. Just make sure to warm it up before adding it to the rice for the final steaming.
Make sure the gravy is thick enough. If there is too much liquid in it it will make your rice watery when you layer it.
Cook the rice to the right amount. The first time you cook the rice, it should be slightly undercooked. Set a timer. After you layer the ingredients, you will cook it some more, and that is when it should become the right texture, soft but not mushy.
Onions: fry your own, slice them really thin pole to pole and fry in hot oil. I've been using store-bought for biryanis and I love them. They work well and taste pretty close to home-fried onions (not exactly, but close enough).
I use beet for coloring because chicken tikka is traditionally very red and I don't like to use artificial food coloring. Use food coloring if you prefer.
To make this dairy-free, you can try swapping yogurt for cashew yogurt. Add about one teaspoon of lemon juice to the marinade to make up for the lack of acidity. Also, use equal parts oil in place of ghee.
Serving Tips:
Biryani is best served hot. At restaurants it will sometimes be mixed tableside, which causes the steam to release in a dramatic show.
Serve with raita and pickled onion. A simple cucumber-mint raita goes perfectly, or for something colorful and different, try beet raita.
Serve this as a special meal or as a potluck item. It takes a little more effort than your everyday weeknight meal, but it definitely has high presentation appeal.