One of my favorite Indian desserts is Malpuda with Rabri and it is perfect for the big Diwali dinner. When I was a kid living in India, I always wanted to bake cakes for desserts. That was a challenge because we didn't have an oven. My mom used to borrow an old-fashioned baking contraption from a friend that involved a bundt pan with a a little detachable compartment for sand at the bottom.
It was my job to go find some sand to fill it with (sometimes I ended up collecting dry gravel and dirt scraped from the empty lot next to ours). Once assembled and filled with sand we could put it on the stove and it would bake a pretty decent cake.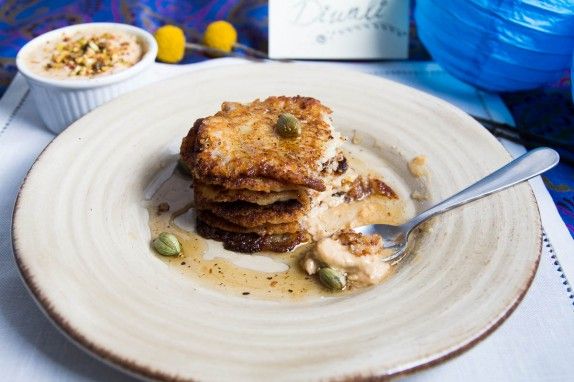 One year, I saw a TV chef make malpuda and thought I'd try it. It took a lot of time, but I fell in love with the sweet delicacy. It was the first time I ever made an Indian dessert on my own!
Malpuda are little pancakes soaked in syrup. They can be either served on their own or with a reduced milk concoction called rabri. I made some as one of our desserts for Diwali this year.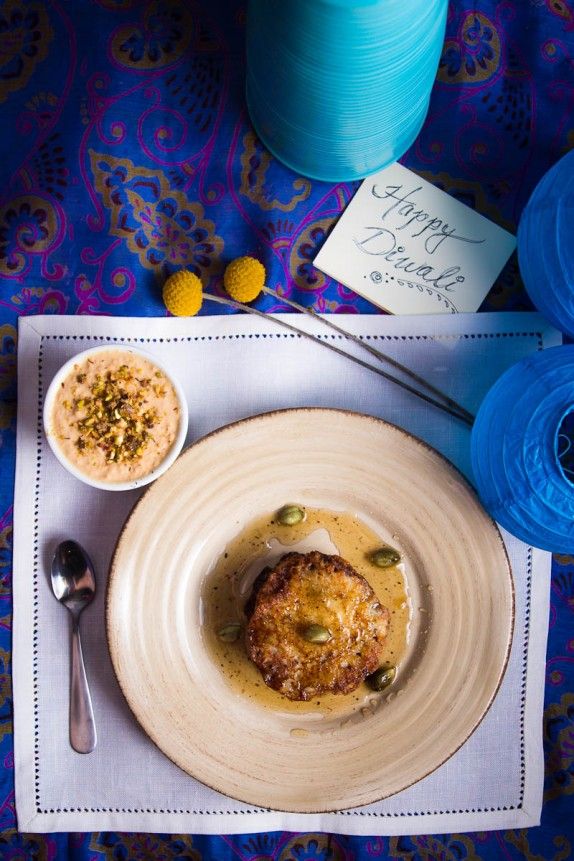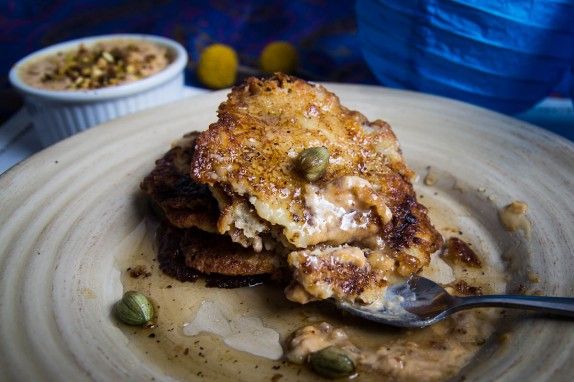 Ricotta Pancakes (Malpuda)
For Malpuda
Ingredients
1 cup All Purpose Flour
2 tbsp Semolina
1/2 tsp Baking Powder
3 cups Ricotta Cheese
1 1/2 cups whole milk
Ghee or Oil for frying
Instructions
In a large bowl, stir together the flour, semolina and the baking powder.
Mix in the ricotta and milk. It should be pancake batter consistency.
Heat a frying pan with 2 teaspoons of oil or ghee.
Using a tablespoon measure, fry spoonfuls of batter to make small pancakes.
Cook on both sides till golden brown. Drain on paper towels.
For Sugar Syrup
Ingredients
3 cups water
1 1/2 cups sugar
1 tsp cardamom (whole pods or powdered)
1 pinch saffron
Instructions
Boil sugar and water together until the syrup thickens and coats the back of a wooden spoon. About 15 minutes.
Soak the malpuda in the syrup for about 30 seconds to 1 minutes and drain on a cooling rack.
Serve with Rabri.
Condensed Milk (Rabri)
Ingredients
4 cups whole milk
1/4 cup sugar (add more if you want it sweeter)
1 pinch saffron or 1 tsp vanilla
1 tbsp chopped pistachios or almonds for garnish
Instructions
Pour the milk into a heavy bottomed sauce pan (I always use my enameled cast-iron) bring to a boil on high heat stirring frequently.
Lower the heat to medium low and cook until milk has reduced to about half (about 2.5 cups). This should take about 2 to 3 hours.
Be sure to stir every 5-10 minutes so the milk does not burn.
Stir in sugar and saffron.
Serve with Malpuda and garnish with chopped pistachios.