Gulab Jamun, or "Gulab Jambu" as I am used to calling them, are a ubiquitous sweet at Indian get-togethers. They are so common you would be hard-pressed to find an Indian restaurant that does not feature them on the dessert menu. For those who have not had them before, I describe them as "Indian donut holes soaked in sugar syrup."
Gulab Jamun are made by creating a sweet dough that is softened with milk solids, forming little balls and deep frying them. The fried balls are then soaked in a sweet syrup that is flavored with cardamom and often rose water and saffron.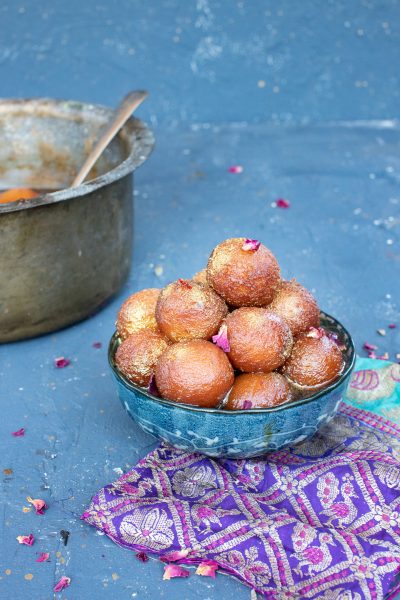 I am not a huge fan of rose flavor, so I often leave the rose out.
Experiments
Since I wanted to get this perfect for Indiaphile, I tried a few variations.
Simple milk powder version
Rava version
Mascarpone Version
Mascarpone and Rava version
Milk in place of cream
Traditionally, gulab jamun would be made with mawa, which is milk solids that are cooked out of milk by reducing it over a low flame for a very long time. Everyone I know uses milk powder instead of mawa. The difference between mawa and milk powder is that the process of cooking down the mawa also caramalizes it some.
I find mascarpone cheese is a good substitute for mawa, if I need it to be very dry, I cook out some of the liquid before I use it, and I might brown it to give it some of the traditional caramelization.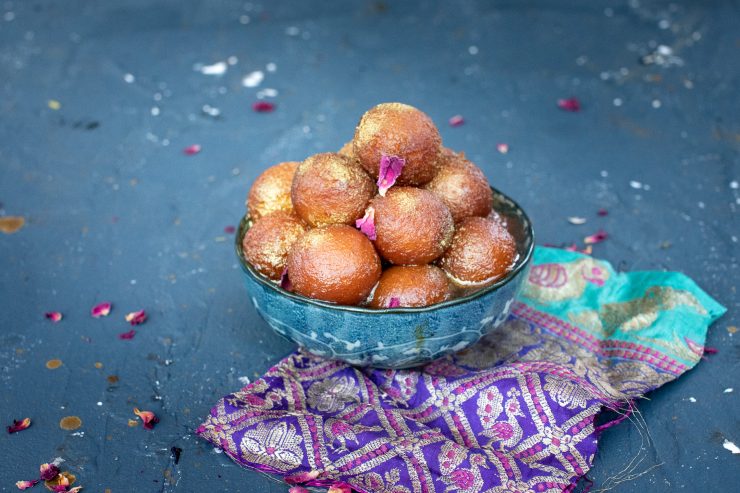 Rava is another ingredient I considered. It's a type of flour that is roughly ground and gives whatever it is used in a little variation on texture.
Finally, I tried using milk in place of cream for the dough. It wasn't terrible, but it just didn't have the right mouthfeel. Gulab Jamun is such a familiar treat, even this small variation was just noticeably wrong.
In the end, I found my attempts to improve on gulab jamun to be not worth the effort. The mascarpone gave it a very slight extra creaminess. And the rava gave it some texture. But neither variation seemed like an improvement.
Tips for Perfect Gulab Jamun
Temperature of the oil. 325° F; THat is a low medium because you need to make sure it cooks all the way through without burning. If it's a little too cool, it should still work out well because you will just make up for it by frying longer.
If the temperature is much too cold it will absorb oil and become too greasy
Sugar syrup should be still warm when you put the gulab jamun in so it absorbs well. It should not be boiling temperature, allow to cool about 8 minutes (see recipe for temperature). If it is too hot, it could dissolve your gulab jamun.
A lot of people use cardamom pods in the syrup. I recommend against that. You don't get the flavor from the pods. You get so much more flavor using powder. With pods, open them and crush them. Freshly ground is always best particularly with cardamom. (I tested both, so much better with powder)
You can use a high heat oil, such as avocado oil, to fry your gulab jamun. Just add a few tablespoons of ghee so you do not miss out on the flavor!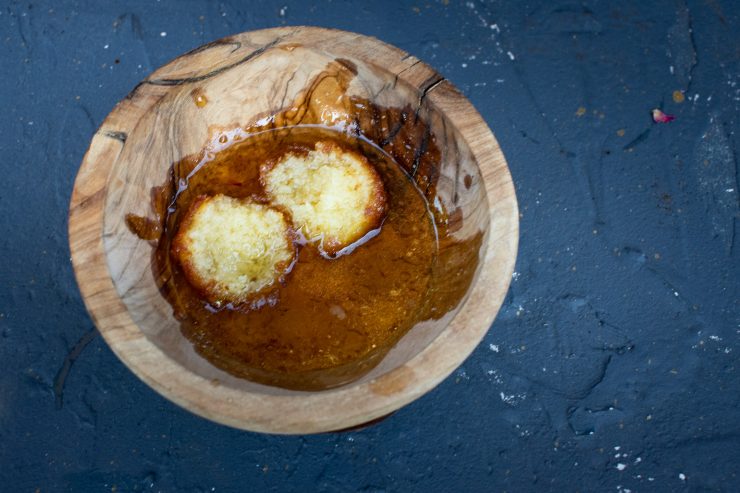 Variations of Gulab Jamun
Rose water – gulab jamun; used because you want the syrup to be clear. You could also add rose petals instead because the flavor will come out as you boil the syrup. Rose petals are a great garnish for Indian sweets.
Rose is a much more popular ingredient in many muslim inspired dishes. (Probably comes from Persia). Even the halwa from the Pakistani lady had rose in it, but we never would. At sara's wedding a lot of the sweets had rose in it.
Gulkandh – I don't know where it comes from. It's a fermented rose-petal jam. Organic rose petals, sugar, put on a sunny windowsill for a couple of weeks. Commonly used throughout India, major ingredient in sweet paan.
Rose syrup: also much in the culture. Rooh (soul) afsa (rose?) look it up. Sounds like comes from arabic or persia (is an urdu name). Was a regular thing as a kid in the 90s, someone might serve you a glass of rose sherbert or rose milk. Rose syrup mixed with ice water or milk. We drank it because we hated plain milk.
For something different that has the essence and flavor of gulab jamun, try these Gulab Jamun Cake and Gulab Jamun Cheesecake recipes.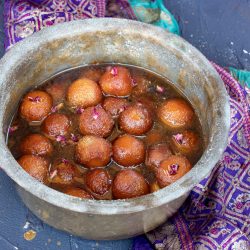 Gulab Jamun
The traditional sweet, gulab jamun, soaked in cardamom and rose flavored syrup
Ingredients
For the Dough
1

cup

milk powder

⅓

cup

All Purpose flour

½

tsp

baking powder

¼

tsp

salt

1

Tbsp

ghee

10

Tbsp

heavy cream

1/2 cup + 2 Tbsp
For the Frying Oil
3

cups

oil

or just use ghee

4

Tbsp

ghee
For the Syrup
1

cup

water

½

tsp

cardamom powder

1

cup

sugar

Pinch

of saffron

Rose water
Instructions
Combine flour, salt and baking powder in a large bowl.

Add ghee and mix well.

Add milk powder.

Slowly add cream to form a dough.

Let rest, covered, for 20 minutes.

Form balls with the dough. 1/2 tablespoon scoop will give a good size.

Deep fry the balls in hot ghee, or ghee and vegetable oil mixture. The oil should be around 325° F.

Allow the balls to cool. Make the syrup by combining water and sugar and heating to a boil. Add cardamom, saffron and water.

Remove from head and allow it to cool slightly. Add the gulab jamun balls to the syrup and let it soak for at least 10 minutes before serving.
Nutrition
Calories:
321
kcal
Carbohydrates:
11
g
Protein:
2
g
Fat:
31
g
Saturated Fat:
6
g
Polyunsaturated Fat:
7
g
Monounsaturated Fat:
17
g
Trans Fat:
0.1
g
Cholesterol:
18
mg
Sodium:
41
mg
Potassium:
78
mg
Fiber:
0.1
g
Sugar:
9
g
Vitamin A:
126
IU
Vitamin C:
0.4
mg
Calcium:
51
mg
Iron:
0.1
mg