This is a really easy way to make rose syrup without needing to get your hands on food-grade roses or dried rose petals. All you need for this recipe is some sugar, rose water that you can get from an Indian store or supermarket, and, optionally, a beet for color.
It is also a more consistent product because you can tell from the rose water how concentrated the flavor will be. Rose syrup is used a lot in India. It is used to flavor many things like candies, and desserts like gulab jamun, sweet paan, and sharbat. It can be mixed with cold water or milk, traditionally, and also makes a great cocktail.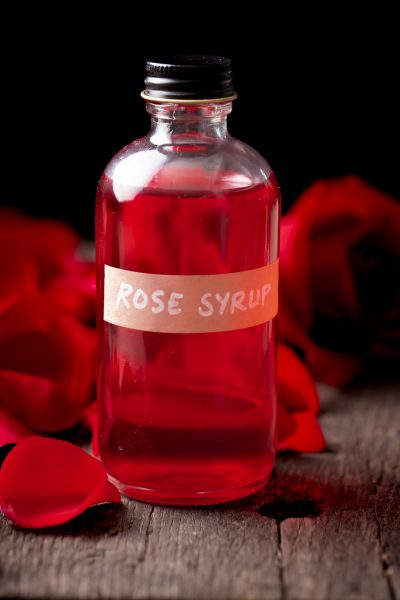 A taste of rose syrup always reminds me of when I would leave boarding school with my family for the summer. We would stop at a little market called "Mapro" that sold jellies and syrups, and, among other items, we would load up on rose syrup for the year. You can buy rose syrup all over India, but Maypro's was the best.
Use for:
Water or Milk + ice for sharbat
Add to tea for a floral, rose-flavored tea
Sparkling water
Champagne for a Rose Mimosa
Bake with it: add a few tablespoons to vanilla cake batter to make a rose cake; or to cookie batter.
Describe the Testing Process
Quantities of Beet: I use beet to get a pleasant color. It took some trial and error to get the right color. At first, I tried 1 tablespoon of beet for the mixture, and it was way too dark for what I was going for. This experiment did show me that even with 1 tablespoon, which gave a very deep color, there was still no beet flavor to worry about.
Diluting the rose water

This recipe is 1:1 rose water and sugar, which creates a very concentrated rose flavor. You only need a little bit, no more than a tablespoon, to flavor a glass of milk, water, or sparkling wine to get the vibrant, floral rose flavor.
You can easily dilute the rose water by adding equal parts of rose water and plain water before boiling everything together. I prefer the more concentrated form because I can always add a splash of water to whatever I am making with it.

Dried rose petals instead of rose syrup

It is hard to get a consistent flavor with rose petals since they can lose flavor over time or have inconsistencies between brands. The biggest problem for me was that they created a very brown color that could not be fixed by adding beets or food coloring. That does not provide the appetizing appearance that I want.
 Ingredients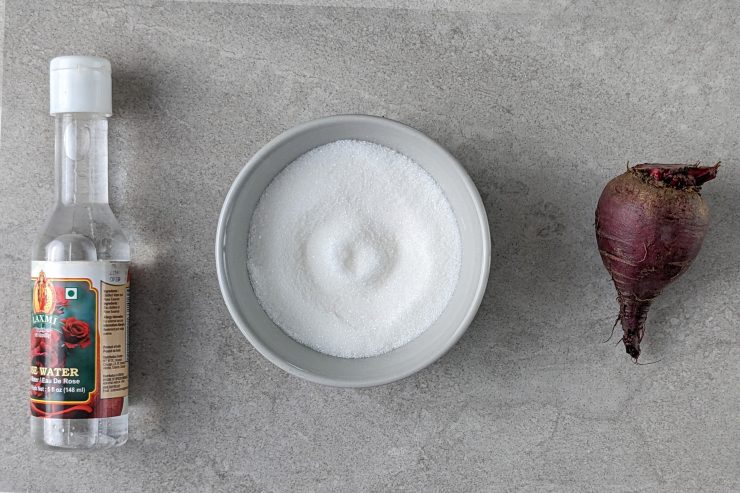 Rose water – a product made by distilling petals in water. It originated in Persia and is commonly found in India. It is easily found in Indian grocery stores and many supermarkets. I am using it in this recipe because I found it difficult to get ahold of food-grade rose petals and I needed something I could more easily acquire that would give me the same flavor. Rose water is completely clear in color and does not create the unpleasant brown liquid that a rose syrup made from dried petals would have.
Sugar – this is a flavored simple syrup recipe, and sugar is the sweetener. To maintain the color and clean flavor, use refined sugar
Grated beet – I use shredded beet whenever I need red food coloring because I do not like to add chemicals to food. I use it in many foods traditionally containing red food coloring, like chicken tikka biryani and tandoori chicken. Here it works perfectly.
Variations
Rooh Afza is a brand of rose sharbat syrup that has additional ingredients that add complexity. You can make something similar by adding:

Mint leaves (1 tablespoon)
Cardamom (1-2 pods)
black pepper (1 teaspoon)

Add rose petals, fresh or dried, as your syrup is cooling to have some floating around. Mapro rose syrup always had rose petals floating around in it.
Alternate Methods
Use fresh rose petals

You can make rose syrup by boiling rose petals in water and allowing them to steep overnight. If you do that, you must use rose petals that are either homegrown organically or food-grade if purchased. Do not use roses meant for floral arrangements. You can't remove the pesticides from non-food-grade rose petals, and the pesticides they use on those plants are very toxic and not meant to be consumed by people.

Use dried rose petals

3 tablespoons of dried rose petals in 2 cups of water, similar to how I made these rose creme brulee (except that was with cream instead of water).
I dislike this method, because the color does not look very nice. It becomes a muddy brown color. Adding red food coloring or beet juice to that only makes it muddier and darker.
Storing
This is most likely shelf stable, but keep it in the refrigerator to be safe for up to 30 days. Any longer than 30 days and you may start to lose some of the rose essence and could start to get moldy. It can be frozen for 6 months or even longer.
Rose Syrup
A rose flavored simple syrup made from rose water.
Ingredients
⅓

cup

sugar

⅓

cup

rose water

1

tsp

grated beet

optional, for color

⅓

cup

water

optional
Instructions
Combine all ingredients in a saucepan.

Bring to a boil. As soon as it boils, remove from heat and allow to cool.
Nutrition
Calories:
32
kcal
Carbohydrates:
8
g
Fat:
0.03
g
Sodium:
1
mg
Potassium:
0.2
mg
Sugar:
8
g
Calcium:
0.4
mg
Iron:
0.004
mg