Celebrating the New Year with Rhubarb Jalebi in Cardamom Syrup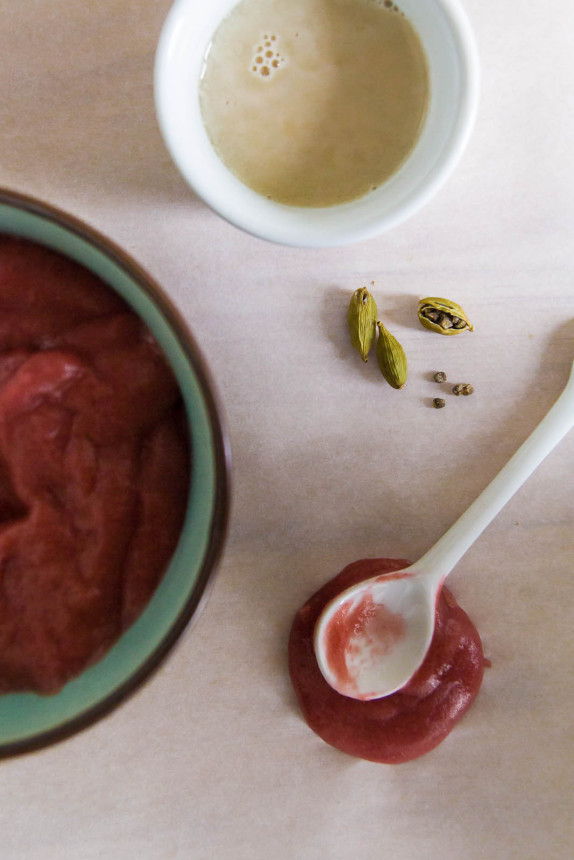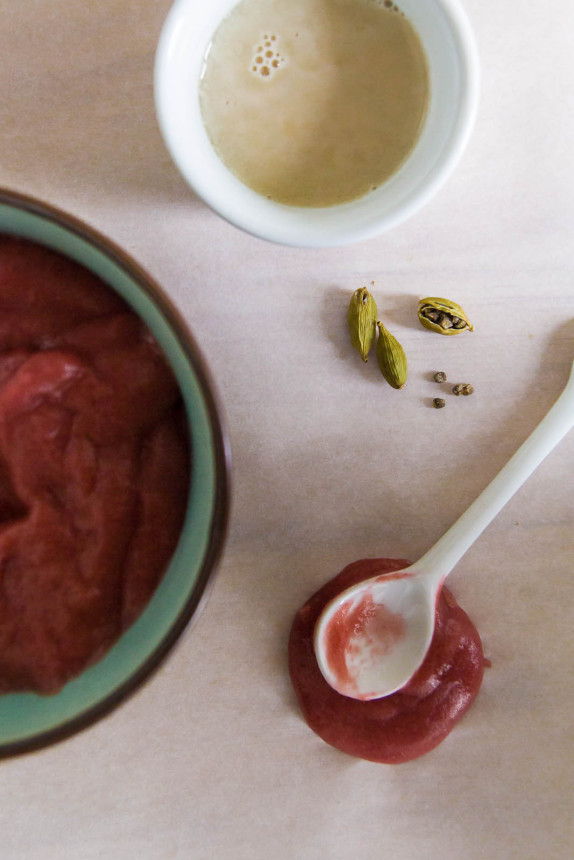 For me, jalebi is one sweet that instantly triggers deep feelings of nostalgia. I grew up always eating them to celebrate our parents wedding anniversary. Steve and I had some delicious apple jalebi for my birthday one year at Rasika in Washington DC. We also served jalebi at our Mehndi Party (a pre-wedding celebration where the bride along with other female family members get henna tattoos painted onto their hands and feet). Jalebi always remind me of happy times.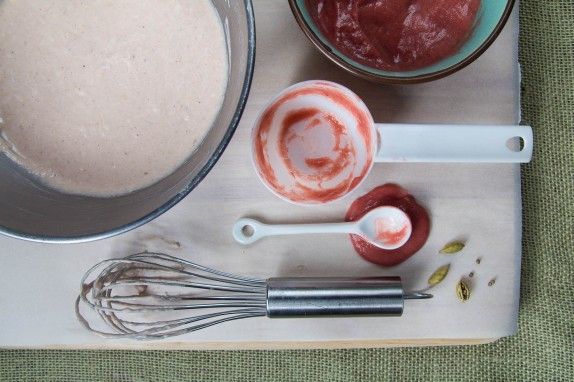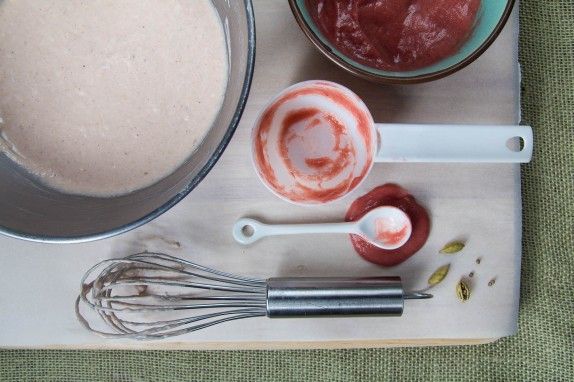 I wanted to start 2013 with something sweet to ensure it turns out to be a good year for us. So I decided to make some jalebi. But I wanted to make them a little different. I had frozen some fresh rhubarb stalks a few months ago and thought they would be a great addition to my jalebi. The sweet and sour combination of the rhubarb jalebi is really delicious!
I fried them in oil to keep them vegan but you can use ghee for a more authentic, buttery flavor.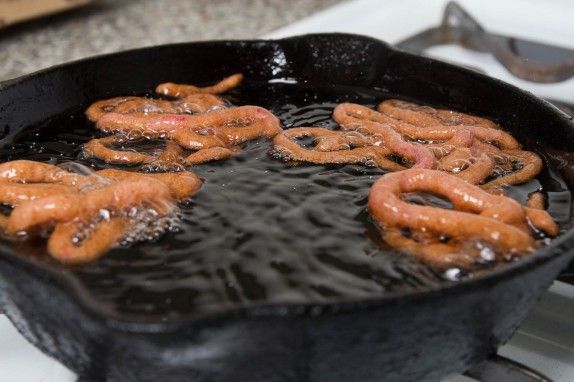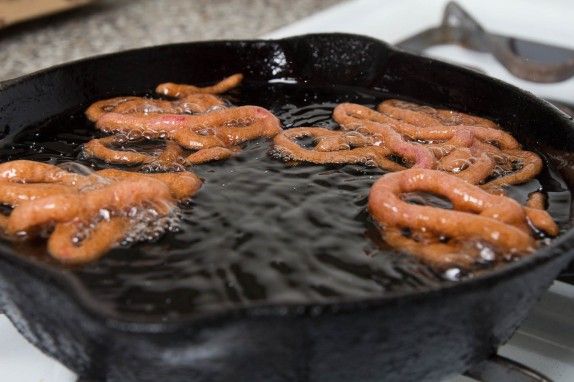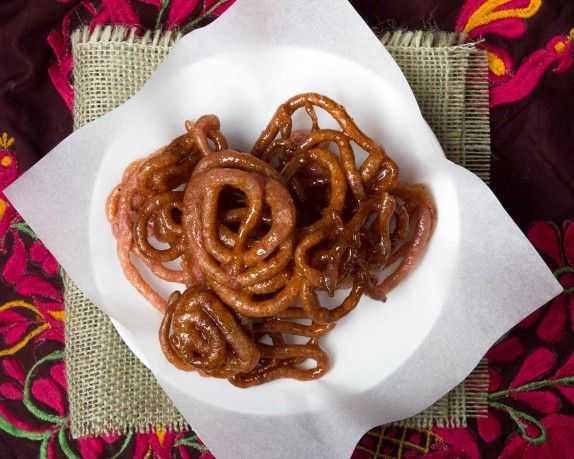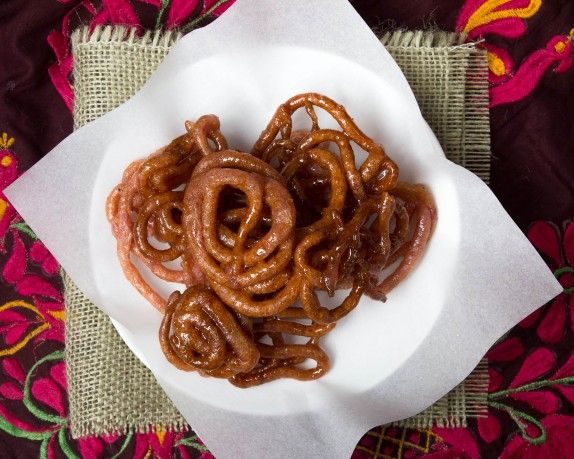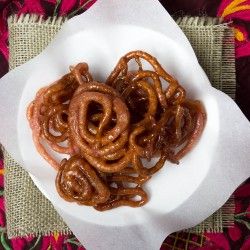 Ingredients
For the Rhubarb Puree
3

stalks Rhubarb

sliced into 1 inch pieces (fresh or frozen)

1

tbsp

sugar

1/2

cup

water
For the Cardamom Syrup
1 1/2

cups

sugar

3/4

cup

water

1/4

tsp

ground cardamom
For the Jalebi
1

cup

AP flour

1/4

tsp

ground cardamom

1/2

cup

Rhubarb puree

1/2

cup

water

pinch

of salt

1/2

tsp

yeast

1/4

tsp

sugar

2

tbsp

warm water

1 1/2

cups

sugar

3/4

cup

water

3

cups

oil

for frying
Instructions
Rhubarb Puree
Toss the rhubarb, sugar and water into a saucepan over medium heat.

Let simmer for 15 to 20 minutes until the rhubarb softens and begins to fall apart. Stir often.

Transfer the rhubarb to a blender or food processor and puree.
Cardamom Syrup
Boil sugar, water and cardamom until the syrup thickens and lightly coats the back of a wooden spoon.

Keep warm on low heat until ready for the jalebi.
Jalebi
In a small bowl, combine 2 tbsp warm water with 1/4 tsp sugar and 1/2 tsp yeast. Let sit for 5 to 10 minutes until lots of bubbles form.

In a medium bowl, combine the flour, rhubarb puree, cardamom, salt, 1/2 cup water and the bubbly yeast. The batter should be about the consistency of pancake batter. Add a couple more tablespoons of water if the batter is too dry.

Cover and let the batter sit for about 20 minutes.

Heat oil on medium high heat (I used an 8 inch cast iron skillet for this) until ready to fry. Test oil by dropping a couple of drops of batter into the oil. If it sizzles and rises to the top immediately, the oil is ready.

Meanwhile, transfer the batter to a parchment cone (they're super easy to make) or a clean empty ketchup bottle.

Draw swirls with the batter into the hot oil, like a funnel cake. Fry on both sides until golden and crispy.

Drain on some paper towels for a few minutes.

Transfer to hot sugar syrup. Let soak for about 30 seconds and transfer to a wire rack.
Nutrition
Calories:
379
kcal
|
Carbohydrates:
31
g
|
Protein:
1
g
|
Fat:
29
g
|
Saturated Fat:
2
g
|
Polyunsaturated Fat:
8
g
|
Monounsaturated Fat:
18
g
|
Trans Fat:
1
g
|
Sodium:
70
mg
|
Potassium:
44
mg
|
Fiber:
1
g
|
Sugar:
26
g
|
Vitamin A:
9
IU
|
Vitamin C:
1
mg
|
Calcium:
19
mg
|
Iron:
1
mg
*Note: When I dreamed up the recipe, I had imagined beautiful pink jalebi. But it turns out most of the pretty pink color is lost when frying. I attempted to add some pink back in by grating a teaspoon of raw beet into my batter. It made the batter pinker by did not help the final product much (as you can see in the photos). If you want pink jalebi you might try adding a few drops of red food coloring.
I combined the left over rhubarb puree with 2 tbsp of sugar syrup for a yummy sweet rhubarb sauce. It goes great with vanilla ice cream or rice pudding.