This Gulab Jamun cheesecake is an eggless cheesecake made with cardamom, rose syrup, and saffron, the flavors of Gulab Jamun. It is part of a series of fusion desserts, like gulab jamun cake and cardamom shortbread cookies, that I have put together during this holiday season.
I made a lot of versions of this cheesecake to get the recipe just right and giving it away to my local anti-food waste group. I've been getting some amazing feedback, like this one: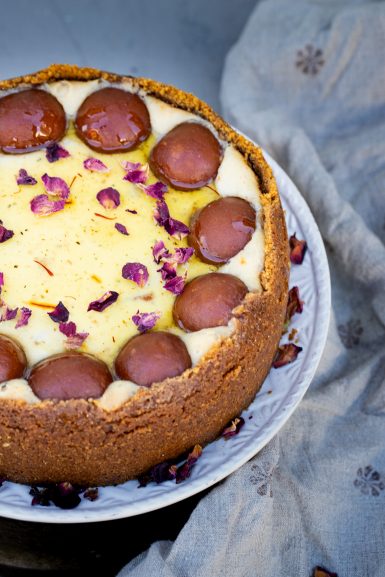 Cheesecake is a family favorite. It has always seemed to show up at celebrations and birthdays with my family. Kind of like gulab jamun. That is probably because of my grandmother, who loved cheesecake so much.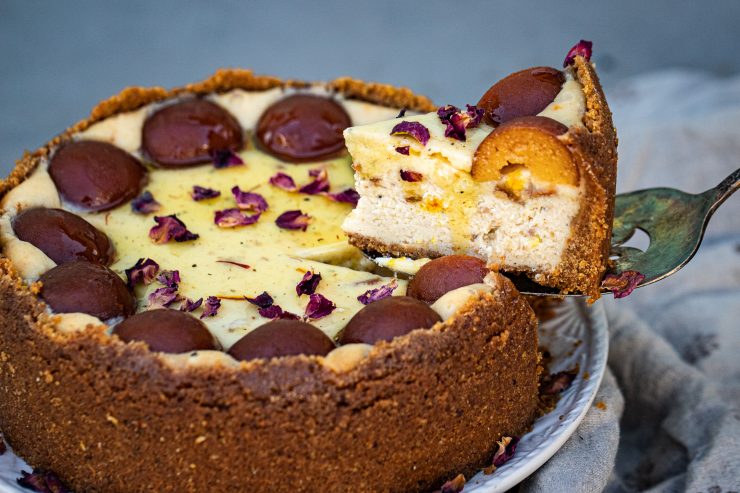 An Eggless Cheesecake
This is an eggless cheesecake. One of the most frequent questions I get asked for my Indian-fusion desserts is, how can I make this without eggs, which is a concern for a lot of Indians and vegans. Since the egg is meant to provide cheesecake with a custardy texture, a typical substitution is 2 tablespoon of cornstarch in place of one egg.
I started with that but it was too heavy. The cream cheese was thick and cloying. So I reduced the cornstarch a little and swapped half of the cream cheese for ricotta, which is lighter and also more similar to mawa which is used to make gulab jamun.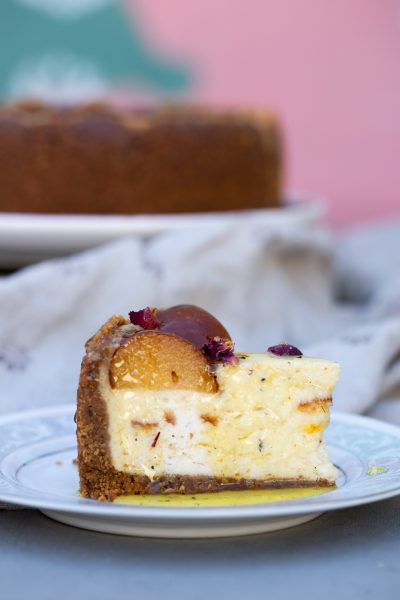 The Crust
I also got experimental with the crust. I thought it would be fun to try making a crust from Parle-G biscuits – how very Indian. I made versions with graham cracker, Parle-G biscuits and pistachios. They all work, but my favorite this mix of Parle-G and pistachio.
You can make a crust for this with any combination of graham crackers, Parle-G biscuits and pistachios that adds up to about 1 1/2 cups.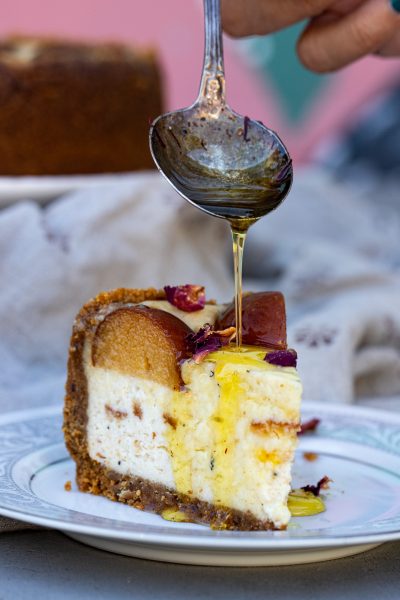 The Gulab Jamun
For this recipe, I used store-bought gulab jamun. If I were serving straight gulab jamun, I would make it myself. But in this case, it is going in a cheesecake, and the store-bought kind works perfectly well and saved me a lot of effort.
The kind I used can be found at just about any Indian grocery store, or on amazon. It comes in a can, soaked in syrup. You can also often find them frozen, or fresh at a matai (sweets) counter.
Ingredients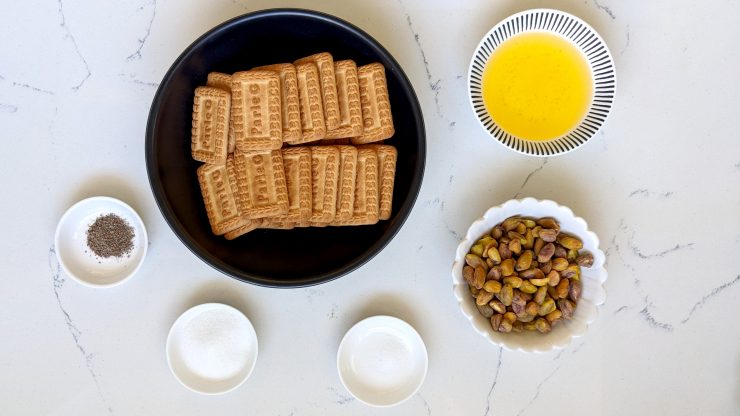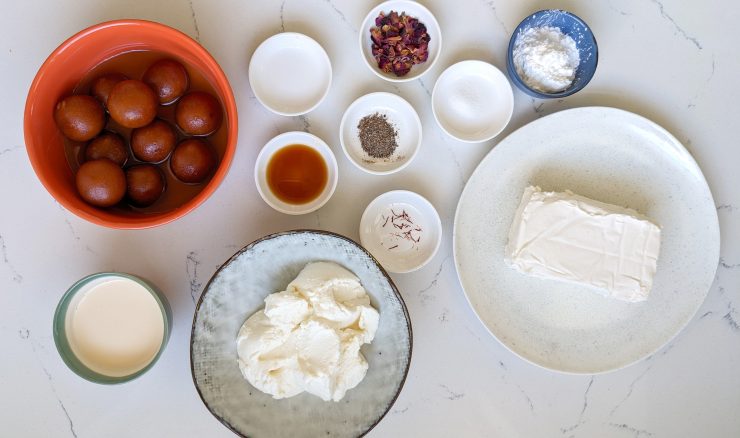 Tips
It is important to use a springform pan to avoid leaks. In one version, I made it with a removable bottom pan that wasn't springform liquid dripped out into my oven and create smoke. A springform pan makes it possible to remove the cheesecake. You can make it in a one-piece cake or pie pan, but you will have to serve it in the pan.
Make sure to bake it long enough. This cheesecake is done baking when it has a slight jiggle in the center. For my larger 9″ pan it takes 75 minutes, while the smaller 7″ pan that made a taller cake takes 110 minutes.
I got as many compliments on this one from non-South Asians as I did from South Asians, so don't hesitate to serve it to a mixed crowd. They will love it!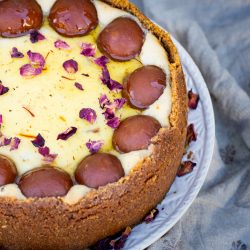 Gulab Jamun Cheesecake
This Gulab Jamun cheesecake is an eggless cheesecake made with cardamom, rose syrup, and saffron, the flavors of Gulab Jamun.
Ingredients
Crust
½

cup

toasted pistachios

1

cup

Parle G Biscuits

32 biscuits; or use the same quantity of graham crackers – 8 full crackers or 32 squares

¼

tsp

ground cardamom

⅛

tsp

salt

1

Tbsp

granulated sugar

5

Tbsp

melted ghee
Filling
⅓

cup

evaporated milk

1 ½

Tbsp

cornstarch

½

cup

powdered sugar

1 8

oz

package of cream cheese

1

cup

ricotta cheese

1

tsp

vanilla

½

tsp

rose water

⅛

tsp

salt

1

pinch

saffron

¼

tsp

cardamom powder

12

gulab jamun with syrup
Instructions
For the Crust
Grease 7″ Springform pan and set aside.

Add pistachios to food processor and grind until coarse

Add the cookies and rest of dry ingredients. Pulse to get an even, coarse texture

Add ghee and pulse to mix well.

Press tightly into the greased springform pan, forming a 2" edge (see video). Refrigerate while you prepare filling or at least 15 minutes.
For the Cheesecake
Preheat oven to 300°F

In a small bowl, Make a slurry: add 1 Tbsp of evaporated milk to the cornstarch. Mix well with a fork or whisk, making sure there are no lumps. Add the rest of the evaporated milk.

In another small bowl, mix the rose water and saffron. This will bloom the saffron without adding any additional liquid to the recipe.

In another small bowl, smash 4 Gulab Jamun into very small pieces with a fork.

In a large bowl (or stand mixer), beat cream cheese, ricotta cheese and powdered sugar until just combined.

Add cornstarch slurry, vanilla, rose water, salt, saffron, cardamom powder and 4 smashed gulab jamun. Beat until just incorporated.

Transfer filling into crust. Spread evenly using an offset spatula.

Cut the remaining gulab jamun in half, and gently place on top of the cheesecake, cut side down.

Bake for 110 minutes, or until the top is slight jiggly.

Cool 3 hours on wire rack, then transfer to refrigerator. Chill.

Drizzle your reserved gulab jamun syrup over the top before serving.
Nutrition
Calories:
315
kcal
Carbohydrates:
25
g
Protein:
6
g
Fat:
22
g
Saturated Fat:
11
g
Polyunsaturated Fat:
2
g
Monounsaturated Fat:
7
g
Cholesterol:
50
mg
Sodium:
237
mg
Potassium:
152
mg
Fiber:
1
g
Sugar:
15
g
Vitamin A:
423
IU
Vitamin C:
0.5
mg
Calcium:
112
mg
Iron:
1
mg