Here is a cocktail that is perfect for your upcoming Diwali celebration. I based it on the Gujarati Diwali sweet, Doodh Pak. It's made with milk, saffron, cardamom simple syrup, and whiskey. This drink is a "milk punch," which is a type of drink that has its roots in India.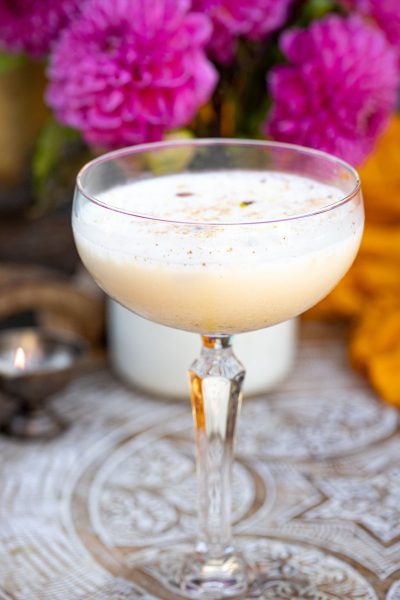 Milk Punch
Milk punches originate in India, but this one is in the "New Orleans" style. Authentic Indian milk punches would be run through a fine sieve or cheesecloth, which removes the spices and also clears the white proteins from the milk, giving a mostly clear type of drink.

Since I wanted this drink to be reminiscent of Doodh Pak or Kheer, I wanted to keep the milky look intact.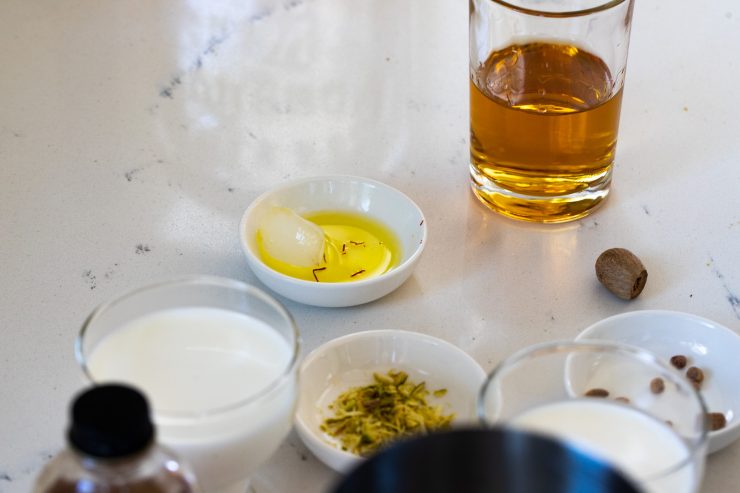 Serve this Doodh Pak inspired milk punch at your next Indian celebration.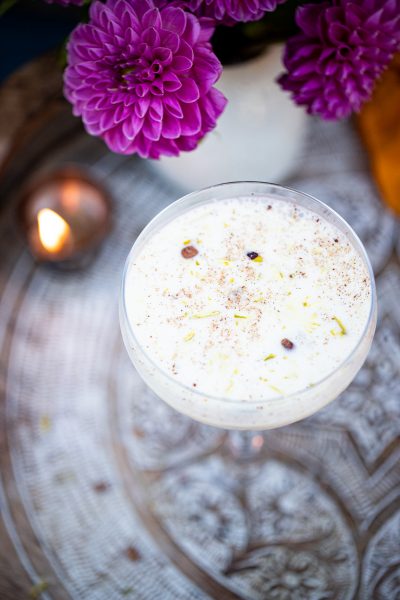 Tips
For a sweeter drink, add more cardamom syrup. You can also make it creamier by adding more cream.
Toppings / Garnish are optional
Use half-and-half instead of milk and cream since half and half is essentially 1 part cream to 3 parts milk
Swap out milk for evaporated milk to get more of a doodh pak feel
If you are making this for a party, you can make a large batch in the fridge ahead of time without ice. Make sure to whip with a blender before serving to get the creamy mouthfeel.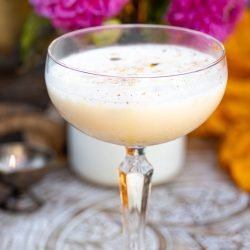 Indian Whiskey Milk Punch
Based on the Gujarati Diwali sweet, Doodh Pak, this drink is made with milk, saffron, cardamom, and whiskey. It is a perfect drink for a Diwali celebration.
Ingredients
1 ½

oz

whiskey

3

oz

whole milk

Pinch

of saffron

¾

oz

cardamom simple syrup

Pinch

of grated nutmeg

3

pistachios

shaved

8

charoli
Instructions
Bloom the saffron on 1 ice cube

Fill a shaker with ice. Add milk, cream, whiskey, cardamom simple syrup and saffron.

Shake.

Pour into coupe glass.

Garnish with grated nutmeg and nuts.
Nutrition
Calories:
284
kcal
Carbohydrates:
21
g
Protein:
5
g
Fat:
9
g
Saturated Fat:
2
g
Polyunsaturated Fat:
1
g
Monounsaturated Fat:
1
g
Cholesterol:
10
mg
Sodium:
45
mg
Potassium:
172
mg
Fiber:
304
g
Sugar:
20
g
Vitamin A:
150
IU
Vitamin C:
1
mg
Calcium:
133
mg
Iron:
2
mg