Ringan Tuvar nu Shaak is a traditional Gujarati winter recipe to make when both young, fresh tuvar and green garlic are freshly available. Fresh tuvar, or "lilva tuvar," is a much-loved Gujarati vegetable. This dish features tuvar and eggplant, two of my grandmother's favorite ingredients. This was a dish my Grandma loved to make every year.
About the Recipe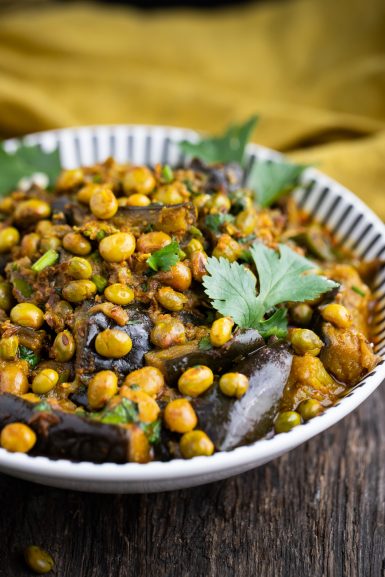 Ringan tuvar nu shaak is a very traditional Gujarati dish. It is commonly served in many households, always in the wintertime. This recipe is passed down to me by my grandmother, who adored this dish.
Many families will add onions to this dish, and you may choose to do so. My grandmother did not, so neither do I. Since it has green garlic, there is no need for it.
Ingredients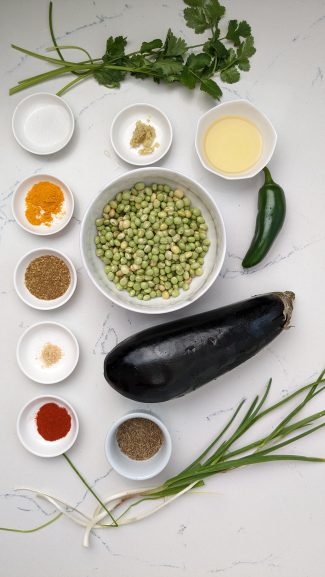 Lilva Tuvar – Lilva tuvar is fresh, green pigeon peas, or toor in Hindi. My parents grow tuvar here in California, where it can be harvested throughout the year. In Gujarat, tuvar is ripe only in the wintertime. You can find frozen tuvar at most Indian grocery stores, which will work great for this recipe. Plus, you won't have to peal it.
Eggplant – aubergine, ringan, brinjal, baingan – eggplant is a popular vegetable in Gujarati cuisine. It is also my grandma's favorite, she ate ringan every day when she could. Eggplant comes in all different shapes and sizes. For this recipe, ideally you should use a long, skinny eggplant. If all you can find are the fat ones, you can cut them into shape.
Green garlic – one thing I appreciate about this recipe is its seasonality. In addition to the tuvar, it uses green garlic that has not yet grown the bulb. This is the garlic equivalent of spring onions. Much like spring onions, you use the greens and the immature bulb but not the roots. I was lucky enough to have green garlic growing in my backyard. If you can't get ahold of green garlic, you can easily substitute garlic cloves or garlic chives.
Dhana Jeeru – Dhana jeeru is a Gujarati spice blend. It is very simply made from equal parts ground coriander and ground cumin. That is such a common combination in Gujarati food that it is found mixed that way in a Gujarati spice box. You can just as easily add the two ingredients separately.
Chili
Cilantro
Cumin
Tips
Be sure to cook the eggplant to the right firmness. I've given the cook time that works for me, but if you cut your eggplant differently or use a different type, you may have to adjust your recipe. The eggplant should be soft, but not fall apart when touched.
If you don't have green garlic, you can use regular garlic or garlic chives. Use 3 cloves to replace 6 green garlics. If using garlic chives, a handful should do the trick.
Add onions if you prefer. Many families cook theirs this way, mine does not.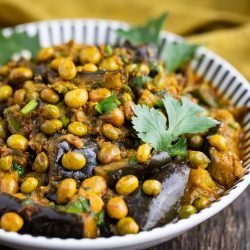 Ringan Tuvar nu Shaak | Eggplant and Pigeon Pea Shaak
Ringan Tuvar nu Shaak is a very traditional Gujarati winter recipe when both young, fresh tuvar and green garlic are freshly available.
Ingredients
2

Tbsp

avocado oil

or other neutral oil

¾

cup

fresh tuvar seeds

or frozen

2

cups

chopped eggplant

1 medium eggplant

6

Fresh green garlic

or 3 cloves garlic

½

tsp

ginger paste

or grated ginger

1

green chili

chopped

½

tsp

turmeric powder

½

tsp

Kashmiri chili powder

2

tsp

dhana jeeru

1 tsp coriander powder + 1 tsp cumin powder

Salt

2

Tbsp

Cilantro

1

tsp

cumin seeds

⅛

tsp

hing

asafoetida
Instructions
Set the Instant Pot to saute mode. Heat oil until the indicator shows "hot" or the oil shimmers. Add the cumin seeds and hing, let sizzle for 10 seconds. Then add the turmeric, ginger, garlic, and chili powder. Let the spices bloom for about 20 seconds.

Then add the tuvar, eggplant, salt and 1/3 cup of water. Be sure to deglaze and scrape the bottom of the pot.

Cook under high pressure for 9 minutes. Quick release the Instant Pot. Serve warm.
Notes
Use gluten free hing to make this dish gluten free
Nutrition
Calories:
296
kcal
Carbohydrates:
36
g
Protein:
8
g
Fat:
15
g
Saturated Fat:
2
g
Polyunsaturated Fat:
2
g
Monounsaturated Fat:
10
g
Sodium:
97
mg
Potassium:
473
mg
Fiber:
9
g
Sugar:
4
g
Vitamin A:
209
IU
Vitamin C:
18
mg
Calcium:
122
mg
Iron:
3
mg