Chana Masala goes by many names: Channa masala, chole masala, chole, cholle. They are all the same dish. It is usually made with the more common, light-colored chickpea, as opposed to black chickpea, kala chana.
In my house, we typically call it "Chole," which is the Punjabi name for Chana masala. Chole is a popular dish in Northern India, especially in Punjabi households and restaurants.
Chana masala is a chickpea stew that can easily be made in a large pot and served to a big group of people. For this reason, it often makes an appearance at large gatherings. Everyone has their own spin on the dish, so definitely feel free to experiment with the flavors and spice levels that you like.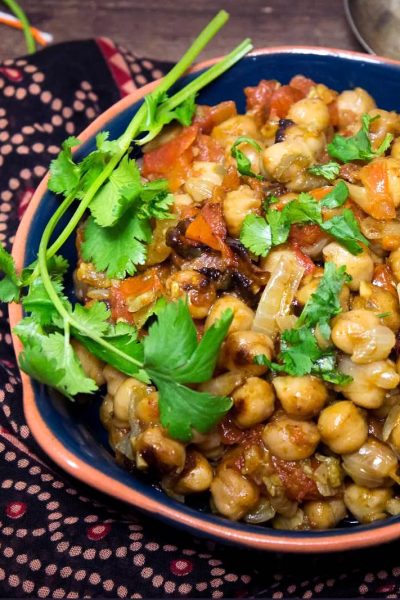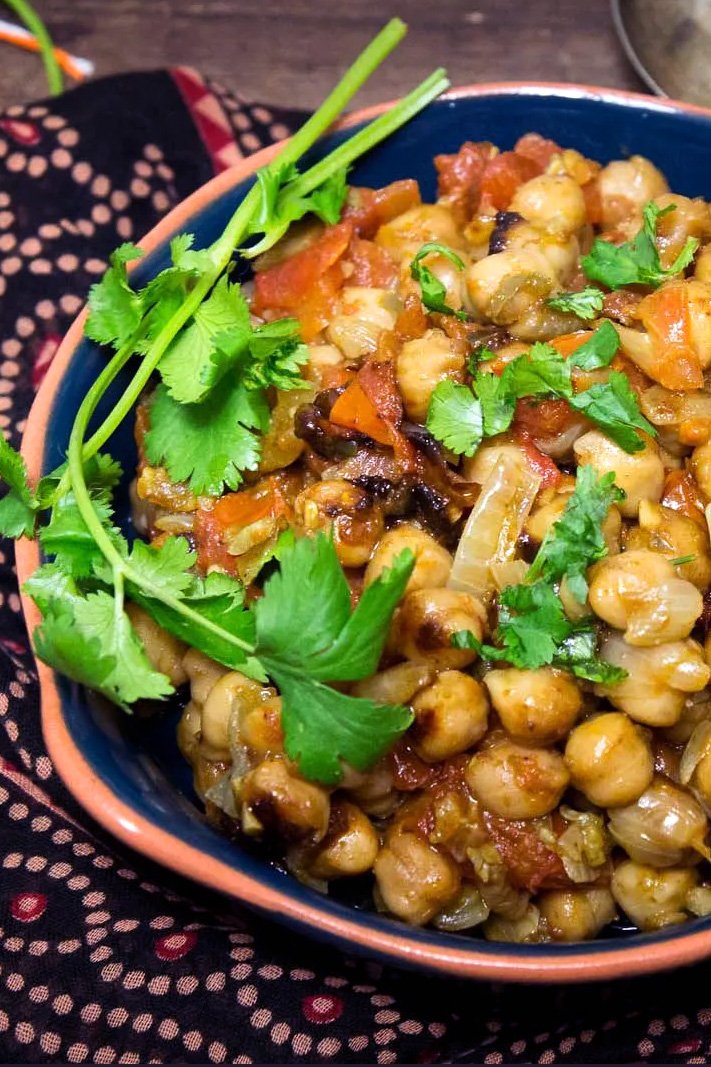 Chole is also great for meal prep. It can be made in a large pot and keeps well. You can keep reheating leftovers from the fridge or freeze them to save for longer. Chana masala is one of those dishes that usually tastes better the second day when the spices are allowed to develop.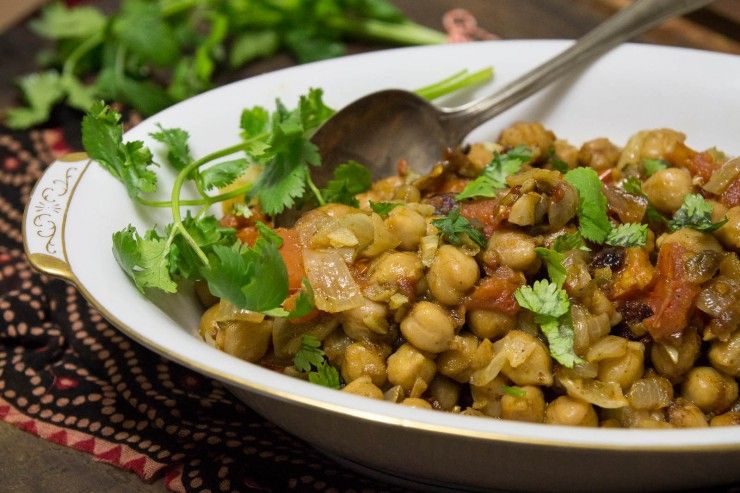 A good chana masala has a nice balance of garlic, ginger, tomato, coriander, and something sour like raw mango or citrus. If you can get the right sweet and sour mix, you've got it made. If I had one tip to offer, it would be to include fresh ginger. Dried ginger will work if it's all you have but won't provide the same fresh taste.
Your spice mix is the final ingredient that makes the chana masala just right. I recommend buying a good Chana Masala mix from an Indian grocery store. The blend will have about 20 spices in it, with ingredients like amchur (dried, raw mango) and anardana (pomegranate seed powder) that you may not have available to make on your own. If you don't have chana masala mix, you can sub in garam masala or some other Indian spice mix, but you will end up with a different flavor.
You can serve chana masala with an Indian flatbread, such as naan or paratha. It also goes well with basmati rice. I've even heard of people putting it over steamed vegetables, like cauliflower, to make for a healthier dish. Lentils like chickpeas are an essential part of Indian diets because they are a vegetable source of protein, and so many of us are vegetarian.
Cholle is also used as a component of some dishes, like Chole Bhatura and Chole Samosa (Samosa Chaat).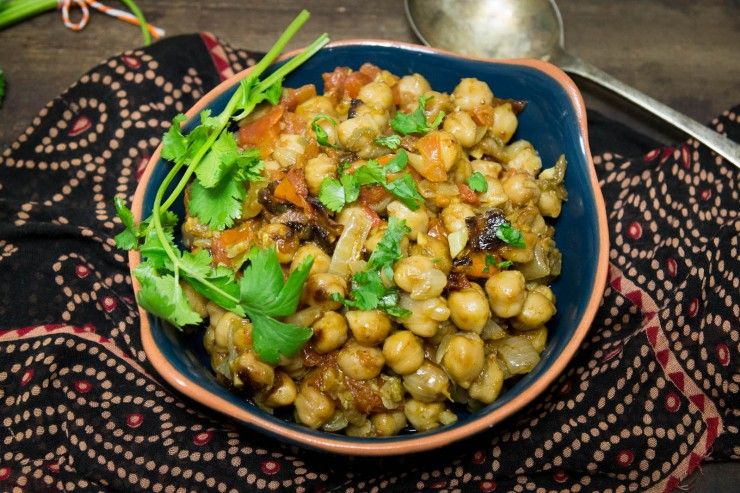 Dried Chickpeas or Canned?
I use dried chickpeas when I make this in a substantial quantity, but if it's just a one-time meal, like a quick dinner for my family, I usually stick to canned. Dried chickpeas need to be soaked and rinsed. From there, it is best to cook them in an Instapot or pressure cooker. It can be very difficult (and time-consuming) to get the right texture cooking dried beans over the stove without a pressure cooker.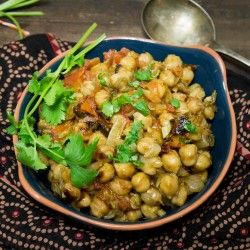 Chana Masala (Chickpea Stew)
Cholle, or Chana Masala, is served alongside many Indian dishes. Chickpeas cooked in a tomato stew.
Ingredients
½

tbsp

cumin seeds

1

green chili

jalapeno or serrano

1

onion

chopped

2

cloves

of garlic

chopped

2

tomatoes

chopped

1

cm

ginger root

grated

½

tsp

salt

1

tbsp

to taste Chana Masala spice mixture (you can substitute garam masala and juice from half a lemon)

1

tbsp

vegetable oil

ghee or butter

16

oz

can of garbanzo beans

aka chickpeas, drained and rinsed
Instructions
Vaghaar: Heat some oil in a pot on medium. I aim to use as little as possible, about a teaspoon. The oil is hot enough when you drop a cumin seed in it and the oil bubbles around the seed, causing the seed to move around. Put the cumin seeds on the palm of your hand, sift through with your other hand to make sure there are no rocks or stems mixed in. Then throw the seeds into the oil. Allow it to brown for a few seconds.

Add the onion, garlic and chili to the vaghaar. Add salt.

When the onions are translucent, throw in the tomatoes, ginger, garbanzo beans and chana masala. Simmer for about 30 minutes with the lid on to allow the garbanzo beans to absorb the flavor. The tomatoes will add a lot of moisture as they break down but you may need need to add up to a half cup of water, I usually add too much water then boil it off toward the end with the lid off.
Notes
Pressure Cooker / Dry Beans Method:
Before soaking the garbanzo beans, you should sift through them to look for any pebbles or sticks to remove. You can soak the garbanzo beans overnight. Or there is a much quicker way. Heat the beans in the pressure cooker until the whistle blows, make sure to add plenty of water, as much of it will be absorbed by the beans. Once the whistle blows, turn off the heat, vent the steam and drain the water. Rinse the beans with water. Consider them soaked.
Follow steps one and two from above, you can usually do this in the pressure cooker.
Return the beans to the pressure cooker along with everything else. Add enough water to boil the mixture. Heat all of this to build up the pressure in the cooker. Cook at full pressure for 15 minutes.
Turn the heat off and allow it too cool enough to remove the top. Do not vent or the beans will be undercooked.
(To do this without a pressure cooker, just boil in a pot until the beans are soft. This can take as long as three hours.)
Follow the above recipe for the rest.
If you feel like it, you can add whatever vegetables you want, like carrots and spinach.
Serve with plain yogurt and naan, pita or rice.
Nutrition
Calories:
144
kcal
Carbohydrates:
25
g
Protein:
7
g
Fat:
2
g
Saturated Fat:
1
g
Polyunsaturated Fat:
1
g
Monounsaturated Fat:
1
g
Sodium:
228
mg
Potassium:
358
mg
Fiber:
7
g
Sugar:
6
g
Vitamin A:
369
IU
Vitamin C:
9
mg
Calcium:
52
mg
Iron:
3
mg