Tomato curry is a celebration of tomatoes and one of my favorite comfort foods. I love to make it with tomatoes fresh off the vine in spring. Tomato curry can be used as a side, but I make a meal by eating it with bread, either sandwich bread, dosa, or naan.
I learned this recipe from my friend's mom, who called it "tomato chutney," not to be confused with the popular blended tomato chutney.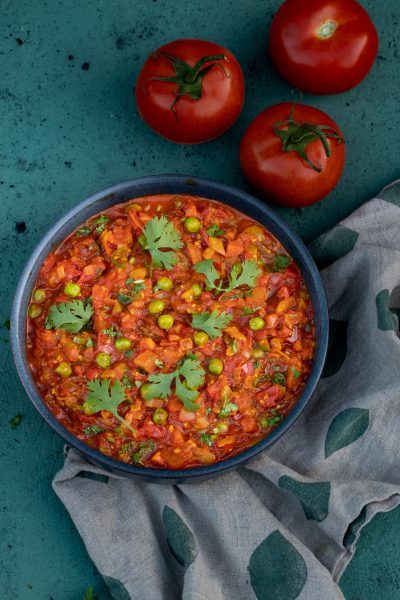 Tomato curry was a special Sunday treat when I was at boarding school. One of my friends, whose parents taught at the school, would let our four friends know that mom was making some tomato chutney later. We would quietly sneak up to their place, and waiting for us would be a loaf of bread and the spicy, tangy, tomatoey curry.
Sometimes the chutney had peas added to it, sometimes there was cilantro. It didn't matter. It was always delicious!
Scooping giant globs of the tomatoey goodness with slices of bread until the bowl was licked clean was perfect Sunday heaven.
She taught me how to make that tomato chutney when I was 13, and I have been making it ever since. Every time I'm in a nostalgic mood thinking about my boarding school friends, or when I want to impress friends with a simple but delicious hors d'oeuvre, tomato chutney is my go-to dish.
I love to turn it into an Indian style bruschetta because the crunchy bread goes perfectly with the rich, jammy texture of the tomatoes.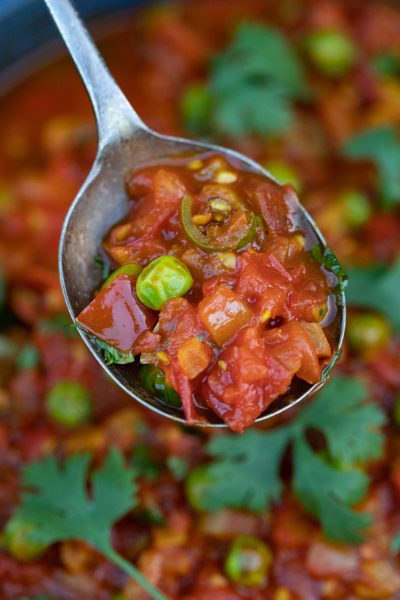 Tips
Tomato curry comes together quickly, the only thing to watch for is to give the tomatoes enough time that they start to thicken and become jammy. You don't want to overcook them, losing the "fresh" tomato flavor
Try mixing up the spice profile, use curry leaves, coriander, or cumin seeds in place of mustard seeds, or add both. Mustard seeds have a sharper, spicier flavor
You can also leave out the onion and make with cherry tomatoes, and cook them until they just pop.
How to Enjoy
This tomato curry goes well with almost any bread. Is there anything more delicious than warm tomatoes soaking into white bread?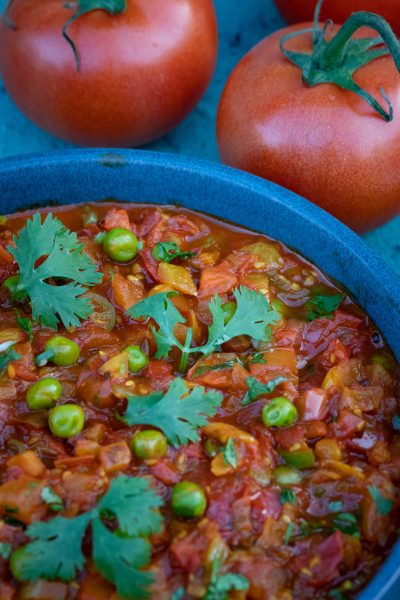 Tomato chutney is often eaten with dosa. It provides a similar flavor as rasam, but tomato chutney has more texture.
I almost always eat tomato chutney with ordinary white sandwich bread. It's so good, it doesn't require the bread to do much. It also goes well with naan. Any bread with some sponginess is perfect because it will soak up the sauce.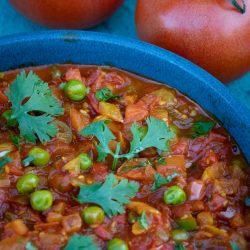 Tomato Curry | Kerala Tomato Fry
This tomato curry is a celebration of tomatoes and one of my favorite comfort foods. This recipe was taught to me by a friend's mom, who is from Kerala.
Ingredients
1

Tbsp

ghee or oil

1 ½

tsp

cumin

½

medium onion

finely chopped (about 1/2 cup)

Salt to taste

¼

tsp

turmeric powder

1

lb

whole tomatoes

freshly chopped (about 4 large tomatoes)

1

green chili

chopped

¼

tsp

chili powder

cayenne

2

Tbsp

frozen peas

optional

Cilantro

optional, to taste
Instructions
Heat the ghee or oil in a pan on medium high heat until it shimmers.

Add cumin seeds, stir. Then add onions and a pinch of salt. Cook until onions are translucent and softened.

Add turmeric, red chili powder. Stir. Add tomatoes and green chilies. Cook for 5-8 minutes until slightly reduced.

Add the peas. Cook for one more minute.

Taste and adjust seasoning.

Garnish with cilantro and serve.
Nutrition
Calories:
71
kcal
Carbohydrates:
8
g
Protein:
2
g
Fat:
4
g
Saturated Fat:
2
g
Polyunsaturated Fat:
0.3
g
Monounsaturated Fat:
1
g
Cholesterol:
10
mg
Sodium:
47
mg
Potassium:
326
mg
Fiber:
3
g
Sugar:
4
g
Vitamin A:
1049
IU
Vitamin C:
21
mg
Calcium:
24
mg
Iron:
1
mg