I can't remember ever eating eggplant until I was with Puja. She loved it at a restaurant we used to frequent in Arlington called Delhi Club, so I figured out how to make it at home for her. Since cooking with eggplant, I've found a few different ways to use it that I really like, but by far the best of them is Baingan Bharta.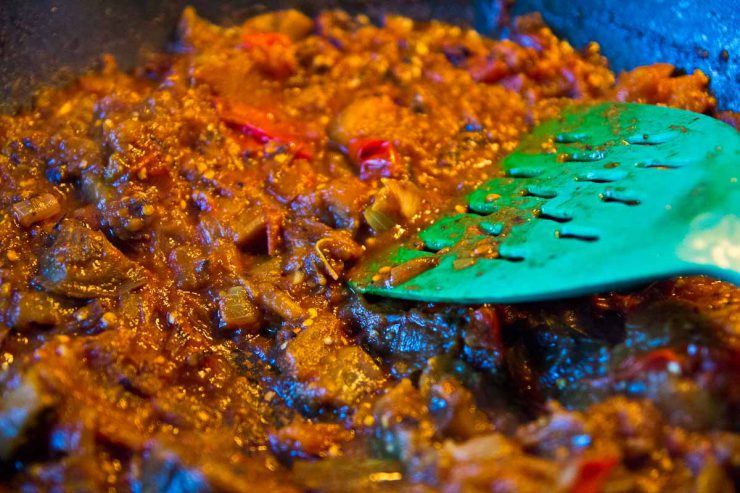 We got these interesting white eggplants in our CSA last week and we finally got around to using them. They held on very well in a brown paper bag in our pantry for that time.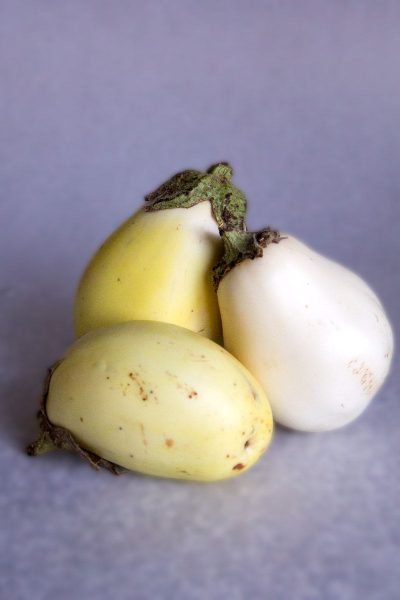 I usually make this with the large purple eggplants you find in the typical american supermarket. But with our CSA we had these little ones. The first step is to cook the eggplant. I usually slice them and salt them with a course salt to pull the water out and then cook them in water, a technique I learned from Alton Brown's Good Eats. But Puja likes to roast them whole on the burner which is faster and less messy. With these little eggplants, I thought I'd do it her way, but use the broiler instead of the burner.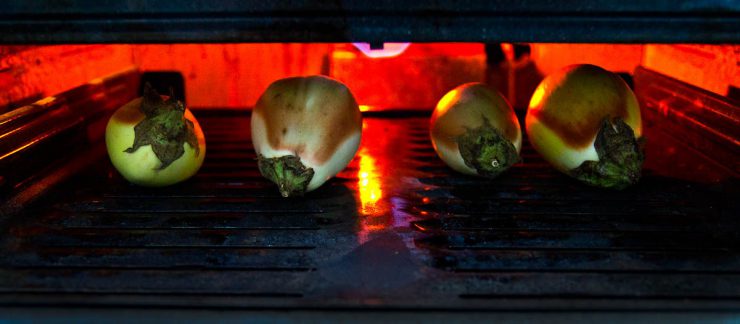 The thing to keep in mind when using eggplant is they have very little flavor or nutritional value of their own. They are just big sponges for flavor. So the goal is to first get the water out of them, which we do by cooking them on their own first. Then you add in your flavor which they are now ready to soak up like a dry sponge. With Bhangan Bharta what we we are soaking up is a rich indian spiced tomato sauce.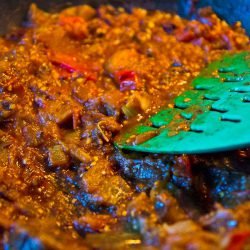 Eggplant and Tomato Shaak – Baingan Bharta
The popular restaurant dish with eggplant and Indian spiced tomato gravy
Ingredients
Eggplant

1 large or several small, I used four small

1

tsp

Vegetable Oil

1-3

tbsp

Butter

cream or milk (optional)

1

medium onion

chopped

3

cloves

garlic

minced (I like to use a lot, use less if you prefer)

Chilies

how many depends on how hot you like it

Chile powder

1

tsp

cumin seeds

1

tsp

garam masala

1

cup

chopped tomatoes

1

tbsp

chopped cilantro
Instructions
Cook the eggplant. You can roast it whole on the stove or in the broiler until soft, it is okay if the skin burns we won't be eating that.

Allow the eggplant to cool, cut into 1 inch chunks, removing and discarding the skin. (Some people like to keep the skin which is okay for larger purple eggplant if it is not too thick.)

Setting the eggplant aside, in a sauce pan perform a vagar: Heat a teaspoon of vegetable oil over medium heat. Test the oil by throwing in a couple of seeds, it is hot enough if tiny bubbles froth up around the seeds and engulf them. If this happens, throw in the rest of the seeds and allow them to toast for a few seconds.

When the cumin seeds are toasting they will begin to release their fragrance, now add chopped onion, garlic and chilies. Mix them around.

When the onions are translucent, add the tomatoes and garam masala. Cook until the tomatoes are soft and sauce like. It will probably start to dry out, add water to prevent burning.

Add enough water and butter, cream or milk to get a saucy texture, then toss in the eggplant. (I avoid the butter and cream to be healthy, but it really makes the dish)

Simmer on low heat for up to ten minutes to allow the flavors to develop and soak into the eggplant.

Top with topped cilantro.
Nutrition
Calories:
54
kcal
Carbohydrates:
6
g
Protein:
1
g
Fat:
3
g
Saturated Fat:
2
g
Polyunsaturated Fat:
1
g
Monounsaturated Fat:
1
g
Trans Fat:
1
g
Cholesterol:
8
mg
Sodium:
113
mg
Potassium:
172
mg
Fiber:
1
g
Sugar:
3
g
Vitamin A:
172
IU
Vitamin C:
8
mg
Calcium:
35
mg
Iron:
1
mg