My grandma's eggplant and potato curry or ringan bateta nu shaak as we call it in Gujarati, was a staple in my house when I was growing up. My grandma made it often in the summer.  I especially love it not only because it is super easy and really has a lot of flavor but also because it reminds me of my grandma in her youth when I make it.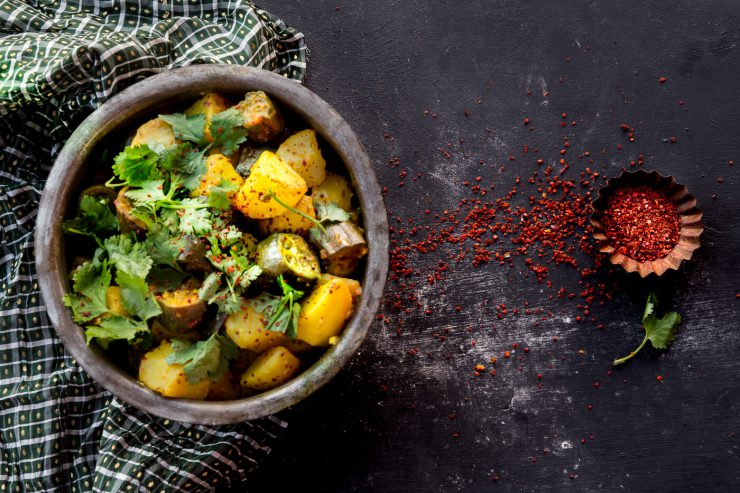 My grandma often talks about wedding season in Nadiad, the town in Gujarat where she grew up. The 1920s and 30s were a time when everything was done by hand and meals were cooked at home from scratch – even for weddings.
When a neighborhood wedding came around, all the women in the neighborhood got together and cooked endless amounts of food in massive copper pots. A wedding feast wasn't just one meal, mind you, it was 5 days of festivities and all of the meals were cooked at home.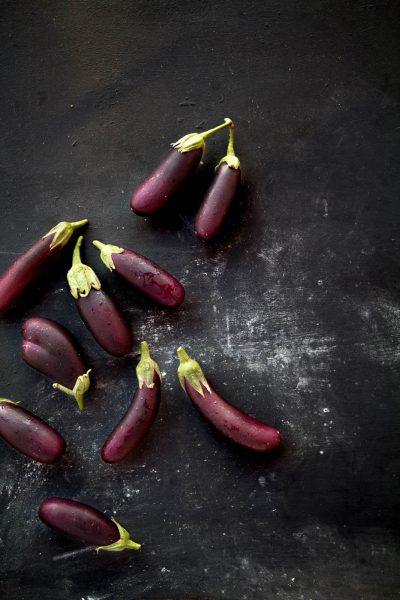 My grandma tells stories about carrying large pots of bubbling dal on her head. Going from one house to another in bare feet, to feed wedding guests.
Women who cooked and served at weddings were forbidden from wear shoes because weddings are auspicious occasions. Shoes were made out of leather, that is, the skin of dead animals, making them inauspicious and therefore unwearable at this auspicious occasion.
The baking hot dirt would cause blisters on her feet and the steaming hot dal was uncomfortable to hold and transport.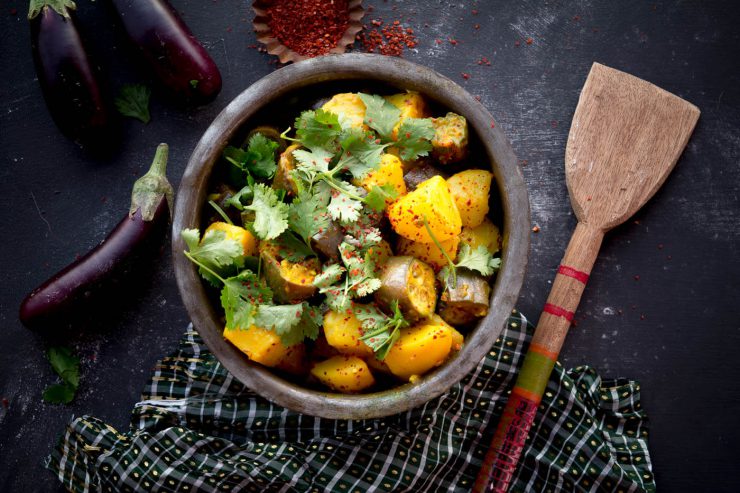 Life wasn't easy for women in those days but my grandma thinks back to that time fondly. She remembers this shaak and still continues to make it often.
This eggplant dish is a simple dish, but it has always been one of her favorites. I think she could eat eggplant every single day of her life. Although I really like eggplant, there's only so much of the vegetable I can eat. But not my grandma. She loves it!
Indian weddings have gotten a lot fancier these days and this simple but delicious shaak is not likely to be found on the menu of a modern Gujarati wedding. But maybe it should be. It's a reminder of a simpler time!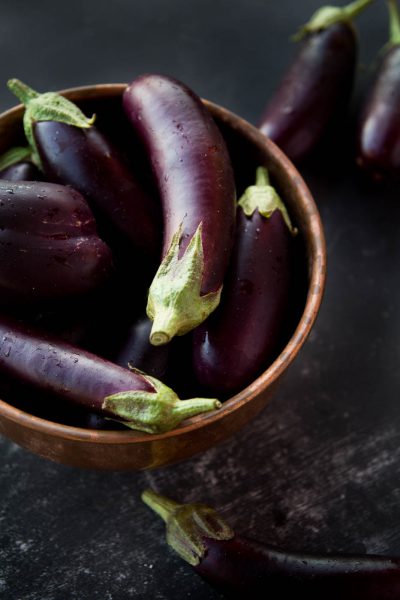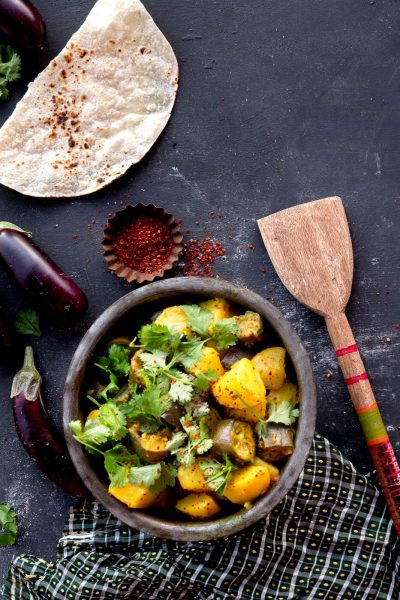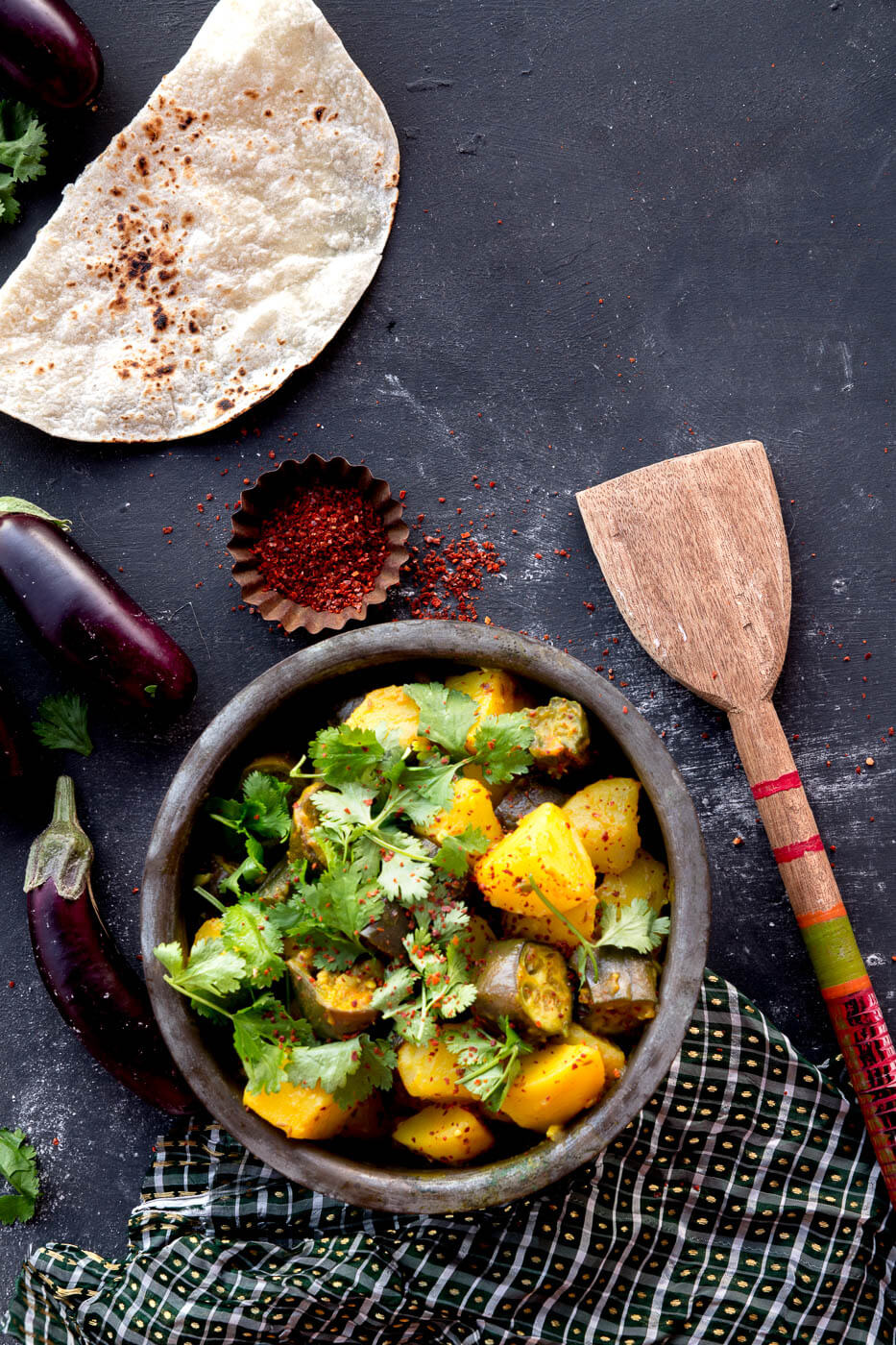 Ringan Bateta nu Shaak, Gujarati Style
A simple eggplant and potato curry made Gujarati style, the way my Grandma made it
Ingredients
1

pound

eggplant

cut into 1 inch pieces (I used small eggplants but Japanese eggplants will work as well)

2

pounds

potatoes

cut into 1 inch cubes

1

fresh green chili

(or to taste. I usually use a jalapeno chili)

2

tbsp

oil

¼

tsp

fenugreek seeds

½

tsp

cumin seeds

1

tsp

turmeric

½

tsp

chili powder

1

tbsp

brown sugar

1

garlic clove

finely chopped

½

tsp

salt

or to taste

2

tbsp

lemon juice

¼

cup

chopped cilantro
Instructions
Heat oil in a wide bottomed saute pan until it begins to shimmer.

Add the fenugreek seeds, cumin seeds, green chili and garlic. Let these cook for about 20 seconds.

Add the potatoes and 2 1/2 cups of water. Cover and cook for about 5 minutes, until the potatoes are partially cooked.

Add the eggplant, turmeric, chili powder,salt and brown sugar. Stir. Cover and cook for another 10 to 15 minutes, until the eggplant and potatoes are cooked through. Be sure to stir every 5 minutes.

Turn off the heat and stir in the lemon juice and cilantro.
Nutrition
Calories:
243
kcal
Carbohydrates:
40
g
Protein:
7
g
Fat:
7
g
Sodium:
360
mg
Potassium:
1210
mg
Fiber:
9
g
Sugar:
7
g
Vitamin A:
195
IU
Vitamin C:
33.1
mg
Calcium:
78
mg
Iron:
8.2
mg