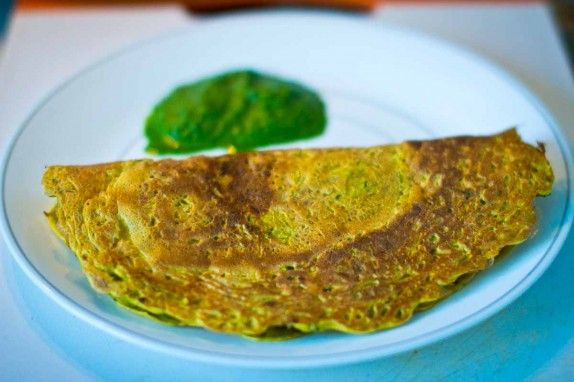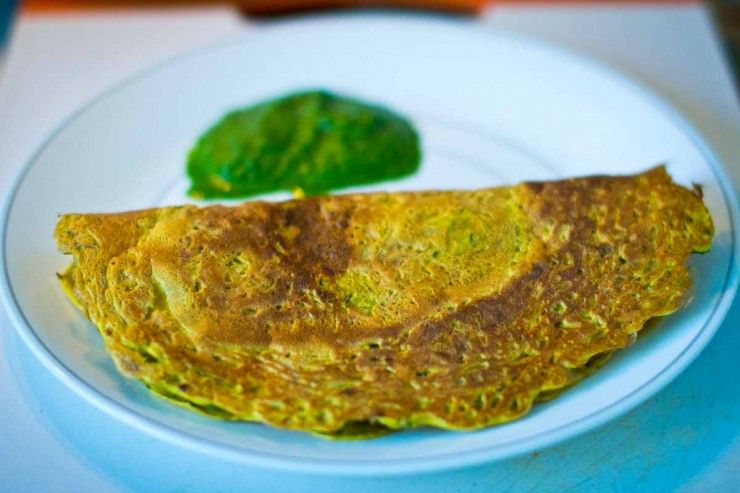 Growing up, my mom would often make puda, savory gram flour pancakes, as a quick lunch or snack when we were in a rush. Puda are super quick because all you do is shred up pretty much any vegetable you have on hand like zucchini, carrots, beets, boiled potato, peas…trust me anything goes and mix in some gram flour, salt and water.  Then you just cook the batter like pancakes and
serve them with chutney.  Super simple!  Puda is something I rediscovered in my mid-twenties long after I'd moved away from home and had a craving for them.  I made some with carrots, the only vegetable I had on hand, and really enjoyed them.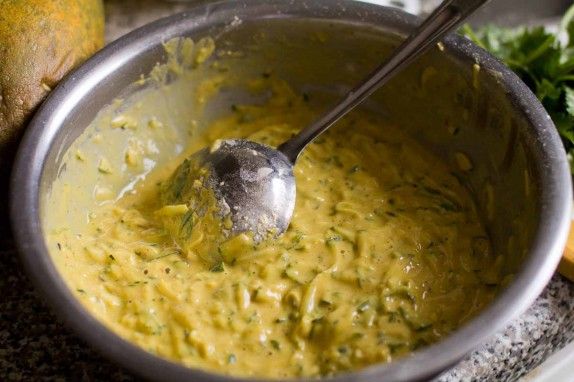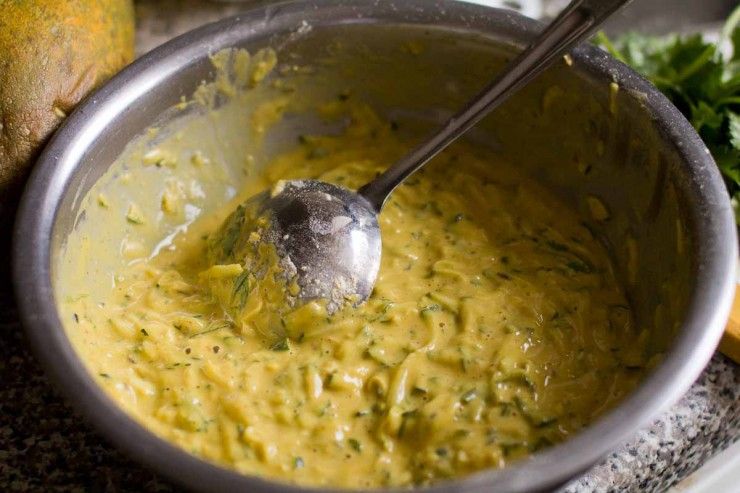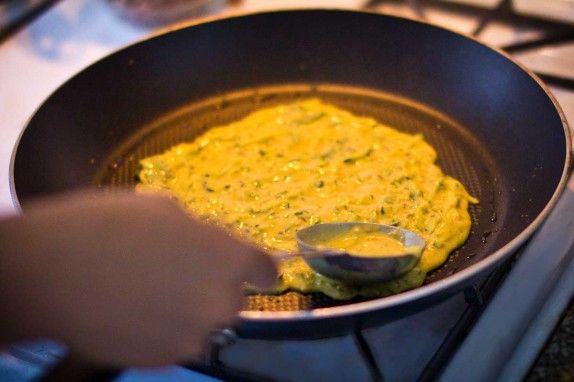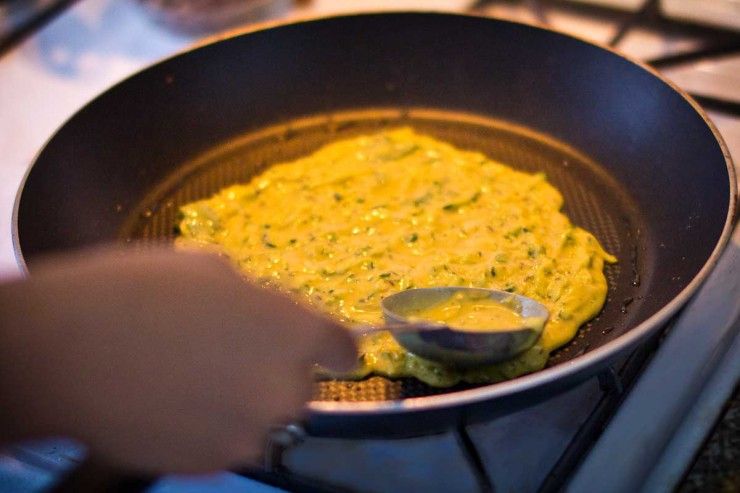 Gram flour, which is made out of brown chana (garbanzo beans), is a great substitute for egg if you want to make a vegan omelet.  When I worked for the Sierra Club for a summer in 2001, a vegan coworker told me about the vegan omelet.  I had no idea what she was talking about at first but quickly realized it was something I had been eating all my life.  Puda!
Now that Steve and I are trying the vegan experiment ourselves, I am looking forward to eating various versions of this super simple and healthy dish.  Today, I whipped up a batch with zucchini for lunch.  A delicious lunch that took less than 20 minutes!

Vegan Omelet (Puda) with Cilantro Mint Chutney
Puda
Ingredients
1 zucchini grated (can substitute carrot, peas, boiled potato, beets, opo squash, or spinach)
1 cup gram flour (aka besan)
1/4 cup rice flour (optional but it helps crisp up the pancakes)
1/2 serrano chili
1 tsp whole cumin (powdered cumin will work too)
1/2 tsp turmeric
1/2 tsp chili powder
salt to taste
1 cup water (may need a little more or less)
Instructions
Mix all the ingredients and add water until you get a batter like consistency.
Heat a non-stick skillet on medium high with a little oil.
Add the batter when the pan is nice and hot and spread as thin as you can with the back of a spoon or ladle.  Work fast before it sets.
Let it cook on one side for about 2 minutes and flip.
Let cook for an additional minute and serve.
Cilantro Mint Chutney
Ingredients
1 bunch cilantro, roughly chopped
1/2 bunch mint leaves
1 clove garlic, chopped
1 serrano chili, chopped
1/2 tsp salt
2 tbsp water
Instructions
Toss all the ingredients into a blender.
Blend until pureed. You may need to add a little more water to get the blender working. Add as little as possible.
Makes about four 8″ pancakes.  Feel free to change out the herbs and spices to what ever you have on hand.  Thyme and lemon zest is another combination I love.