Yogurt, or Dahi, is an essential part of Indian food. To those who know Indian food only casually, raita will surely be the first thing that comes to mind. It is also used in drinks, like chaas and lassi or Mango Lassi.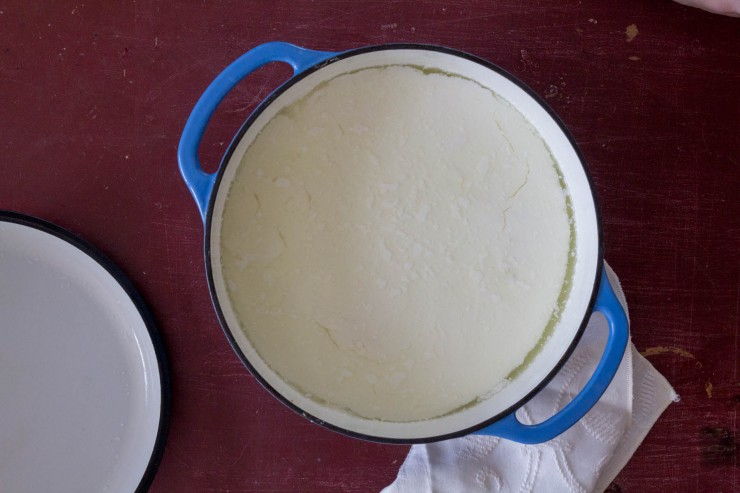 It is also used frequently in marinades, such as a tandoori marinade we use frequently. The combination of milk and acid helps tenderize the meat while also saturating it with flavor.
When yogurt is used so frequently, it becomes useful to make it yourself. It can save a little bit of money and it isn't that hard to do. It's nice to know what exactly is in your yogurt, since good yogurt should be nothing more than milk and cultures, but store-bought yogurts are often augmented with thickeners and stabilizers, like corn starch and gelatin. They are added to help speed up the manufacturing process and cut costs, not to improve the yogurt in any way.
Good quality yogurt is made simply by fermenting milk.
Indian dahi is very similar to Greek yogurt, perhaps slightly thinner, but when we buy it from the store we would much rather substitute greek yogurt than ordinary plain yogurt. When you make it yourself, you will have complete control over how thick you want your yogurt to be.
With Indian food, we are pretty much only concerned with making plain yogurt. But I grew up eating sweet yogurts, like Yoplait and Dannon. To make yogurt along these lines, just take the plain yogurt from this recipe, add a little sugar or honey to your taste and some kind of fruit jelly.
There are lots of complicated way of making yogurt. There are even machines you can buy. Don't bother. Yogurt is so easy to make and only requires pans that you probably already have on hand. Although I give you the proper temperatures and measurements for nutritional purposes, when I make it I don't even use a thermometer or measure anything, and you don't have to either!
Although I used to make yogurt this way very often, I've switched to using the Instant Pot for the marginally better convenience of the built-in temperature control.
Making yogurt is also the first step in making traditional ghee, which requires cultured butter. The only adjustment to make from this recipe, if you are going to make makhan (butter) or ghee, is to use whipping cream in place of milk.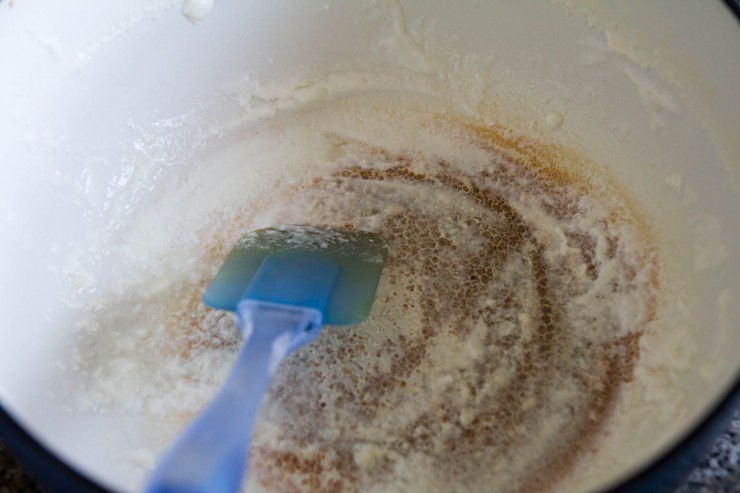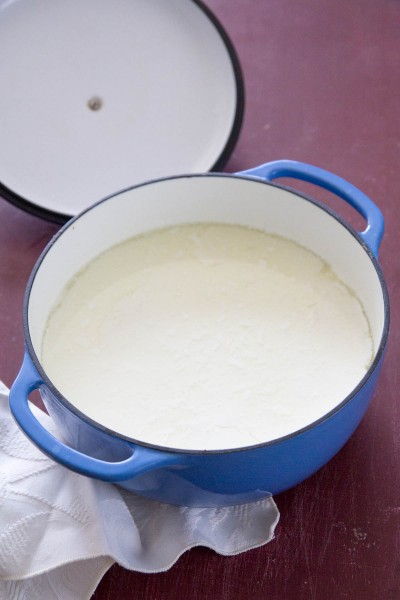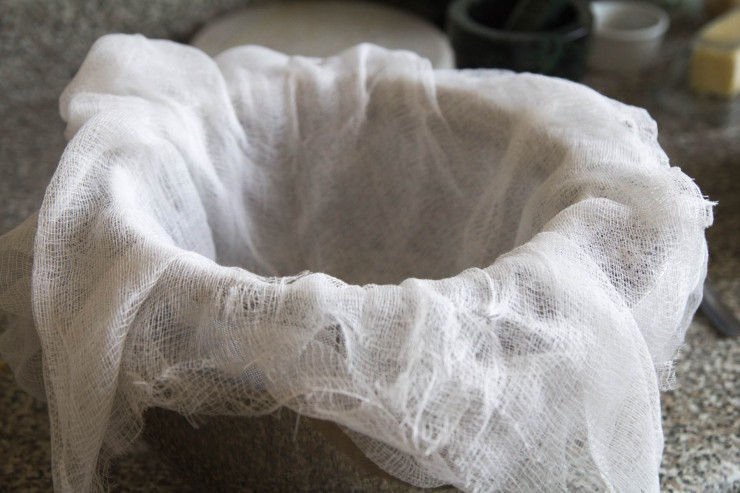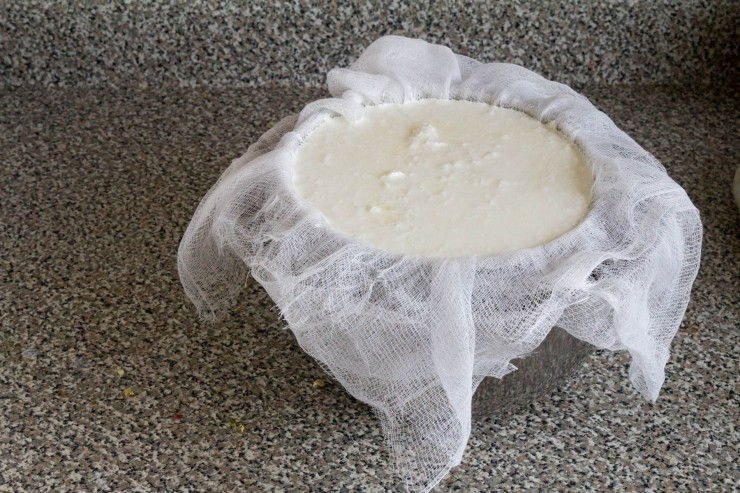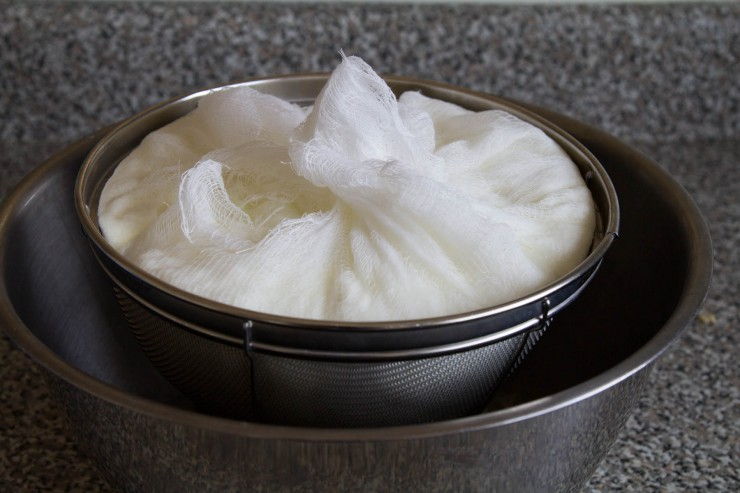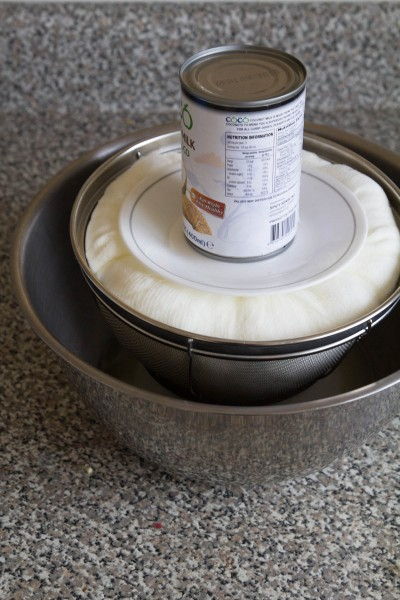 Yogurt (Dahi) from Scratch
Making yogurt at home is surprisingly simple
Ingredients
½

Gallon

Milk

or a pint, or a gallon

⅓

cup

Plain Yogurt
Instructions
Heat all of the milk to 185 degrees Fahrenheit. That's about the temperature of hot coffee. Use a thermometer if you want, but it doesn't have to be exact. Try to avoid bringing it all the way to a boil but even that won't ruin it. Use a double boiler or as thick a pot as you have for this to avoid burning any milk, and stir occasionally for the same reason.

Let the milk cool to 105 degrees. That's about the temperature of a heated spa. I use my finger to judge this. As long as you are under about 120 degrees here you should be okay. You just don't want to kill your cultures.

Stir in the yogurt.

Store in covered container (use plastic wrap or a well fitting lid). It's best, but not crucial, if you can keep it at around 105 degrees. I make it in a dutch oven and then put that in my actual oven with the oven off to stay warm. If it's significantly cooler than 105, the yogurt will just take longer to set.

Wait about 8-48 hours depending on how warm you were able to keep the yogurt.

Optionally you can strain the yogurt. I recommend doing this because homemade yogurt comes out pretty thin since it doesn't have any thickeners like corn starch or gelatin. To strain it, line a colander with cheese cloth or paper towels. Put the colander in a bowl or sink with something to raise it up like a second, overturned bowl. Pour the yogurt into the cheese cloth. Wrap it. Put a plate with some kind of weight on top such as a couple of cans of beans. This will squeeze out the whey (the yellow liquid). You can leave this for a few minutes or a couple of hours depending on how thick you want your yogurt to be. You can also add more weight to speed up the process.
Nutrition
Calories:
148
kcal
Carbohydrates:
12
g
Protein:
8
g
Fat:
8
g
Saturated Fat:
5
g
Polyunsaturated Fat:
0.3
g
Monounsaturated Fat:
2
g
Cholesterol:
30
mg
Sodium:
95
mg
Potassium:
371
mg
Sugar:
12
g
Vitamin A:
393
IU
Vitamin C:
0.1
mg
Calcium:
303
mg
Iron:
0.01
mg