Mango Lassi isn't really a milkshake, but it kind of is. It is made with yogurt instead of milk and ice cream. We don't have them often, but once in a while, we will get one when we go to Surti Farsan for a special treat.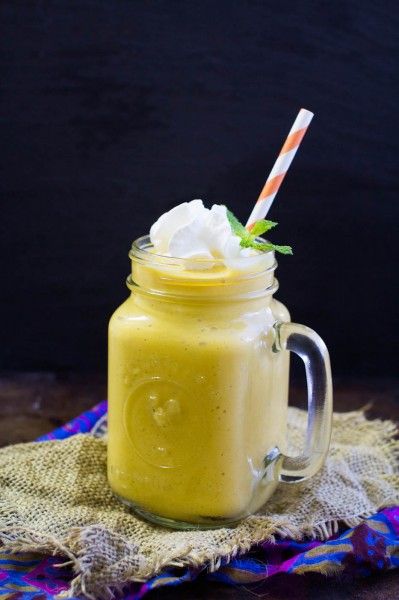 I spent a number of childhood years at my family's mango farm in India. Mango was so important to my family. We made a lot of things with it, especially Mango Ras (you can read all about the farm in that post).
But mango lassi wasn't a common treat in my family. We often drank plain sweet lassi, a yogurt drink made by adding some sugar and water to yogurt and sometimes some cardamom for extra flavor.
Lassi is most common in the Punjab region in the of north of India. But yogurt is used all over India, where they have found many uses for it: as a marinade, a condiment, a drink and so much more. My family used so much yogurt that my mom used to make a new batch of yogurt almost every night.
Indians are very choosy about their mangoes. It is such an important fruit to us. There are many varieties and people have strong opinions about which are their favorite. But generally the "best" mango is widely considered to be the Alphonso mango, which we call "aphoos" in Gujarati. The Alphonso is special because it is very sweet and because unlike most other types of mangoes, it is not fibrous.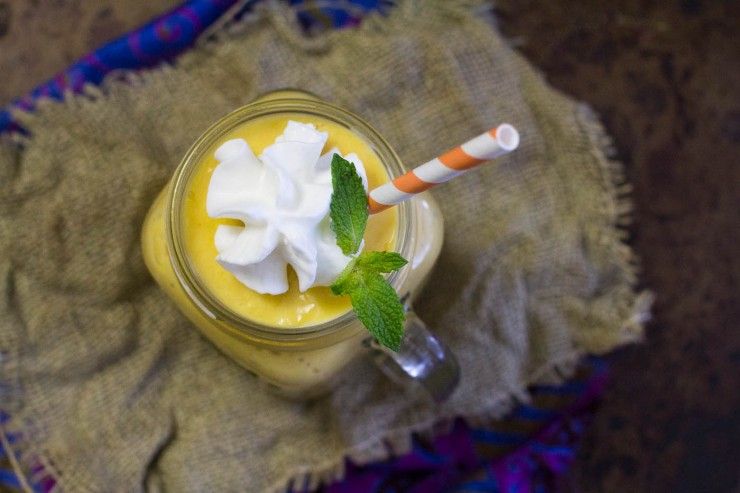 In the U.S. most of our mangoes are imported from Mexico, we also get some from the Phillipines and if you are willing to pay more, a lot of Indian stores have varieties from India.
The Alphonsos have only been allowed to be imported for the last couple of years and they bear quite a premium price because of it. When they were first introduced you could expect to pay about $40 for a dozen, now it's closer to $15-$20. My personal favorite is the pairi mango, but I have never seen those in the U.S.
It's often more practical to get other varieties of mangoes. Ataulfo is the most similar to Alphonso that is grown in Mexico. Like the Alphonso, the ataulfo is not fibrous. Kent and Manilla are also good options.
Surprisingly, when you want to tell if a mango is ripe you are best off ignoring the color. You might think a red mango is more ripe than a green one, but this can fool you. Ripe mangoes can be green and "raw" (unripe) mangoes can be red.
The best way to tell a ripe mango is to feel it and smell it near the stem. A ripe mango will be soft (but not too soft) and have a sweet aroma.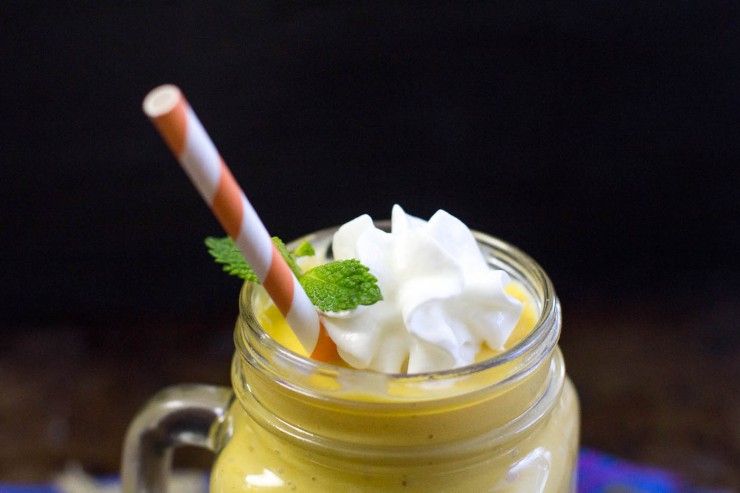 It seems like Mango Lassi is one of those things that is just now gaining popularity and it is spreading around the world. It is extremely easy to make if you know how to use a blender, and I highly recommend making it yourself because you can decide for yourself how much sugar you want and how thick, rich or tart you want it to be. Some people will even substitute ice cream for yogurt, then you really are getting a milkshake!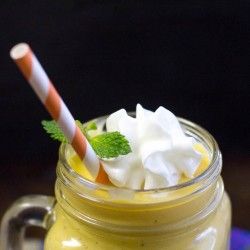 Mango Lassi
Mango Lassi, an Indian Mango smoothie made with yogurt and fresh mango
Ingredients
1

cup

mango pulp

½

cup

plain yogurt

½

cup

almond milk

or milk or water

2

tbsp

sugar

3-4

ice cubes

A dollop of whipped cream

optional
Instructions
Put it all in a blender

Blend on full power for about 30 seconds to a minute, until any lumps are gone.

Pour into glasses and top with whipped cream.
Notes
This is a really imprecise recipe because some yogurts are thicker than others and some mangoes are sweeter than others. If it comes out too thick, add more milk. If it comes out too tart or bland, add sugar.
The mango lassi in the pictures is garnished with a sprig of mint.
Nutrition
Calories:
207
kcal
Carbohydrates:
42
g
Protein:
3
g
Fat:
3
g
Saturated Fat:
1
g
Polyunsaturated Fat:
0.4
g
Monounsaturated Fat:
1
g
Cholesterol:
8
mg
Sodium:
138
mg
Potassium:
95
mg
Fiber:
1
g
Sugar:
40
g
Vitamin A:
2893
IU
Vitamin C:
17
mg
Calcium:
162
mg
Iron:
15
mg