Keri nu kachumber is raw mango salad. Raw meaning still green and tart. Some people would call this "Kachi keri nu kachumber" with means "Raw mango salad," others might call it "Kanda keri nu kachumber," which means onion and mango salad.
I think of Keri nu Kachumber as the Indian version of one of my Thai favorites, papaya salad.
This is one of only a few Gujarati salads, or "kachumbers," and it is definitely the first that comes to mind. Salads such as this one, in Gujarati cuisine are usually kept simple, with only a handful of ingredients.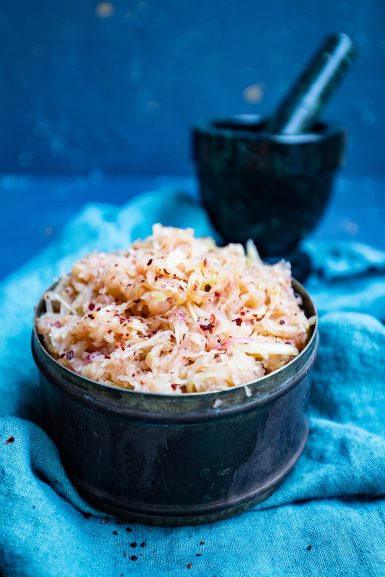 They might use tomatoes, cucumbers, pomegranates, green chilies or raw onions. Items that just add a little cleansing crunch to the side of a dal or shaak.
Ker nu kachumber was one of my dad's summer specialties. When mango season hit, we always had many mangoes on hand. This salad was something he would put together, and we would eat nearly every day of summer.
We even at it as a snack food, which I think was unusual. Outside I've my family I've only ever seen it eaten with meals (either lunch or dinner).
My version is less sweet than the traditional. I like to be able to taste the tartness of the mangoes. If you want the more traditional version, add 4 tablespoons of sugar instead of the 1 I added.
If you aren't sure, you could always make it my way, and then add more sugar until you find how much you prefer.
Tips for Making Keri nu Kachumber
Drain the liquid from the onions. After I grate the onions I give them a good squeeze. You don't have to do this, but it the amount of onion water that pools at the bottom of your salad.
Make sure to freshly toast and grind the cumin. If you only have cumin powder, it will be fine, but I find freshly toasted and ground really elevates the flavor.
Use a good, spicy chili powder like cayenne. Since this recipe has so few ingredients, it's really important to get the most out of every one.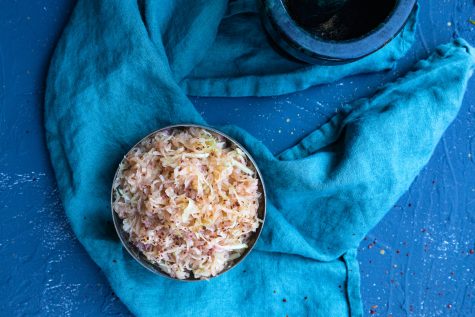 What to Eat with Keri Nu Kachumber
Keri nu Kachumber is a very Gujarati dish. It sits happily as one plate of a traditional thali. Eat it alongside Gujarati bread, like roti. It's also good as part of a mango theme. Eat it with rus and chundo.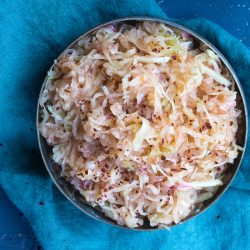 Keri nu Kachumbar (Raw Mango Salad)
A simple Gujarati raw mango salad made with onions and spices
Ingredients
1

medium green mango

½

medium or 1 small red onion

1

tsp

ground cumin

toasted

¾

tsp

salt

or to taste

1

Tbsp

sugar

½

tsp

or more of cayenne pepper

A few pinches of chili flakes or coarsely ground red chili

optional
Instructions
Finely grate the onion, squeeze out the water. Add 2 parts grated mango. You want your ratio of grated mango to be about 1 part onion to 2 parts mango.

Add freshly ground, toasted cumin. Then add sugar, salt and chili powder.

Let the flavors sit for at least 30 minutes to combine.
Notes
This salad will last in the refrigerator for up to 2 days, and may even taste better as the flavors meld.
Nutrition
Calories:
40
kcal
Carbohydrates:
10
g
Protein:
1
g
Fat:
0.2
g
Saturated Fat:
0.1
g
Polyunsaturated Fat:
0.04
g
Monounsaturated Fat:
0.1
g
Sodium:
437
mg
Potassium:
107
mg
Fiber:
1
g
Sugar:
9
g
Vitamin A:
560
IU
Vitamin C:
20
mg
Calcium:
9
mg
Iron:
0.1
mg